I participated in this event on behalf of Wendy's Bloggers for Idahoan Foods. I received Idahoan products to facilitate my review.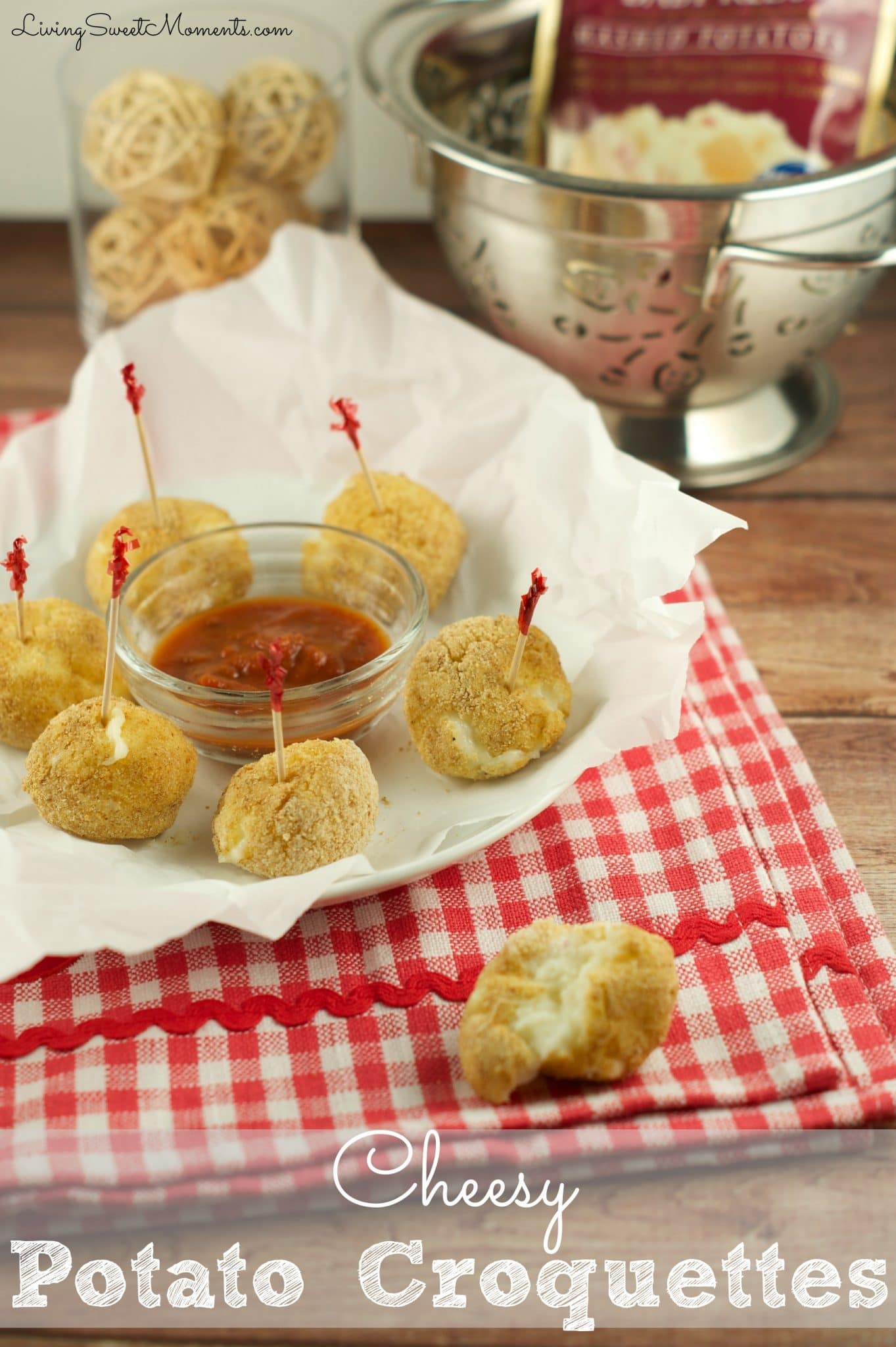 Cheesy Potato Croquettes Recipe
Oh yeah baby!! My easy Cheesy Potato Croquettes Recipe is delicious, creamy and crunchy all in one bite. Serve it with a side of Marinara Sauce and you're all set for the party.
Who would've imagined that you would get a party appetizer out of a leftover mashed potatoes? SHH.. I won't tell anyone! And yes, I cheated and used my secret weapon: Idahoan Instant Mashed Potatoes. To be honest, I've never used instant potatoes before. In Venezuela, those kind of convenience items didn't exist. I am so used to making them from scratch that it never occurred to me they could be made any other way.
I don't know how they did it, but they taste exactly like homemade. EXACTLY! I could taste the milk and the butter in the mashed potatoes. The texture was creamy and chunky. Now I wonder if all those mashed potatoes I eat at restaurants are made with Idahoan Potatoes.
To prepare them all you need is water. You can choose the stove top method or microwave. Either way, they will be ready in less than 5 minutes! Much less than the time it takes me to peel, cut and boil the potatoes.
Now back to my Cheesy Potato Croquettes Recipe. The secret for making them is to start with cold mashed potatoes. I usually make them from leftover mashed potato the night before. If you don't have any in the fridge, just make them and chill. By starting with this method, the croquettes will be softer and won't need any flour on the inside.
I stuffed mine with cheese, but you can use ANY filling you like. They are delicious with leftover ground beef, chicken, chopped turkey or ham. I used to have them as a side dish but you can serve them as appetizers. Nobody would ever think that they are made out of Idahoan Mashed potatoes.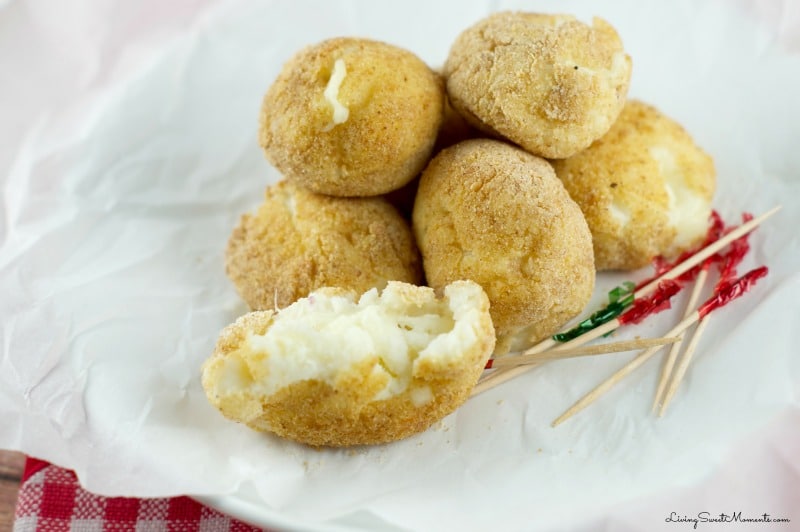 To start simply roll the chilled mashed potatoes into a bowl, make an indentation with your finger to fill. Bread them and stick them in the oven to crisp up. You can also fry them. I chose to bake them in the oven because I can put tons of them together and inside the oven instead of working in batches.Here are step-by-step pictures of the whole process.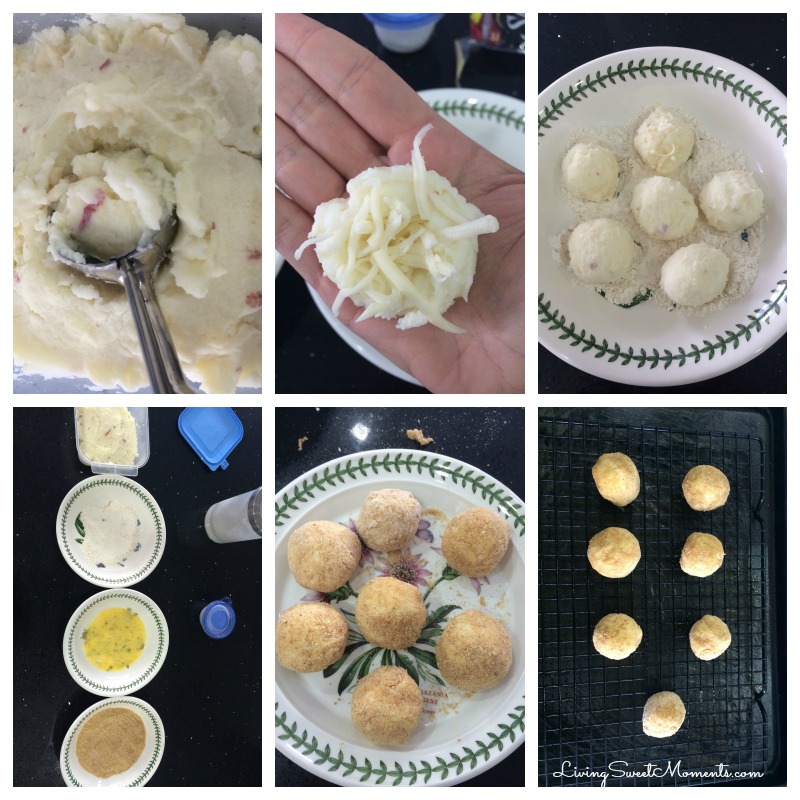 See? Very easy!! Next time I'll add different fillings. I used Idahoan Baby Red Potatoes but you can use any flavor you like. Here's what they look like: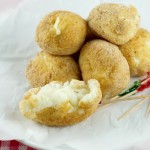 Cheesy Potato Croquettes Recipe
Ingredients
2

Cups

of Cooked Mashed Potatoes Chilled

2

eggs

beaten

1

cup

of flour

1

cup

of breadcrumbs

Cooking Spray

1/2

cup

of shredded cheese

Salt and pepper to taste
Instructions
Preheat Oven to 450 degrees Fahrenheit

Create a breading station by placing the flour in a shallow bowl, the egg in another bowl and the breadcrumbs in another bowl. Add salt and pepper into each one

Using a spoon, grab mashed potatoes in 1 tablespoon increments. Round them off into balls

Make an indentation inside each ball and add the cheese. Close it up again into a bowl

Coat the ball in the flour, then the egg and finally the breadcrumbs. If the ball deforms you can reroll with your hands

Place on a sheet pan lined with cooling rack. Using cooking spray, spray the cooling rack

Put the balls on top of the cooling rack and spray the tops and sides with cooking spray

Bake for 8-10 minutes or until browned and crispy

Serve with marinara sauce

Enjoy
Hope you can try this  Cheesy Potato Croquettes Recipe at home and let me know how it comes out!