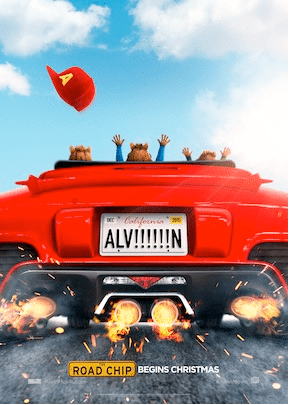 This week I had the wonderful opportunity to interview, along with fellow bloggers, the beautiful and talented Bella Thorne who stars in the upcoming Alvin & The Chipmunks: Road Chip movie. As you can imagine, she is super sweet and down to earth.
Bella has starred in many movies and TV shows. She also sings and models. It was truly an honor to meet her and I can't wait to see her career grow.
Without further ado, here are some of my favorite parts of the Bella Thorne's Interview:
Q: How do you prepare for a role where you are opposite animated characters? Do you talk to yourself a lot?
Bella: No, you don't do any of that, you have people reading their lines that are in red or green shirts so you can remember which character you are talking to. You also have little-stuffed animals in the set. Each scene required a minimum of 10 takes.  First they do a pass with nothing there, then they do one with taped marks on the bottom, then with balls, etc.
Q: In the movie your character seems very humble, how have you managed to stay humble?
Bella: I am a pretty regular girl, I do regular things, I spend a lot of time with my family that keep me grounded. It's just easy for me. I don't know how people get so caught up I guess maybe because I really don't go to events I am not in the Hollywood scene. The majority of my friends are not actors. Even when I am in New York during a press trip I am also going to my friend Alexa's Sorority Parties.
Q: What were your favorite experiences during the filming of the movie?
Bella: there's a really funny story: We were being very careful with the chipmunks and one time the camera track was running really fast and was zooming over an actor and it accidentally ran over Theodore and completely slashed him. Everybody broke up in laughter and I did too because Theodore was my favorite chipmunk.
Q: How was it transitioning from being in the small screen to making movies?
Bella: yeah it's great. Before I did Shake it Up I did lot's of drama and loved doing film. Mostly I did like doing drama and doing lot's of film. It was definitely not easy transitioning from Disney Channel because a lot of people wouldn't want to see me auditioning because they would say "oh she's a Disney actor" so she can't have a director meeting and I didn't care and showed them that I am better than what they think and after reading my lines they were so impressed saying "wow you're a totally different actress" It wasn't as easy as you would think.
Q: Which do you like better, acting or music?
Bella: Definitely acting. I have an upcoming movie where I do lot's of singing and it's the kind of music I like.
Q: What's next for you?
Bella: I am shooting a film in January, and then I am shooting another film 2 months after that and then I will also star a show if the project gets approved.
Q: You do a lot of charitable work. What brought you to those organizations?
Bella: I am so happy to be where I am and I am so blessed and lucky and I want to give to people what I have and that's why I do a lot of charity work. It's always been a big deal in my family.
Q: Would you want to do another animated movie?
Bella: I have another animated movie that's coming out and it's called Ratchet & Clank. I play a super bad chick character that stands up for herself.
Q: Would you consider being behind the scenes?
Bella: Yeah, I want to start directing and writing. I am so close to the directors I work with and just hanging out with them.
Q: Which do you prefer? Live or animated movies? 
Bella: Definitely live movies, animated movies are fun but I prefer live action films
Q: Do you feel a lot of pressure being a role model to others?
Bella: I try not to think about it mostly. Of course, it makes me really happy when people come up to me and say that I've inspired them to do this and that. I am a normal girls and fans are my age. It's really interesting because people can relate to me.
Q: What style of music do you gravitate towards more?
Bella: I like the new Selena album. I am more like indie music, slow, hip hop music, r&b. I listed to a lot of 80's rock music.
Q: Were you able to improvise during the movie or everything was scripted?
Bella: Most things were scripted.
Q: If you weren't acting, what would you be doing?
Bella: I don't know, I wouldn't know what to do without acting. Acting is something I love.
Q:  How did you get into the industry?
Bella: I always wanted to be an actress growing up but I was dyslexic and my first language was Spanish so I had learn Spanish to learn English to learn how to read so it was always very difficult for me. I did a lot of runway growing up, people said that I was pretty but will never act because you are not smart and you won't be able to read. So I was always really embarrassed to try it.
One day my brother and I came up to L.A to do a runway show and he went on to do a pilot for a series called 4 kings I remember seeing him and it was a live audience and you could feel the energy. For singers, it's very different because you could do a live show and feel the love and the hype. For actors, you do a movie and a year later comes out so you never know. You're not with people in the movie theater so it's very different.
Q: If you could work with anyone if the industry, who would you want to work with?
Bella: Christian Bale
So that's a wrap! Here's a pic of Bella Thorne, my daughter and me!