Magic Strawberry Jell0 Cake – Only 5 ingredients. this easy no-bake summer cake magically creates 3 layers of flavors that your family will love. Super yum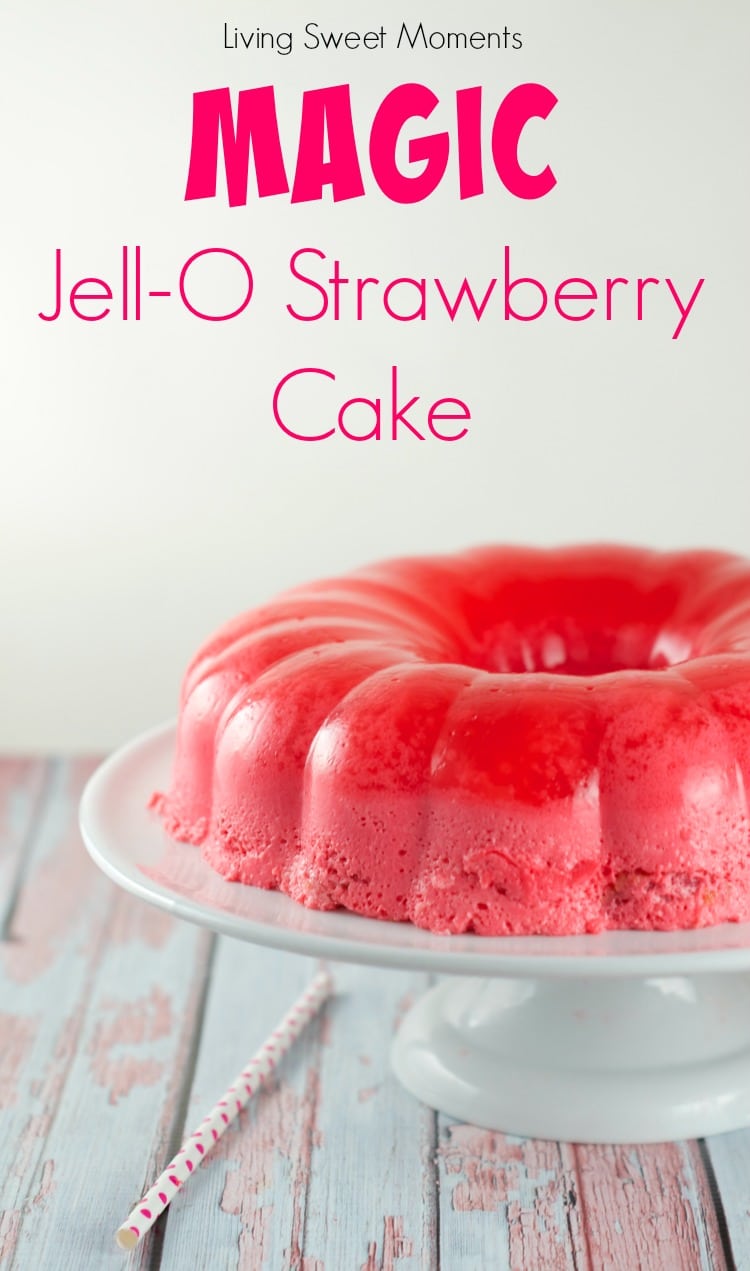 Magic Strawberry Jello Cake
Only 5 ingredients. An easy no bake summer cake that magically creates 3 layers of flavors that your family will love. This delicious Magic Strawberry Jello Cake is refreshing, soft with
This delicious Magic Strawberry Jell0 Cake is refreshing, soft with lots of flavor and texture. You won't believe what happens when you cut it: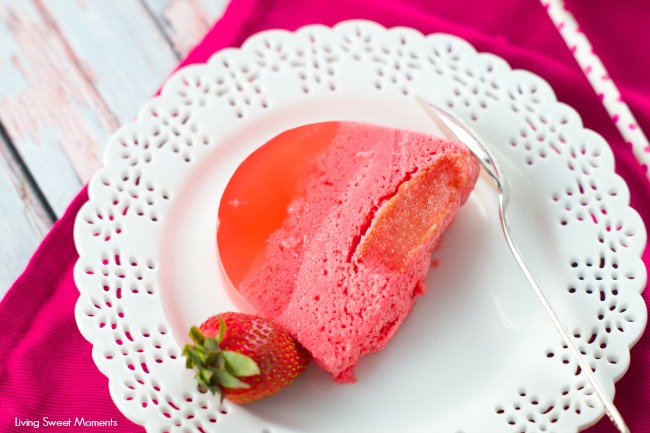 TA-DA! See the magical 3 layers? You have a Jello top, a creamy center and a cakey bottom. You probably would think I made each layer by hand and spend hours in the kitchen when in reality I cooked it while my girls did their homework. I let it chill overnight just to set up and unmolded the next day.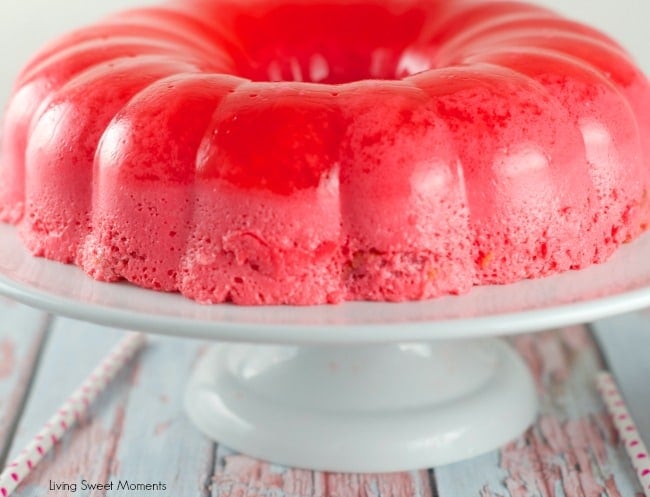 I grew up eating this Magic Strawberry Jello Cake. It's been on my family for years. The typical go-to cake during family events and celebrations. Ever since I moved to the States I missed eating it. Luckily my mom emailed the recipe a few weeks ago. I had to adapt the quantities a bit since the jell-o boxes in Venezuela are bigger than here.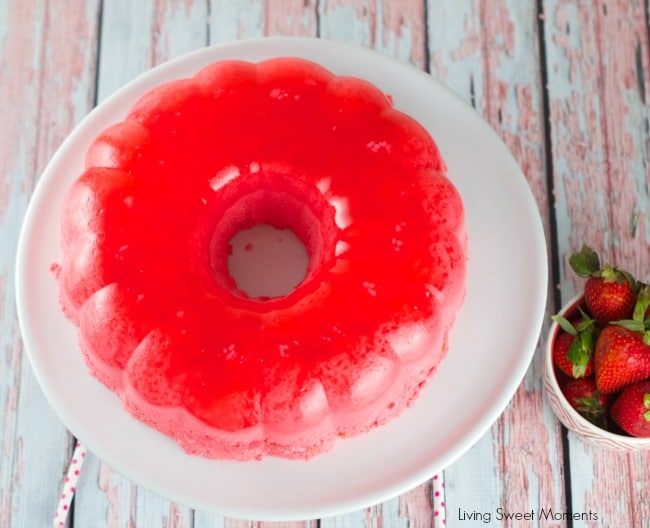 You can make this Magic Strawberry Jello Cake with any cake mold you would like. I think it looks beautiful using a bundt pan. I guess it's the curves in the cake.
The only thing to keep in mind is that regular lady fingers wouldn't fit in the bundt pan so I cut them half.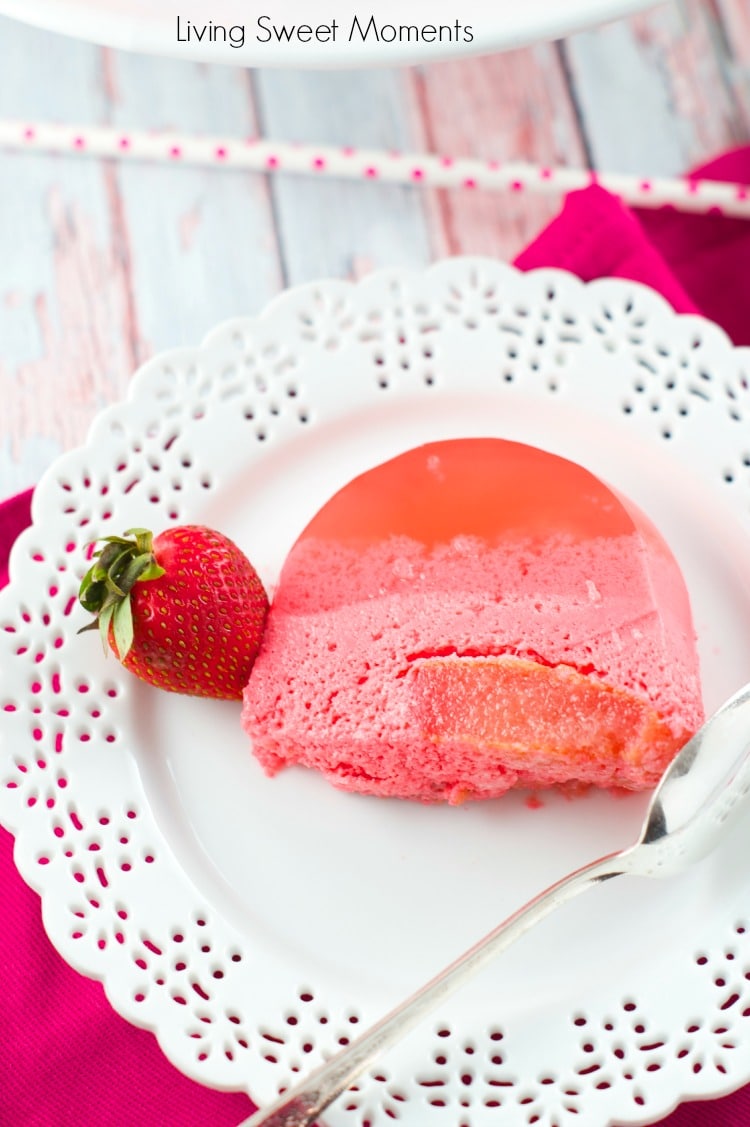 Now that Summer is here I am always looking for refreshing desserts that are easy to make and that are kid friendly too. Having 2 girls at home, you can imagine how popular a pink cake can be. 🙂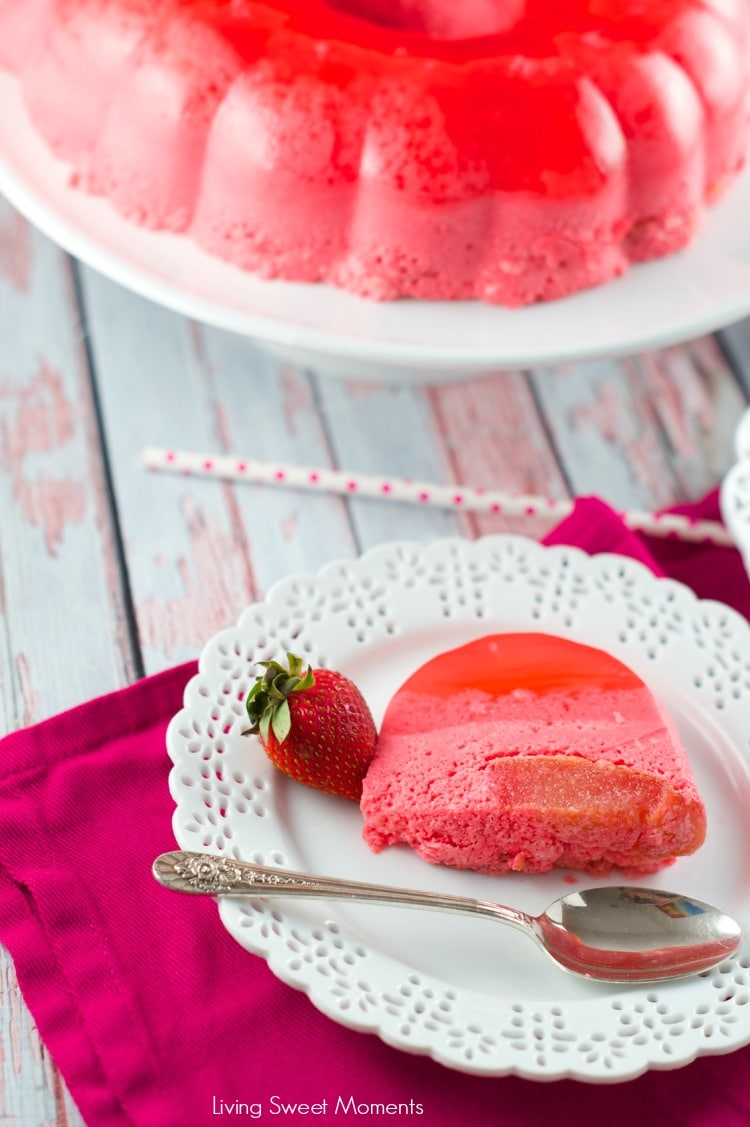 The process for making this Magic Strawberry Jello Cake is simple and very straightforward. Heat the milk, sugar, and yolks until the mixture boils. Remove from heat and add the Jello.
Mix well and then add the whipped egg whites. Finally, mold, add the ladyfingers and cover with the rest of the mixture. Let it chill overnight and you're done. See? told ya it was easy!
Make it lighter! Use skim milk, sugar-free Jello, sugar substitute and eliminate the ladyfingers.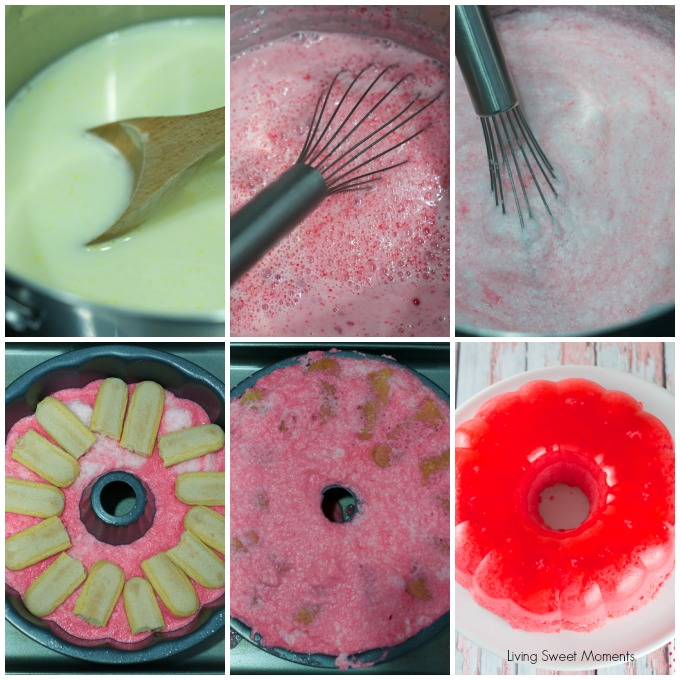 I hope you can make this delicious Magic Strawberry Jello Cake at home. If you do, please upload a pic on Instagram and tag me @Livingsweetmoments or use the hashtag #LivingSweet. I promise to repost it.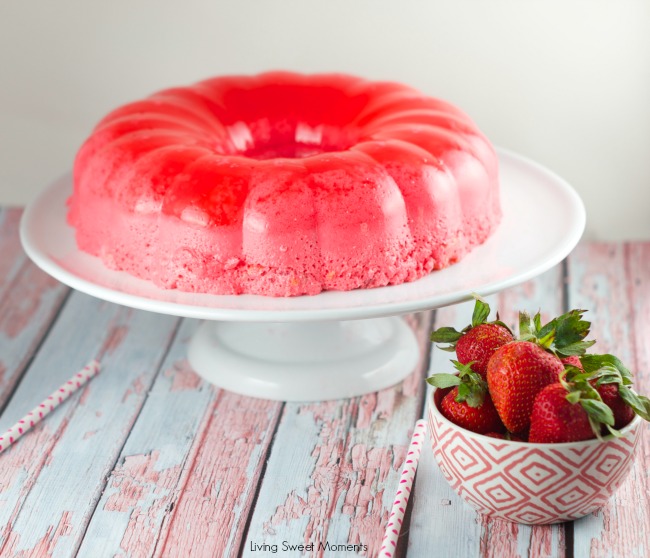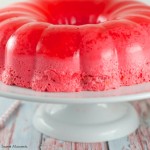 Magic Strawberry Jello Cake
Magic Strawberry Jello Cake - Only 5 ingredients. this easy no-bake summer cake magically creates 3 layers of flavors that your family will love. Super yum
Ingredients
6

Cups

Milk

I used 1%

3

boxes

Jell-o

3 oz

2

Cups

Sugar

6

Eggs

separated

15

Lady fingers

Cooking spray
Instructions
in a LARGE pot, whisk the milk, sugar and egg yolks

Place the pot on medium-low heat and stir constantly with a wooden spoon until mixture comes to a boil

Remove from heat and add the gelatin packets. Whisk until combined

Meanwhile, use a mixer to whip the egg whites until hard peaks form

Use a whisk to add the egg white mixture into the hot milk mixture

Whisk until everything is combined

Spray a bundt pan with nonstick spray and place the bundt pan inside a cookie sheet (to catch any spills)

Fill the bundt pan halfway with the mixture

Arrange lady fingers all around the bundt pan

Add the rest of the mixture

Arrange a 2nd row of lady fingers (if desired)

Let it chill overnight

Unmold and enjoy!
Nutrition Facts
Magic Strawberry Jello Cake
Amount Per Serving (1 slice)
Calories 366
Calories from Fat 63
% Daily Value*
Fat 7g11%
Cholesterol 124mg41%
Sodium 203mg9%
Potassium 206mg6%
Carbohydrates 66g22%
Protein 9g18%
Vitamin A 395IU8%
Calcium 157mg16%
Iron 1mg6%
* Percent Daily Values are based on a 2000 calorie diet.
LOVE CAKE??? Me too! Head on over HERE for the Best Cake Recipes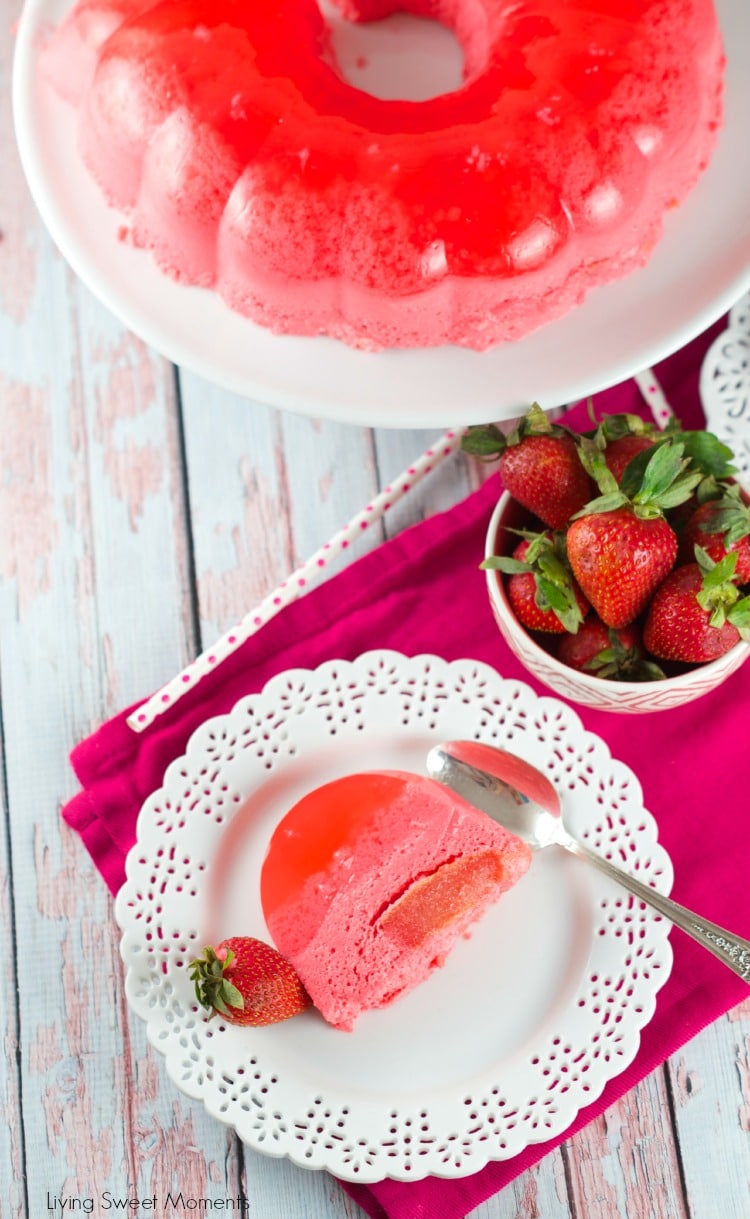 You may also like: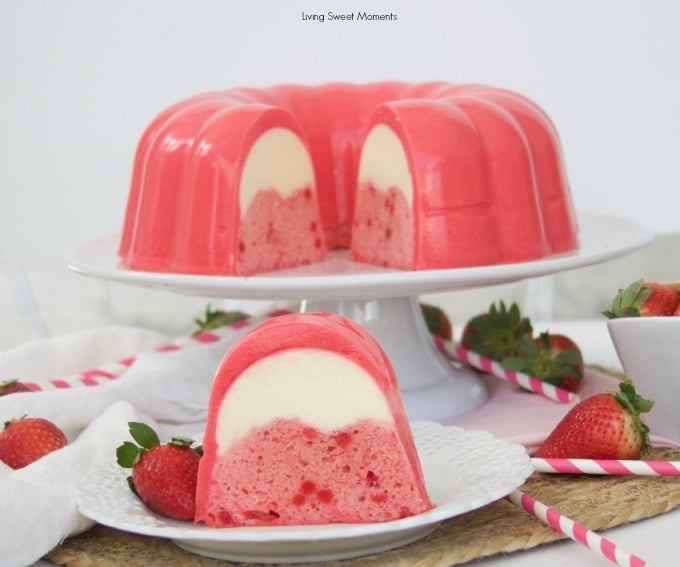 Coconut Panna Cotta with Mango Gelee