This amazing latin baked plantain empanadas recipe is filled with oozy cheese and is the perfect finger appetizer to any party or celebration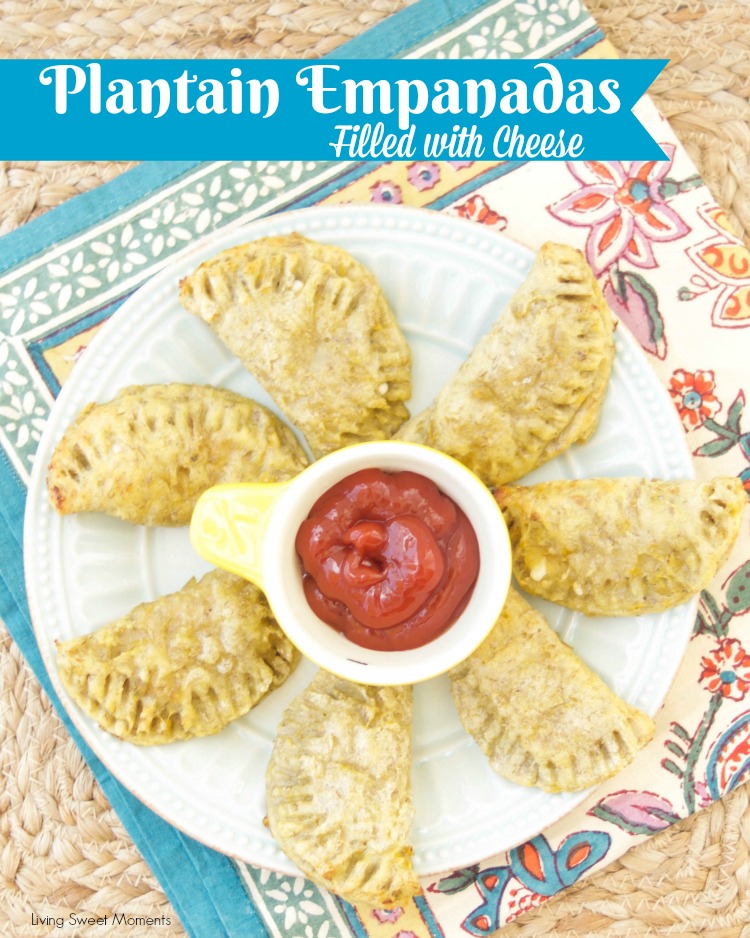 Baked Plantain Empanadas Filled With Cheese
Let's travel to the Tropical Islands and South America for today's new recipe. A sweet and salty dough made out of ripe plantain puree filled with cheese and then baked to perfection.
I love to serve them as finger appetizers for parties or bigger as a quick weeknight dinner idea. Just add your favorite dipping sauce, or simply have them as is for a delicious flavor explosion in every bite. My favorite pairing is duck sauce or sweet and sour.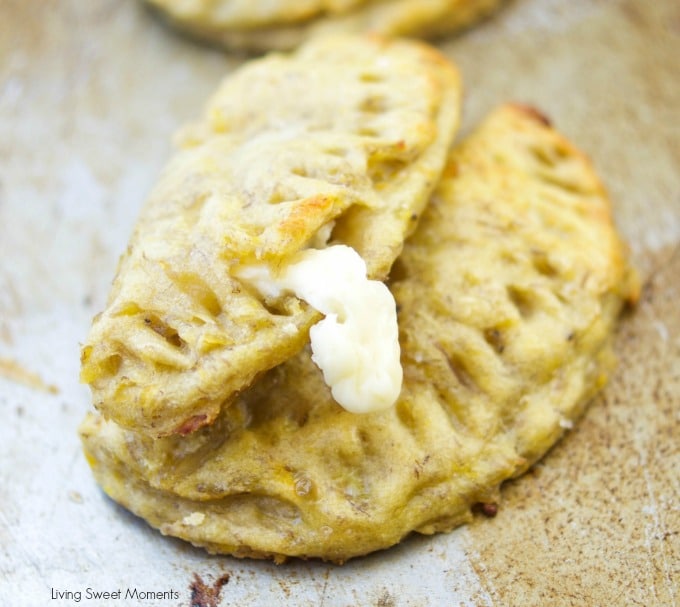 The process for making these is fairly simple. All you need to do is boil your plantains, puree, add a few ingredients, fill and shape.
The first few times I tried this recipe it didn't work for me. I didn't understand why! it was so frustrating. Then I realized that I was using a fork to mash my plantains and it resulted in a lumpy dough that would not blend well wit the rest of the ingredients.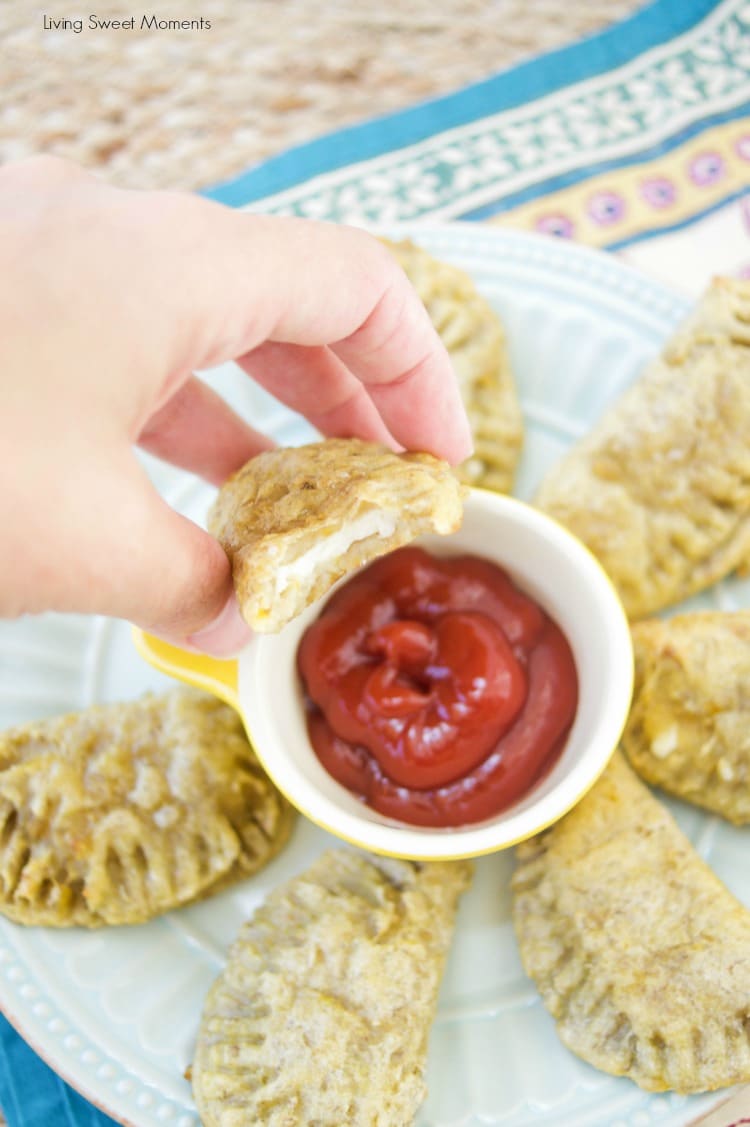 So I went and bought a potato ricer to puree my plantains and finally! The dough came together and it was easy to roll out and shape. What a difference one little tool can make.
It is really important to use ripe plantains for these Plantain Empanadas. It's easier to puree and have a delicious sweet flavor.
You can fill these guys with anything you may like: Shredded chicken, veggies, bacon, cheese, and guava, etc.
Here's a little sneak peek of the process:
I used a fork to crimp the edges. This makes sure that the cheese won't escape during the baking process.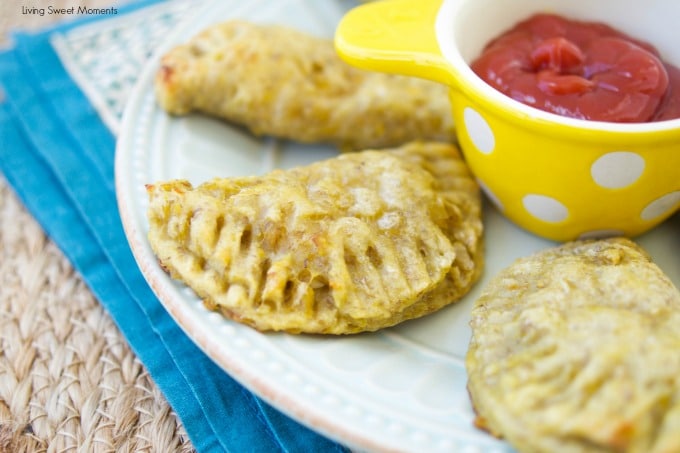 hope you can try this delicious Baked Plantain Empanadas at home. If you do, please upload a pic on Instagram and tag me @Livingsweetmoments or use the hashtag #LivingSweet. I promise to repost it.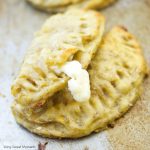 Baked Plantain Empanadas
This amazing Latin Baked Plantain Empanadas recipe is filled with oozy cheese and is the perfect finger appetizer to any party or celebration
Ingredients
For Empanada Dough
2

Ripe Plantains

1

teaspoon

Vegetable Oil

1

Egg Yolk

3/4

cup

All Purpose Flour

Salt + Pepper to taste
For Filling
4

oz

Latin or Mozzarella Cheese
Instructions
Preheat oven to 425 degrees Fahrenheit

Grease a sheet pan or line with parchment paper

Cut the ends of plantains and then cut them into 2-3 pieces with the skin on. Boil in salted water for 20 minutes or until the soften

Remove from water and peel the plantain. Puree the pieces using a potato ricer.


Add the oil, salt, and pepper to the pureed plantains. Mix well with a spoon. Let this mixture cool for a few minutes before adding the egg and flour


Add the egg yolk and mix until completely combined. Add the flour and knead with your hands until the dough comes together


On a floured surface, using a rolling pin, roll dough into a large rectangle. Using a round cookie cutter, cut out circles. Repeat the process with remaining dough

Place the circles on the sheet pan

Cut the cheese into rectangles and place them on the lower half of the plantain circle. Fold the circles into a semi-circle shape and use a fork to crimp the edges making sure they are completely closed

Brush the tops of the empanadas with the beaten egg and bake for 15-20 minutes or until browned on top
You may also like: