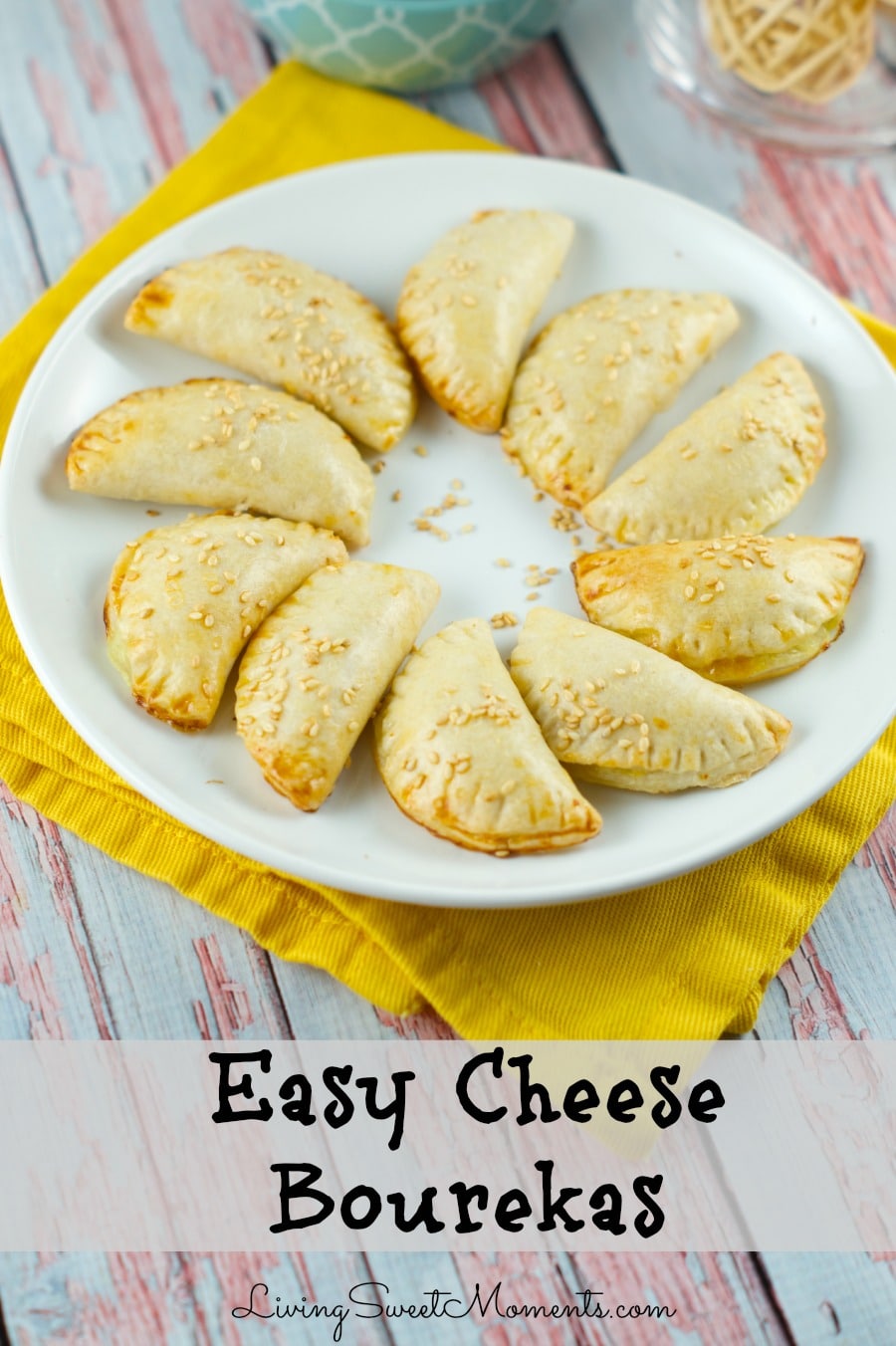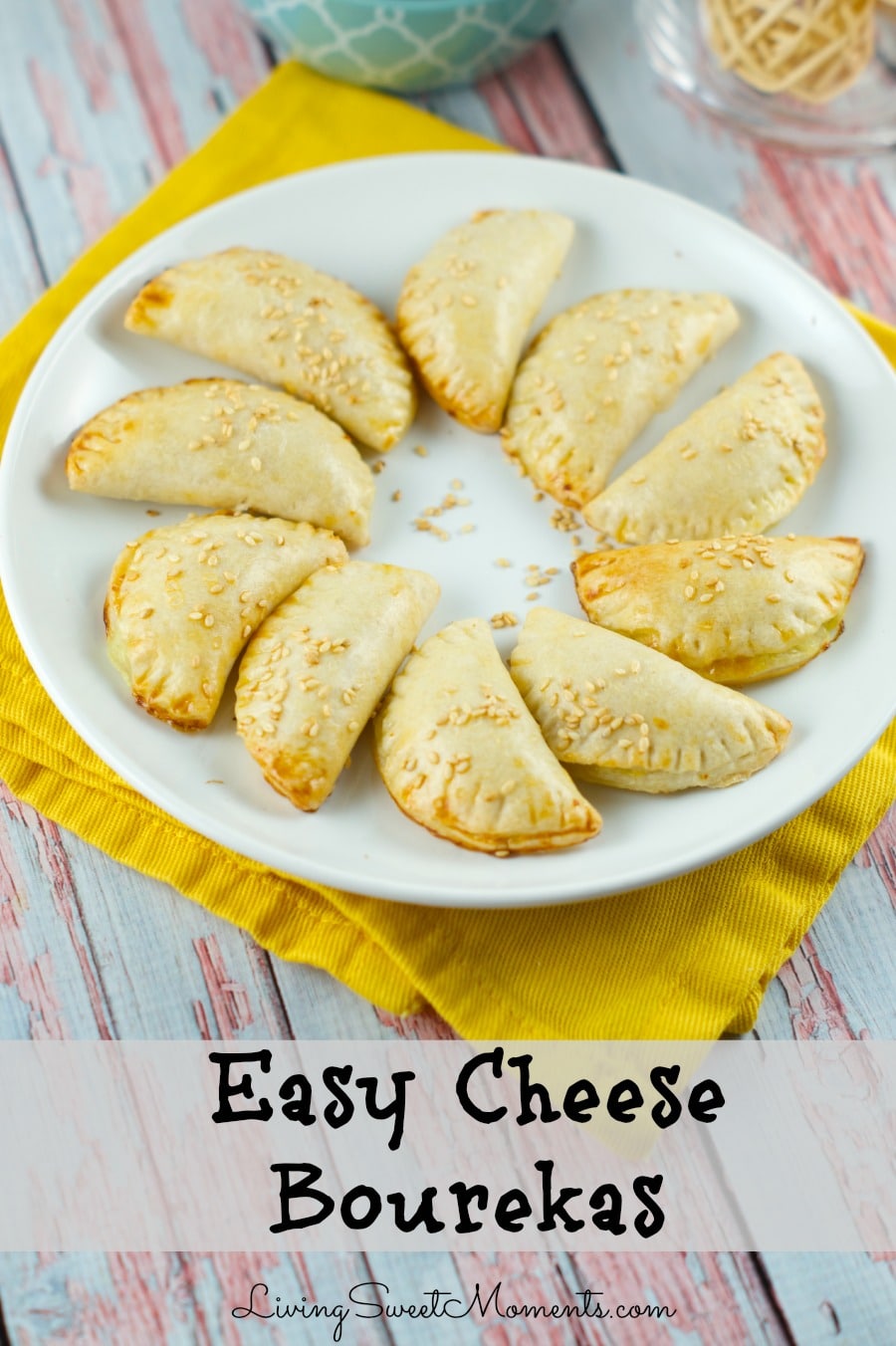 Easy Cheese Bourekas Recipe
This Cheese Bourekas Recipe is delicious and very easy to make. If you're not familiar with Bourekas, they are simply filled flaky pastries or turnovers widely used in the Middle East. You can fill them with potatoes, cheese, spinach or whatever comes to your mind. Another great idea is to use sweet fillings such as fruit, chocolate and more.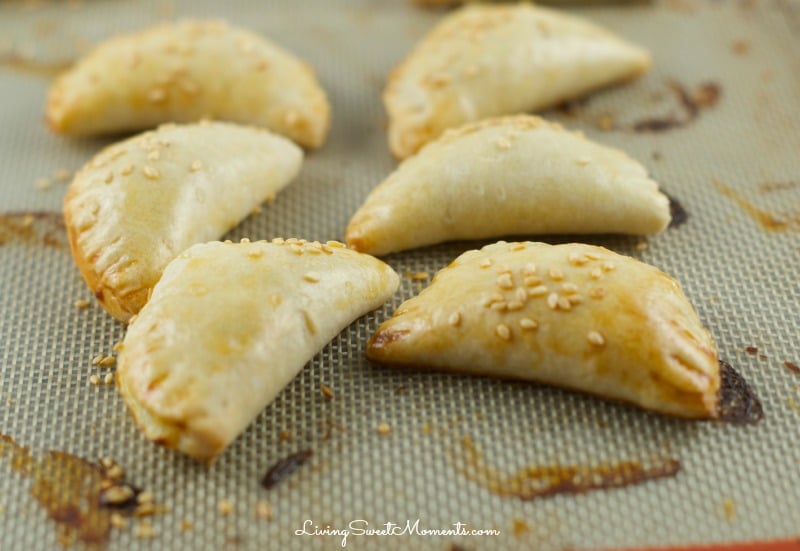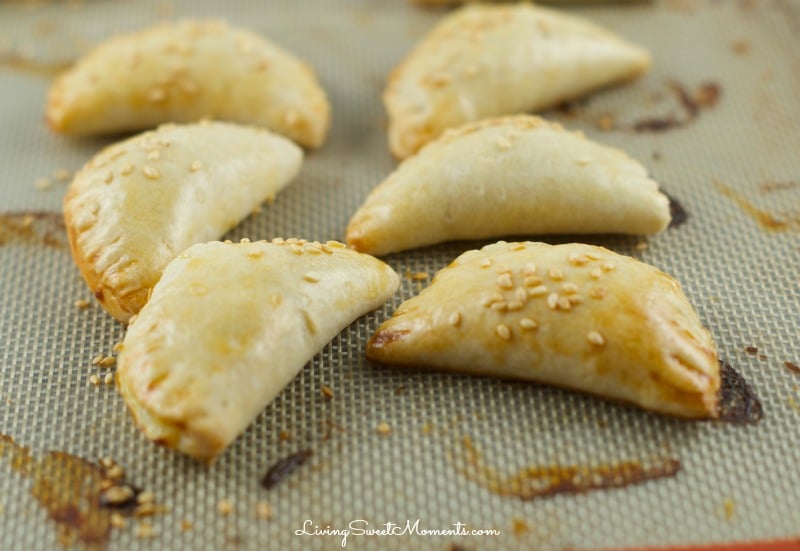 My picky 7 year old loves the cheese ones, in fact, she asks me to pack her lunchbox every week with Bourekas. She asks at least twice a week. I used to buy them from a Kosher place near my home, they were delicious but super expensive. My husband asked me to re-create them, and after a few tweaks here and there I finally got it. My daughter happily approved it so I am sharing this recipe so you can try it too.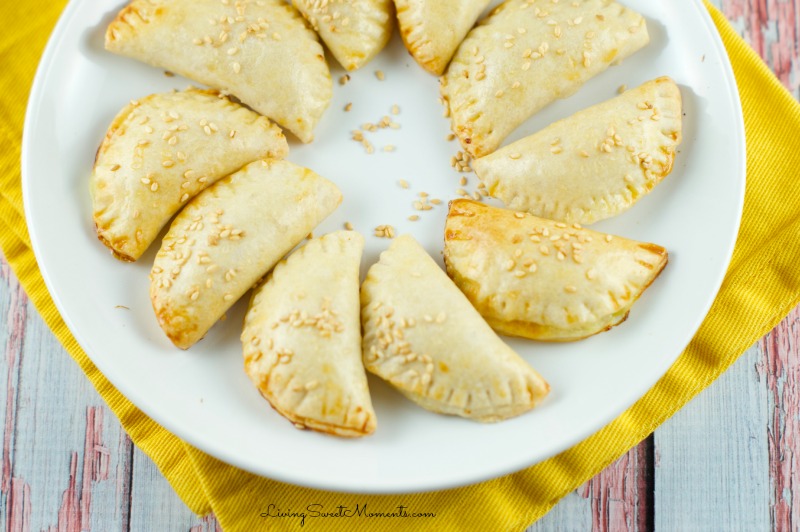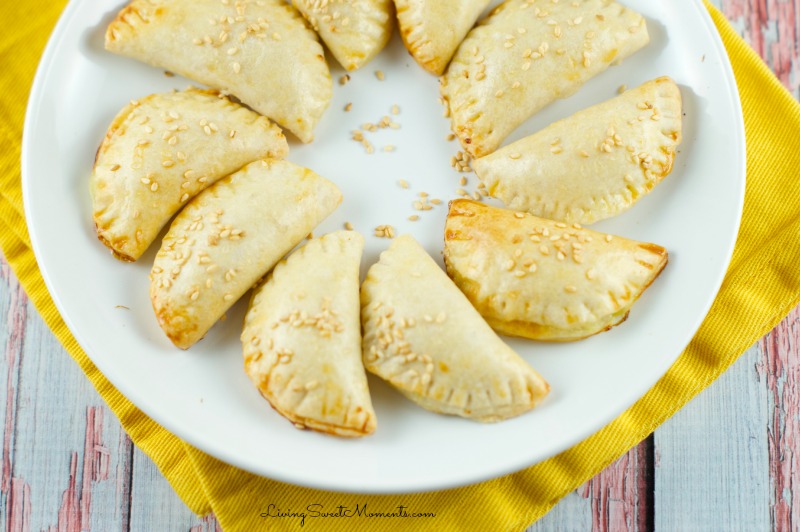 I won't lie, making them is easy but a little tedious. I just made another batch and froze them without cooking. Tomorrow I'll try baking them straight from the freezer and will let you know how they turn out. If they taste good and have a good texture, it will be perfect for my daughter's lunchbox.
Here's how the 6 step process goes: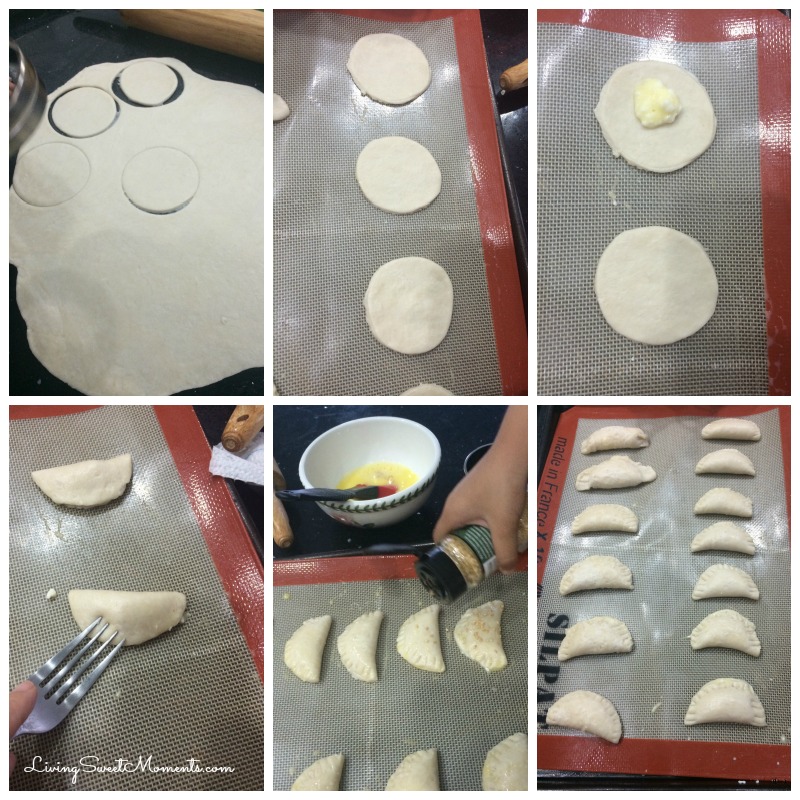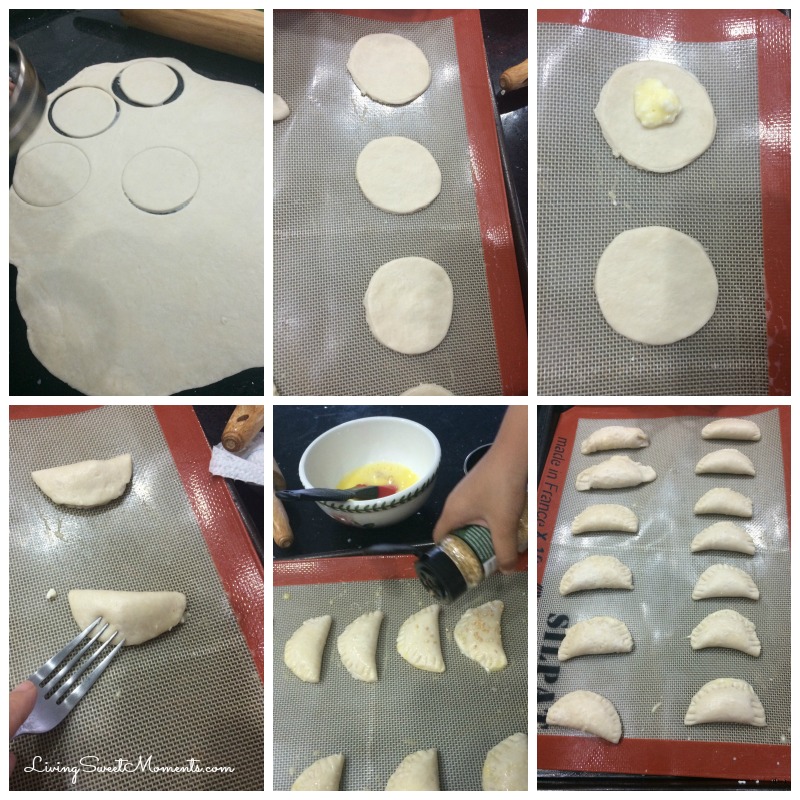 This is the perfect job for kids to help out. Both my daughters helped roll the dough, cut into circles, fill and then seal. My little one loved sprinkling sesame seeds on top. Then they go into the oven and puff up with a nice browned top. So delicious!
I am so happy with the taste and texture of these flakey Bourekas. You can serve them as appetizers during parties, brunches or even showers. Nobody can resist to take one..two.. or three? Make a few, give them different fillings and voila! You are ready to party.
I hope you can make this delicious Cheese Bourekas Recipe at home. If you do, please come back and let me know how they turned out.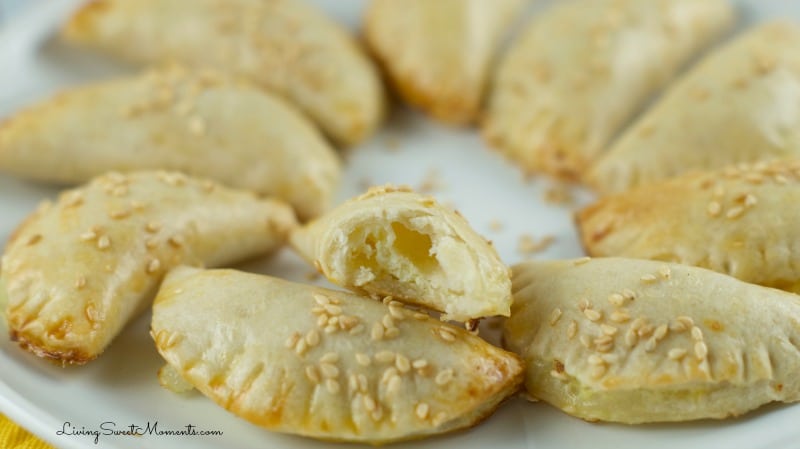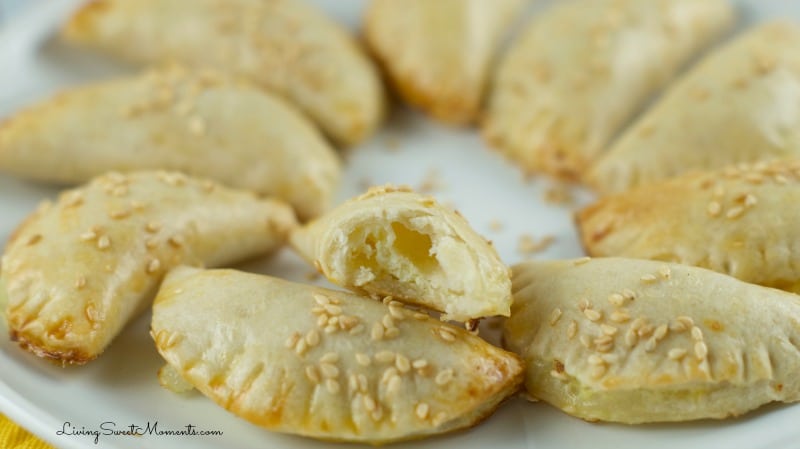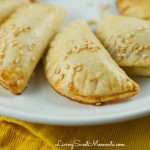 Easy Cheese Bourekas Recipe
Servings
:
24
- 26 Bourekas
Ingredients
For Dough:

2

Cups

of Flour

1/2

Cup

of Water

1/4

Cup

plus 2 Tablespoons of Vegetable Oil

1

Teaspoon

of Salt

For Filling

1

Egg

1

Cup

of Ricotta Cheese
For Top
1

Egg

Splash of Water

Sesame Seeds
Instructions
Preheat Oven to 400 Degrees F.

For Dough

In a mixer, add the flour and salt. Combine them together

Add water and mix until a dough is formed

Pour in oil and mix until combined

Place the dough on a flat surface and roll until it's stretched a flat

For Filling

Whisk egg and add the cheese. Mix until combined

For Egg Wash

Whisk egg with a splash of water

Assembly

Cut out circles using the rim of a glass or round cookie cutter

Add a teaspoon of filling into each circle

Fold one end of the circle into the other creating an empanada shape

Seal the ends of the Bourekas using a fork. If filling seeps out, just clean it up with a napkin

Place Bourekas in a baking sheet lined with parchment paper or a silicone mat

Brush the tops with the egg wash and sprinkle in the sesame seeds

Bake for aproximately 15-17 minutes or until tops are browned and shiny