Rice Krispies Ornaments – Cute Holiday treats for kids and adults! So easy to make and yet so crunchy and delicious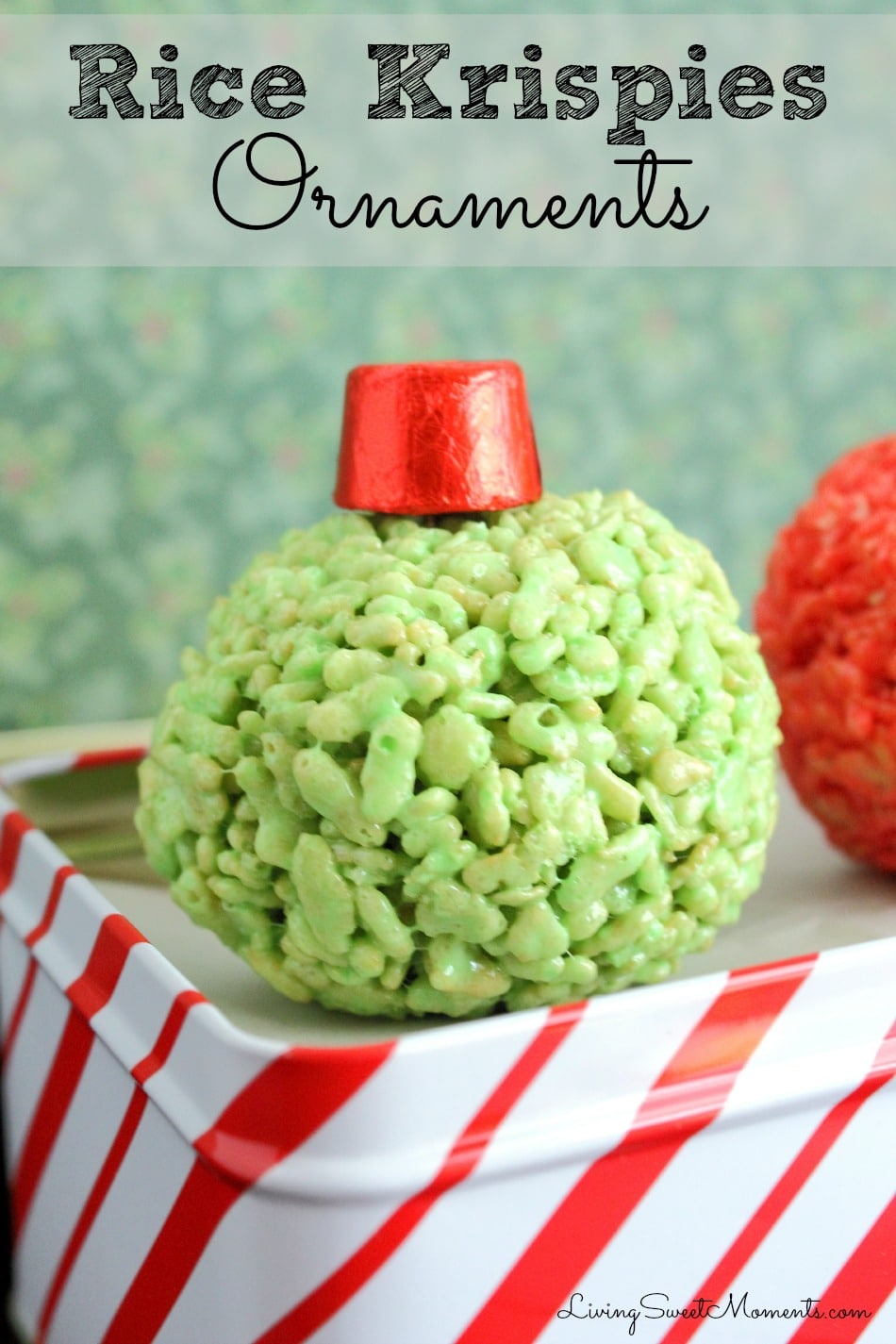 Rice Krispies Ornaments
What a neat idea huh? Good Ol' Rice Krispies treats turned into cute Holiday Ornaments. It's funny because we shape Rice Krispies to accommodate any Holiday season. Hearts for Valentine's, Eggs for Easter and now Ornaments. Just top off with a chocolate or any fun shape on top.
I have Holiday Tins to store them. They are a cute gift idea for friends and family. It's delicious, crunchy and oh so sticky. I grew up eating Rice Krispies in Venezuela, I remember there was a pink and a chocolate Rice Krispies. They were later taken out of the market. I was so sad since I loved how the milk turned pink and sweet.
Krispies Treats is a fairly new concept for me. I didn't eat them growing up and only tried them once at Summer camp here in the States. I loved it.. The marshmallow flavor really comes through.
To make these lovely Rice Krispies Ornaments you will need: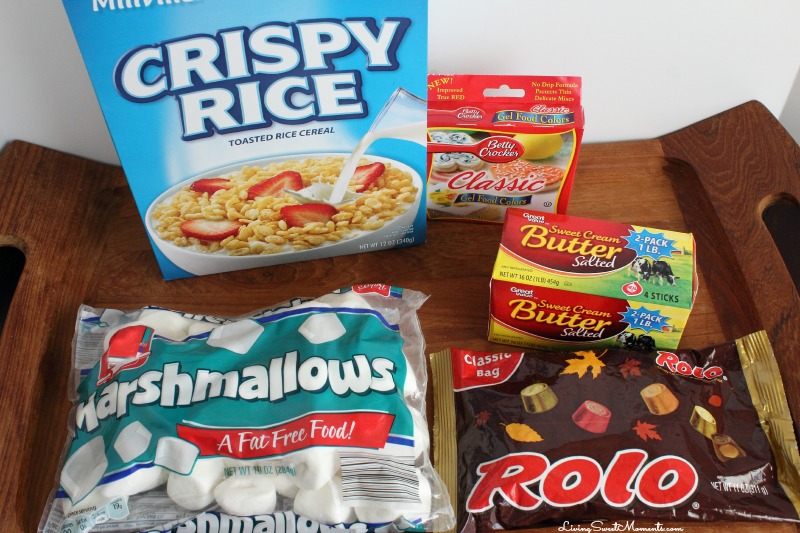 Rice Krispies (duh!), marshmallows, food coloring, salted butter and some Rolo chocolates to garnish the top. It only takes 5 ingredients to make the them. As always to make these treats, I employ the help of my 2 girls. Thankfully they only charge in food, otherwise I would be completely broke.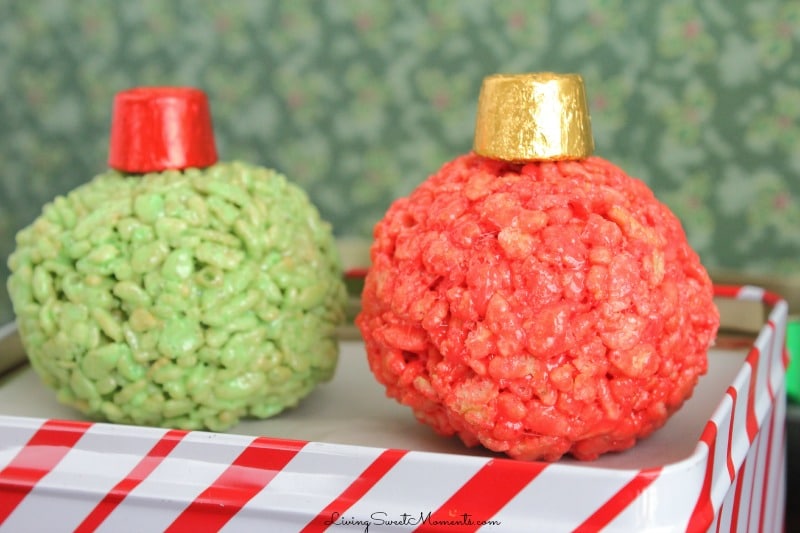 I am not sure which color tastes better. I like them both. Next time I'll a few drops of peppermint to the red one and some lemon to the green one.. I didn't add them in this batch because I love the pure Marshmallow flavor so much.
The process is simply, melt butter in a saucepan and add the marshmallows with the food coloring. Mix in the cereal and stir with a spoon until all the Krispies are completely coated. See how sticky and yummy it looks?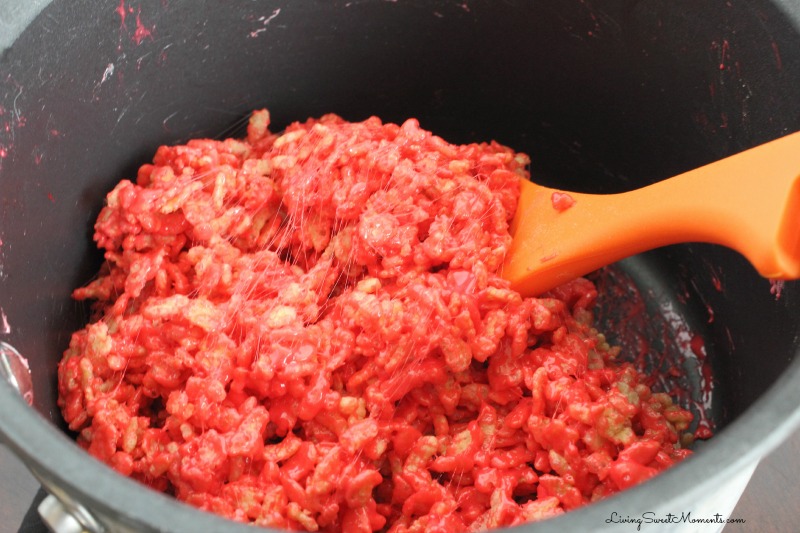 The secret to shaping them with ease, is to spray your hands with nonstick spray to handle them. I hope you like these Rice Krispies Ornaments and try them at home.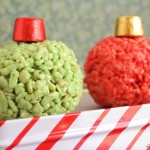 Rice Krispies Ornaments
Ingredients
2

Tbsp

. Butter

10

oz

. Bag Marshmallows

Red and Green Food Coloring

6

Cups

Krispy Rice Cereal

Rolos
Instructions
In a sauce pan over low heat melt 1 Tbsp. Butter and then add half of the Marshmallows. Stir frequently and add 10 drops of food coloring to start. Add additional food coloring until desired color is achieved.

Slowly add 3 cups of the Krispy Rice to the pan over low heat and stir to coat.

Remove from heat and let cool until you can comfortably handle it. Oil or spray your hands so the mixture won't stick. Make 3 inch balls rolling the mixture between your hands. Place on waxed paper.

While the ornaments are still sticky top with a Rolo.

Repeat the process for the other color.

Serve or store in an airtight container.