This crusty and delicious Instant Pot Sourdough Bread is made with yogurt and is ready in less than 6 hours from start to finish. Ideal by itself or for sandwiches as well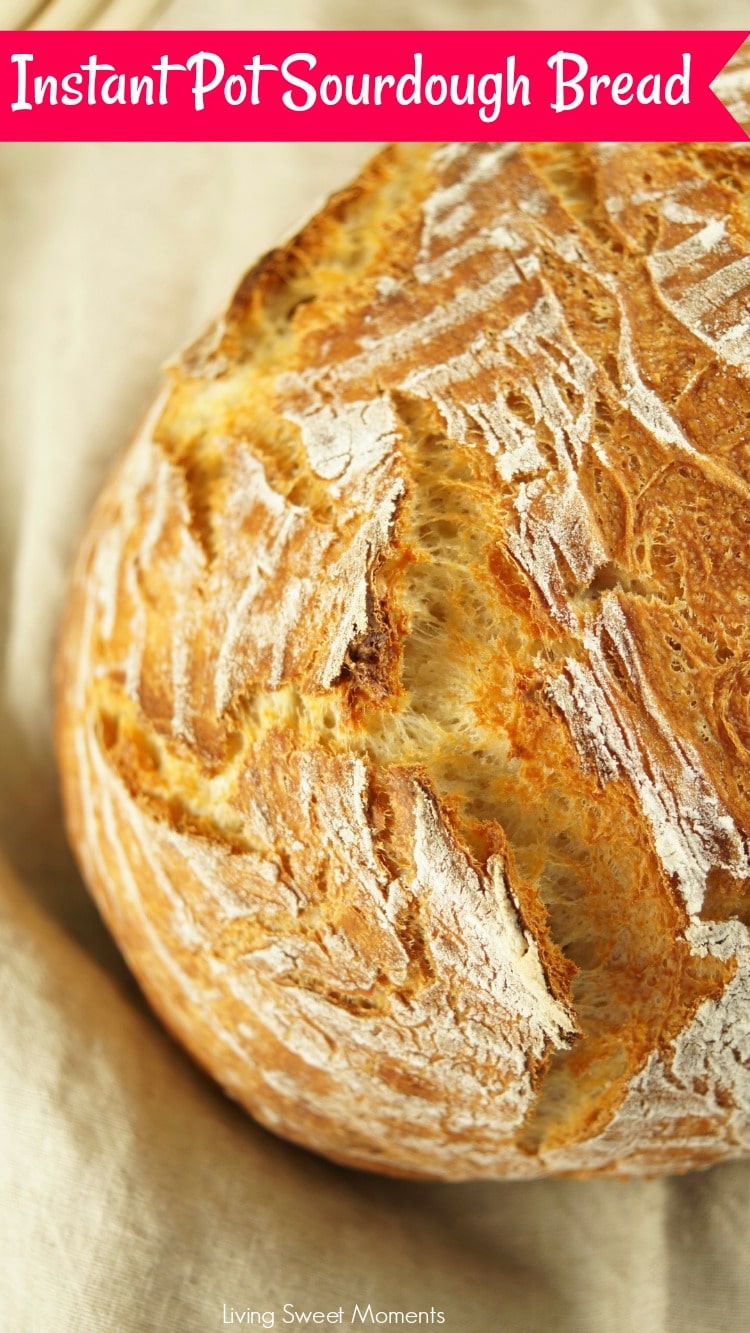 Crusty Instant Pot Sourdough Bread
I wish you could smell my kitchen right now.. If only I could bottle that fresh baked sourdough aroma. It's amazing.
This recipe is perfect if you're a novice baker as well as an experienced one. I used yogurt as a "cheat" to create the delicious sourdough flavor and aroma.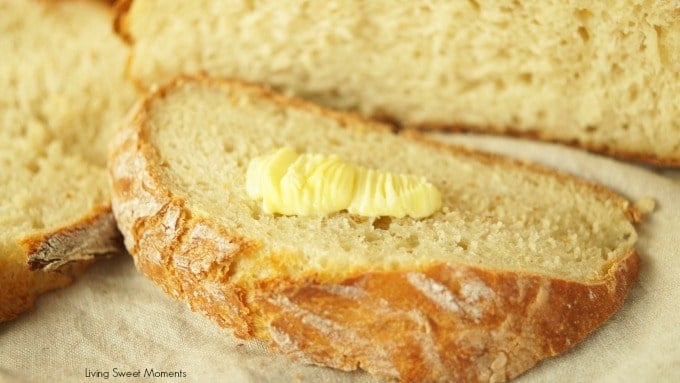 Now there's no need to spend days feeding a starter.
Remember last week when I posted about a yummy Instant Pot Yogurt recipe?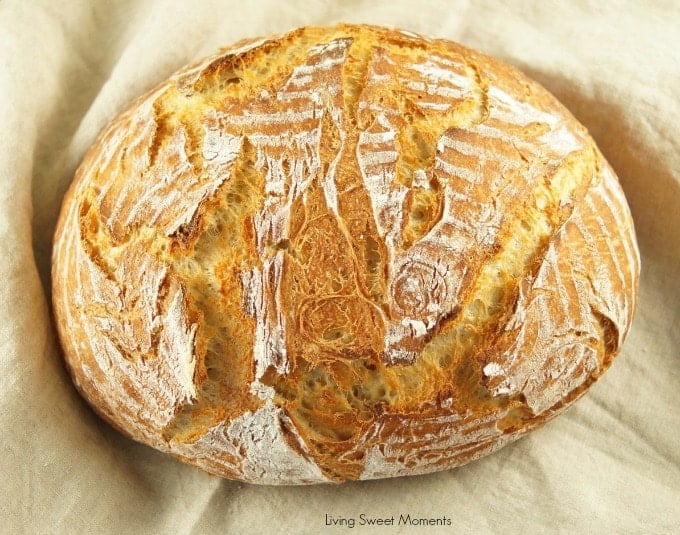 Well it was a such a hit with my family that I made a few more batches. The last 2 batches I made without the condensed milk. That allowed me to use my homemade yogurt for this Instant Pot Sourdough Bread. Obviously you can use store-bought yogurt.
It's perfect to eat on its own since it has this deep intense flavor. But of course, add a dab of butter and you'll be in heaven.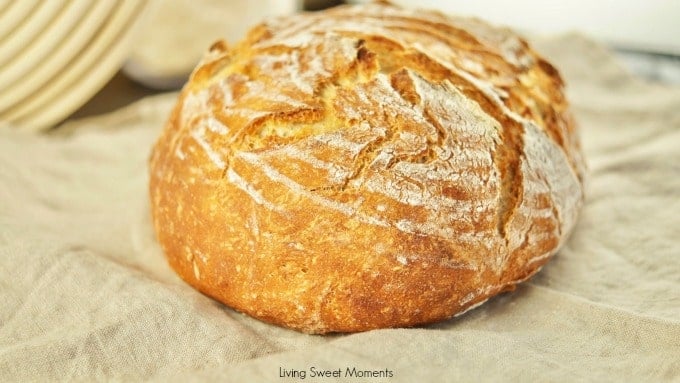 This bread is great for sandwiches, morning toast, and even croutons.
Add some garlic, herbs, or veggies as a variation.
Ready to get dirty?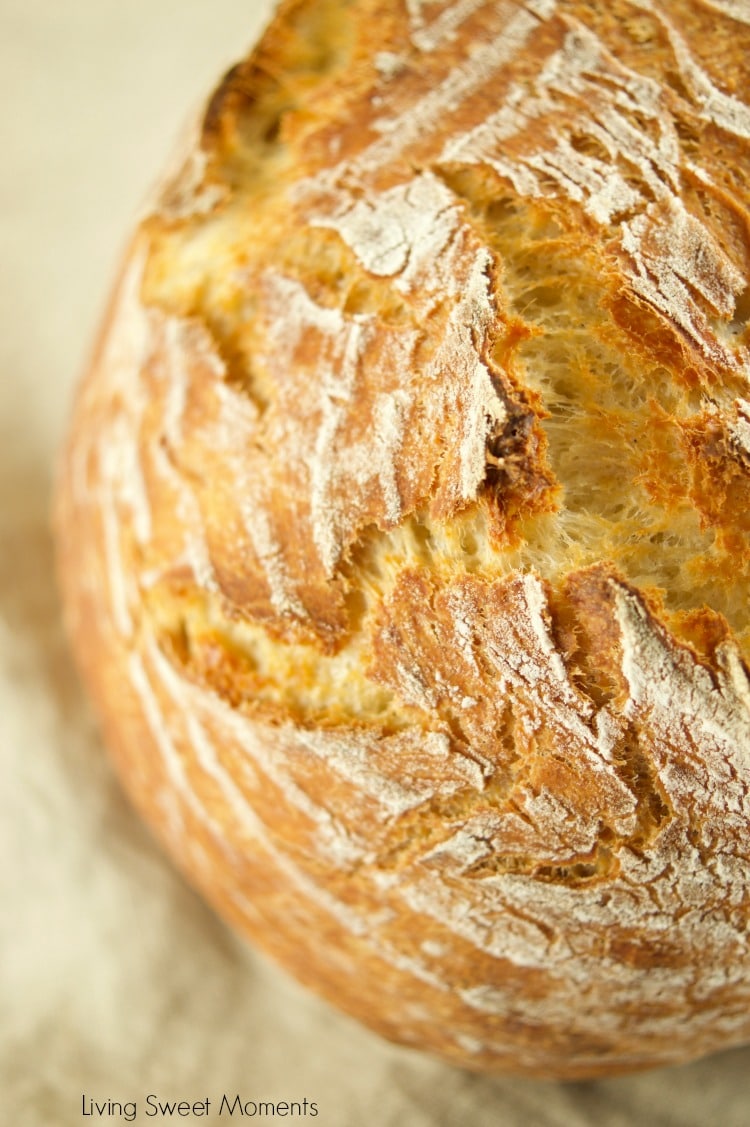 Check out how I made this Instant Pot Sourdough Bread:
First I start by mixing the flour, yeast, and salt.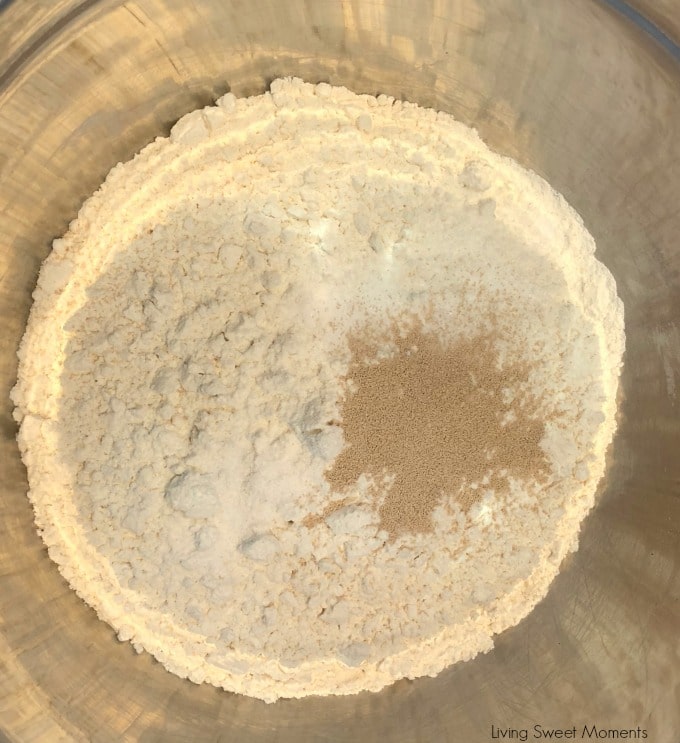 Then I add my yogurt and mix.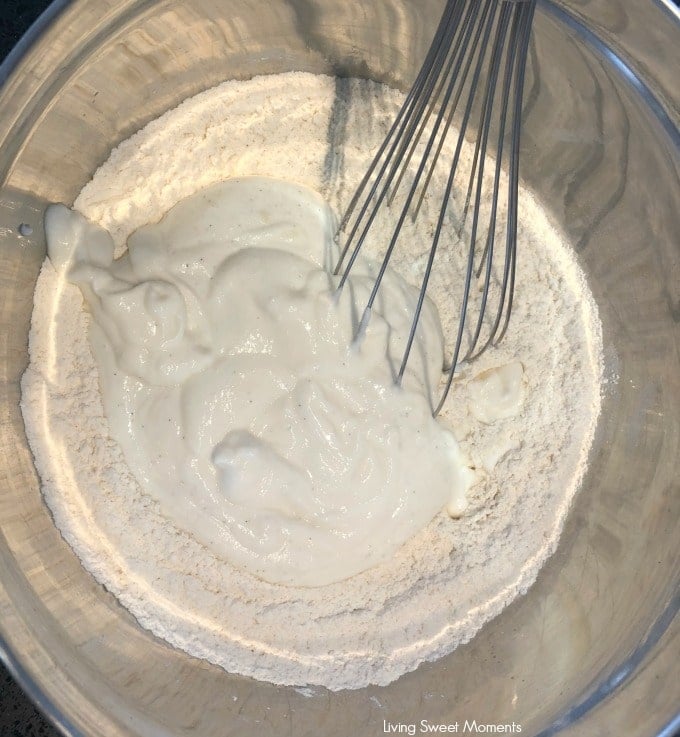 I knead it for 1-2 minutes and shape it into a ball. It doesn't have to look pretty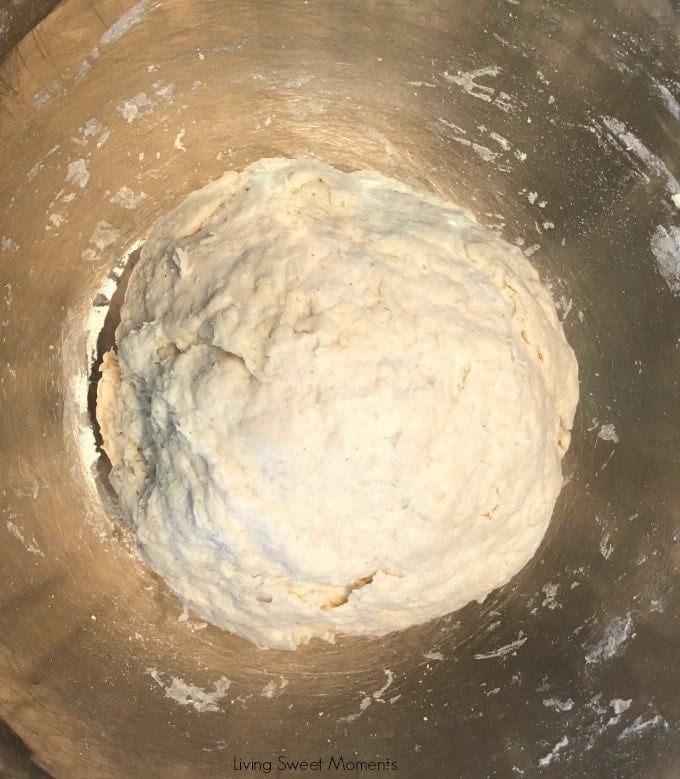 Next I add some parchment paper into my Instant Pot and place the ball there. Close the lid, press the yogurt button and proof for 4 hours.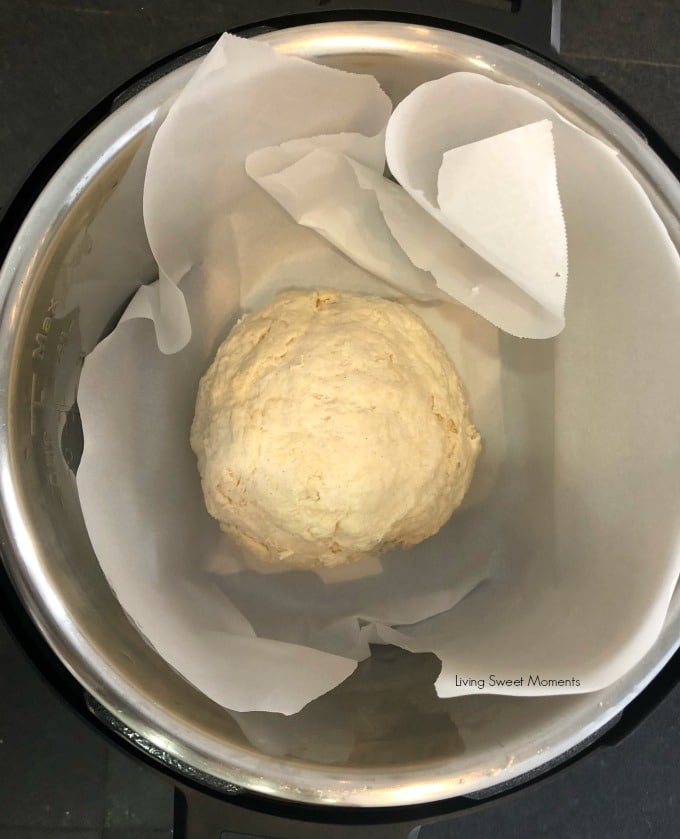 After 4 hours my dough has doubled its size and is ready to be shaped into a ball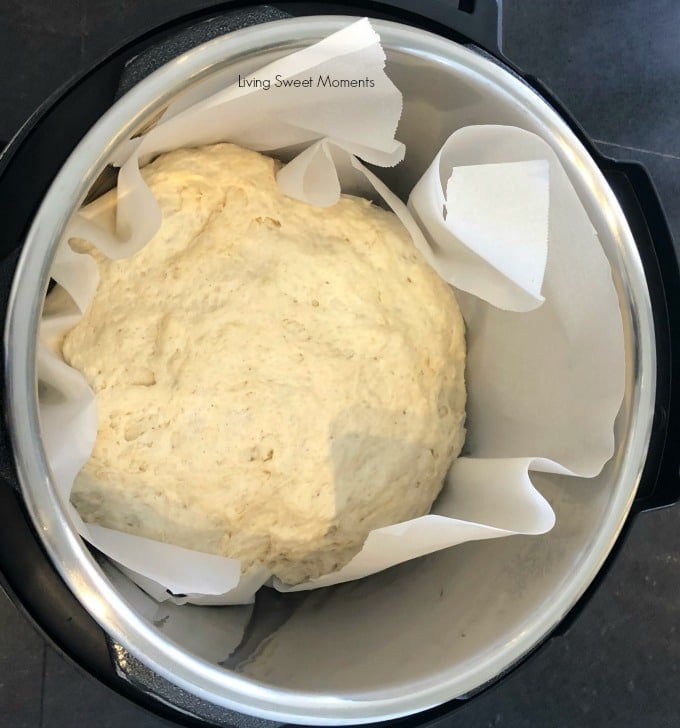 I remove it from the IP and place it on a floured counter. I knead it lightly to shape into a ball.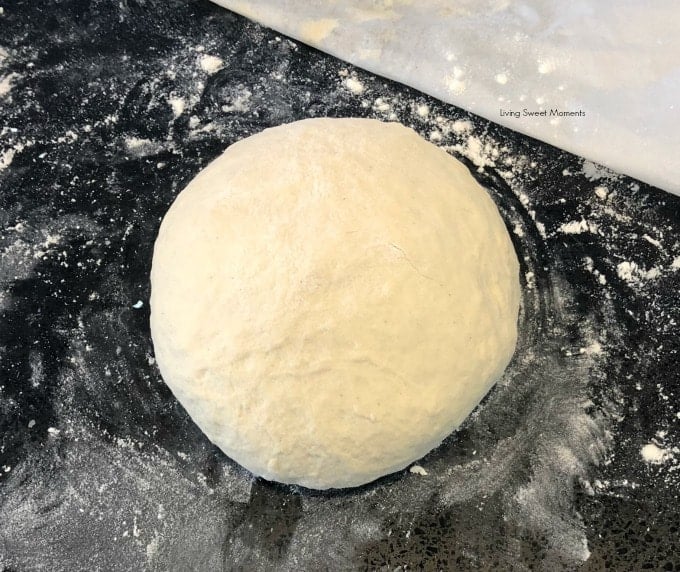 In the meantime, place a dutch pan in the a 450 F. Preheated oven for 30 minutes
Cover your dough ball on the counter while you wait of use a covered floured proofing basket (optional).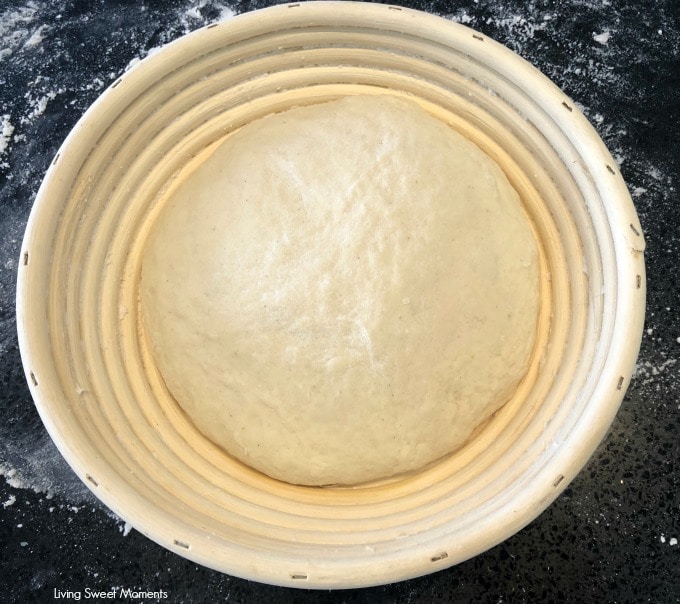 Next, carefully dump your dough ball in the preheated dutch pan, cover with lid and bake for 25 minutes.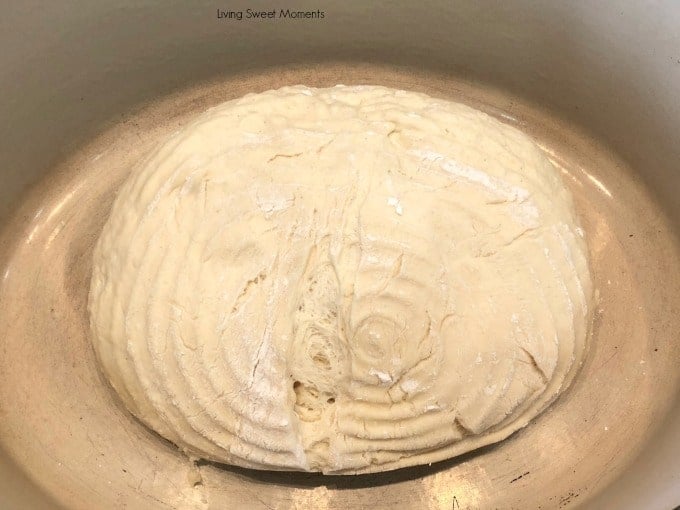 Uncover and bake until browned. About 8-10 more minutes.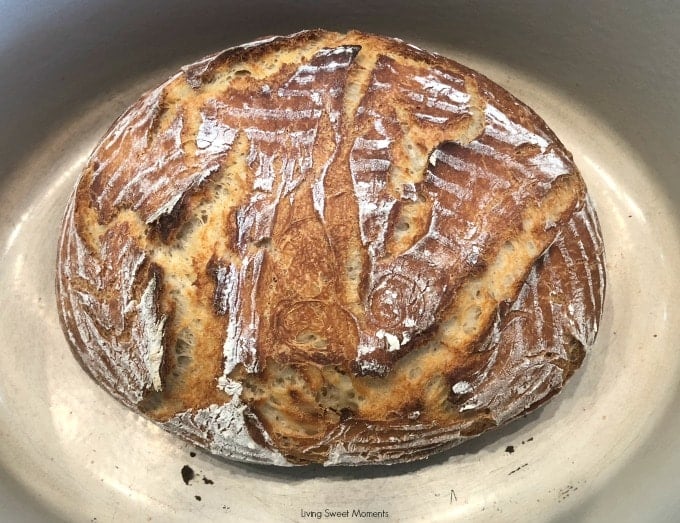 And voila! your sourdough bread is READY.
See how easy it is? It didn't need a lot of ingredients, steps, or kneading.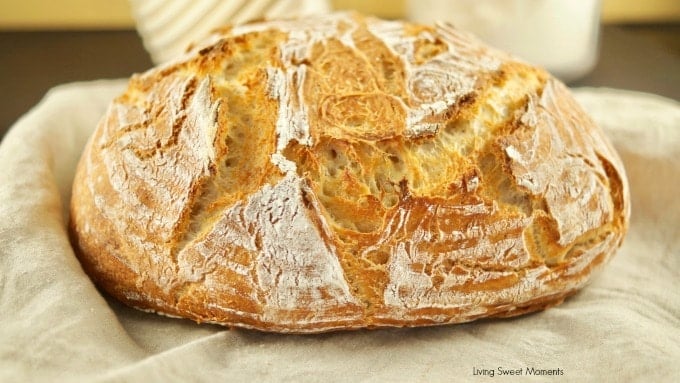 I hope you can try this delicious Instant Pot Sourdough Bread at home. If you do, please upload a pic on Instagram and tag me @Livingsweetmoments or use the hashtag #LivingSweet. I promise to repost it.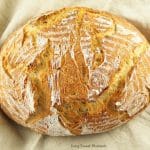 Instant Pot Sourdough Bread
This crusty and delicious Instant Pot Sourdough Bread is made with yogurt and is ready in less than 6 hours from start to finish. Ideal by itself or for sandwiches as well
Ingredients
3

cups

Bread Flour

1 1/2

teaspoons

Salt

3/4

teaspoons

Instant Yeast

1 1/2

cups

Unflavored Greek Yogurt

more may be needed
Instructions
In a bowl, mix the flour, salt, and yeast

Add the yogurt and mix by hand until a dough is formed. If the mixture is too dry add 1 or 2 tablespoons more of the yogurt

Form a ball. Line the Instant Pot with parchment paper and place the dough ball inside. Cover with the lid on and press the Yogurt button.


Let the dough proof inside the IP until the timer displays 4 hours

Remove the dough from the IP and lay on a floured surface. Knead and shape into a ball. Cover with a tea towel or set on a floured proofer basket and cover.

In the meantime, preheat a dutch pan in the oven at 450 F. for 30 minutes

Carefully place the dough ball in the dutch pan. Score the top with a knife and place lid

Bake cover for 25 minutes. Remove cover en bake for 8-10 more minutes or until browned

Remove from oven and cool on a rack
Nutrition Facts
Instant Pot Sourdough Bread
Amount Per Serving (1 slice)
Calories 130
% Daily Value*
Cholesterol 1mg0%
Sodium 300mg13%
Potassium 73mg2%
Carbohydrates 23g8%
Protein 6g12%
Calcium 32mg3%
Iron 0.3mg2%
* Percent Daily Values are based on a 2000 calorie diet.
You may also like: