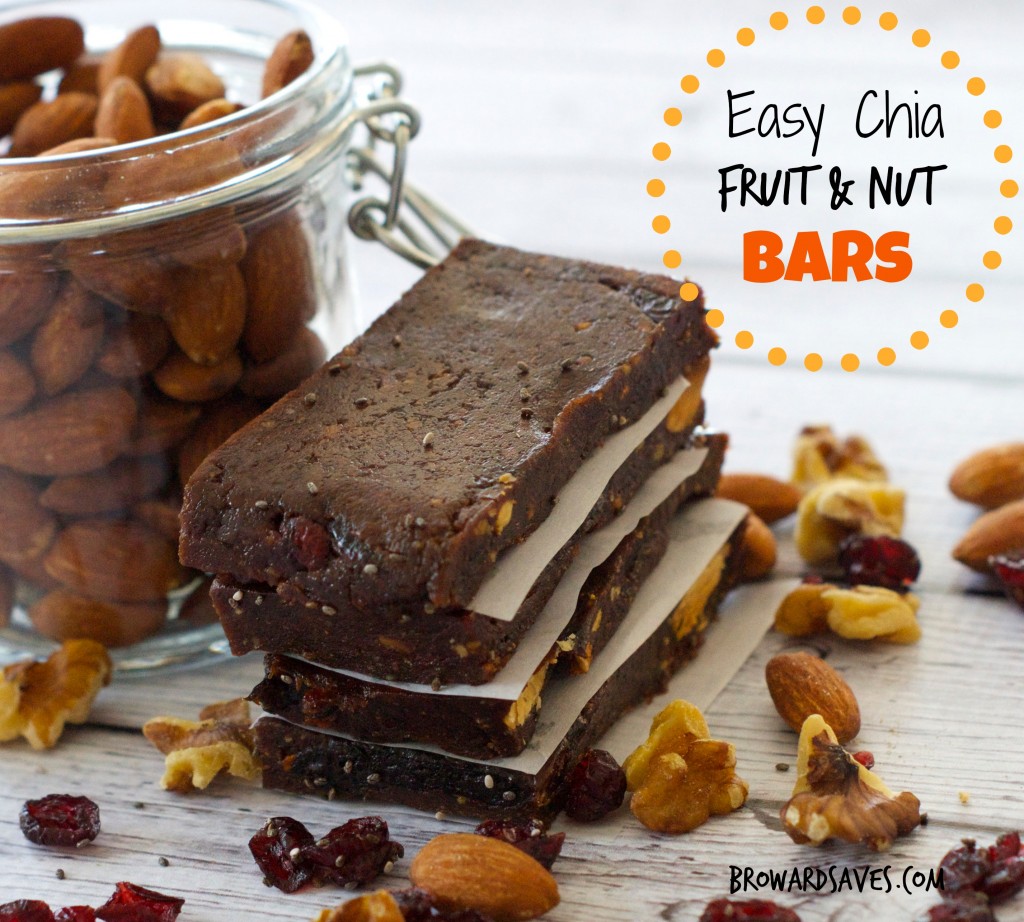 Chia Fruit And Nut Bar Recipe – Excellent Snack For The Lunchbox!
Both of my kids are picky eaters, specially the older one, You can imagine the face they would make if I told them I was making a Chia Fruit And Bar recipe. So I rack my brain coming up with healthy alternatives to sugary snacks. They mostly include fresh fruit just cut up in little pieces, other times I just serve them with yogurt. This Chia Fruit & Nut bar recipe are the perfect way to sneak in nutrition to your child without adding sugar, additives or flour making this recipe Gluten Free and Vegan.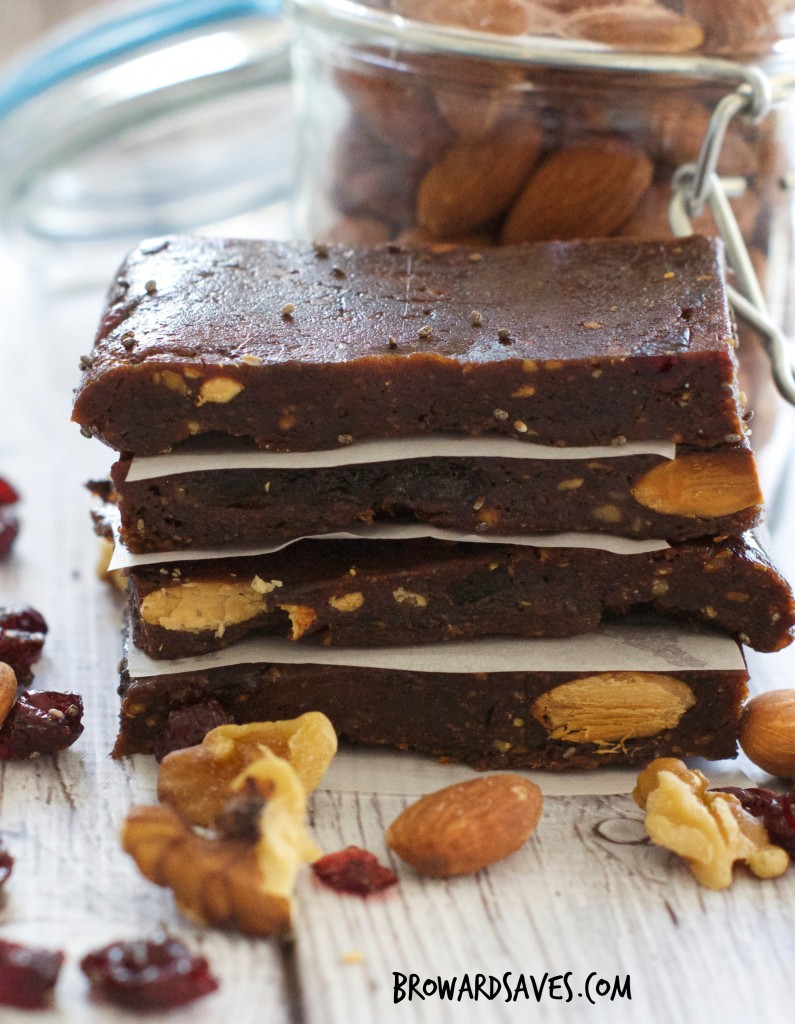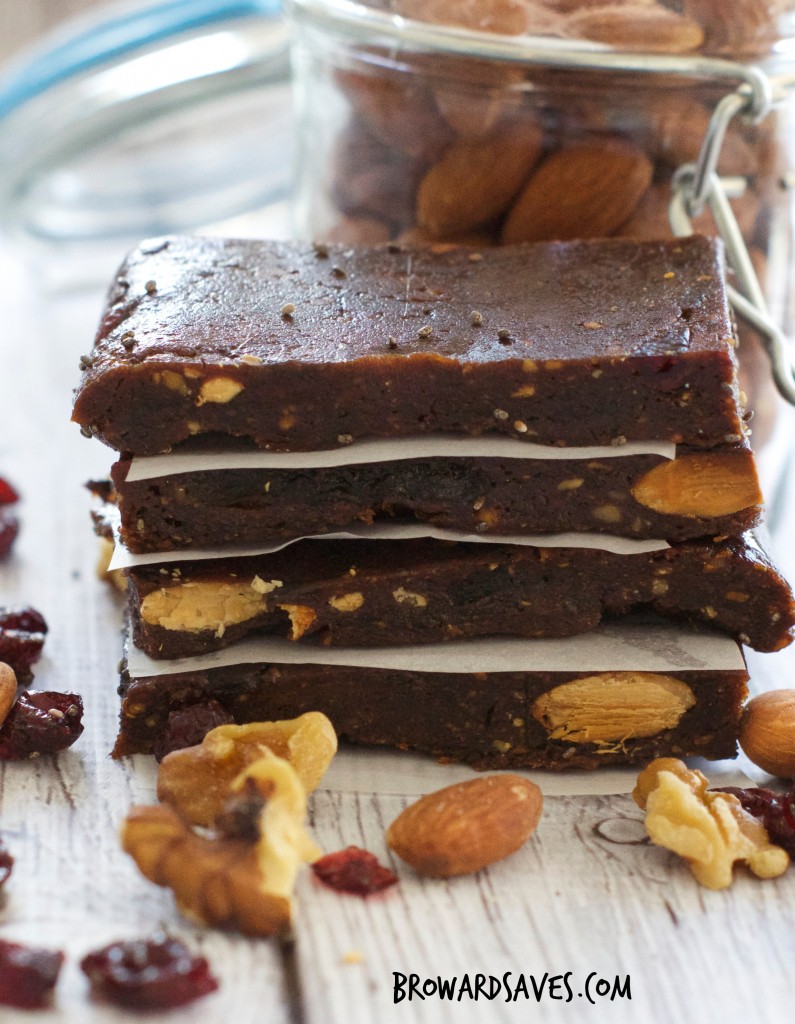 I told my girls that these are fruit bars and they loved it. You can wrap one up in plastic or parchment paper and put the inside their lunchbox. They will provide healthy nutrition and energy so your child can concentrate in school. These bars are also ideal for adults on the go. My husband takes them to his office and eats them while working.
These Chia Fruit And Nut Bars are a delicious balance between fruit & nut. It has a chewy texture with a crunchy ending. The Chia and flax seed are hidden so nobody will ever know what they have inside. You can use this recipe as a guide and make up your own flavorings. Instead of using walnuts and almonds you can use just one or the other. You can also substitute for peanuts, pine nuts, hazelnuts, macadamia, etc. Whatever floats your boat. The dried fruit can also be customized to your taste. The possibilities are endless! Dried figs, peaches, apple rings, dates. You name it, it can be used.
To make this recipe you will need:
– Whole Almonds, toasted
– Walnuts, toasted
– Chia Seeds
– Flax Seeds
– Dried Cranberries, with no sugar added
-Prunes
– Walnut Oil – You can get it HERE (optional)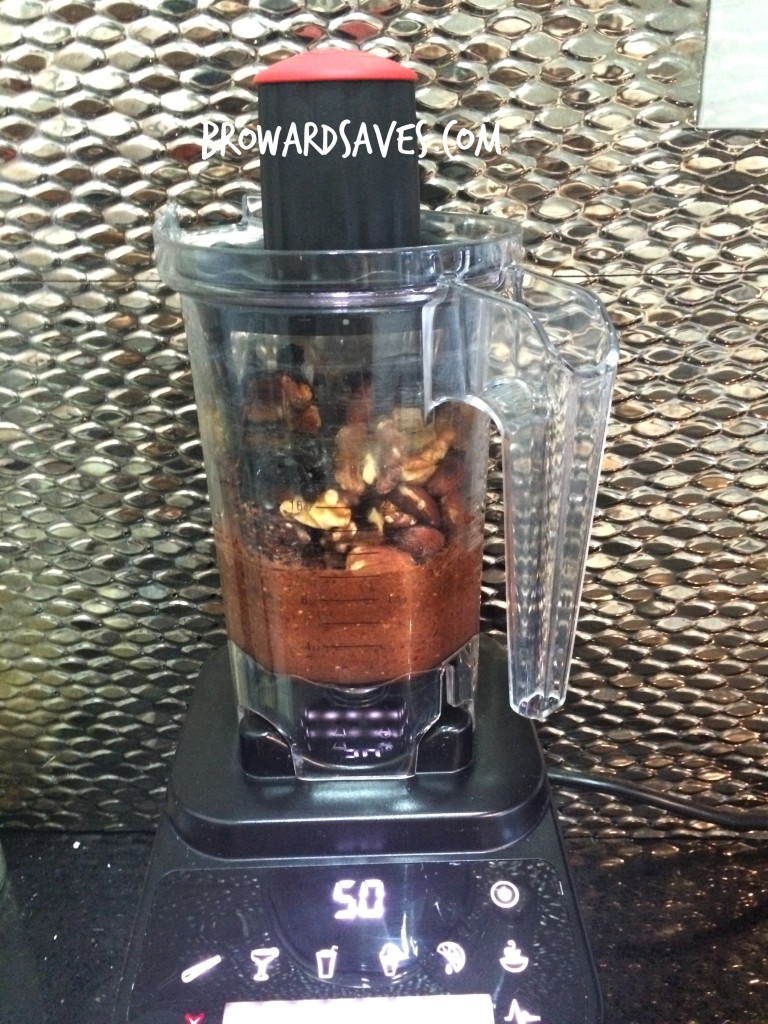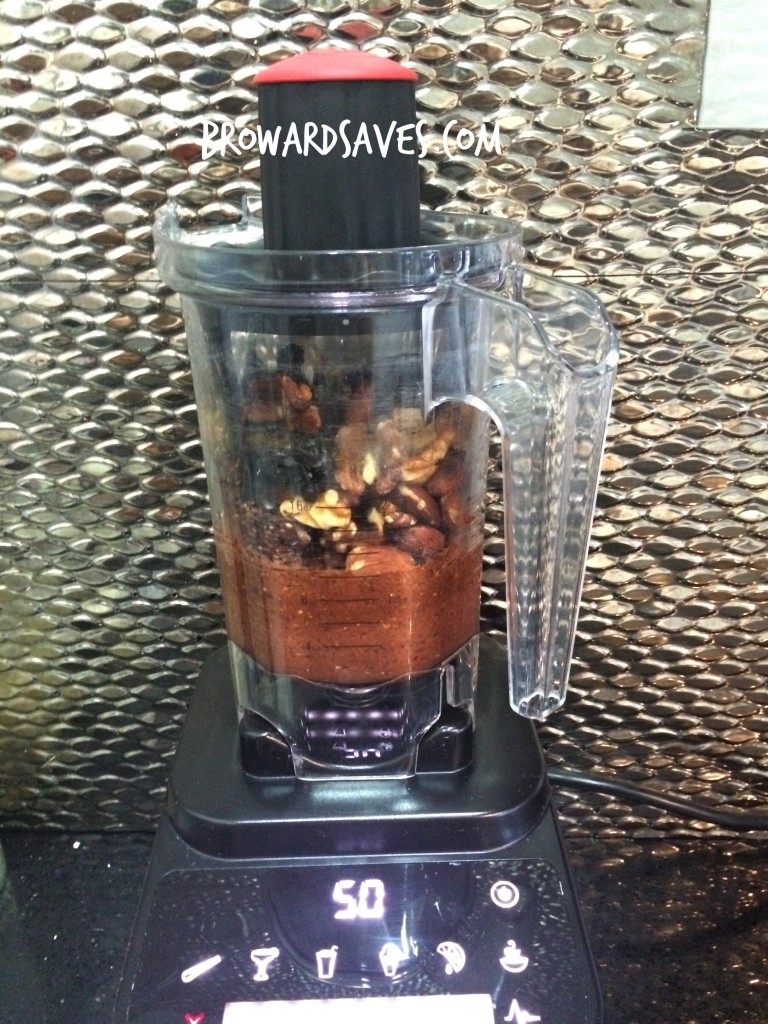 That's it!. Combine them all in your food processor or in the Twister Jar of your Blendtec Blender. Then place the pasty like mixture in an 8×8 pan lined with parchment paper and shape in a square. Refrigerate for at least one hour and voila! Homemade great tasting healthy bars. I like to leave whole pieces of almonds and walnuts because it makes them crunchy – But you can blend them completely if you'd like.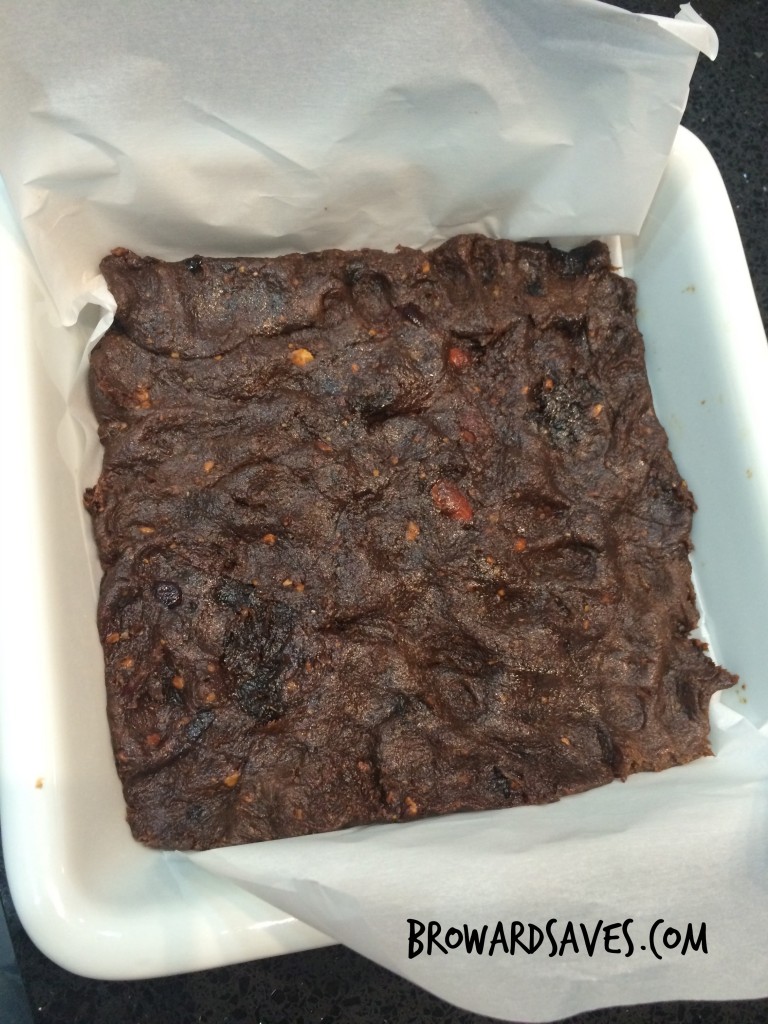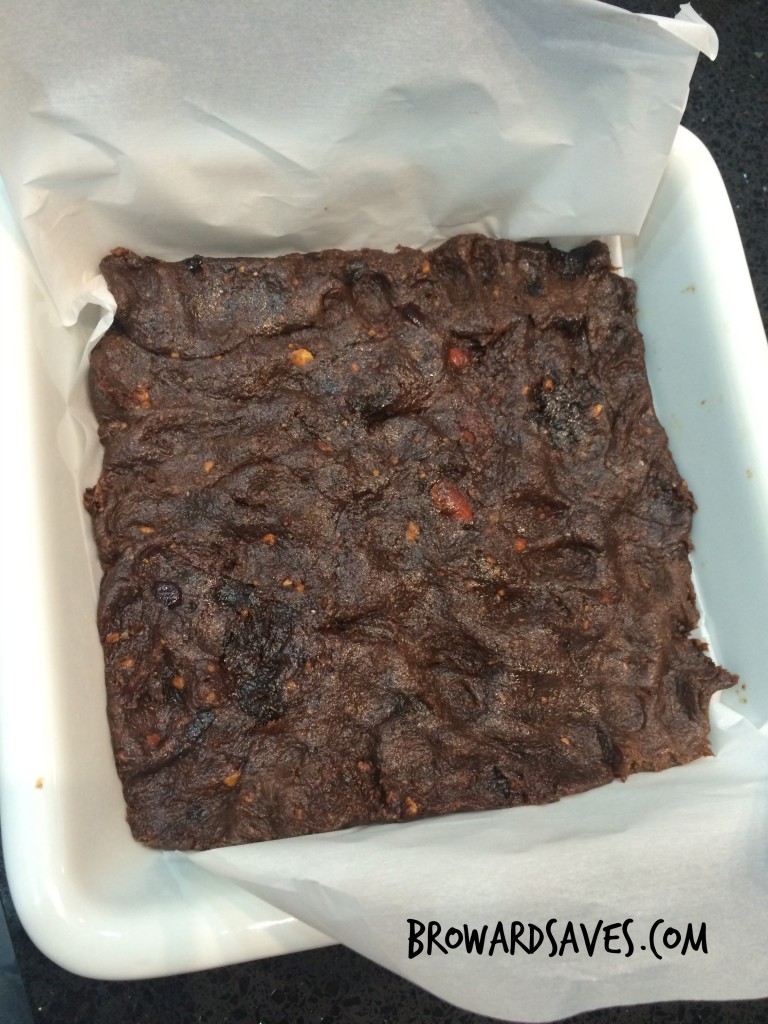 I can't wait to try out new variations of this recipe. Hope you can make them at home too!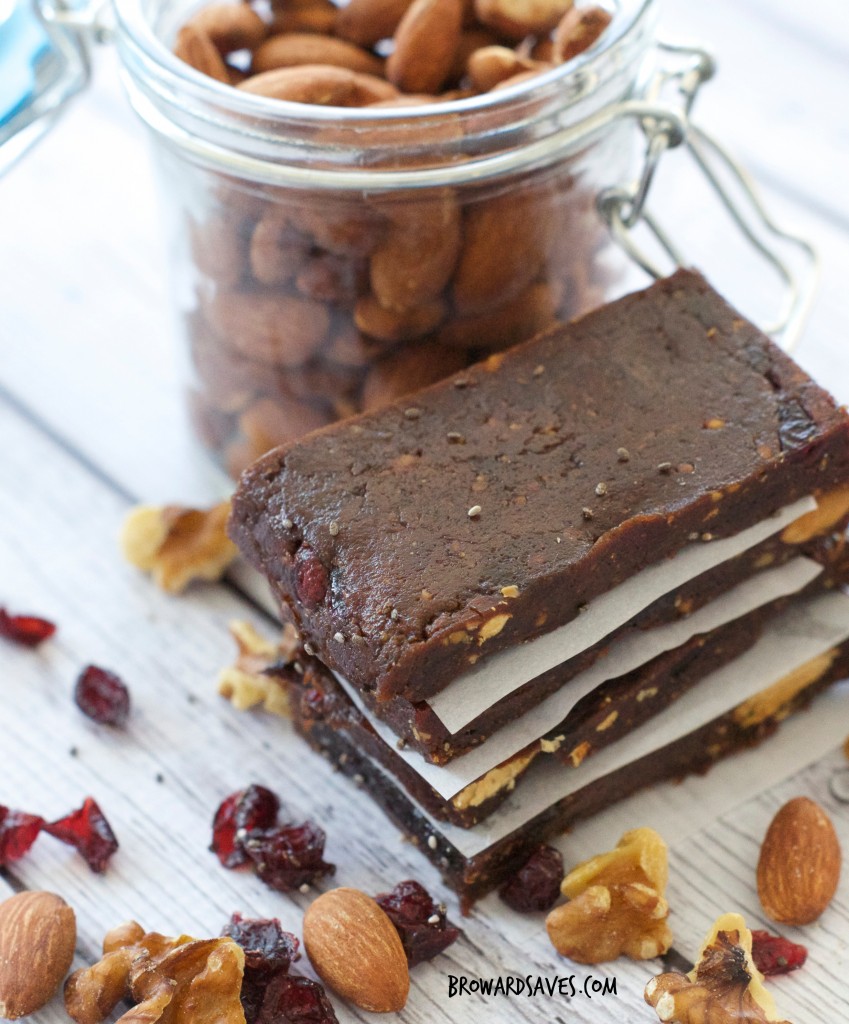 Chia Fruit & Nut Bar Recipe
Author:
Prep time:
Total time:
Ingredients
1 Cup of Prunes (you can also use Dates, Figs, etc)
1/2 Cup of Walnuts, toasted
1/2 Cup of Whole Almonds, toasted
1 Cup of Dried Cranberries, Unsweetened
1 Ts. of Flax seed
1 Ts. of Chia Seeds
1-2 Ts. of [url href="http://amzn.to/2eEbMwh" target="_blank"]Walnut Oil[/url]
Instructions
Place all ingredients in a food processor or Blendtec Blender. If your food processor if a little slower, add the nuts first, process, then add the rest of the ingredients. If mixture is extra thick add a little more Walnut oil.
Place the mixture in an 8×8 pan lined with parchment paper (for easy removal)
Refrigerate for at least one hour or until mixture is firm
Take the Chia mixture out of the fridge and remove from pan. With a sharp knife cut into bars. Depending on the size chosen you can get from 6-8 bars per batch. You can also make them in little bites.