This delicious Maple Creme Brûlée recipe only requires 5 ingredients and is served with candied pecans for extra flavor and crunch. A perfect fancy dessert.Â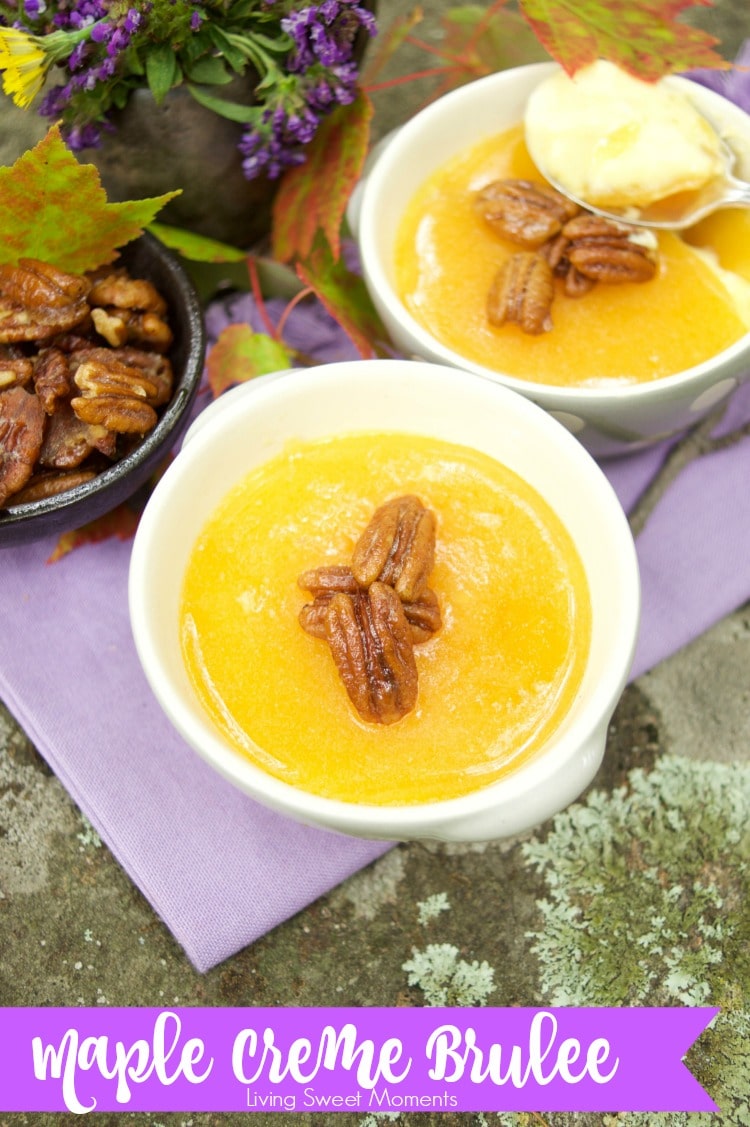 Maple Creme Brûlée With Candied Pecans
If you follow my Instagram account, you may have noticed that I spent a few weeks in Vermont. The land of maple and cheese. So, to pay homage to this wonderful state I made a delicious, creamy, and sweet Maple Creme Brûlée.
In case you didn't know, Creme Brûlée is one of the easiest desserts to put together and is perfect for a fancy dinner. One spoonful and you'll think you're in a 5-star restaurant.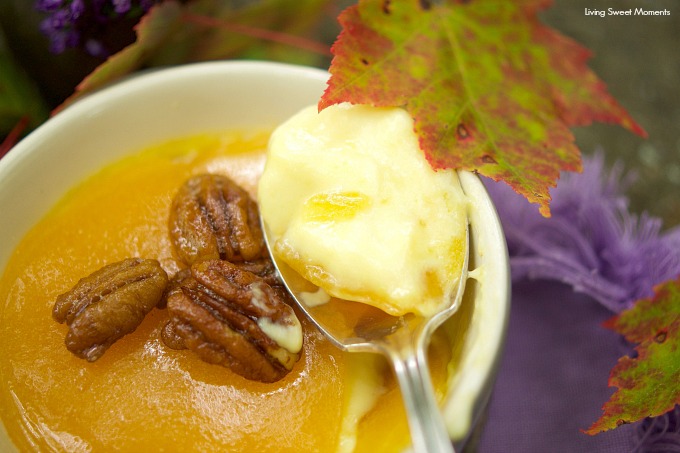 To make the Brûlée part of this custard, you don't necessary need to be invest in a torch. You can just sprinkle the tops with sugar and insert under the broiler or cook a caramel like I did, and pour on top.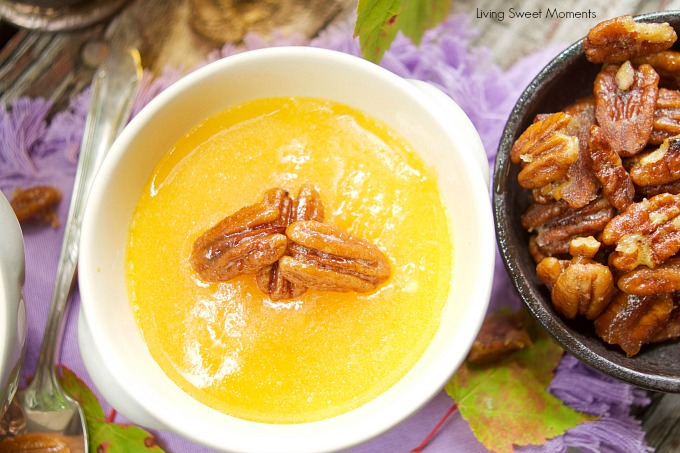 I love a thick layer of crunchy caramel that mixes with the creamy maple custard. For the ramekins, use your favorite shape or get them HERE at Amazon.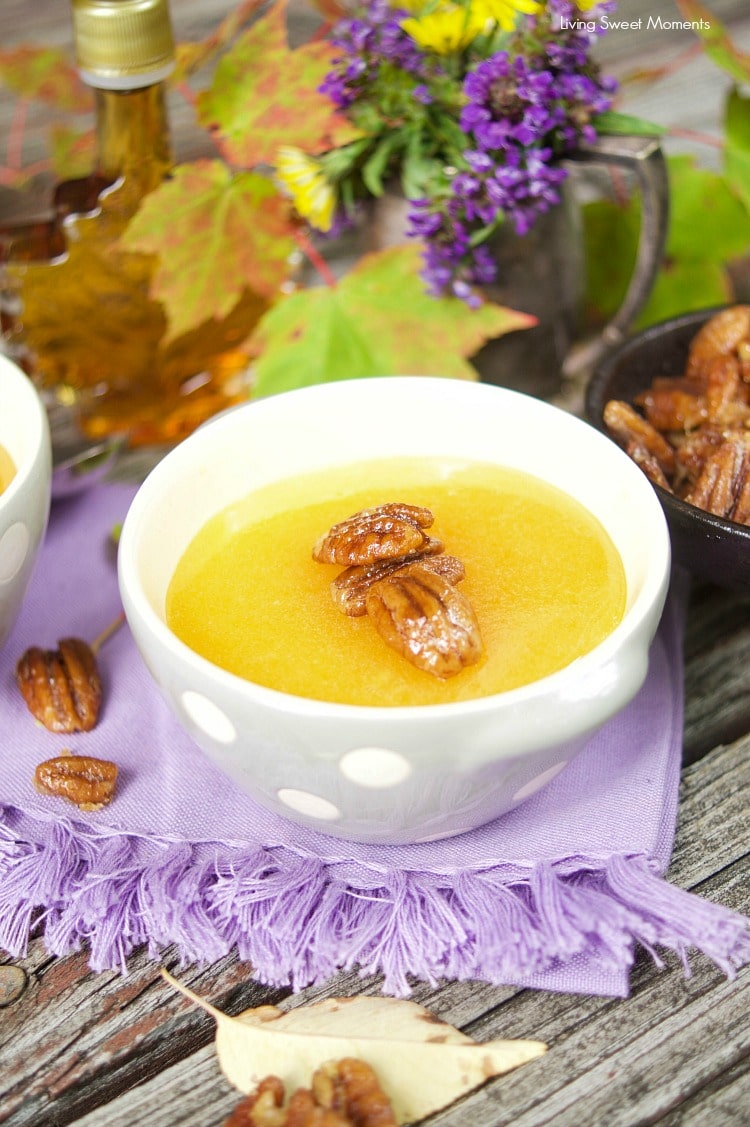 I decided to serve these with yummy candied pecans. The combination of the two flavors and textures together is like a party in your mouth. If you're not into pecans, simply omit them or substitute with walnuts or almonds.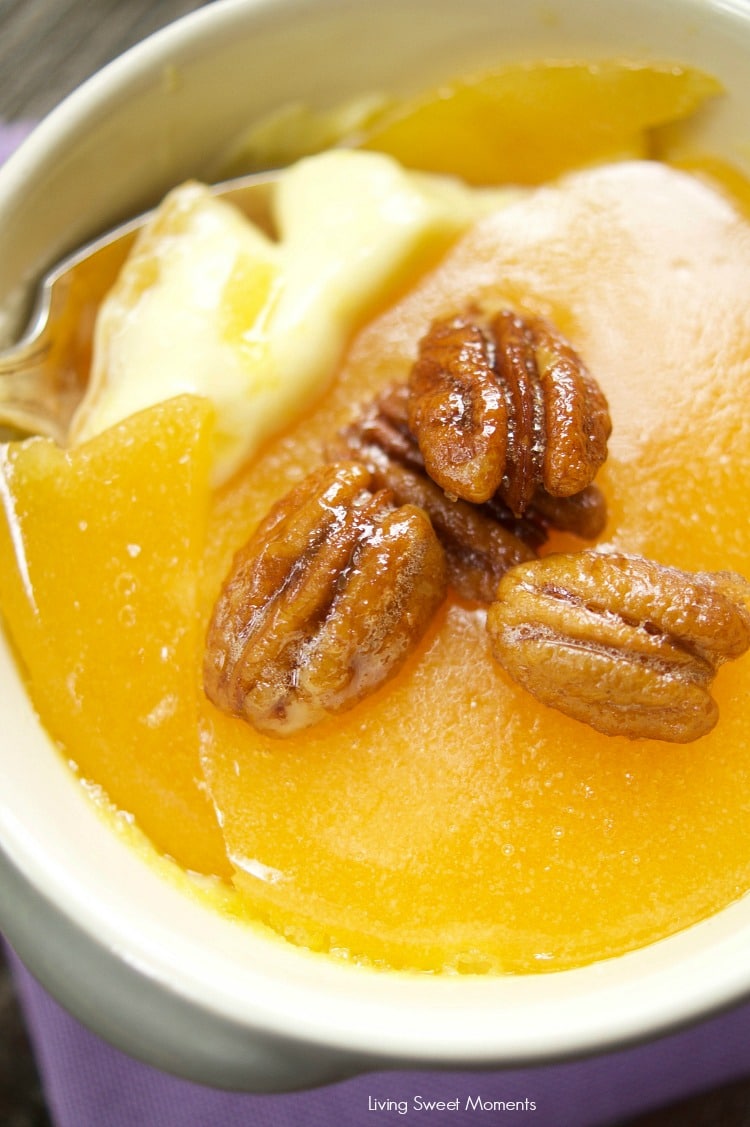 During the weeks I spent in Vermont, I got to try maple everything, and of course, I was hooked. It has a much more deep warm taste than regular sugar and you can literally use it in sweet and savory dishes. Heck, I even drank some maple soda. Yum!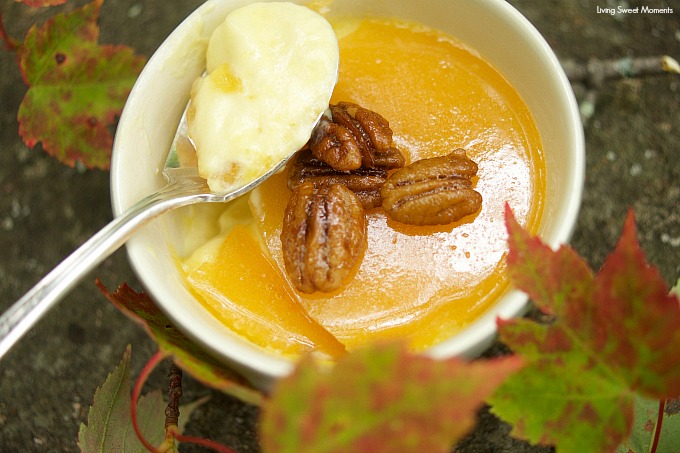 I shot this recipe while I was there, and just seeing this pictures make me feel nostalgic. The air was different there and life was a life slower.
I hope you can try this delicious Maple Creme Brûlée With Candied Pecans at home. If you do, please upload a pic on Instagram and tag me @Livingsweetmoments or use the hashtag #LivingSweet. I promise to repost it.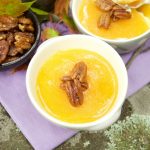 Maple Creme Brûlée With Candied Pecans
This delicious Maple Creme Brûlée recipe only requires 5 ingredients and is served with candied pecans for extra flavor and crunch. A perfect fancy dessert.
Ingredients
For Maple Creme Brûée
1/4

cup

pure maple syrup

4

egg yolks

1/2

cup

heavy cream

1

teaspoon

pure vanilla extract

Sugar

for topping
For Candied Pecans
3/4

cup

toasted pecans

1/4

cup

brown sugar

1/4

cup

butter

1

tablespoon

maple syrup
Instructions
For Maple Creme Brûlée
Preheat oven to 350 degrees Fahrenheit

Prepare 4 ramekins or custard cups inside a larger baking pan or pyrex

In a bowl, whisk the egg yolks, maple syrup, and vanilla until combined

Heat the heavy cream until hot (do not boil)

Slowly add the hot cream to the egg mixture while whisking constantly to avoid the egg from cooking

Strain

Pour the custard on the ramekins

Carefully pour boiling water around the ramekins

Bake for 30-40 minutes or until custard sets

Remove from oven, cool and refrigerate for a minimum of 4 hours

Before serving, sprinkle some sugar on top and torch or place under the broiler until sugar caramelizes
For Candied Pecans
Line a sheet pan with parchment paper

Place the brown sugar and butter inside a saucepan over medium heat until sugar and butter melt

Add the syrup and pecans.

Stir for a few minutes or until the pecans are completely coated, about 3-4 minutes

Pour the mixture into the parchment paper

Let it completely dry at room temperature

Break off the pieces when dry

Add them to creme brulee
Nutrition Facts
Maple Creme Brûlée With Candied Pecans
Amount Per Serving
Calories 513
Calories from Fat 360
% Daily Value*
Total Fat 40g 62%
Cholesterol 266mg 89%
Sodium 127mg 5%
Potassium 192mg 5%
Total Carbohydrates 34g 11%
Protein 5g 10%
* Percent Daily Values are based on a 2000 calorie diet.
You may also like: