These 5 ingredient Copycat Almond Joy Bars are easy to make and delicious! Enjoy a sweet treat full of coconut, almonds and shiny ganache. The perfect dessert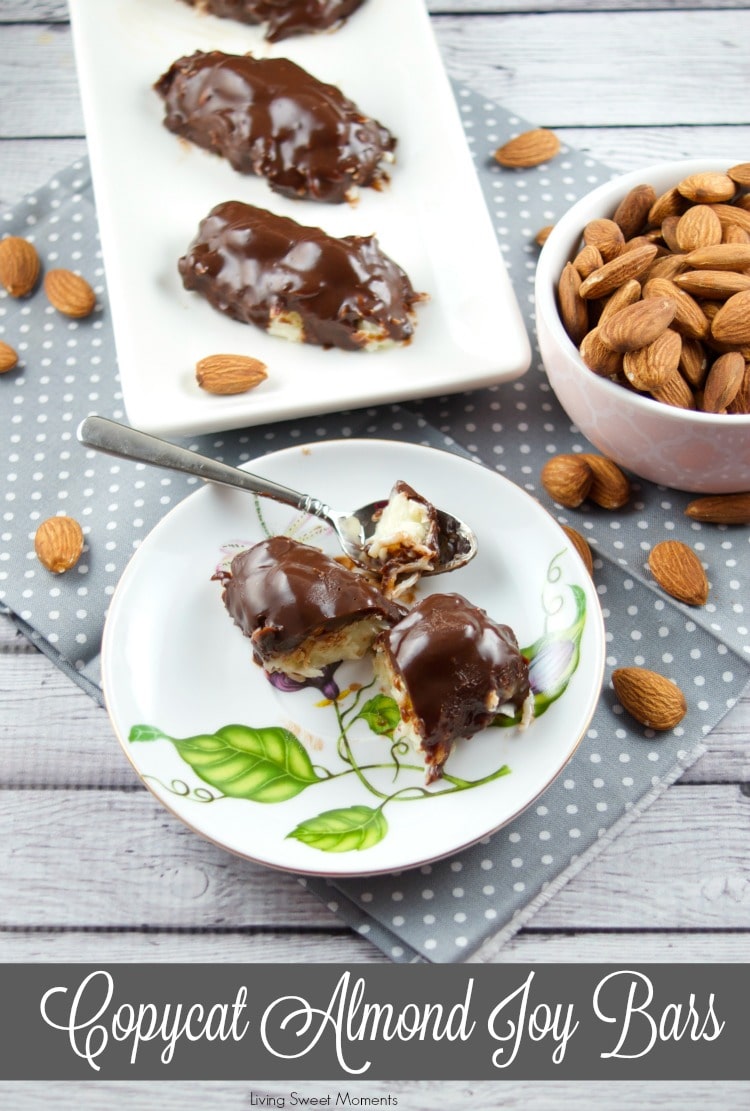 Copycat Almond Joy Bars
Whoever came up with the combination of coconut, chocolate and almonds in a no bake form in a genius. These Copycat Almond Joy Bars are delicious, chewy and full of flavor. They only require 5 ingredients and are fairly easy to make.
I just love take a bite out of the shiny chocolate tops and be surprised with the chewiness of the coconut and the crunch of the almond. If you're not a fan of nuts or suffer from allergies, simply omit it from the recipe.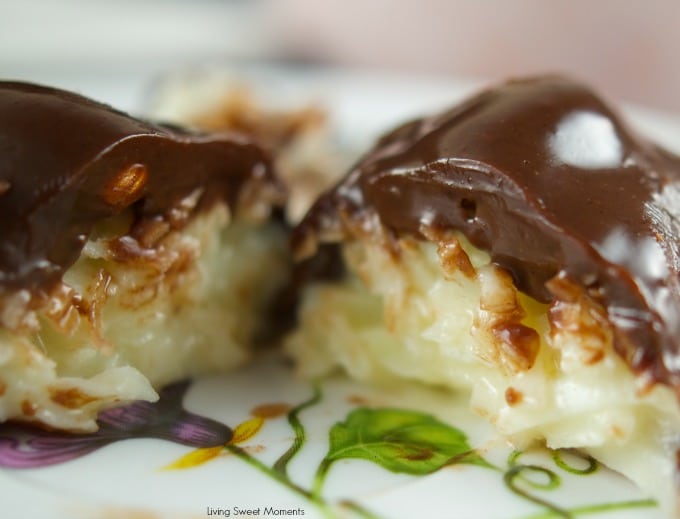 This week has been rainy and chilly here in Miami. My girls and I have spent our afternoons cuddled up doing homework and practicing piano. Yesterday we got bored and decided to make these Copycat Almond Joy Bars on a whim.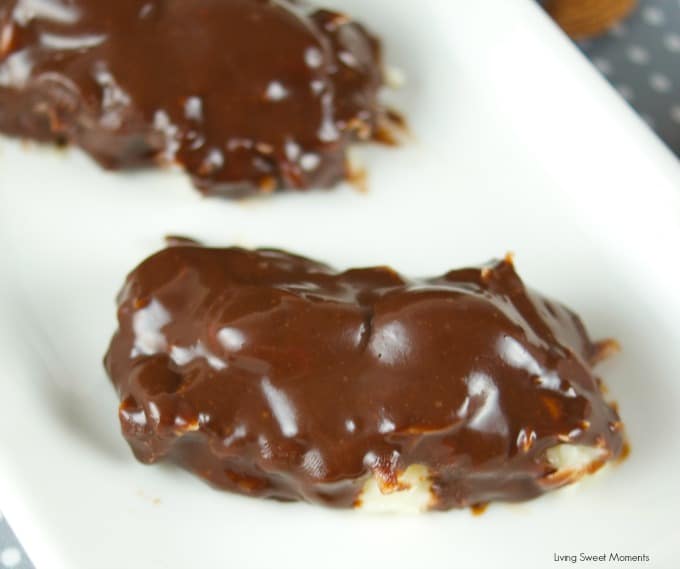 These bars are perfect to make with kids since they don't require any baking. I will show you below how the process goes. So wash your hands and get ready for some magic:
The first thing we do is mix some coconut flakes with condensed milk. Yum!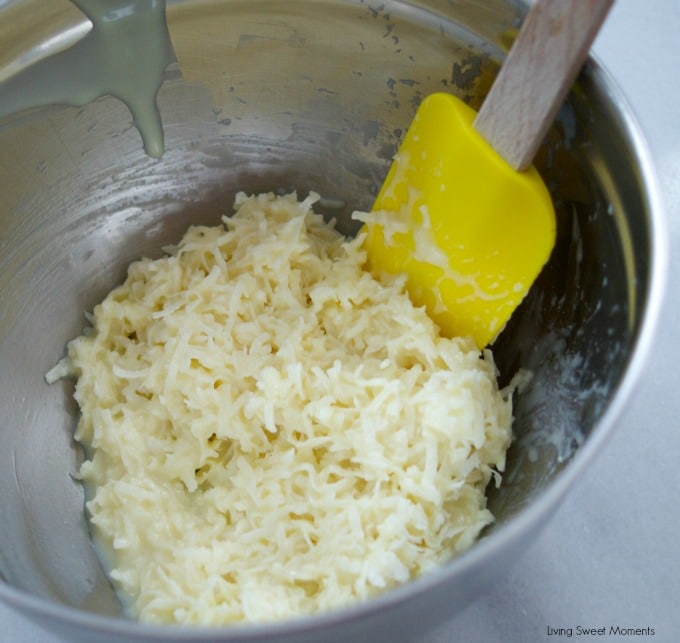 Now here comes the messy part: my girls grabbed a few spoonfuls of this mixture and shaped bars with their hands.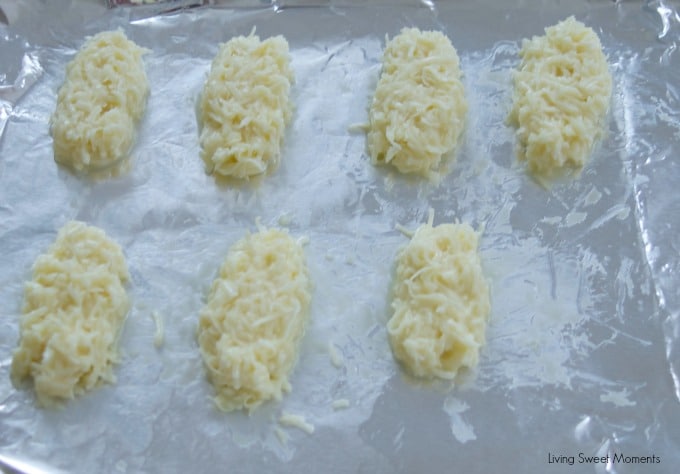 Now we refrigerate the coconut for at least 30 minutes. To ensure that they are firm enough to coat with the chocolate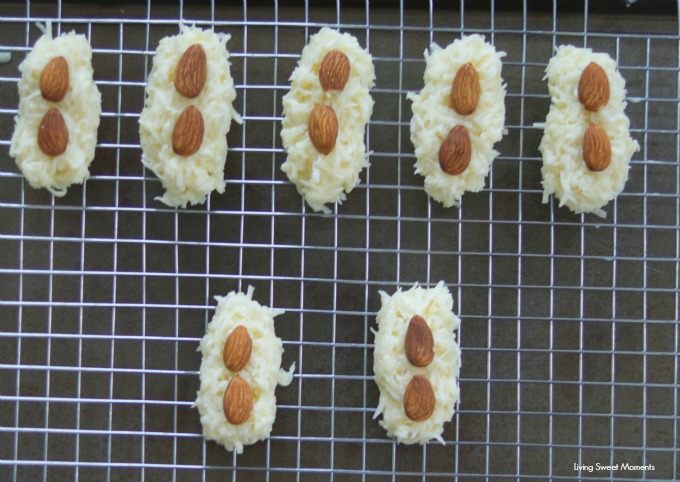 Now we add some roasted almonds and then we drizzle some shiny delicious ganache. Ganache is simply a mixture of chocolate and cream.
Finally, we refrigerate them for 30 more minutes or until the chocolate has set and voila! Copycat Almond Joy Bars. Easy, peasy, lemon squeezy! The perfect rainy weather activity.
I hope you can try these delicious Copycat Almond Joy Bars at home. If you do, please upload a pic on Instagram and tag me @Livingsweetmoments or use the hashtag #LivingSweet. I promise to repost it.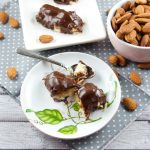 Copycat Almond Joy Bars
These 5 ingredient Copycat Almond Joy Bars are easy to make and delicious! Enjoy a sweet treat full of coconut, almonds and shiny ganache. The perfect dessert
Ingredients
3

cups

of coconut flakes

1 - 14

oz

Can of Condensed Milk

sweetened

30

Whole Almonds

roasted

1

Cup

of Dark Chocolate Chips

1

Cup

of Heavy Cream
Instructions
In a bowl mix the coconut flakes and the condensed milk together until combined

With your hands, shape into logs and place them on a cookie sheet lined with parchment paper or foil. Wash your hands frequently to avoid the coconut sticking to your fingers

Refrigerate the bars for 30 minutes minimum

Meanwhile, place the chocolate chips on a bowl. Set aside

Boil the cream on a heavy bottomed pot

Pour the entire hot cream over the chocolate chips. Wait 1-2 minutes so the chocolate starts melting

Mix the chocolate until you have a homogenous and runny chocolate mixture

Remove the coconut from fridge and place 2 almonds on top of each bar

Pour the chocolate cream on top of each bar. You can also use a fork to dip each bar into the chocolate mixture. Shake off excess

Refrigerate until the chocolate sets. About 20-30 minutes
LOVE COPYCAT BARS? Then check out my Twix Bars!!!