This delicious Peppermint Meringue Cookies Recipe is so easy to make and he perfect addition to any Holiday celebration. I love the nice "surprise" inside.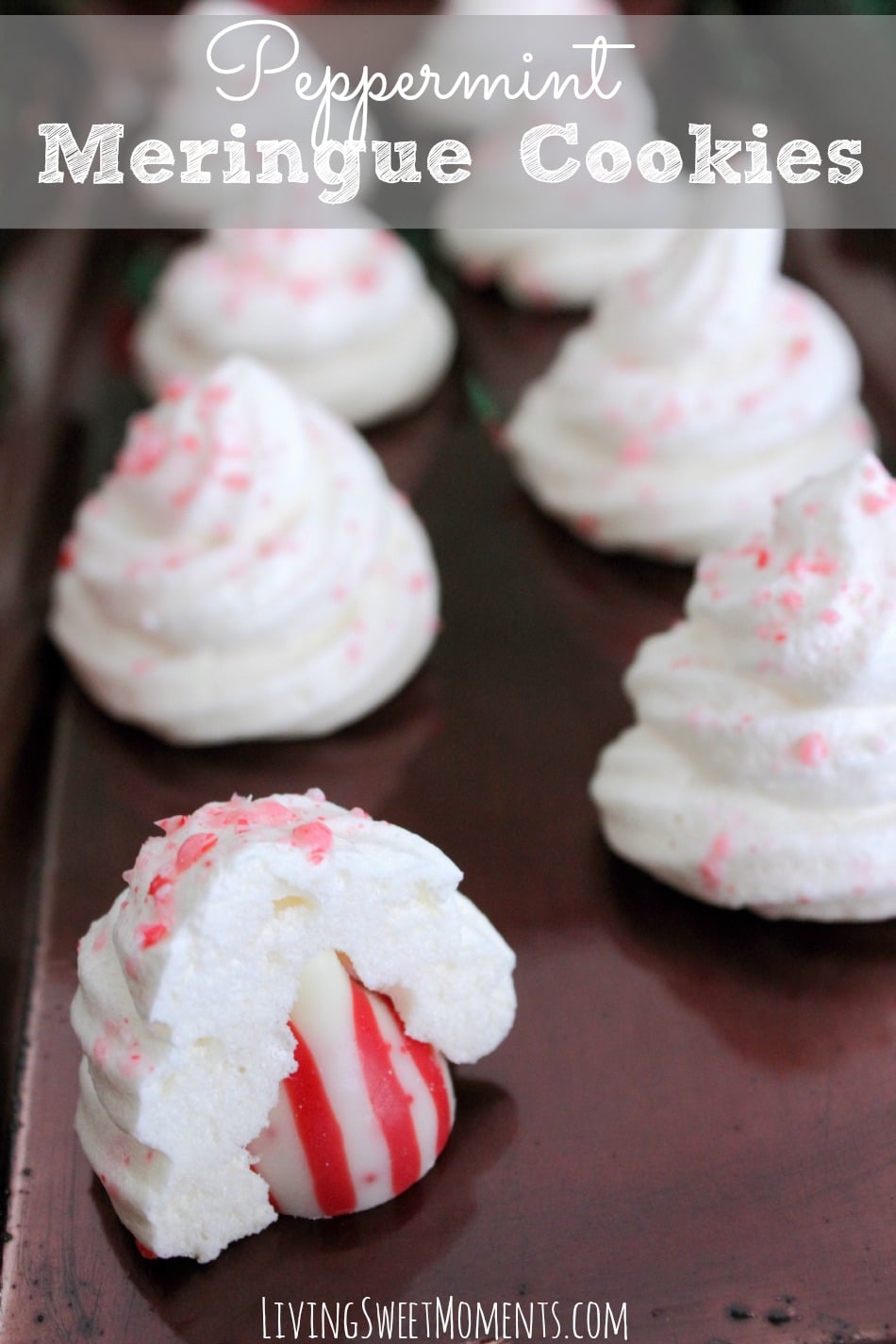 Peppermint Meringue Cookies Recipe
This yummy Peppermint Meringue Cookies Recipe is not only easy to make but it also has a surprise inside! When you see the outside you would never think that a cute peppermint chocolate kiss is hiding inside. Perfect to serve during Holiday parties and get togethers.
During this time of year, my baking urges go in overdrive and I turn my house into a bakery! Giving out desserts to friends and family make cute and thoughtful gifts. This Peppermint Meringue Cookies Recipe is definitely something that I make as a gift. Gather them in a cute little box with a ribbon and you got yourself a great gift.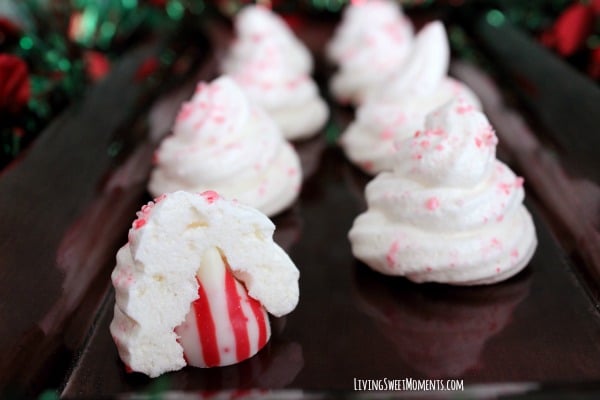 This Peppermint Meringue Cookies Recipe is crunchy, tasty with a nice peppermint flavor that finishes off with creamy chocolate. I sprinkle a few crushed candy canes on top for color and crunch.
If you've never made meringue before, you will be surprised how easy it is to make. Egg whites go in the mixer and become creamy and puffy.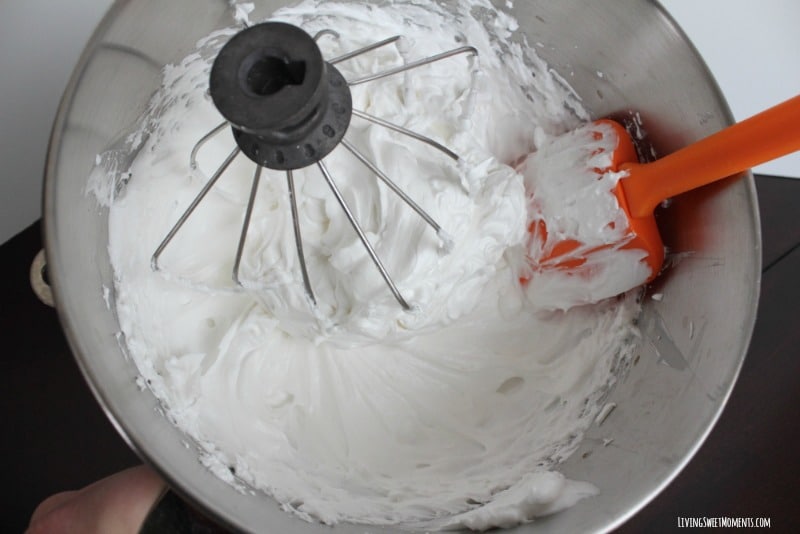 See how beautiful and shiny the egg whites and sugar become when mixed for a few minutes? That is when I get my spoon and steal a few mouthfuls.
After making the meringue, simply pour the mixture in a zip top bag and cut down the bottom edge. It is easier to use a mug when filling your bag. Less mess in the kitchen gives you more time for munching!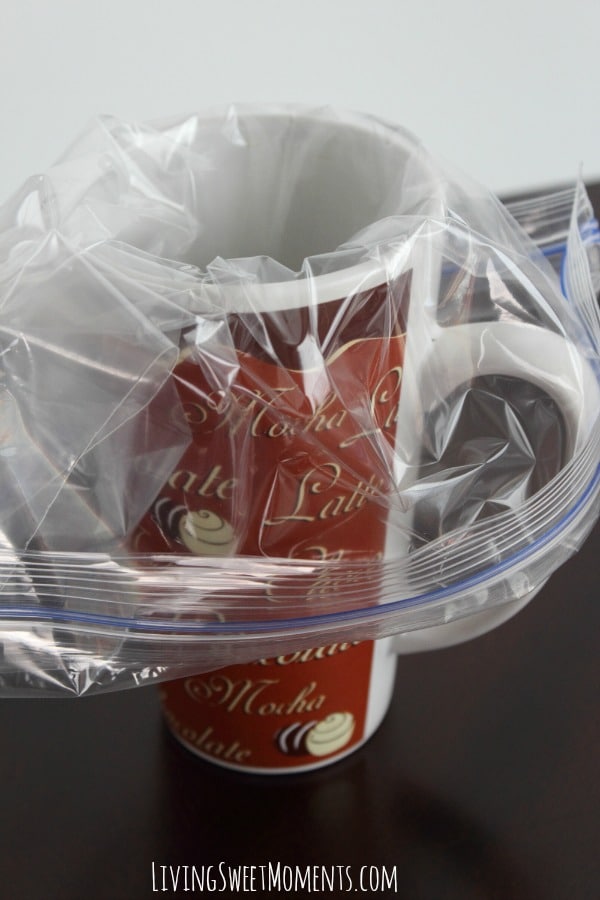 After you fill out your bag with the meringue, it is time to pipe them in a cute shape and "hide" the peppermint kiss inside. Check out this cool trick: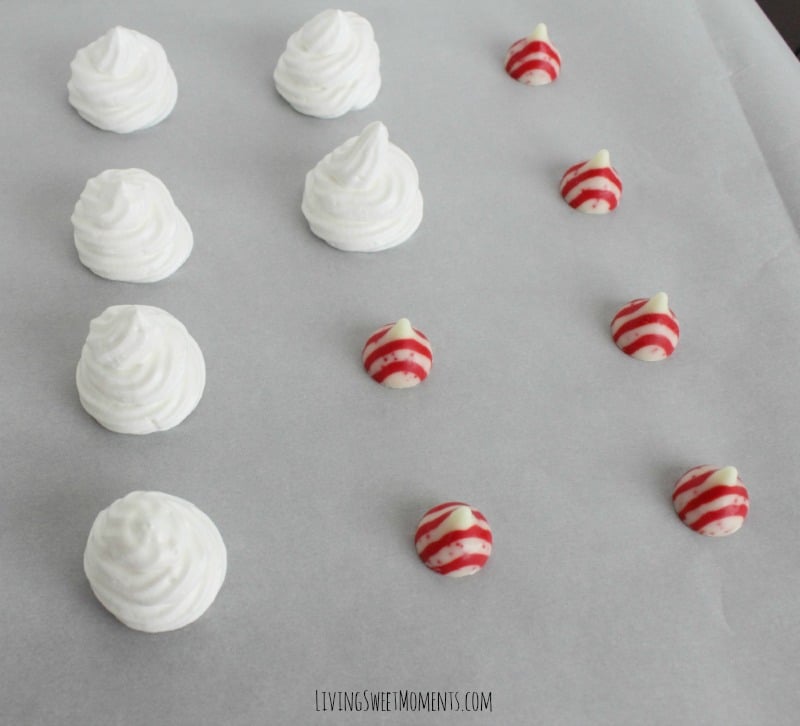 Just place the kisses on a cookie sheet lined with parchment paper and pipe in a circular motion over the top. It takes a little practice to get the shape just right but you'll get it after the second or third one. Plus it's super fun doing all those meringues. My daughters tried to help me but they kept spilling the meringue on themselves and licking their fingers.
Hope you can enjoy this cute Peppermint Meringue Cookies and try them at home.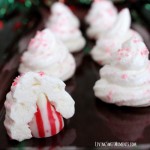 Peppermint Meringue Cookies Recipe
Ingredients
4

Egg Whites

1/2

teaspoon

Vanilla

1/4

teaspoon

Salt

1/4

teaspoon

Cream of Tartar

1

Cup

Sugar

36

Peppermint Hershey's Kisses

2

Mini Candy Canes

finely crushed
Instructions
Preheat oven to 250˚ F.

In a mixing bowl whisk Egg Whites until foamy and forming soft peaks, 3-5 minutes at medium speed if using a mixer.

Add the Vanilla, Salt and Cream of Tartar and whisk until stiff peaks form, 3-5 minutes at high speed if using a mixer.

Slowly whisk in the Sugar, if using a mixer at medium high speed should take about 1-1 ½ minutes.

Put the meringue into a pastry bag or zip top bag with a star tip.

Line 2 baking sheets with parchment paper. Unwrap and place Hershey's Peppermint kisses on the

parchment about 2 inches apart

Pipe meringue around the bottom of the kisses and then swirl to the top all in one motion

Sprinkle a small amount of crushed Candy Cane over the cookies

Place into the oven at 250˚ F and immediately reduce the heat to 175˚ F. Bake for 3 hours then turn off the heat and let cool in the oven another 45-60 minutes. This prevents them from cracking. Remove and let cool

They will be light, crisp and airy

Serve or store in an airtight container.
Nutrition Facts
Peppermint Meringue Cookies Recipe
Amount Per Serving
Calories 48
Calories from Fat 9
% Daily Value*
Fat 1g2%
Cholesterol 1mg0%
Sodium 25mg1%
Potassium 8mg0%
Carbohydrates 9g3%
Calcium 9mg1%
* Percent Daily Values are based on a 2000 calorie diet.