Braised Chicken And Mushrooms Recipe – this delicious one pot chicken recipe is easy to make and perfect for a weeknight dinner. Served with a yummy sauce.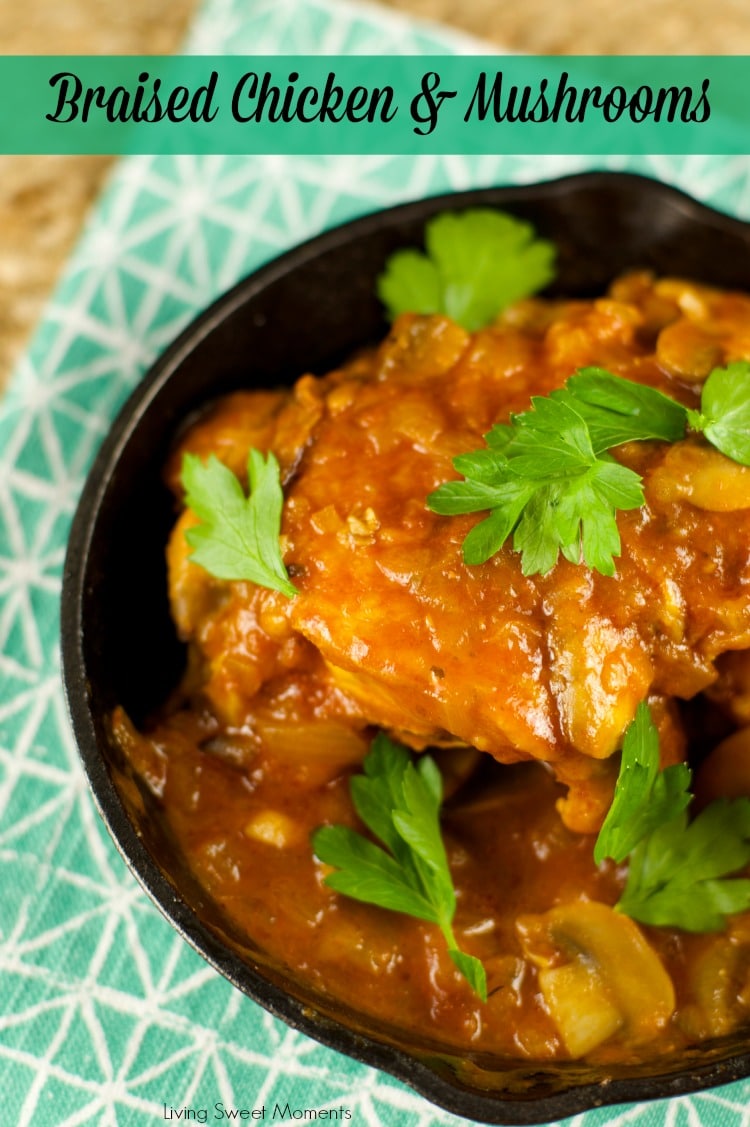 Braised Chicken And Mushrooms
For those of you that love chicken dinners, then this recipe is for you. Image tender chicken pieces cooked in a flavorful tomato mushroom sauce. Perfect for entertaining and simple enough for a weeknight dinner. I am a huge fan of mushrooms and love to use them in any way I can.
This Braised Chicken And Mushrooms recipe is awesome because it's a one pot dinner. Serve it alongside some white rice and your meal is ready. The secret is in the sauce. It's flavored with wine, broth and tomato. Just like those old french countryside recipes.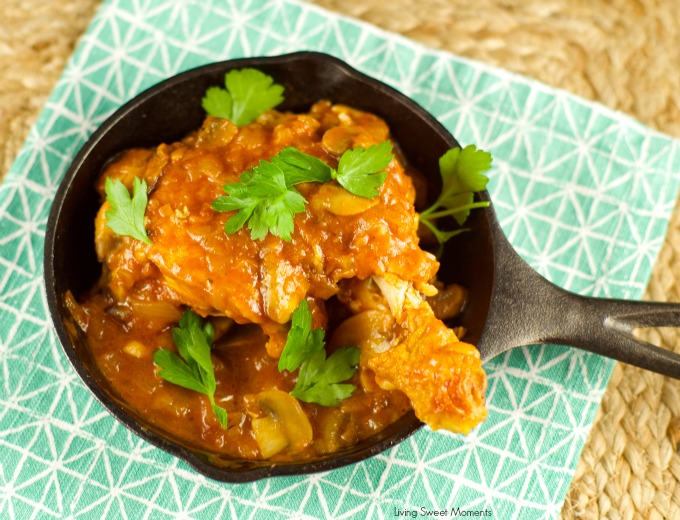 Don't be intimidated by the word braised. It just means that the chicken was first browned and then cooked in a small amount of liquid. The browning caramelizes the skin of the chicken leaving it crispy. I used this method with beef as well because it makes the meat tender and creates a super flavorful sauce.
I haven't tried this Braised Chicken And Mushrooms in the slow cooker but I am sure if you brown the chicken pieces first and then add the rest of the ingredients to the crock pot, it should turn out delicious as well. If you try it like this, let me know how it comes out.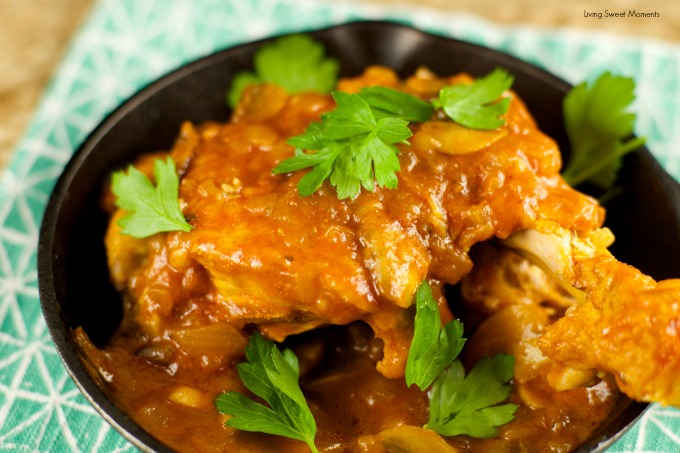 I love this time of year, I crave more hearty meals like this one. It's one of those things that you want to make extra just to have on hand when needed.
In case you're wondering, you can use your favorite chicken parts or just a cut up chicken. The only things to keep in mind is that I prefer bone in chicken with the skin. It gives off crunchiness and has much more flavor without drying it out.
I hope you can try this delicious Braised Chicken And Mushrooms at home. If you do, please upload a pic on Instagram and tag me @Livingsweetmoments or use the hashtag #LivingSweet. I promise to repost it.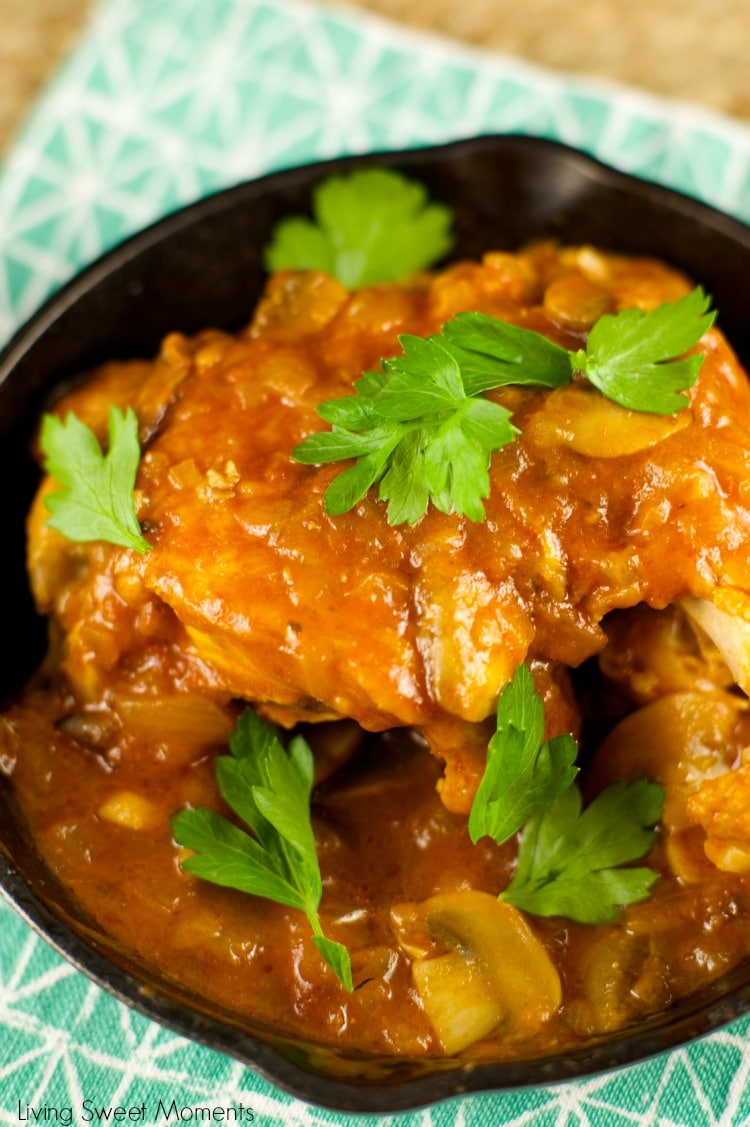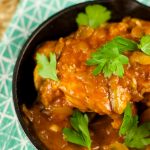 Braised Chicken And Mushrooms
Braised Chicken And Mushrooms Recipe - this delicious one pot chicken recipe is easy to make and perfect for a weeknight dinner. Served with a yummy sauce.
Ingredients
3

lbs

of Bone In Chicken Parts with Skin

you can mix and match

16

oz

of Mushrooms

sliced

1

Large Onion

chopped

1

Teaspoon

of Italian Seasoning

1

oz

Can of Crushed Tomatoes

14.5

1/2

cup

of your favorite wine

1

Cup

of Chicken Stock

1

Tablespoon

of Olive Oil

Salt + Pepper To Taste

1

Tablespoon

of flour

2

Tablespoons

of water
Instructions
Place oil on a large pot over medium - high heat

With paper towels, dry the chicken pieces well and season with salt and pepper on all sides

Place chicken pieces skin side down on the pot to brown for 5-6 minutes. Turn and let it brown on the other side for about 5 minutes

Remove browned chicken pieces and place them on a plate

Discard the excess grease on the pot leaving just 1 tablespoon of oil. Reduce heat to medium

Add the onion, italian seasoning and mushrooms. Cook until softened. About 3-4 minutes

Pour in the wine, tomatoes and stock

Return the chicken to the pot and let the sauce come to a boil

Cover and cook on low for 20-25 minutes or until chicken has cooked all the way through

In a small bowl, mix the flour and water

Add this mixture into the sauce and mix until sauce has thickened

Serve and enjoy!
You may also like:
Ranch Potatoes Sheet Pan Dinner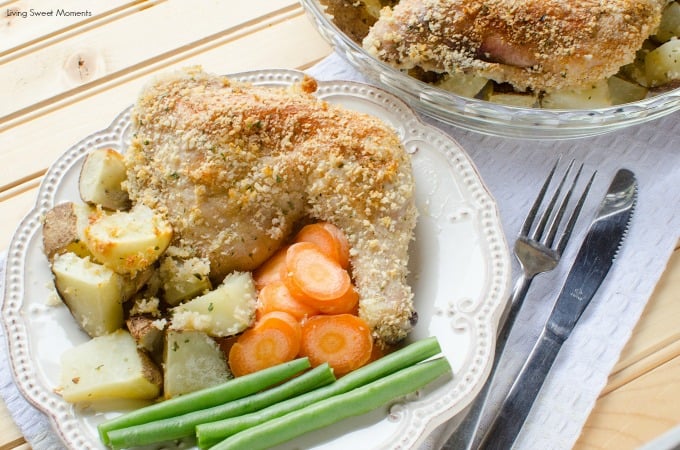 Maple Mustard Chicken Thighs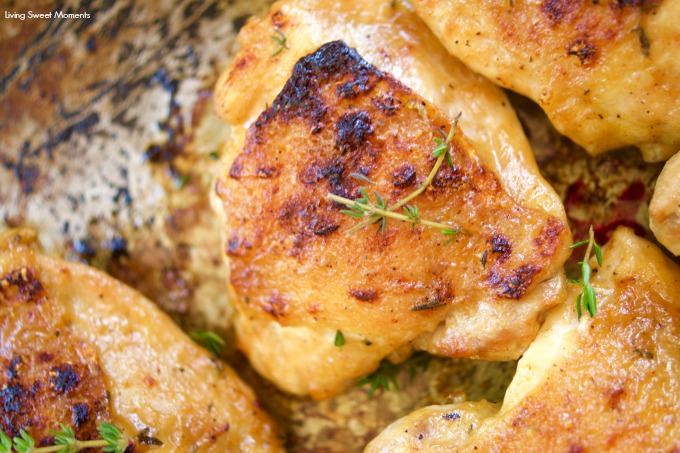 Chicken with Orange Plum Sauce