These fluffy Slow Cooker Cinnamon Rolls are made from scratch & baked right in the crockpot. Topped with a sweet vanilla icing. Ideal for breakfast & brunch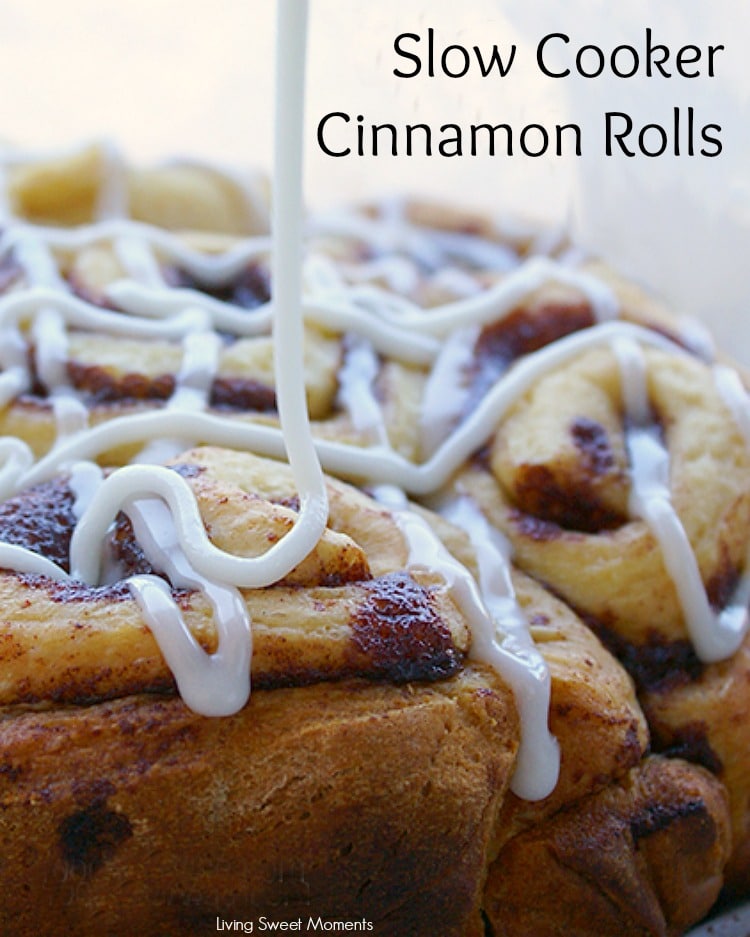 Slow Cooker Cinnamon Rolls
Imagine taking a bite out of a warm ooey gooey cinnamon roll in the morning. And I promise they don't come from a can. These rolls are made entirely from scratch and don't require an oven to get nice a fluffy. You'll slow cooker will do.
Remember when I baked bread in a slow cooker the other day? Well since the product bakes up nice and soft, cinnamon rolls are ideal. They bake up nicely and they won't dry out. Just top it off with a nice layer of sweet glaze and perfection is made.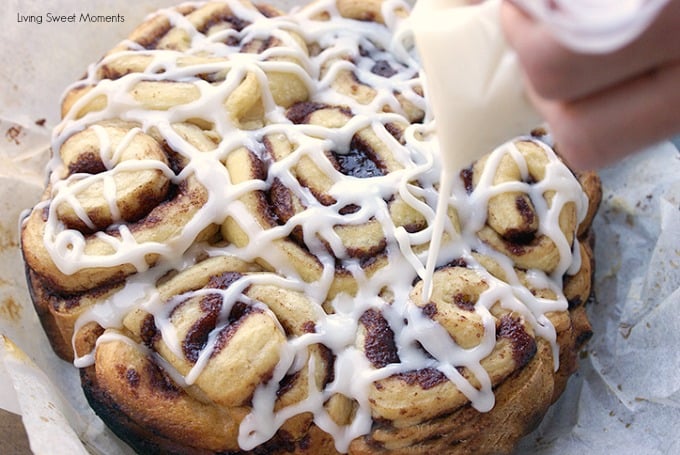 One of the things I love indulging the most is a warm cinnamon roll. My method is untwisting it with my hands and carefully eating it like a worm.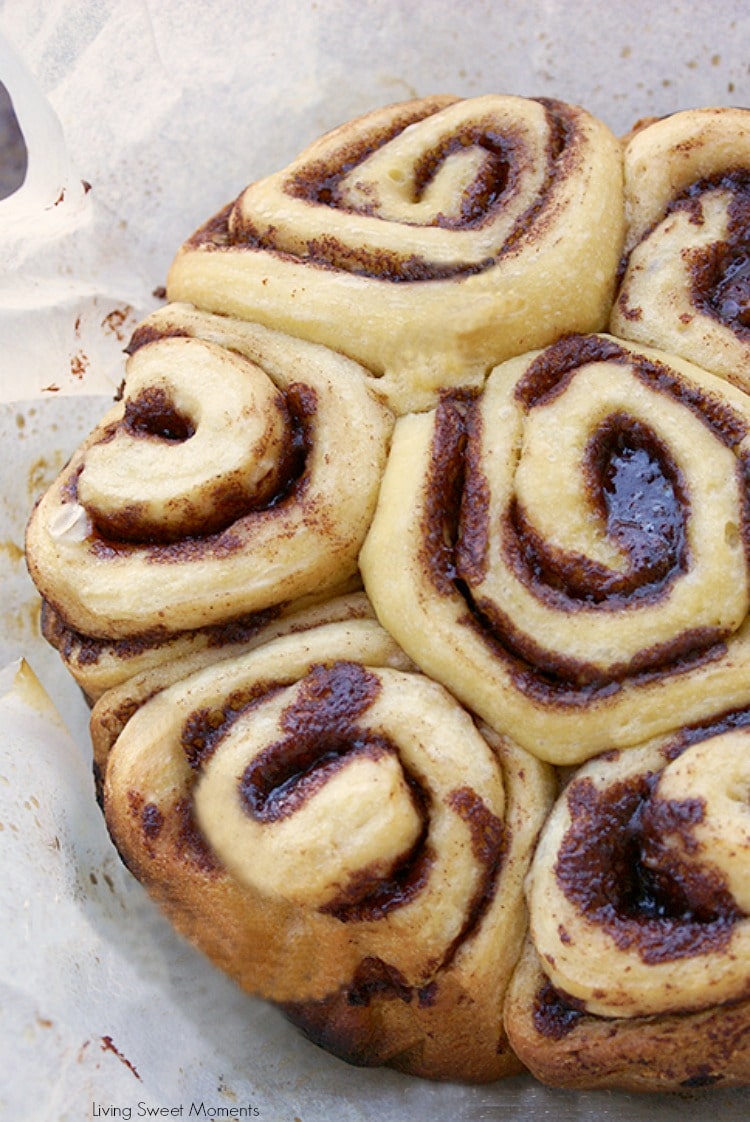 So if the oven's busy or broken use your slow cooker. No need to heat up the whole house. It's fascinating to find different vessels to replace the oven. Great idea if you're going on vacation or even camping.
If you don't like the usual filling for cinnamon rolls, flavor them with dulce de leche like I did the other day. They're amazing. You can also use jam or even Nutella.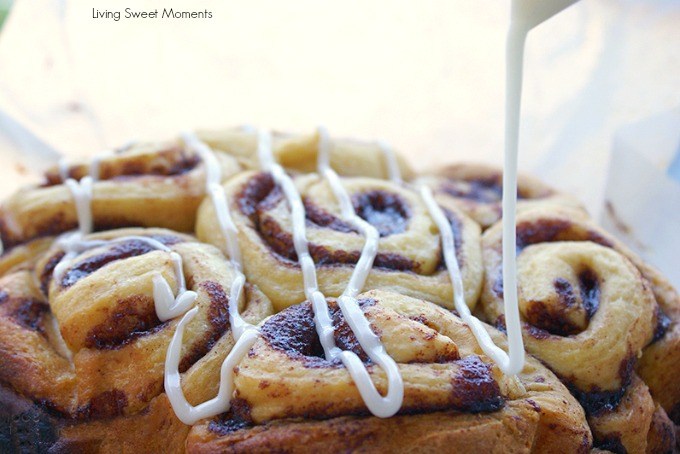 When my husband came home yesterday and smelled the freshly baked roll aroma, he quickly went on the attack. Usually, he let's make a few pictures beforehand but he simply could not help himself. This explains the lack of pictures in this post.
I hope you can try this delicious Slow Cooker Cinnamon Rolls at home. If you do, please upload a pic on Instagram and tag me @Livingsweetmoments or use the hashtag #LivingSweet. I promise to repost it.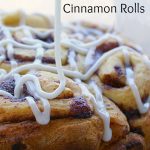 Delicious Slow Cooker Cinnamon Rolls
These fluffy Slow Cooker Cinnamon Rolls are made from scratch & baked right in the crockpot. Topped with a sweet vanilla icing. Ideal for breakfast & brunch
Ingredients
For Cinnamon Rolls
1/4

cup

warm water

1/4

cup

butter

melted

1

cup

warm milk

1

egg

room temperature

1

tablespoon

white sugar

1/2

teaspoon

salt

4

cups

bread flour

1

ounce

active dry yeast

.25

1/4

cup

butter

softened

1

cup

brown sugar

4

teaspoons

ground cinnamon
For Icing
¼

cup

butter

softened

1

cup

confectioners' sugar

1/2

teaspoon

vanilla extract

1/2

teaspoons

milk
Instructions
Combine water, melted butter, warm milk, egg, 1 tablespoon sugar, salt, bread flour and yeast. Mix on low speed.

When all ingredients are mixed well, turn dough out onto a lightly floured surface and roll into a 17x10 inch rectangle

Spread with softened butter. In a small bowl, stir together brown sugar and cinnamon. Sprinkle brown sugar mixture over dough

Roll up dough, beginning with long side. Slice into 8 slices and place into crockpot.

Let rise in a warm place until doubled, about 45 minutes.

COOKING TIP: Before closing the lid on the crockpot, place 2-3 paper towels in between the lid and the top of it. This will help capture any moisture from dripping on top of your dough and will allow it to cook properly.

Place on High for 1 hour and 30 minutes. After 45 minutes has passed from initial cooking time, twist crockpot 180 degrees to help ensure even cooking.

While rolls are "baking", stir together softened butter, confectioners' sugar, vanilla, and milk.

Remove rolls from oven and allow to cool before you top it with frosting.