These delicate vanilla eclairs features a crunchy pate au choux filled homemade vanilla pastry cream and topped with a sweet glaze. A classic french pastry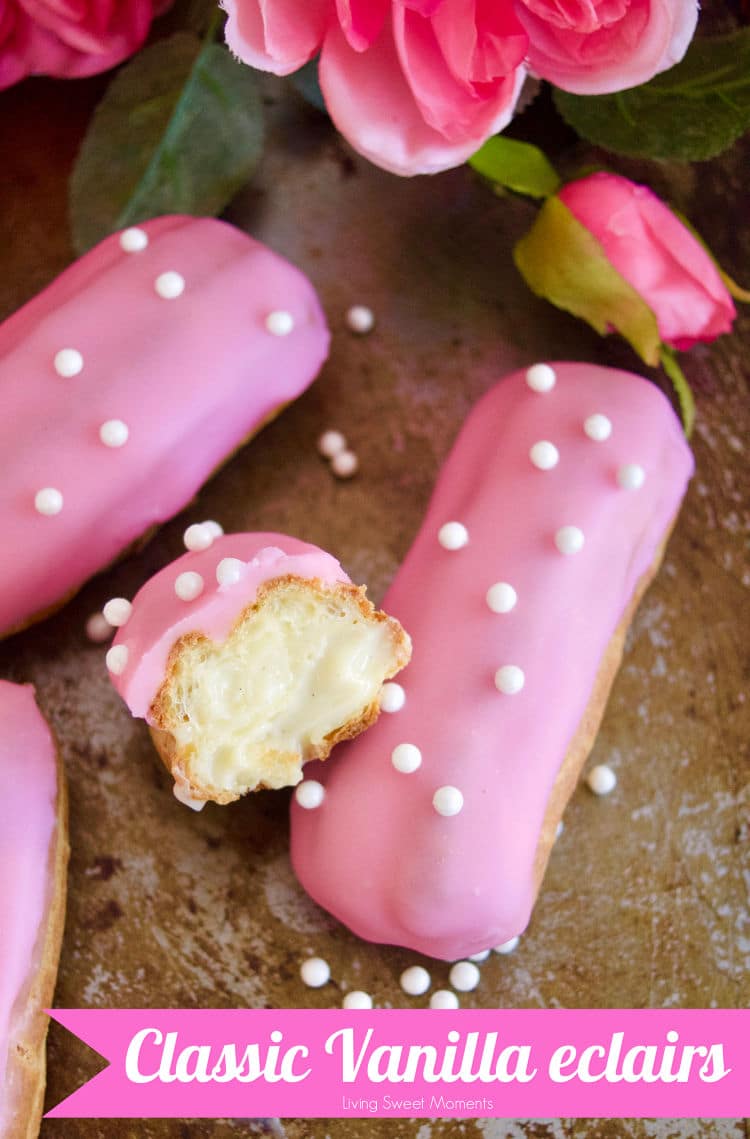 Classic Vanilla Eclairs
Eclairs are one of my favorites French pastries.
They have 3 distinctive elements and textures that you can feel as soon as you take a bite: the crunchy exterior, the creamy interior, and the sweet smooth glaze on top.
Of course, you can flavor all 3 any way you'd like. The flavor combinations are endless.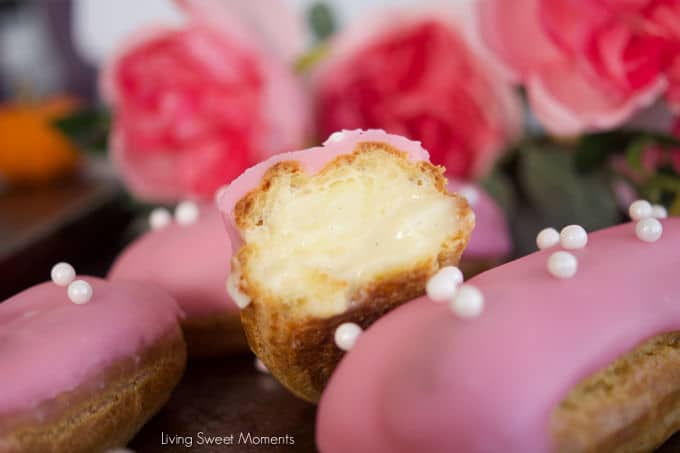 Usually when you see "classic eclairs" you may see a pate choux filled with vanilla and topped with chocolate. For me, vanilla is the classic and the main flavor profile of this dessert.
Doing a Google search you may not see much vanilla eclairs, that's why I decided to post this recipe, in hopes that other vanilla lovers are searching for it too.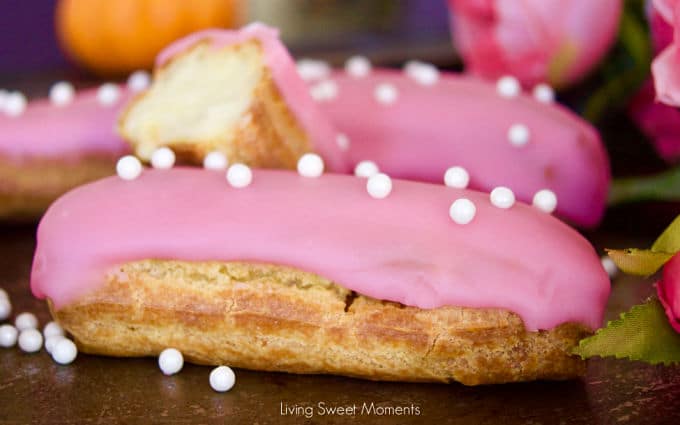 Nevertheless, if you're a chocoholic I will tell you how to transform your pastry into your dream flavor. For now, let's just stick to the basics.
Making the pate au choux (the pastry exterior) is not complicated but you need to master it before we move on to the pastry cream.
The Pate Au Choux bakes up crunchy with a hollow shell.
No matter how well I piped mine, they always come up lopsided and deformed. Then I learned up an amazing trick from Topless Baker that was a game changer for me: freezing the piped eclairs before baking would help them maintain their beautiful shape.
Keep in mind that Pate Au Choux is also used to make cream puffs and profiteroles.
Ready to see how to make them? Check out below for step by step pictures:
We start by boiling some butter, water, sugar, vanilla and salt.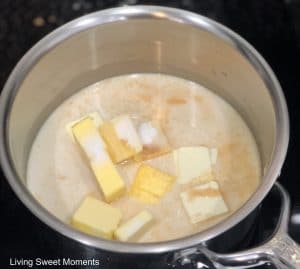 When the mixture boils, add the flour all at once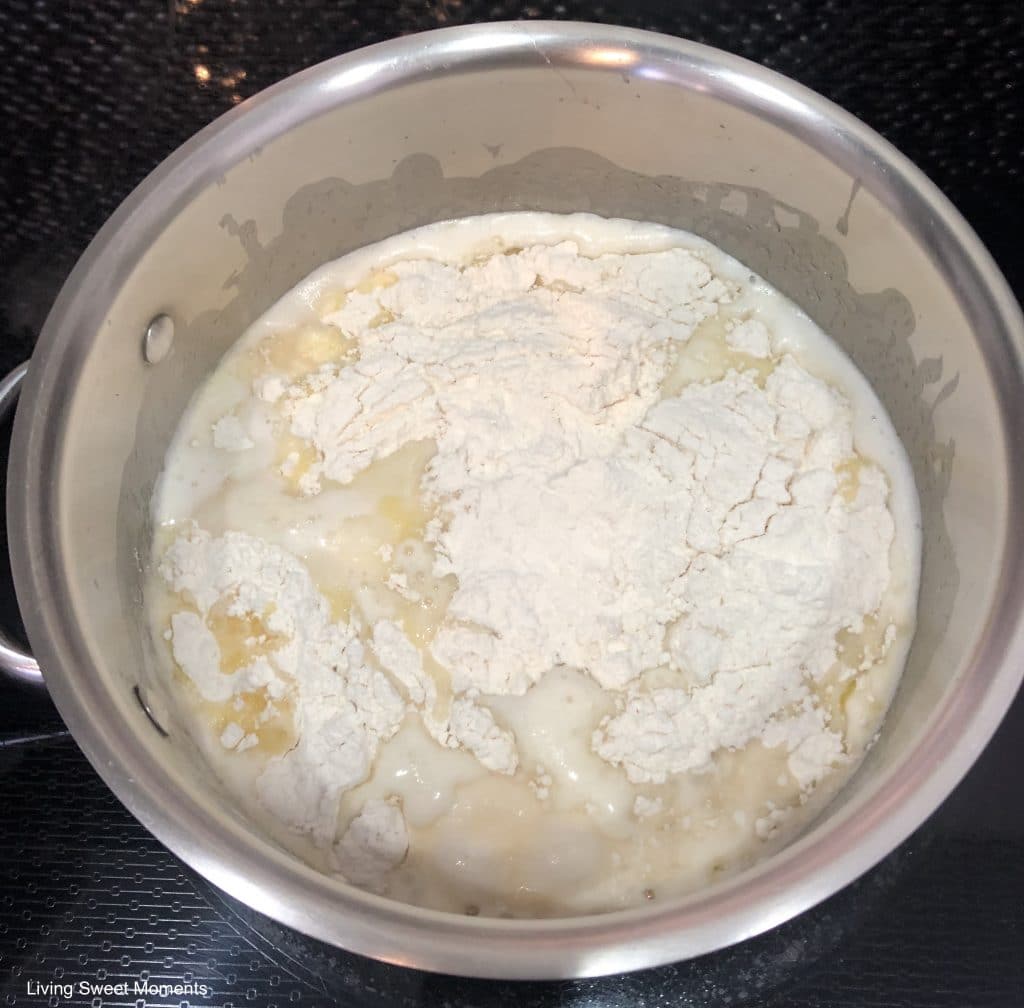 Stir continuously with a wooden spoon until the dough turns into becomes a ball and turns away from the walls of the pot.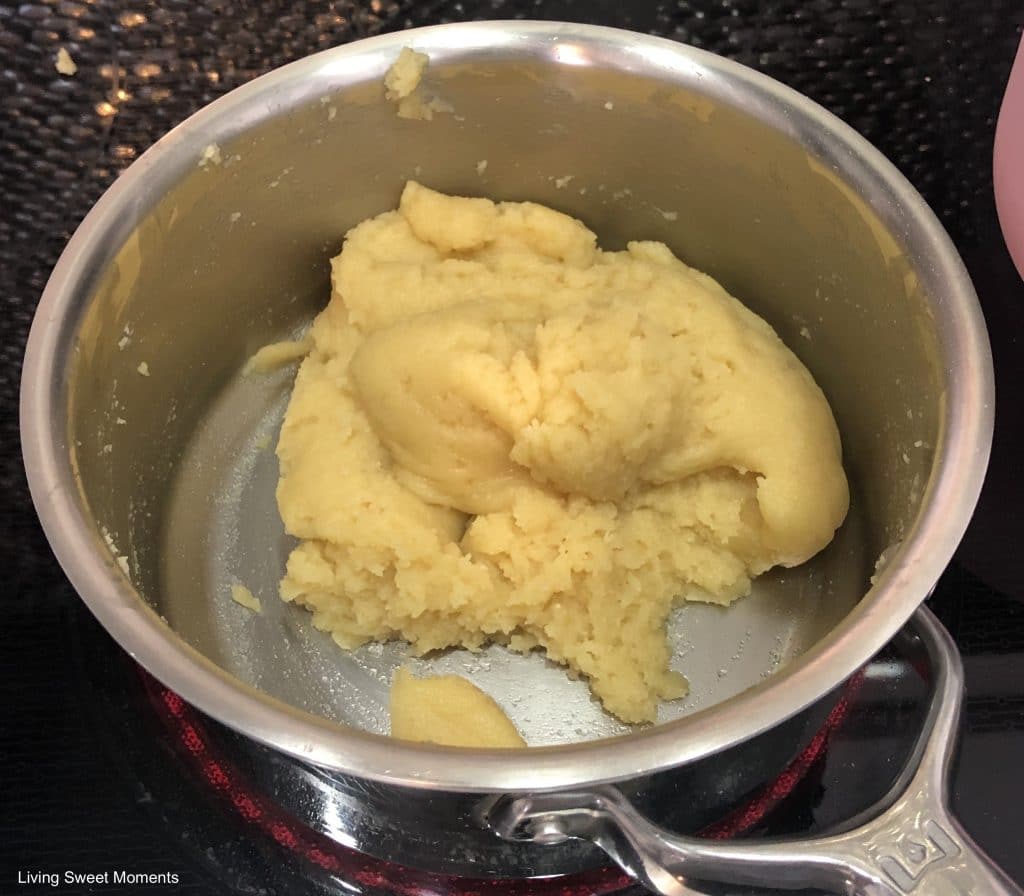 Now we drop the dough into the mixer and turn it on to cool it down.
When the mixture cools down a bit, we slow add in the beaten eggs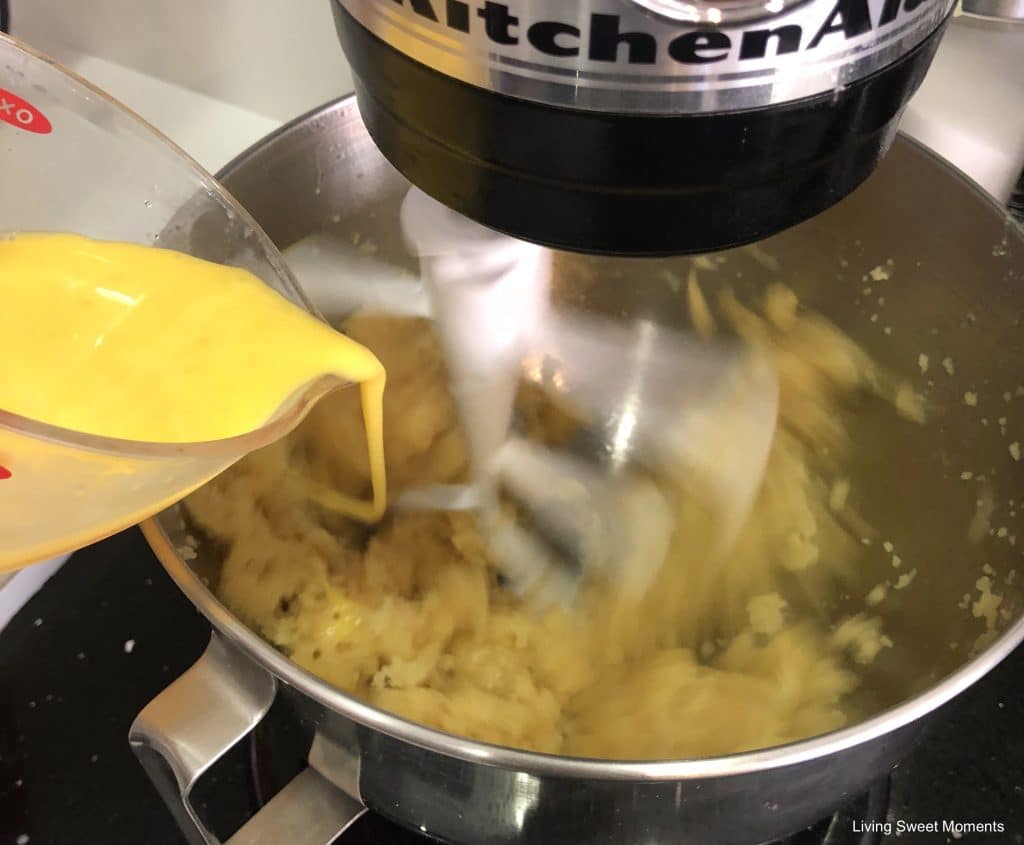 To know if your mixture has enough eggs we do a "finger test" – If you put the dough between 2 fingers and it creates a string, then you're pate au choux is perfect.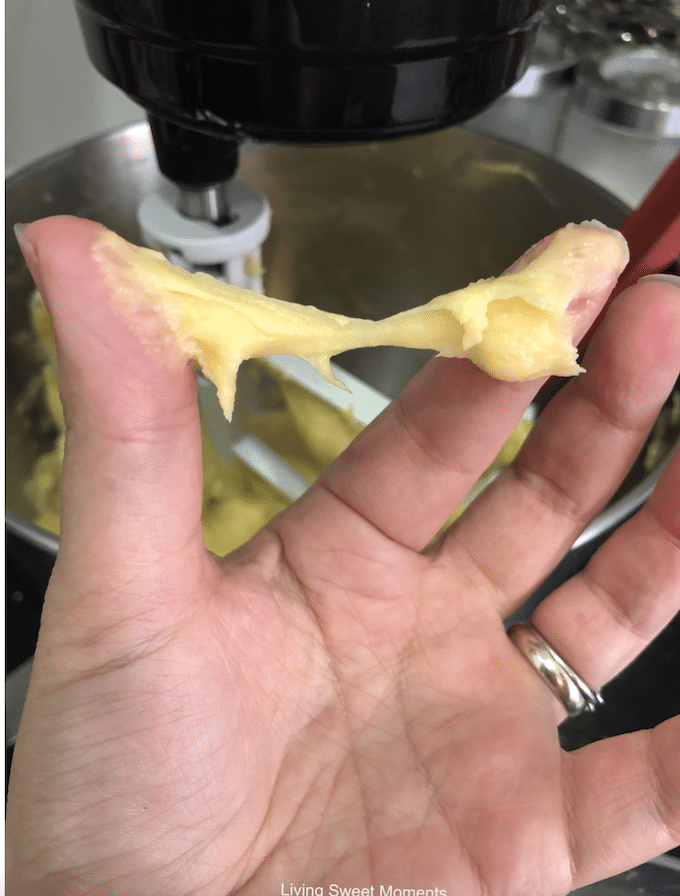 See? Perfect
Now all you need to do it pipe, freeze, and bake. No biggie right?
Since I wanted my eclairs to look uniform in size I went thru the extra trouble of drawing some lines in my parchment paper, but that's completely optional.
Each eclair should be 5 inches. You can make them "mini" size too.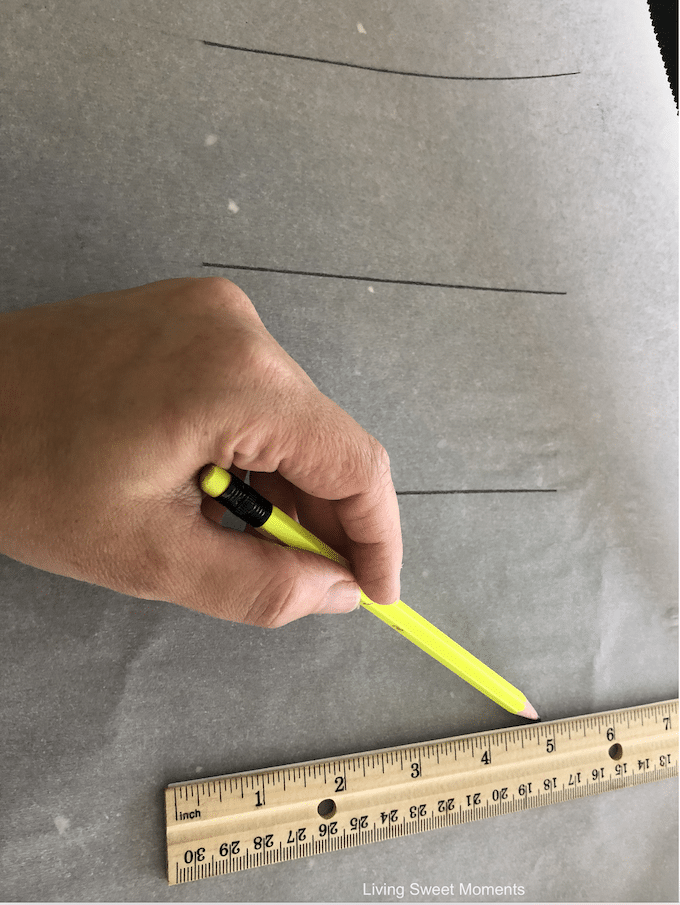 Then I turn the paper over and pipe the logs using a star tip.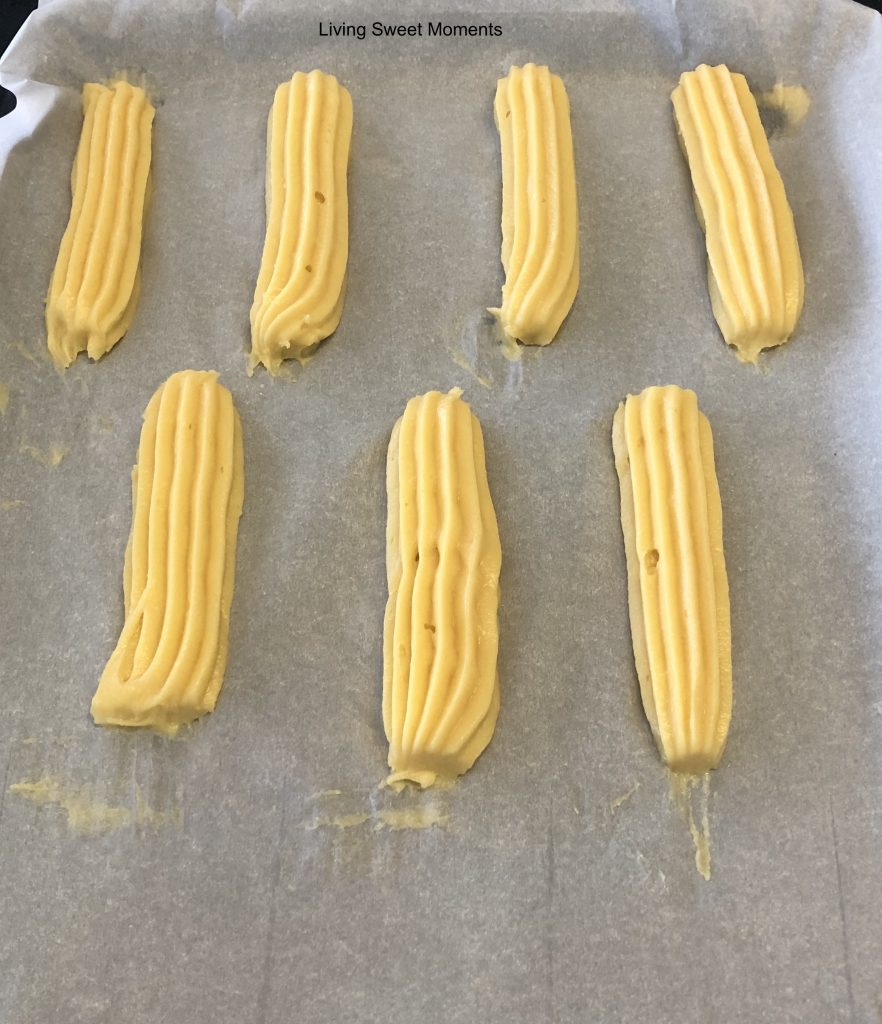 If you don't like the way they turned out simply scoop up the dough and place back in the piping bag.
We now FREEZE THEM for a couple of hours before baking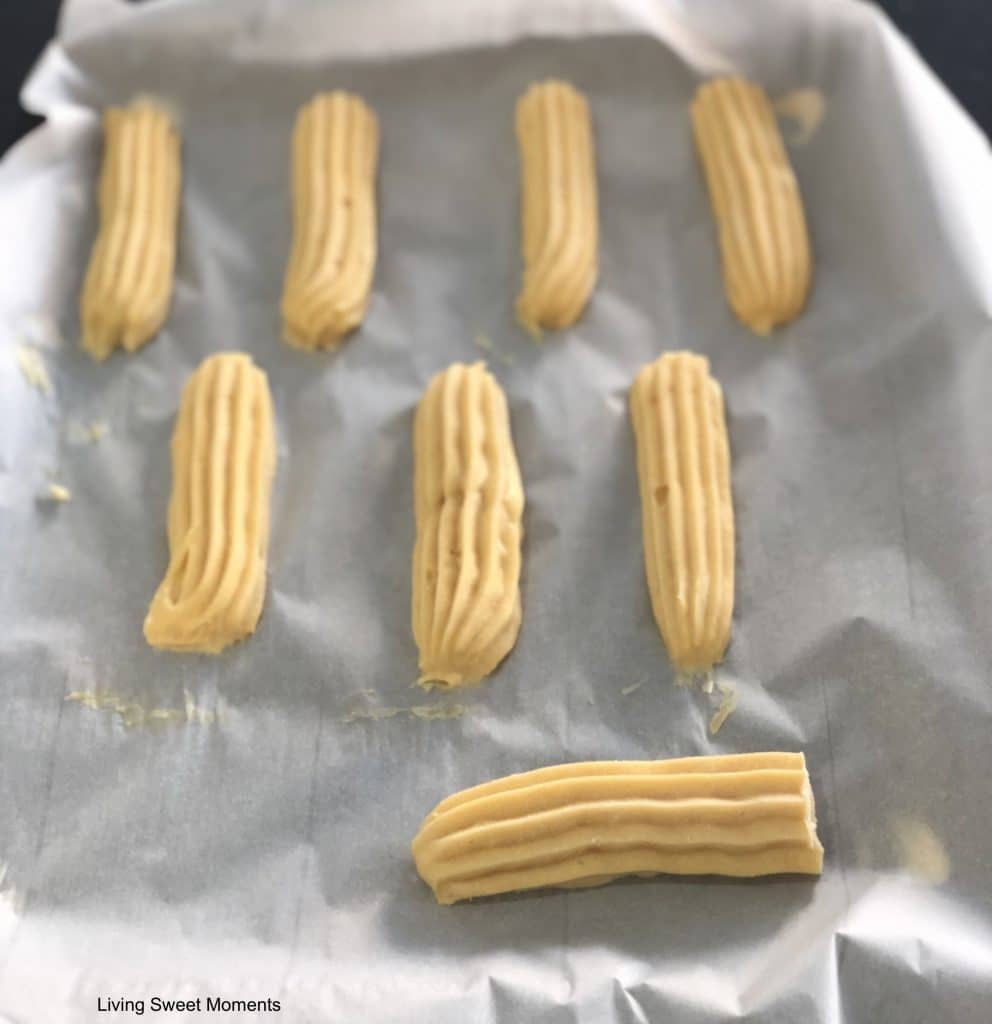 The frozen eclairs are baked until browned and crisp.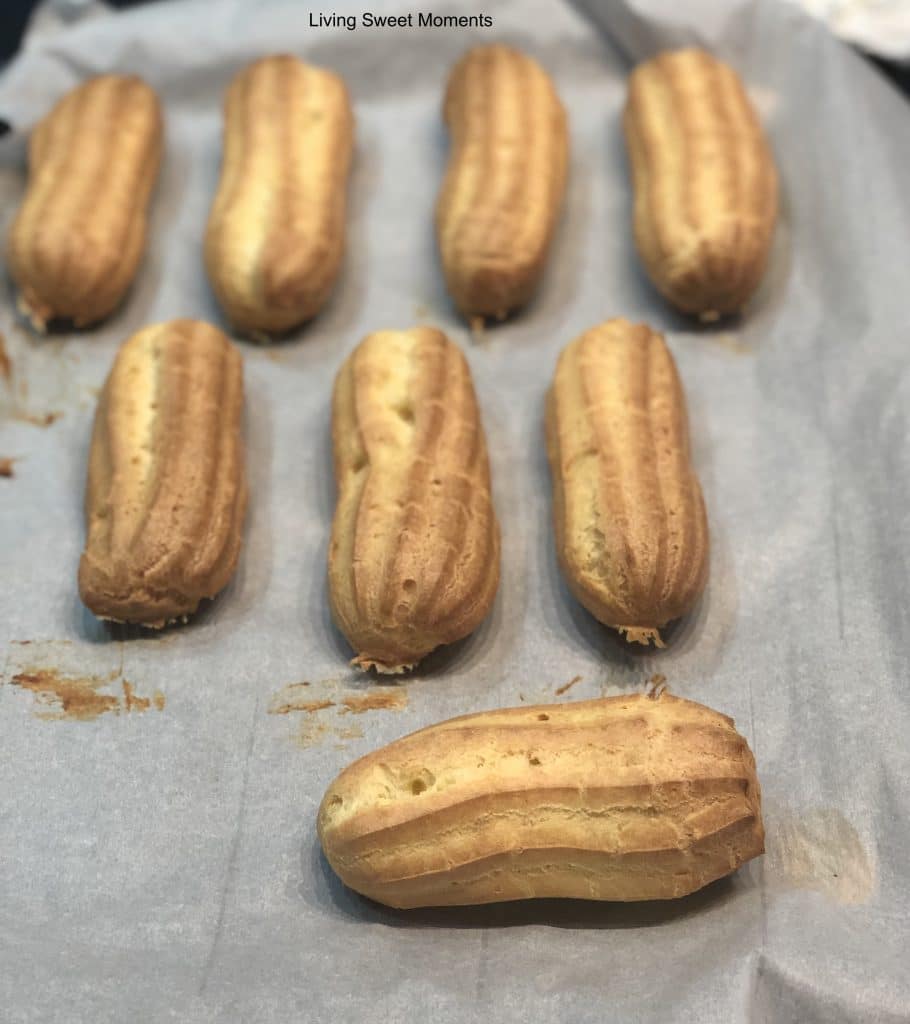 As soon as they cool I turn them over and make 3 holes using a piping tip. You can also use a small knife or a skewer.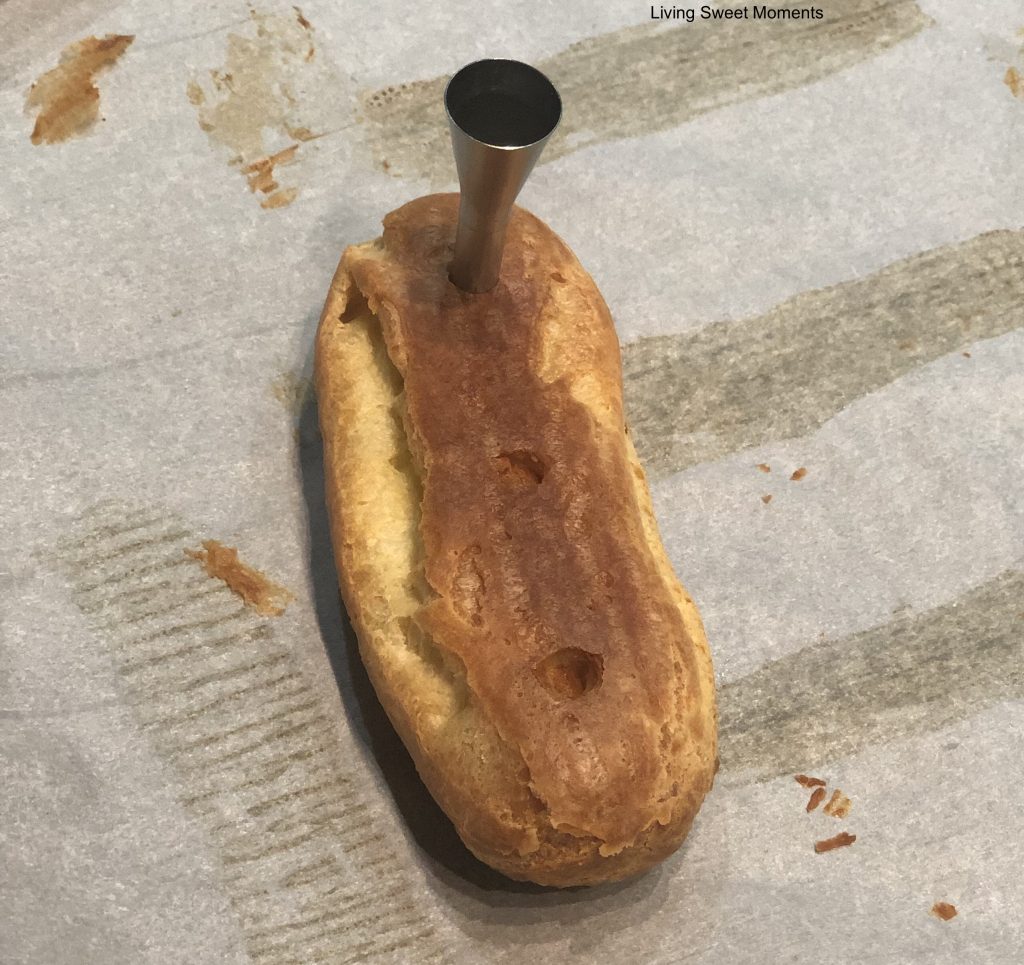 Pour you vanilla pastry cream into a piping bag and fill in the holes. The empty eclairs will now feel heavy (yummmmy)
Create the glaze by just mixing up some confectioners sugar, milk, vanilla, and corn syrup.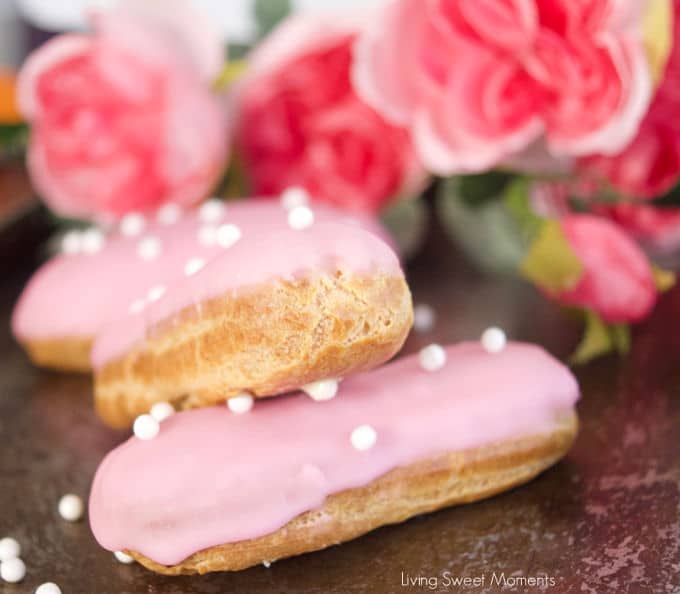 The eclairs are dipped in the glaze and then placed on a rack to dry. At this point you can add some sprinkles or make a decorative pattern.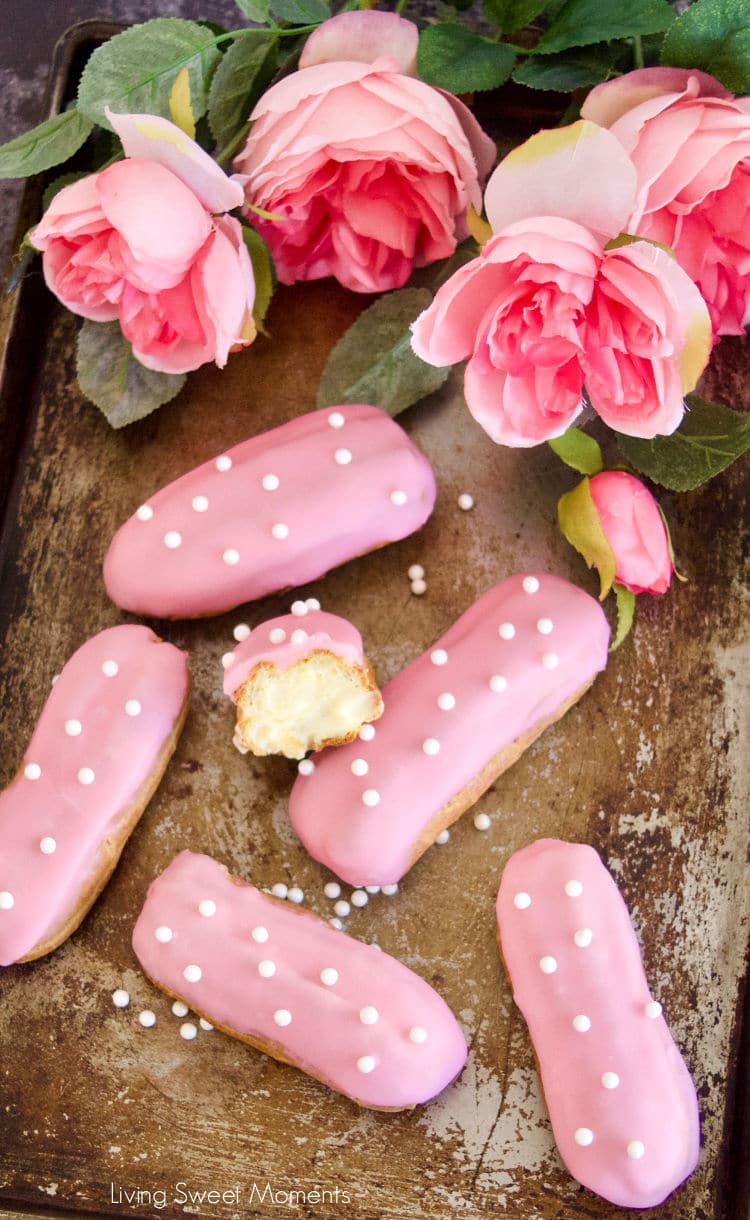 And voila! That's it!
Are you hungry yet?
I hope you can try these delicious Classic Vanilla Eclairs Cake at home. If you do, please upload a pic on Instagram and tag me @Livingsweetmoments or use the hashtag #LivingSweet.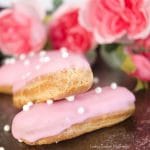 Classic Vanilla Eclairs
These delicate vanilla eclairs features a crunchy pate au choux filled homemade vanilla pastry cream and topped with a sweet glaze. A classic french pastry
Keyword:
classic french desserts, eclairs, french pastries, pastry cream
Ingredients
For Vanilla Pastry Cream
4

cups

Milk

1

cup

Sugar

divided

8

Egg Yolks

1/2

cup

Cornstarch

6

tablespoons

Butter

1

tablespoon

Pure Vanilla Extract
For Pate Au Choux
2/3

cups

Water

2/3

cups

Milk

2

teaspoons

Pure Vanilla Extract

2

teaspoons

Sugar

10

tablespoons

Butter

1

teaspoon

Salt

1 1/4

cups

Bread Flour

1

cup

Eggs

(about 5 large)
For Vanilla Glaze
2 1/4

cups

Confectioners Sugar

sifted

2

tablespoons

Light Corn Syrup

3

tablespoons

Milk

1

teaspoon

Vanilla

Food coloring

optional

Sprinkles

optional
Instructions
For Vanilla Pastry Cream
In a large bowl, whisk the egg yolks until combined. Add in the cornstarch and half of the sugar. Whisk again until creamy

In a large saucepan, bring the milk and the other half of the sugar to a boil. Remove from heat


Carefully, temper the eggs, that means to bring up the temperature of the yolks without cooking. To do that, add a bit of the hot milk mixture into the yolks while whisking vigorously. Then slowly add the rest of the milk mixture. Do not stop whisking

Pour the whole mixture back into the pot and cook over medium heat until the mixture thickens

Strain the pastry cream into a clean bowl and add the vanilla and butter. Stir until butter melts

Cover the bowl with plastic wrap. Make sure the plastic wrap touches the pastry cream directly (to avoid creating a film)

Refrigerate for 2 hours or until completely chilled.
For Pate Au Choux
Make 5" straight lines in parchment paper using a pencil. Turn the paper over and use it to line a sheet pan

In a large pot, heat the water, butter, milk, sugar, vanilla and salt on medium heat until the mixture boils

When the mixture boils dump all the flour at once and mix vigorously with a wooden spoon until all the white specks disappear and the dough pulls away from the walls of the pot

Place the dough in a mixer fitter with a paddle attachment and mix on medium speed for a few minutes to cool down the dough

In a small bowl, whisk all the together until combined

Slowly add the eggs into the dough while the mixer is still running

Pate Au Choux should be shiny and hold its shape

Place dough in a piping bag fitted with a star tip

Using the straight lines as a guide, pipe the eclairs onto the parchment paper lined cookie sheet

Freeze dough for a couple of hours

Preheat oven to 350 degrees F

Bake for 35-45 minutes or until eclairs are golden and firm to the tough

Remove from heat and cool

Make 3 holes on the bottom using a knife or piping tip
For Glaze
Place all ingredients minus the teaspoon of milk in a bowl. Mix until combined. If needed add the teaspoon of milk

Add the food color of your choice (if desired)

Glaze should be thick but still pourable
Assembly
Place chilled pastry cream in a piping bag fitted with a small tip

Pipe in the cream into each of the holes of the eclair until the pastry feels full

Clean the bottom of the eclair with a spatula

Dip each eclair into the glaze while shaking off the excess. Decorate with sprinkles (optional)
Nutrition Facts
Classic Vanilla Eclairs
Amount Per Serving
Calories 599
Calories from Fat 252
% Daily Value*
Fat 28g43%
Cholesterol 306mg102%
Sodium 490mg21%
Potassium 221mg6%
Carbohydrates 74g25%
Protein 11g22%
Vitamin A 1090IU22%
Calcium 174mg17%
Iron 1mg6%
* Percent Daily Values are based on a 2000 calorie diet.
Other recipes you may like: