Dulce De Leche Cinnamon Rolls – these homemade cinnamon rolls are made from scratch and filled with delicious dulce de leche. Perfect for brunch or dessert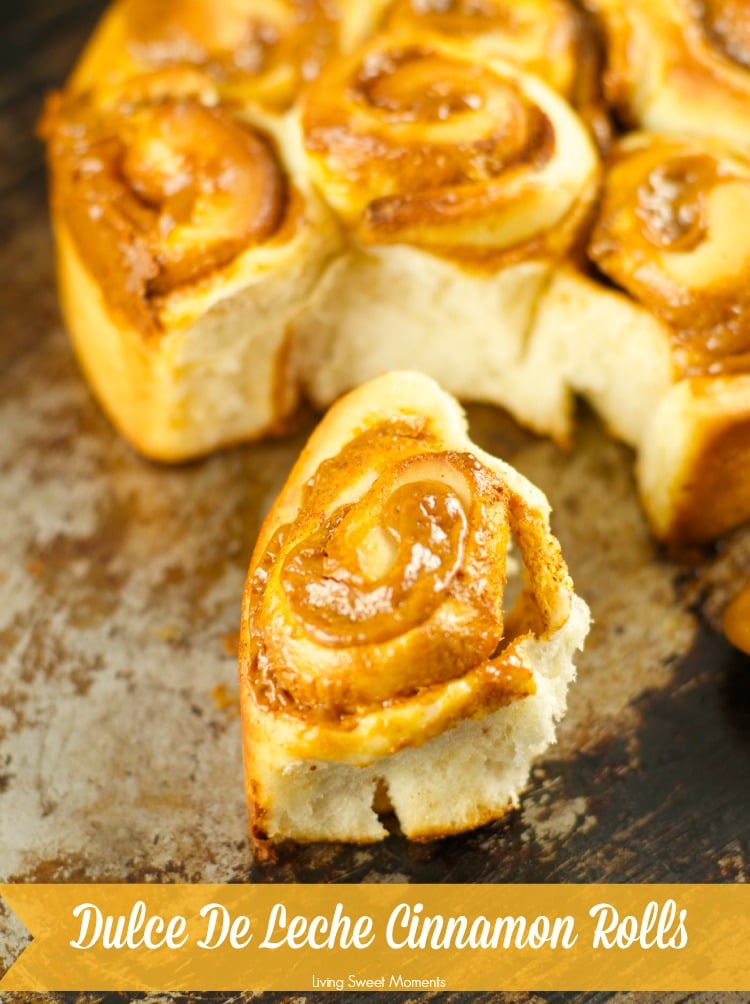 Dulce De Leche Cinnamon Rolls
These dulce de leche cinnamon rolls are so flavorful that no toppings or glazes are needed. You can have these for breakfast, brunch or dessert.
But beware, you can't eat just one. These are too addicting.. Who doesn't love the combination of caramel, cinnamon and bread?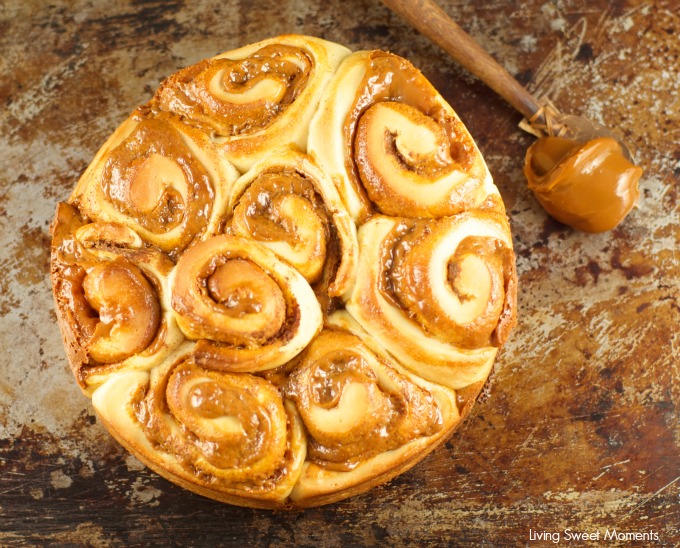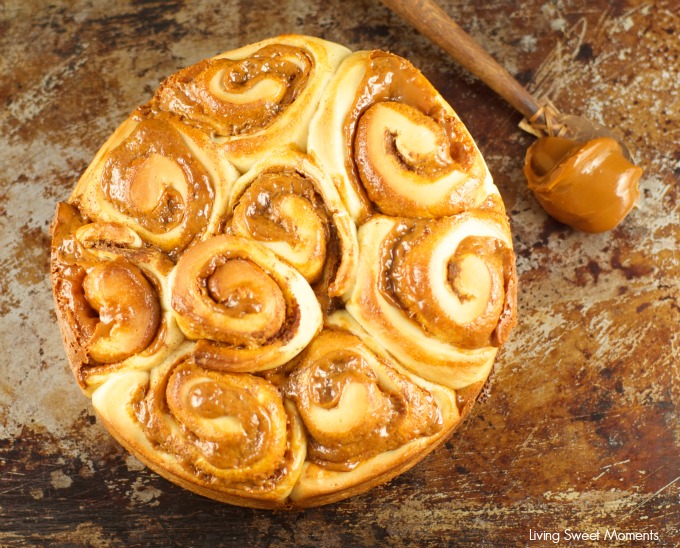 I made these with the leftover dough from the Dinner Rolls I made the other day. The dough baked up soft and fluffy. Just unroll each one and lick your fingers. Can't get enough of these.
I used the same quick proofing method as the dinner rolls so you don't have t spend hours making them from scratch. If you're hosting a brunch or a breakfast, you can leave the rolls to proof overnight in the fridge and then bake up when needed.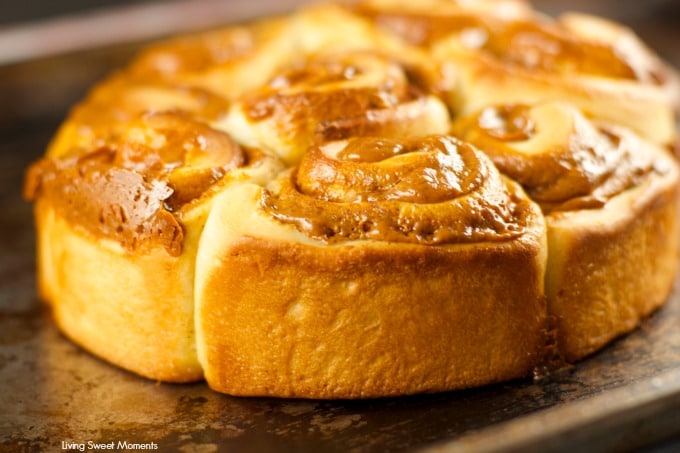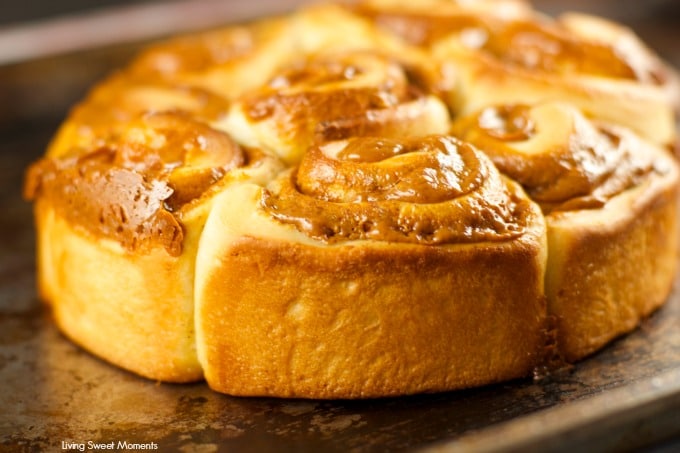 If you've been following my blog for a long time, you've noticed that I am addicted to Dulce de Leche. They are available in a can at the supermarket next to the condensed milks.
If you can't find them in your area, just boil the UNOPENED condensed milk cans for 2 hours. Then let them cool and open the cans. Voila! You have dulce de leche.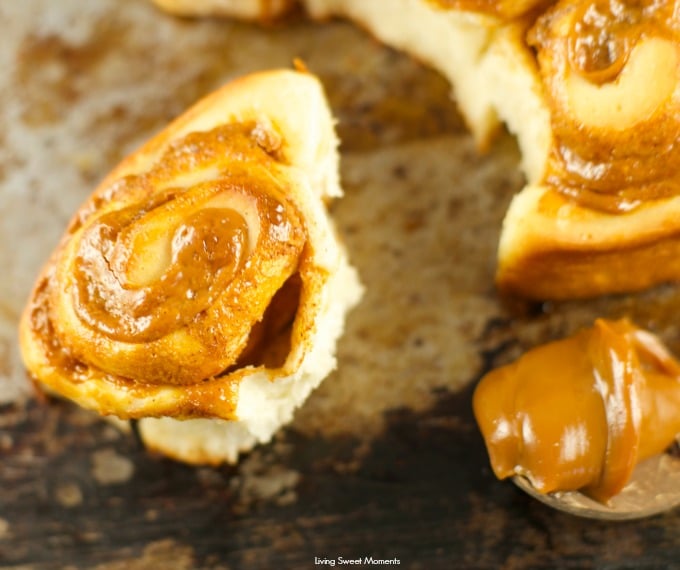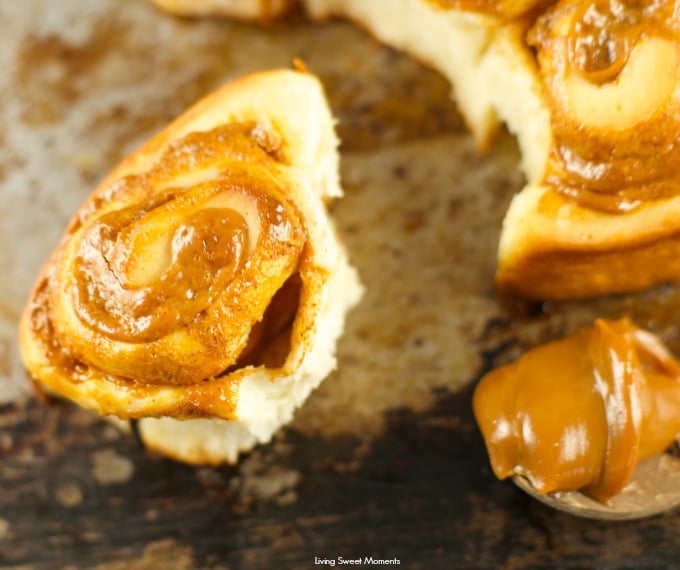 This recipe makes much more Dulce De Leche Cinnamon Rolls than what you see in the picture. I did a small batch because I wasn't sure how they would came out.
You can bake them in a sheet pan or a regular cake mold. Depends if you would like it serve whole in a circle and have your guests pull them off or serve them individually in a big plate.
Now that the Holidays are upon us and celebrations will take place with friends and family. I am sure these Dulce De Leche Cinnamon Rolls will be a hit since they are so delicious, original and best of all, made from scratch.
I hope you can try these delicious Dulce De Leche Cinnamon Rolls at home. If you do, please upload a pic on Instagram and tag me @Livingsweetmoments or use the hashtag #LivingSweet. I promise to repost it.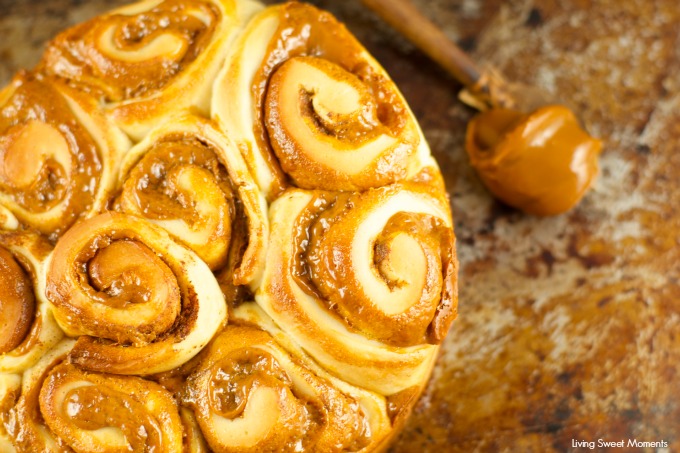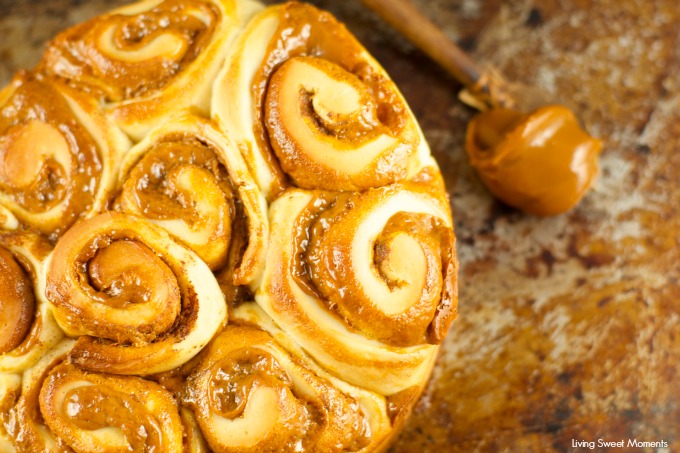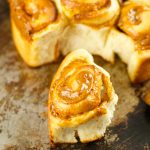 Dulce De Leche Cinnamon Rolls
Dulce De Leche Cinnamon Rolls - these homemade cinnamon rolls are made from scratch and filled with delicious dulce de leche. Perfect for brunch or dessert.
Course:
Breakfast, Brunch
Ingredients
For Dough
1 1/4

cup

cup warm milk

1

packet of instant yeast

1/4

cup

of sugar

2

large eggs

beaten

1 1/2

teaspoons

of salt

4 1/2

cups

bread flour

4

tablespoons

unsalted butter

softened
For Filling
1

Can of Dulce De Leche

2

Tablespoons

of butter

melted

1

Tablespoon

of Cinnamon
Instructions
In the bowl of a standing mixer** place the yeast, warm milk, eggs, salt, sugar, butter and 1 cup of the flour. Mix manually with a whisk until combined

Place the dough hook on the mixer and add the rest of the flour. Mix on medium - low speed for 6-7 minutes to knead the dough

Dough should be elastic and not sticky

Grease a bowl with non cooking spray or oil. Place the dough inside the bowl

Cover the bowl with plastic paper and then with a clean kitchen towel

Heat a cup of water in the microwave until it starts boiling

Open the microwave door, move the cup of water to the back and place the bowl with the dough in the middle

Close the microwave door and let the dough proof for 20 minutes (dough should double its size). DO NOT TURN ON THE MICROWAVE

Remove dough from microwave

With a rolling pin, stretch dough into a large rectangle. If dough is sticky, simply add some more flour

Empty the can of dulce de leche into a microwave safe bowl. Microwave dulce de leche for 25-30 seconds or until it becomes smoother and runnier (for easier spreading)

Brush the melted butter all over the surface of the dough

Spread the dulce de leche on top

Sprinkle the cinnamon over the dulce de leche

Roll the dough into a log tightly

Cut into log into 2 inch sections

Grease 2 rectangular baking dishes or 2-3 large cake pans

Place the rolls into the pan. Make sure that the rolls separated so they have enough room to rise. Cover pans with plastic paper and a clean kitchen towel

Preheat oven to 400 degrees F and when it reaches temperature

turn the oven OFF

Place the rolls inside and let them proof for 20 more minutes

Remove from oven and uncover the rolls.

Preheat the oven 350 Degrees F

Bake for 30-35 minutes or until golden brown

Enjoy
Recipe Notes
*Milk needs to be at a lukewarm temperature (around 100 Degrees F). If milk is too hot the yeast will die, if milk is cold or at room temp, the yeast will not activate.
**You can also make these by hand but the kneading times will be longer
***You can proof the dough in the refrigerator overnight and bake the next day