I am a member of the Collective Bias® Social Fabric® Community. This shop has been compensated as part of a social shopper amplification for Collective Bias and its advertiser. #CollectiveBias #FoodDeservesDelicious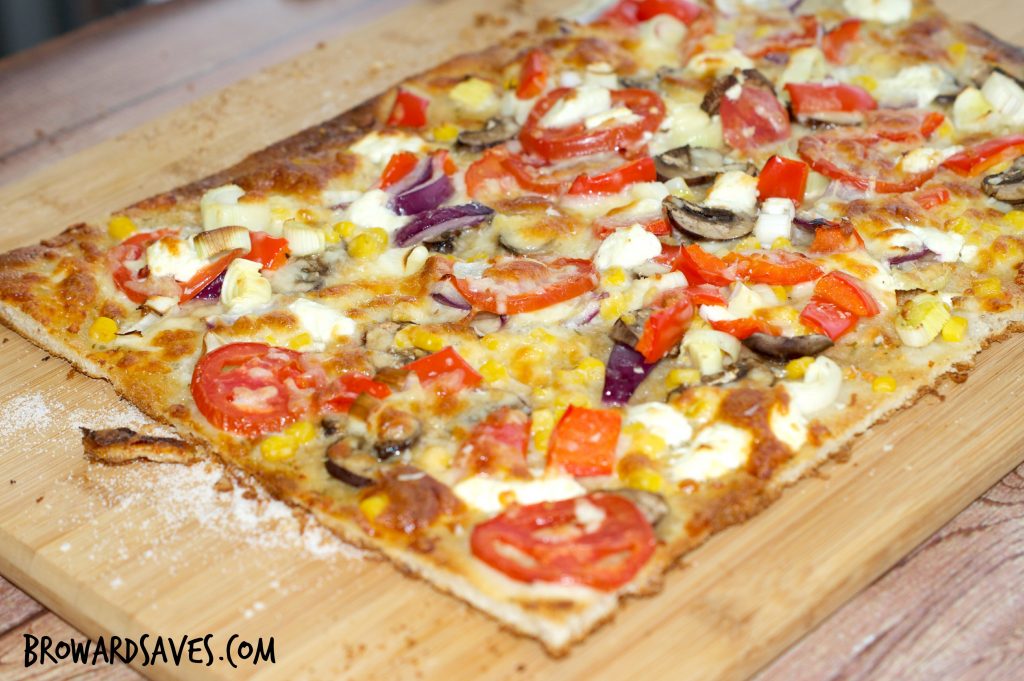 Now that June is here forget about easy Salad Recipes For Summer . Don't get me wrong, I do love salads but my 6 year old hates them. So in order to get some veggies in her I made this delicious Ranch Goat Cheese Pizza. Now that the new Kraft Pourables has been reinvented with a new, better taste! so the Classic Ranch is now creamier, with more buttermilk and savory herbs.
The inspiration to this recipe came to me when my girls asked me to recreate a white Pizza they used to eat at an Italian place up north. The pizza had an Alfredo sauce and lot's of herbs on top. So I thought, white tangy sauce with herbs on top.. KRAFT RANCH DRESSING!. Think about it: ranch sauce, crispy crust, fresh veggies and a piquant Goat cheese.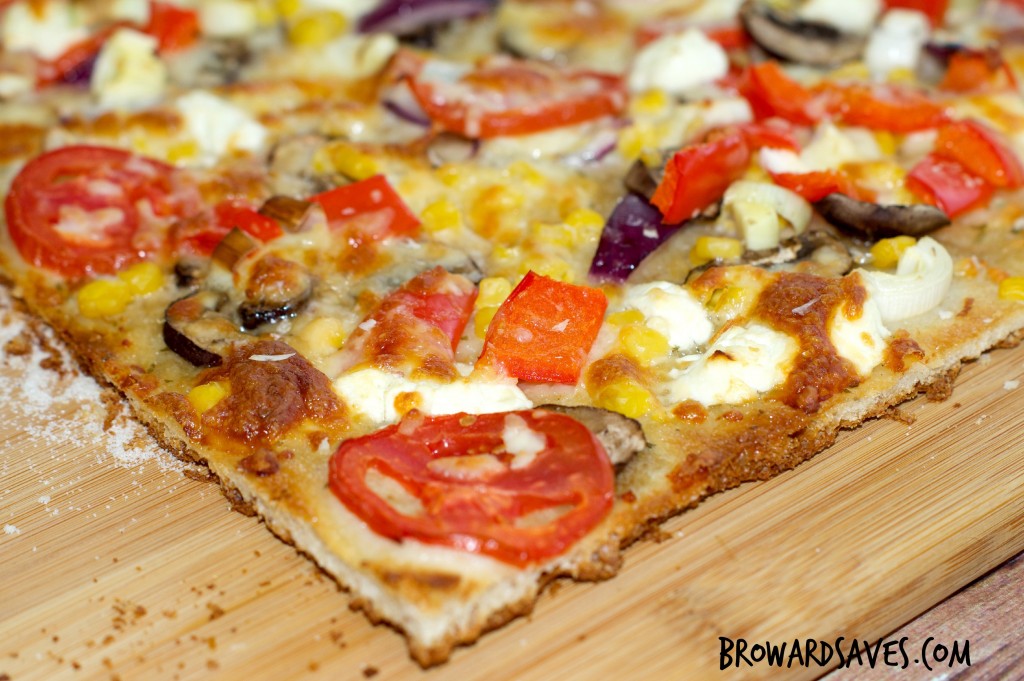 The secret to a crispy crust is to pre-bake the dough for 5 minutes before adding any sauce or toppings. I've had my fair share of soggy pizzas and ever since I started pre-baking the crust, I get the crispiest crunchiest pizza!. You can skip this step if you prefer a softer dough.
When I developed this recipe, my idea is to try and hit every flavor bud in your mouth, that's why I used a combo of 3 kinds of cheese: Goat (flavor), Mozzarella (texture), and Parmesan (saltiness). Combined with the yummy Ranch Dressing and colorful and fresh veggies you have a winning dish. My super critic hubby even said that this is the tastiest pizza he has even eaten. Coming from him I feel accomplished.
To make my pizza I used:
– Canned Ready to make pizza dough
– Kraft Ranch Dressing
– Goat Cheese
– Freshly Grated Parmesan Cheese
– Mozzarella Cheese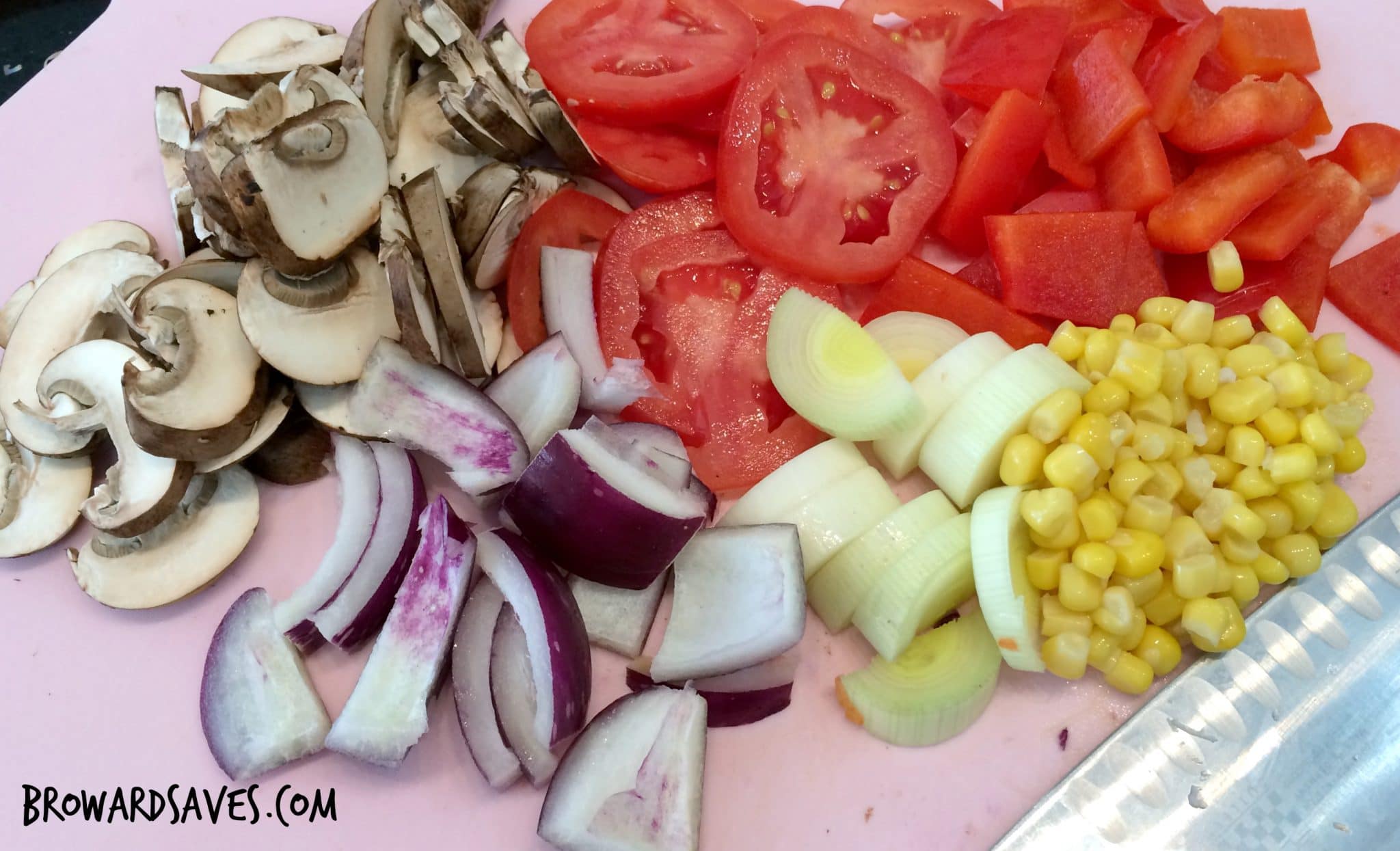 – An assortment of chopped veggies: leeks, corn, red pepper, tomato, mushrooms and red onion.
You can mix and match using your favorite veggies.
To start I turn on the oven at 400 degrees and roll the pizza dough onto a cookie sheet sprinkled with cornmeal.
I pre-baked the dough for 5 minutes. Then I spread a layer of delicious Ranch Dressing.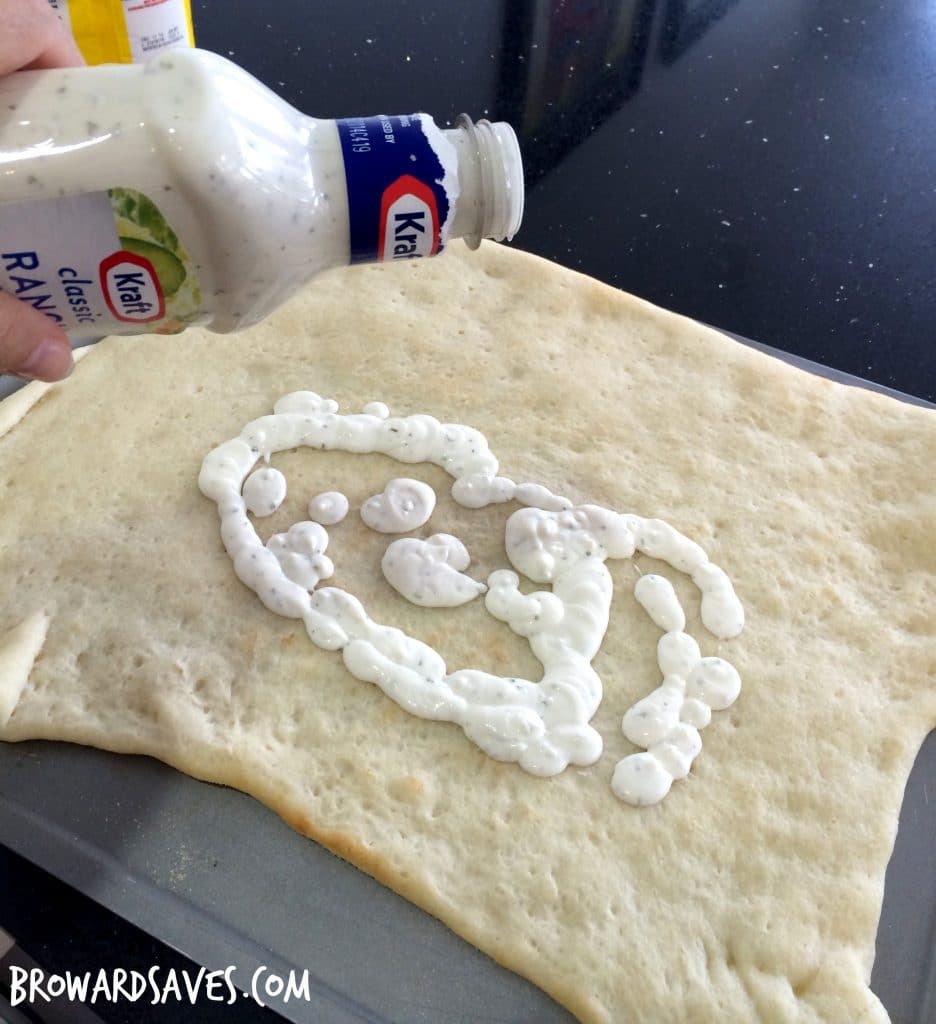 Use a knife or a spatula to spread the Ranch Sauce until all the dough is covered.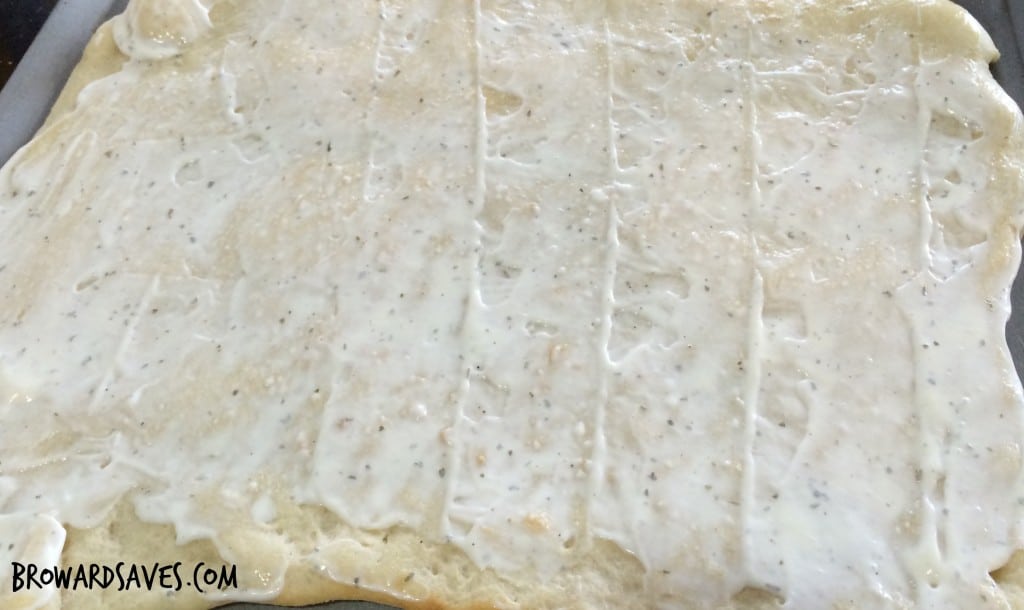 Then spread out your veggies and your cheeses. Before putting inside the oven sprinkle a bit of Olive Oil. Here's the Pizza going in the oven: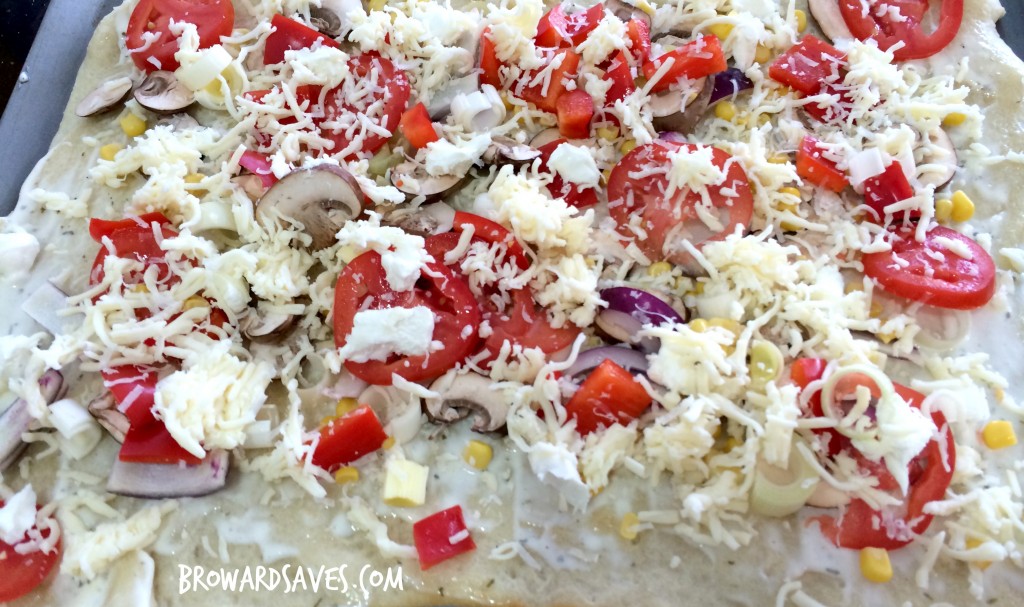 Bake for about 10 minutes or until the dough is cooked and the cheeses have browned and melted. You won't believe how delicious your kitchen will smell when your Ranch Goat Cheese pizza comes out of the oven.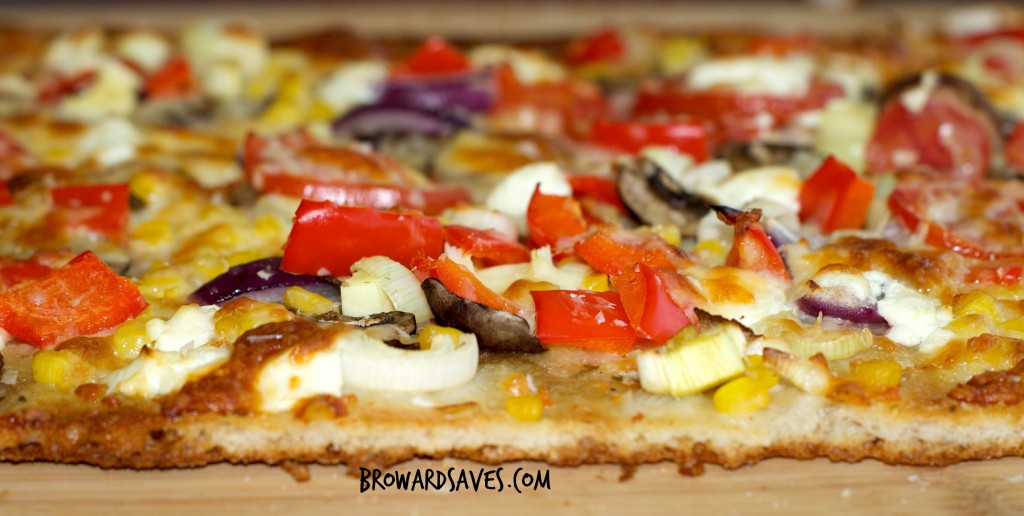 I hope you try this recipe at home or at least get inspired to think outside the box. Who would've though that Ranch Dressing and Goat cheese would make an excellent combination?.
If you have a picky eater at home as I do, then this Pizza is a must!. All the beautiful colors of the veggies will make kids want to try it. If you are making the recipe for only adults I would suggest adding red pepper flakes for a little kick.
So will you try this Pizza or stick with boring Easy Salad Recipes for Summer?.
See those white globs in each slice?. That's the goat cheese. Yum!!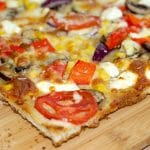 Ranch Goat Cheese Pizza
Ingredients
Canned Refrigerated Pizza Dough

1/4

C

. Kraft Ranch Dressing

1/4

C

. Chopped Red Onions

1/4

C

. Chopped Red Peppers

1/4

C

. Chopped Leeks

1/4

C

. Chopped Tomatoes

1/4

C

. Chopped Mushrooms

1/4

C

. Corn

1/2

C

. Goat Cheese

crumbled

1/4

C

. Parmesan Cheese

Freshly Grated

1/4

C

. Mozzarella Cheese

1

Ts

. Olive Oil

2

tb

. Cornmeal

for sprinkling
Instructions
Preheat Oven to 400 Degrees F.

Unroll dough into a cookie sheet sprinkled with Corn Meal

Pre-Bake for 5 minutes

Remove from Oven

Add in veggies, cheeses and drizzle olive oil on top

Bake for about 10 minutes

Remove from oven

Enjoy!