This Chia Seed Vanilla Pudding Recipe is so easy to make that a child can do it. It's delicious, creamy and healthy! No cooking required. Top with almonds and strawberries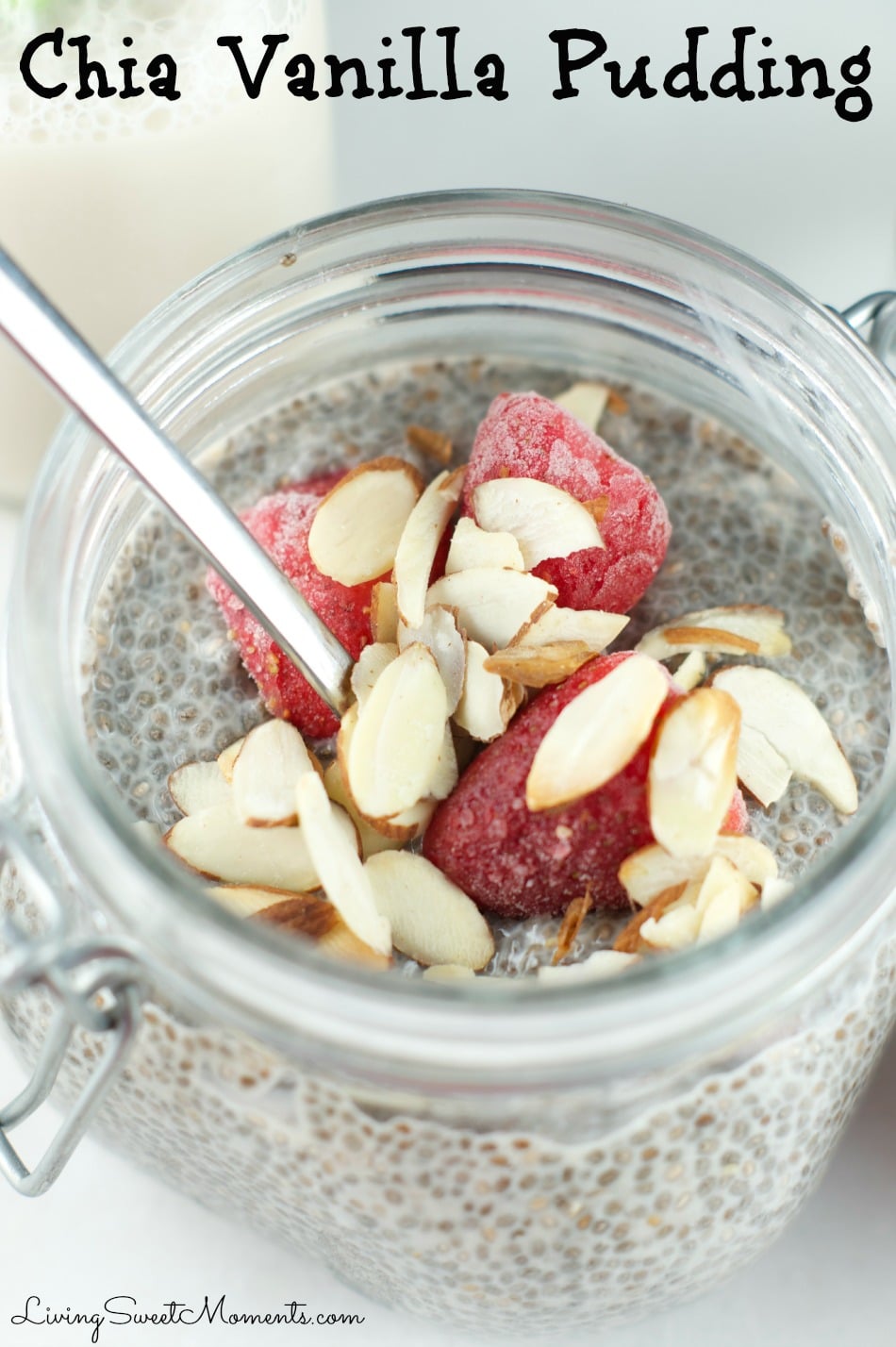 Chia Seed Vanilla Pudding Recipe
I am loving this long weekend. After the harsh start to the year I really needed a break. It helps me regroup my thoughts and ideas. My family and my husband's relatives all left back home to Venezuela.
On one hand I miss them and on the other, I am looking forward to start my routine again. I just feel so sad when they leave, and worse, all at once. I will drown my sorrows in this creamy Chia Seed Vanilla Pudding Recipe.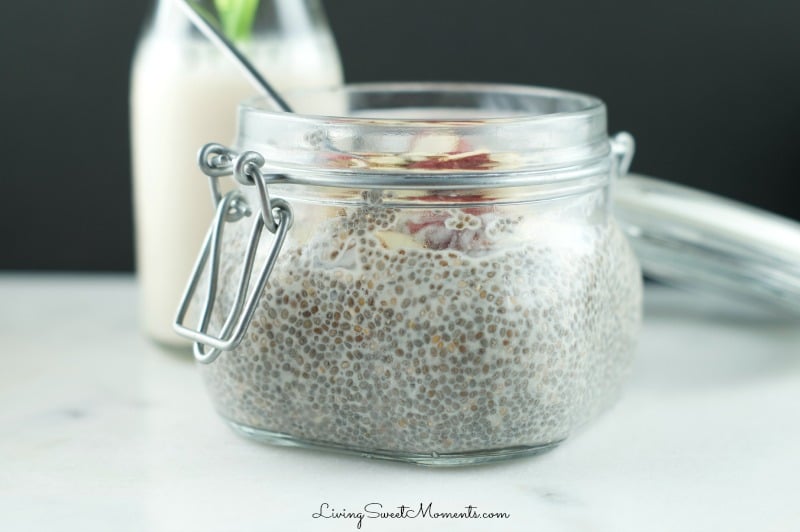 This Chia Seed Vanilla Pudding Recipe is so easy to make that it requires no cooking at all. Simply toss the ingredients in a mason jar or a closed container and shake it, leave it in the fridge for a few hours and that's it.
The Chia seeds slowly absorb the liquid and swell up creating this wonderful creamy texture. My 4 year old loved helping me prepare it. She got her little ladder and poured all the ingredients into a jar.
And of course, she she sang that Taylor Swift's shake it off song while mixing all the everything.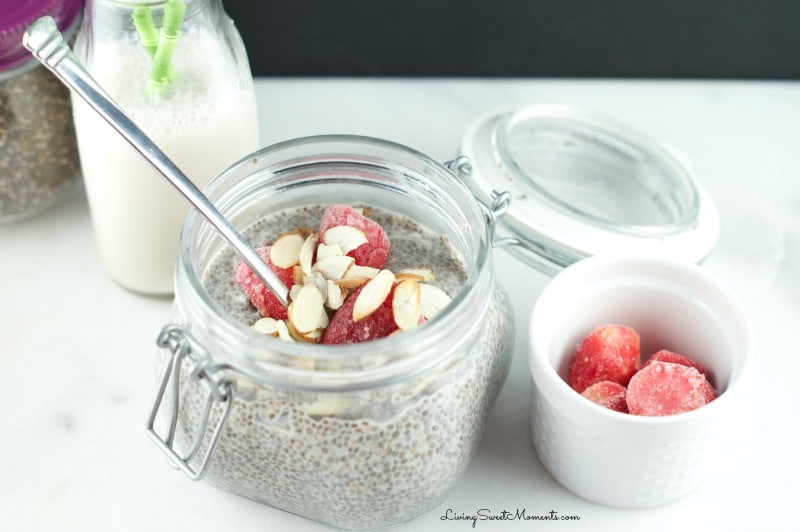 I top mine with sliced almonds and some frozen strawberries. I really love how the crunch of the almonds contrasts the creamy texture and the sweetness of the strawberry is a wonderful addition.
You can certainly use any topping you may like – fresh fruits, dried fruits, nuts, yogurt, etc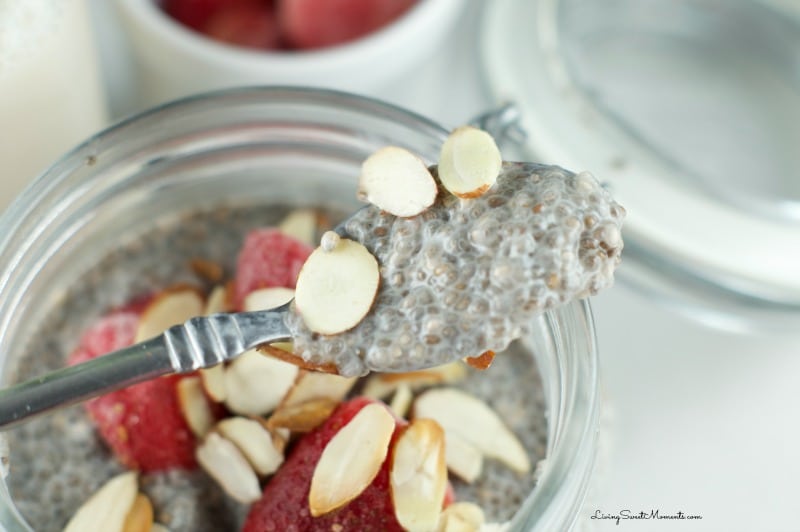 This Chia Seed Vanilla Pudding Recipe is the perfect breakfast idea. Make it in advance the night before and you'll have breakfast on the go the next day. Just don't forget the spoon!
You can make a huge batch and store it in a mason jar or do a few jars are a time for individual servings. This particular recipe is enough for 2 persons (or 2 days or breakfast).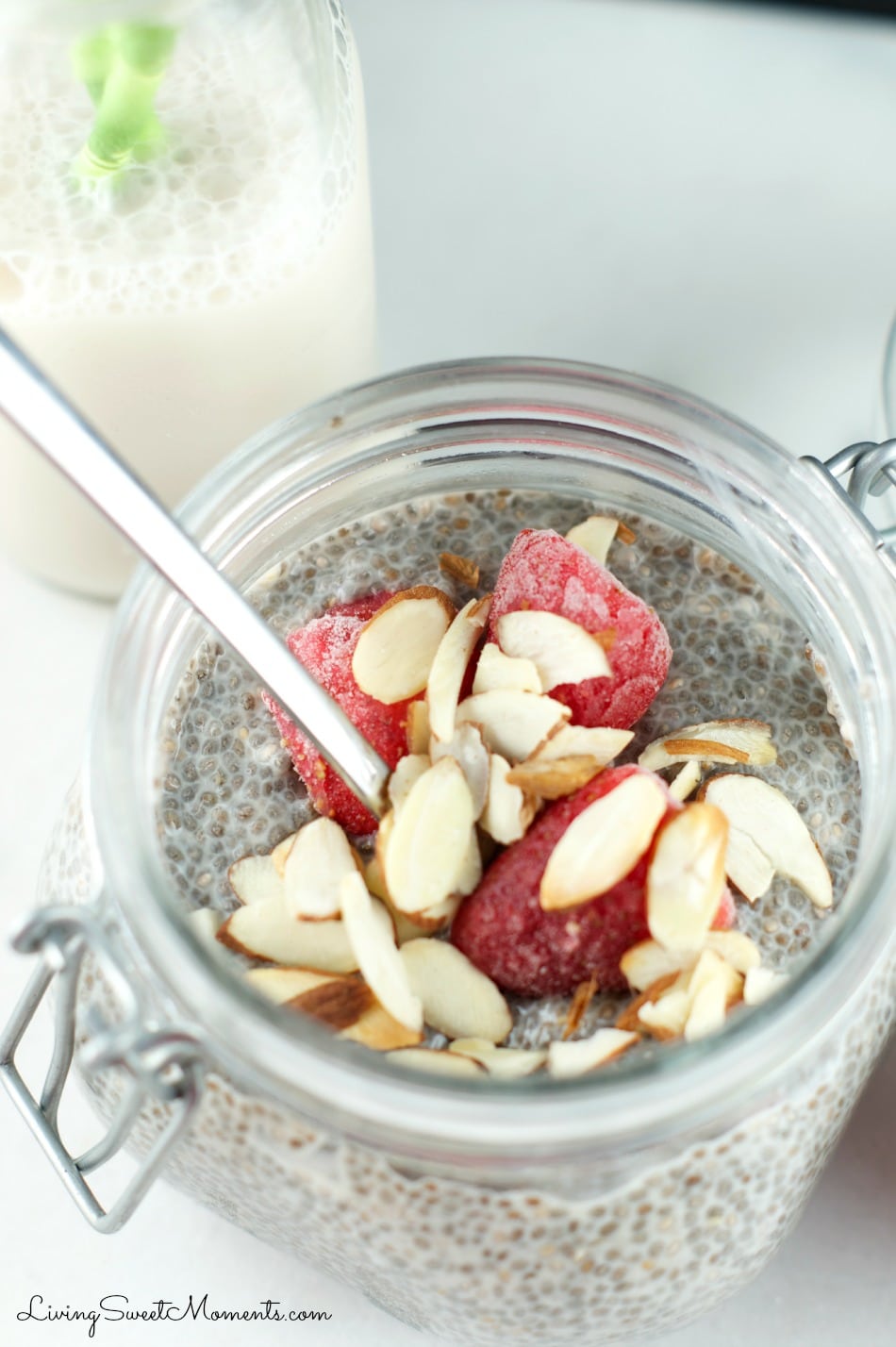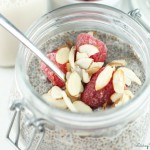 Chia Seed Vanilla Pudding Recipe
This Chia Seed Vanilla Pudding Recipe is so easy to make that a child can do it. It's delicious, creamy and healthy! No cooking required. Top with almonds and strawberries
Ingredients
1 1/2

Cups

Vanilla Almond Milk

Unsweetened

6

tablespoons

Chia Seeds

1-2

Tablespoons

Honey

1/2

Teaspoon

Pure Vanilla Extract

1

Tablespoon

sliced almonds

toasted

3-4

Strawberries

fresh or frozen
Instructions
In a mason jar or a lidded container, place all ingredients inside

Close the lid and give it a few good shakes until all the ingredients are combined. Test for sweetness and make the corrections if necessary

Store in the fridge for 4-6 hours or until the Chia Seeds absorb all the liquid

Top with the almonds and strawberries

Enjoy!
Nutrition Facts
Chia Seed Vanilla Pudding Recipe
Amount Per Serving
Calories 270
Calories from Fat 135
% Daily Value*
Fat 15g23%
Sodium 250mg11%
Potassium 209mg6%
Carbohydrates 27g9%
Protein 8g16%
Vitamin C 11.1mg13%
Calcium 465mg47%
Iron 3mg17%
* Percent Daily Values are based on a 2000 calorie diet.