Passover Bagels – Super easy to make and delicious. These Passover rolls are sweet and savory with a sesame topping. Serve them warm on your Pesaj Seder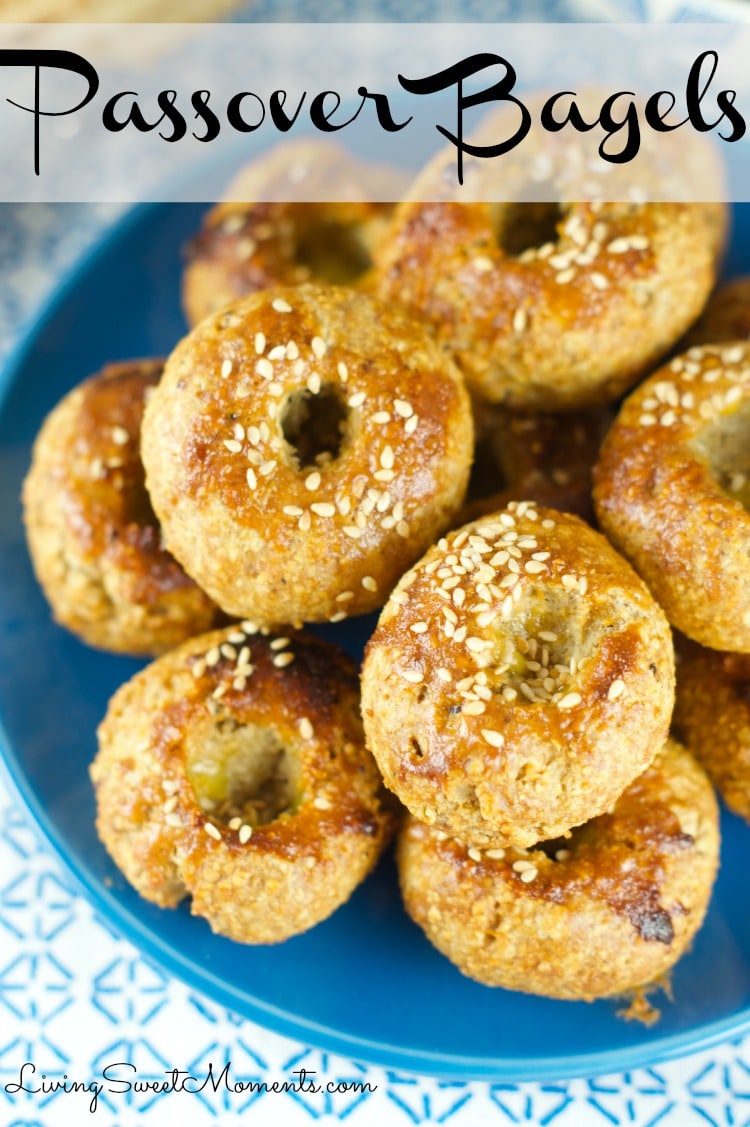 Passover Bagels
Are you looking for delicious Passover recipes? Are you tired of the same old boring foods? Well then, you are going to love these easy to make and totally amazing Passover Bagels.
Serve them warm during Seder and your family will not go hungry while reading singing Ma Nishtana.
To be honest, I don't know why these are called bagels. The hole in the middle doesn't go through to the other side, it's more like an indentation.
They are similar to warm dinner rolls with a small indentation in the middle. I learned this recipe from my Grandma and that's how she calls them.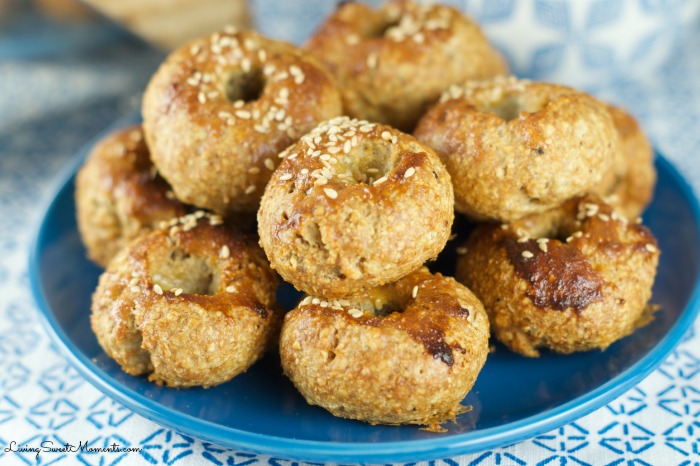 I usually don't wait until Pesaj to make these Passover Bagels. They are so delicious! It starts as savory on your palate and it finishes off with a sweet lingering flavor.
Once you have one, you're going to be hooked. There is now Gluten Free Matzo meal available so if you have guests with dietary restrictions you can just swap out the meal for the gluten free. Perfect for my mom.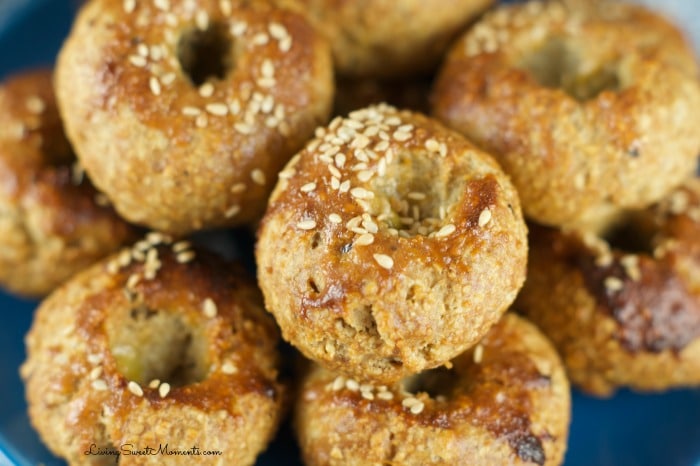 One of my favorite Jewish holidays is Passover.
It's amazing how every Jew around the world reads the same book they've been reading for hundreds of years.
It's the tradition, the food, the songs and the moments that I cherish and hope that my daughters continue this legacy for years on end.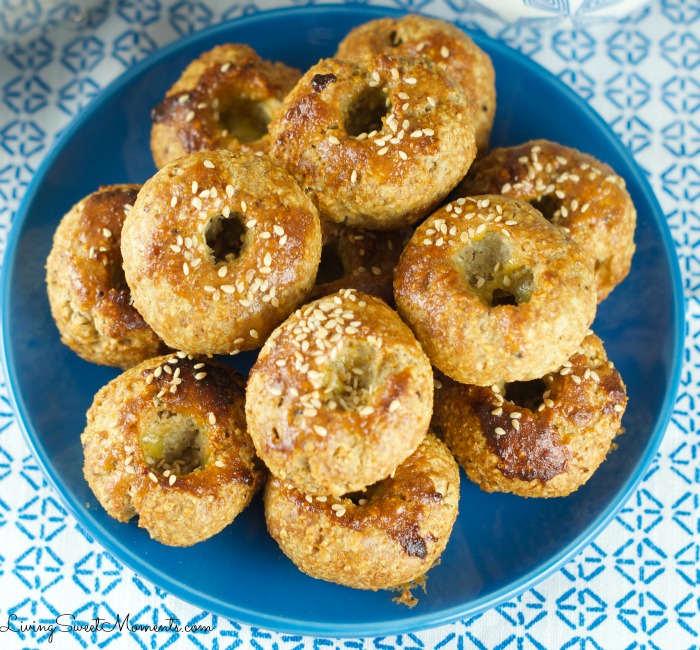 Although my menu changes every year, there are some items that keep coming back, these Passover Bagels are definitely one of them.
I make the easy dough and roll it into balls, about the size of a ping pong ball, and then with the back of a wooden spoon, I make small indentations in the middle.
Be very careful not to cut all the way through. Here are the last 2 steps before putting them in the oven.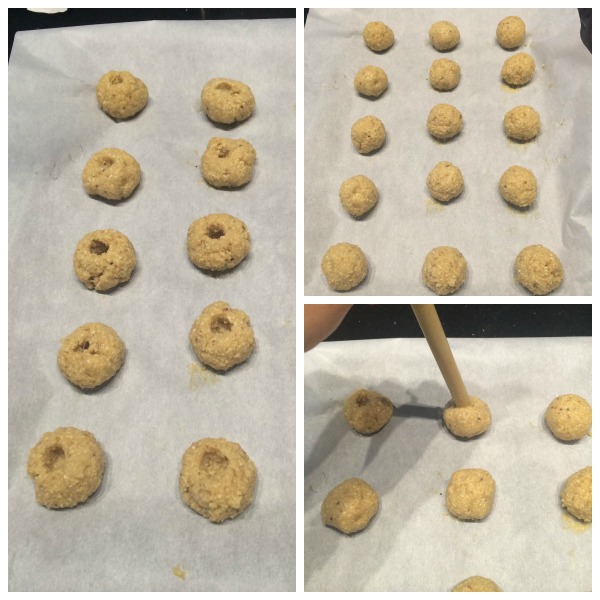 I hope you can make these delicious Passover Bagels at home. If you do, please tag me on Instagram @livingsweetmoments and/or use the hashtag #LivingSweet – I promise to Repost it.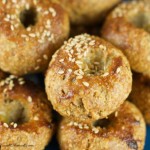 Passover Bagels
Passover Bagels - Super easy to make and delicious. These Passover rolls are sweet and savory with a sesame topping. Serve them warm on your Pesaj Seder
Ingredients
For Bagels
2 1/2

cups

Matzo Meal

1 1/2

cups

Water

1/2

Cup

Vegetable Oil

2

Tablespoons

Sugar

1

Teaspoon

Salt

6

Eggs

cracked and slightly whisked
For Topping
2

Egg Yolks

1/2

Teaspoon

Sugar

Sesame Seeds
Instructions
Preheat Oven to 350 Degrees Fahrenheit

In a small saucepan place the water, sugar, oil and salt. Heat on medium-high heat

Pour the Matzo Meal in a bowl

When the water mixture starts boiling, quickly pour it on the bowl that contains the matzo meal

Stir with a wooden until combined. Dough will be dry. Let it cool for about 5 minutes

Add the eggs and stir with a wooden spoon until you achieve a sticky dough

Line a baking sheet with parchment paper

With damp hands, make little balls (about the size of a ping pong ball) and place on the cookie sheet

Using your thumbs or the back of a wooden spoon, make an indentation in the center of each ball. Careful not to cut all the way through the bottom

Bake in the oven for 30 minutes

Meanwhile, beat the egg yolks and the sugar with a fork

When the 30 minutes are up, remove the sheet pan from the oven and "paint" a little egg yolk all over the tops of the bagels. Sprinkle with sesame seeds

Bake for 25 to 30 minutes more or until browned

Enjoy!
Nutrition Facts
Passover Bagels
Amount Per Serving (1 bagel)
Calories 97
Calories from Fat 36
% Daily Value*
Fat 4g6%
Cholesterol 45mg15%
Sodium 91mg4%
Potassium 26mg1%
Carbohydrates 10g3%
Protein 2g4%
Vitamin A 65IU1%
Calcium 8mg1%
Iron 0.6mg3%
* Percent Daily Values are based on a 2000 calorie diet.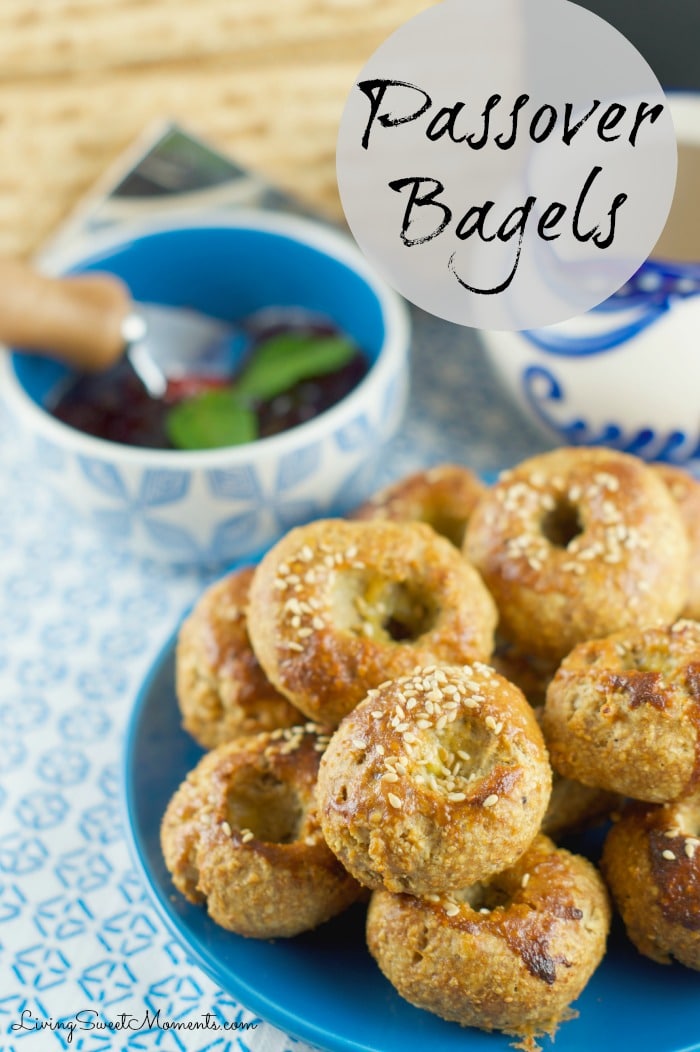 You may also like:
Fig & Walnut Spread (Charoset)