This easy to make eggy, delicious challah bread is the perfect to eat straight out of the oven but also makes amazing french toast the next day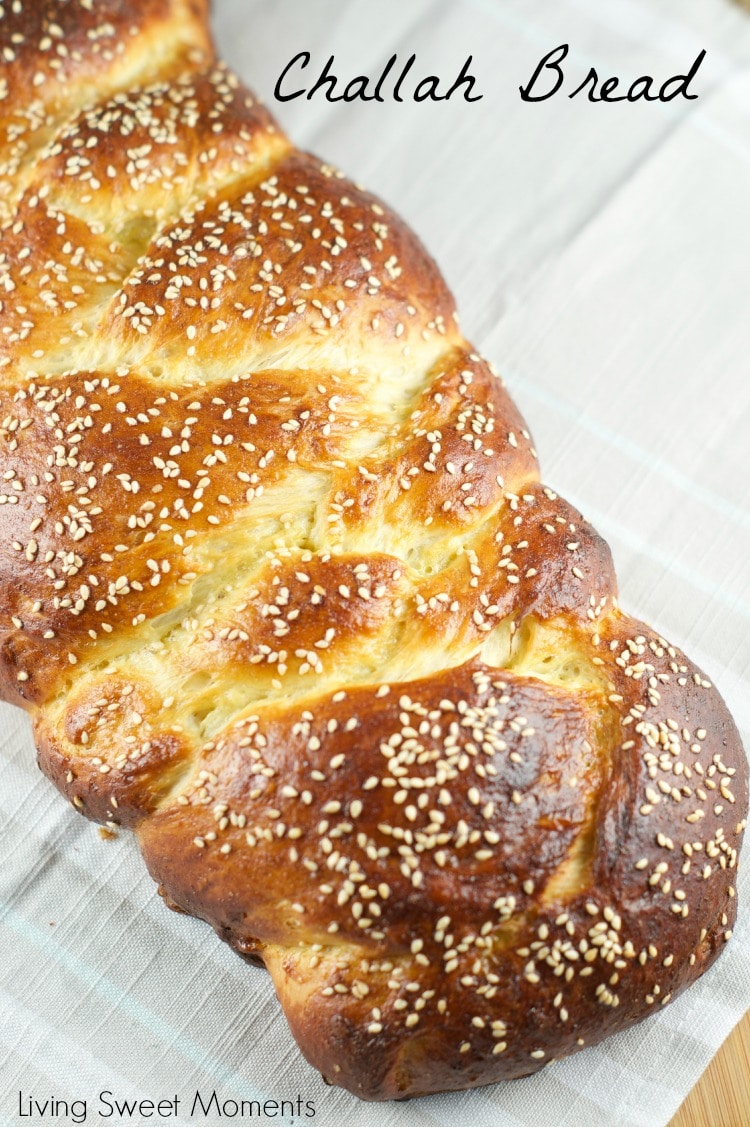 Homemade Challah Bread
TGIF Everybody! Skip the gym this morning and get your apron on because today we are going to be making the best homemade Challah bread on the planet. It's rich, eggy with a surprising sweet topping that makes a perfect combination with the toasty crust.
You would think that making this bread is super complicated with 10000 steps. But in reality, I've simplified the recipe so much, that you'll have a breeze making it. I'll admit, there is proofing time required, but what homemade bread doesn't? TRUST ME, this one is worth it.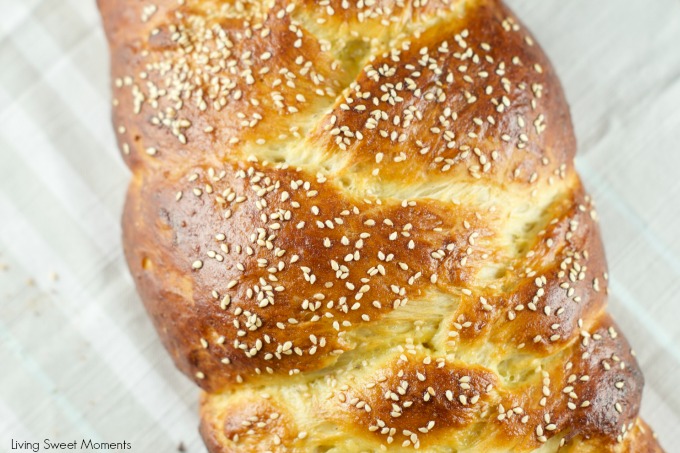 Of all the photo shoots I've done for this blog, this one has been the hardest one. I thought it was a great idea to shoot the bread straight out of the oven just to see if I could capture steam coming out it. Not only was I unsuccessful in this venture, I suffered through the delicious and wonderful smell of fresh baked Challah Bread. My favorite food in the world is bread, and right there in front of me was this intoxicating smell.. It was hard, I was salivating like Pavlov's dog at the sound of a bell.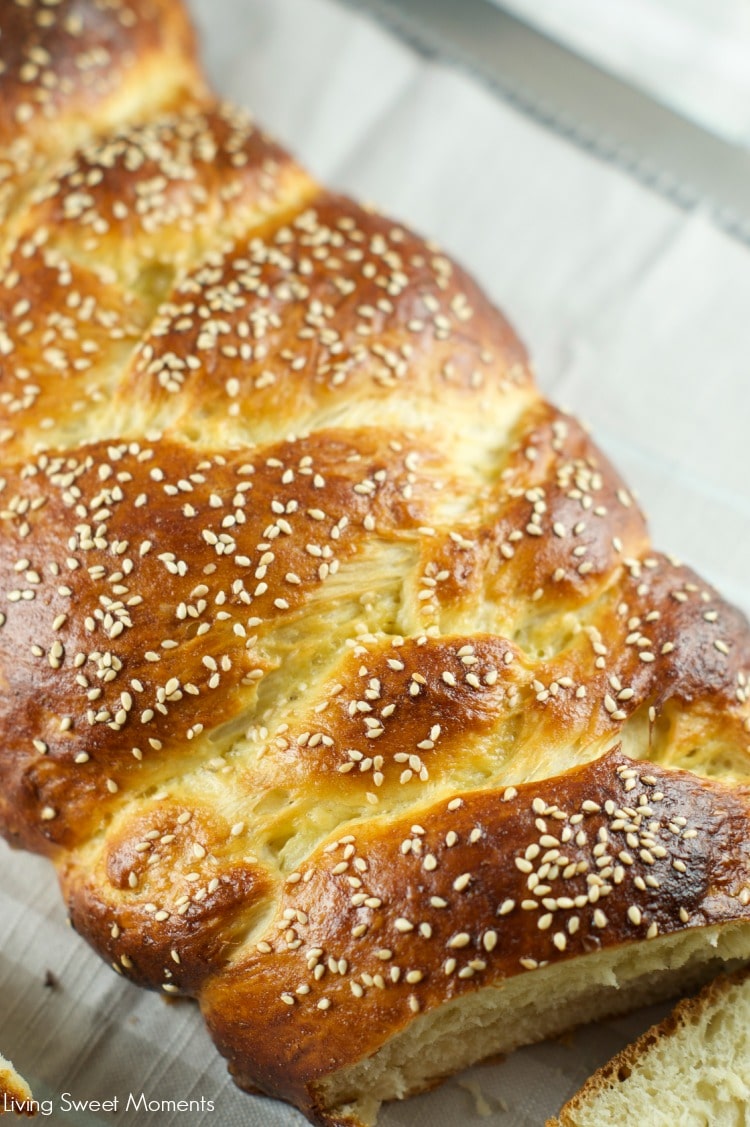 I got this Homemade Challah Bread recipe from my grandmother. When I lived in Venezuela, we used to eat lunch at her house every saturday. On special occasions she would make a few loafs of challah and we all go crazy for them. She baked them up in a loaf pan so the braid would only go on top. It made the bread look more elegant and sophisticated. I decided to bake mine without the loaf because I love the rustic look and my daughters get a kick out of pulling their own piece.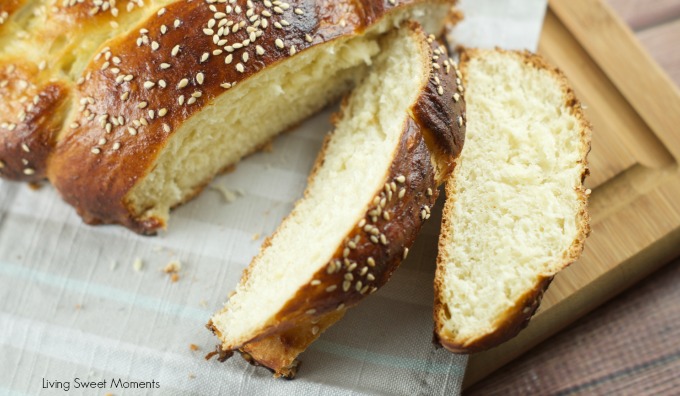 I hope you can try this delicious Homemade Challah Bread at home. If you do, please upload a pic on Instagram and tag me @Livingsweetmoments or use the hashtag #LivingSweet. I promise to repost it.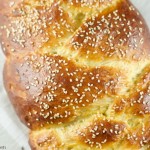 Homemade Challah Bread
This easy to make eggy, delicious challah bread is the perfect to eat out of the oven but also makes amazing french toast the next day.
Ingredients
For Challah
1/4

oz

Packet of Instant Yeast

3 1/2

Cups

of Flour

1/2

Cup

of Sugar

1

Teaspoon

of Salt

3/4

Cups

of Water

2

Eggs

1/3

Cup

of Vegetable Oil
For Topping
1

Egg Yolk

1

Teaspoon

of Water

1/2

Teaspoon

of Flour

1/2

Teaspoon

of Sugar

1/2

Teaspoon

of Water

Sesame Seeds
Instructions
In the bowl of a mixer, pour in the yeast, flour, sugar, salt, water and eggs

Using a dough hook, mix on medium - high speed for 5 minutes

Add the oil slowly and continue mixing until the dough is soft and has absorbed all the oil. About 10 minutes

Remove from mixer, sprinkle some flour on top of the dough and cover the bowl with a clean kitchen towel

Place the bowl in a dark place away from drafts to proof (Could be inside an oven, as long as it turned off). For 1 1/2 to 2 hours or until the dough has tripled its size

Remove dough from bowl and onto a floured surface. If it seems to sticky, add some more dough and mix until you get a nice round ball

Divide the ball into 3 equal parts. Roll each part into a long rope

Attach the 3 ends of the ropes together and braid into a challah shape

Place the challah in a sheet pan lined with parchment paper or silicone mat

Cover with a kitchen towel and let it proof for 30 minutes

Meanwhile, preheat oven to 350 degrees Fahrenheit

In a small bowl, combine the egg yolk, water, sugar and flour

Brush the yolk mixture on top of the bread, covering each nook and cranny

Sprinkle in the sesame seeds

Bake for 25 to 30 minutes or until browned on top

Enjoy!

Brush the top of the bread with yolk mixture