Check out this amazing recipe for Chocolate Cherry Zoats (aka Zucchini Oatmeal) by the talented Devin Alexander from her new cookbook "You Can Have It"
Thank you, Truvia Natural Sweetener for sponsoring this post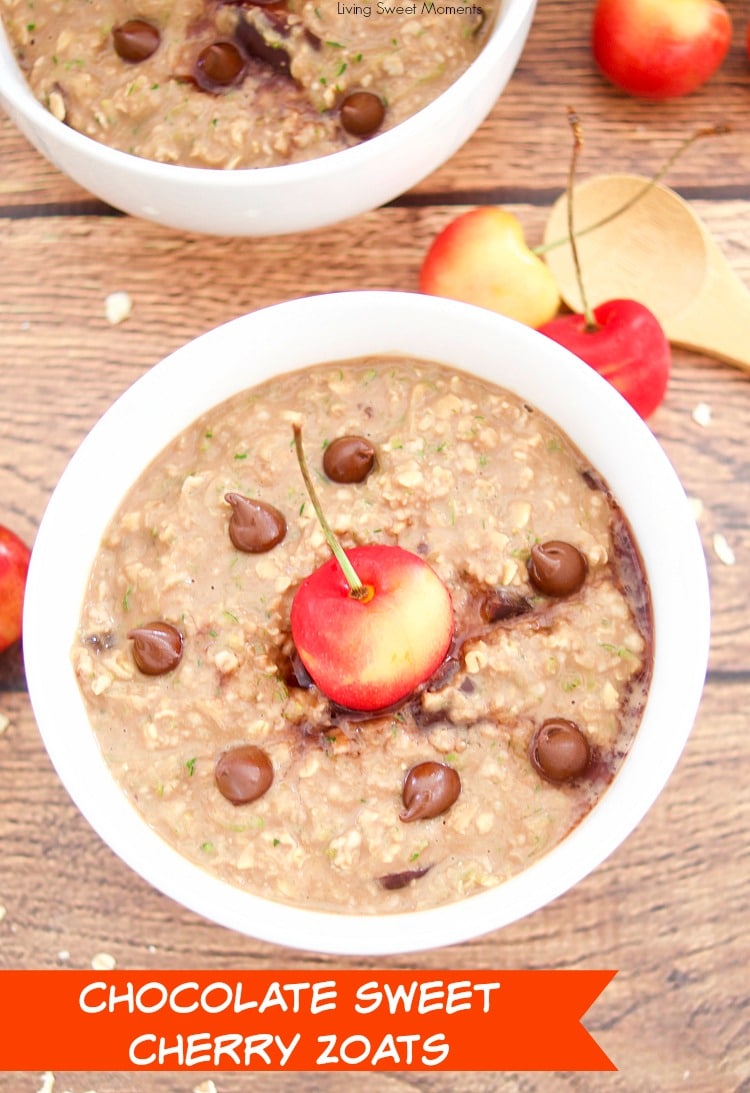 Incredible Chocolate Cherry Zoats & Devin Alexander Interview
Have you ever heard of zoats?
It's a delicious filling bowl of oatmeal that is made with the help of thin shredded zucchini.
Don't worry, you won't even notice the zucchini. It's just there to provide fiber, vitamins and volume. No veggie flavor at all! promise.
Plus there's chocolate and cherry in there to make you forget all about the "z" part of the zoats.
Now you can enjoy a black forest dessert for breakfast without the guilt.
How is this Incredible Chocolate Cherry Zoats healthy? – Well I simply followed Devin Alexander's recipe from her new cookbook "You Can Have It".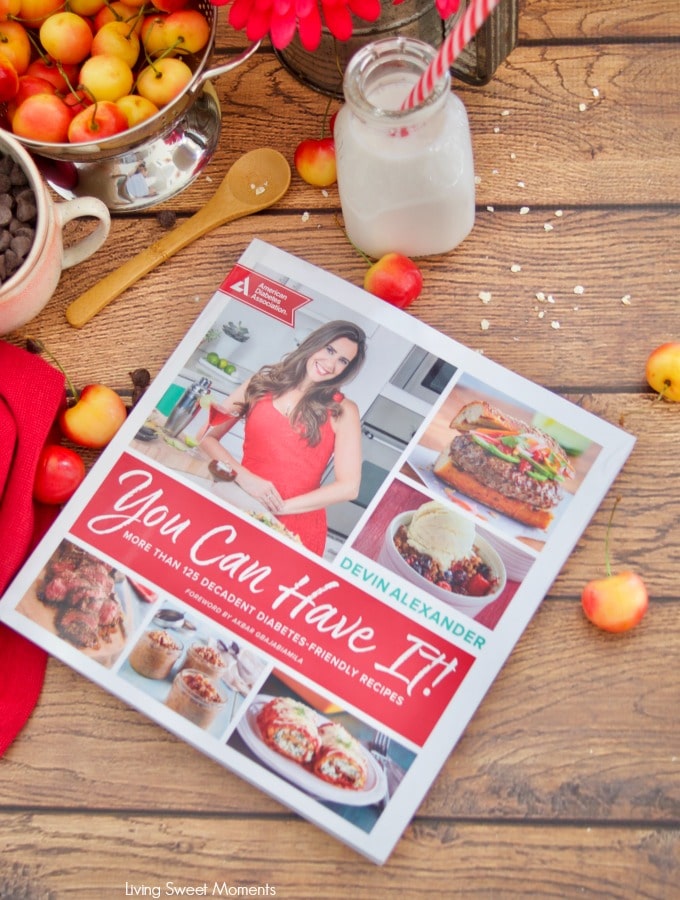 If you're not familiar with this Devin, she's a cookbook author and a celebrity chef from NBC's The Biggest Loser.
I personally love her approach to eating healthy, since her recipes are decadent, abundant, colorful, and inspiring.
Browsing through the pages of her cookbook you'll soon realize that her recipes do not look like  "diet food" at all.
Thanks to Truvia Natural Sweetener, I had the opportunity to ask her a few questions. Here's how it went:
What are your favorite low-calorie, sweet treats for summer that can also be kid-friendly?
Devin:
I LOVE turning watermelon into "cookies" and "cupcakes" (I have a recipe for Watermelon "Cupcakes" in my new book, You Can Have It!) and am also a fan of grilling fruit and serving it with the many lean ice creams that are popping up on the market.
There are also plenty of other fun (and frozen!) ways to enjoy fruits all summer long in smoothies or a tasty sorbet like this one using Truvia.
Q: What are some of your go-to products and tips when it comes to baking diabetic-friendly desserts?
Devin:
 The Truvia Brown Sugar Blend and Truvia Cane Sugar Blends are my top two baking necessities! They both bake and brown like Brown Sugar and Cane Sugar, respectively, with 75% less calories than sugar. These Truvia blends are also great alternatives for anyone living with diabetes as the sweeteners have little to no effect on blood glucose or insulin!
 I love cocoa powder (and, even better, cacao powder, which has even MORE antioxidants than cocoa powder. I am a huge chocoholic so I turn to cocoa or cacao powder because it has 2 grams of fiber per tablespoon, no sugar and very little fat. By smartly combining it with other ingredients, I get all of the chocolaty deliciousness with NONE of the guilt!
 I love using mini filo cups as pie and tart "crusts." They're flaky, delicious and pre-portioned so people can "stop" after a few instead of being pure butter and empty carb like most pie crust. They're also elegant looking so you don't feel deprived.
Q: Some of your recipes call for store-bought sauces. What is your rule of thumb when choosing the right brand?
Devin:
It might sound trite, but always read labels! It's amazing how one brand of salad dressing can have sugar as the first ingredient and thus have tons of sugar, while another that's just as tasty barely has sugar at all! Same with marinara sauce.
Some are loaded with sugar and salt and some are delicious because they have Italian tomatoes and just don't need the "garbage." It's admittedly sometimes a bit of a pain to find a brand you love, but it's so worth the effort.
Q: Do you have any other healthy meal prep and/or menu planning tips for busy families?
Devin:
Being a new mom, I rely on quick, tasty treats now more than ever and with summer being in full swing  there's so many ways to treat yourself without overdoing it on calories or sugar:
 I always look forward to the summer for amazing cherries (and peaches as the summer progresses)! They transform salads in seconds when they're so fresh and sweet! Both are great in kale and arugula salads with a touch of balsamic vinaigrette, a bit of your favorite cheese and some walnuts.
 I love cooking London Broil and half, bone-in turkey breasts to eat as a dinner and then use the leftovers for deli meat and protein for my salads. Making the "deli meat" yourself will not only ensure you're not eating deli meat that has tons of preservatives and sodium, it's also less expensive. And when you use dinner leftovers, there's obviously no extra fuss!
 I know a lot of people find water "boring" so they have trouble kicking the soda habit. To assist with that, you'll find a plethora of fruity tea bags in my pantry to make pitchers of delicious iced tea; my two current favorites are passionfruit and hibiscus sangria! Not only do these iced teas taste great without a ton of added sugar, they're so beautiful and feel indulgent while containing zero calories.
---
As you can see, Devin utilizes Truvia to sweeten her recipes.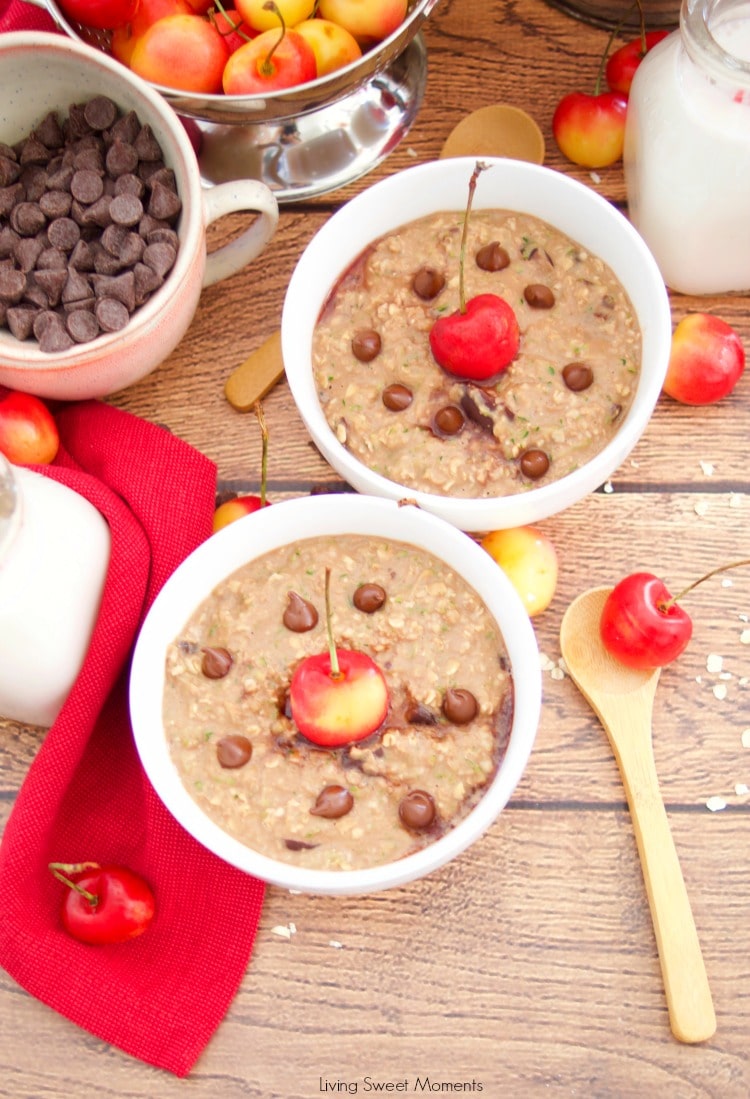 For the Chocolate Cherry Zoats, I used a packet of Truvia to give it just the right amount of "sugar" without the guilt.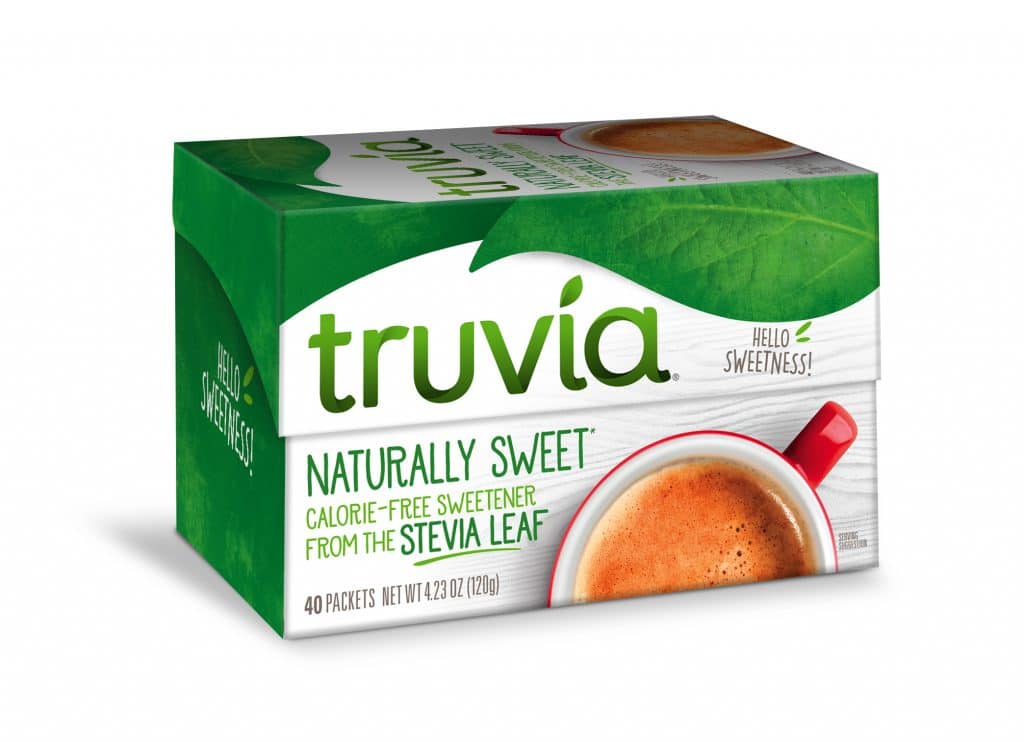 Truvia Natural Sweetener helps you reduce calories and is naturally sweetened from stevia leaf extract, the sweetest part of the stevia leaf. You can buy it in convenient packets or in a spoonable jar (perfect for baking).
I hope you can try this delicious Chocolate Cherry Zoats at home. If you do, please upload a pic on Instagram and tag me @Livingsweetmoments or use the hashtag #LivingSweet.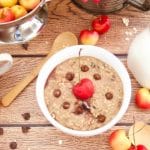 Chocolate Cherry Zoats
Check out this amazing recipe for Chocolate Cherry Zoats (aka Zucchini Oatmeal) by the talented Devin Alexander from her new cookbook You Can Have It
Keyword:
diabetic recipes, healthy breakfast, oatmeal, zoats
Ingredients
1/2

cup

finely shredded zucchini

1/2

cup

old fashioned oats

1

cup

unsweetened vanilla almond milk

1/2

cup

frozen tart cherries

defrosted and quartered

1/2

tablespoon

unsweetened cocoa powder

1

teaspoon

Truvía® Natural Sweetener

1/4

teaspoon

vanilla extract

1/4

teaspoon

almond extract

1/16

teaspoon

sea salt

1/2

tablespoon

stevia sweetened dark chocolate chips
Instructions
Place the zucchini in a lint free towel, and wring the towel to remove as much moisture as possible

Transfer the drained zucchini to a small saucepan. Mix in the oats. Pour the almond milk into the pan. Cook the mixture over the medium heat, using a rubber spatula or wooden spoon stir the mixture frequently, until the moisture has evaporated. About 4-7 minutes

Remove the pan from the heat. Stir in the cherries, cocoa powder, Truvía®, vanilla extract, almond extract, and salt until well combined. Add the chocolate chips and stir them until evenly distributed - don't completely melt them
Recipe Notes
This recipe is extracted from Devin Alexander's Book: "You Can Have It"
Nutrition Facts
Chocolate Cherry Zoats
Amount Per Serving (1 1/3 cups)
Calories 330
Calories from Fat 81
% Daily Value*
Fat 9g14%
Sodium 320mg14%
Potassium 730mg21%
Carbohydrates 45g15%
Protein 9g18%
* Percent Daily Values are based on a 2000 calorie diet.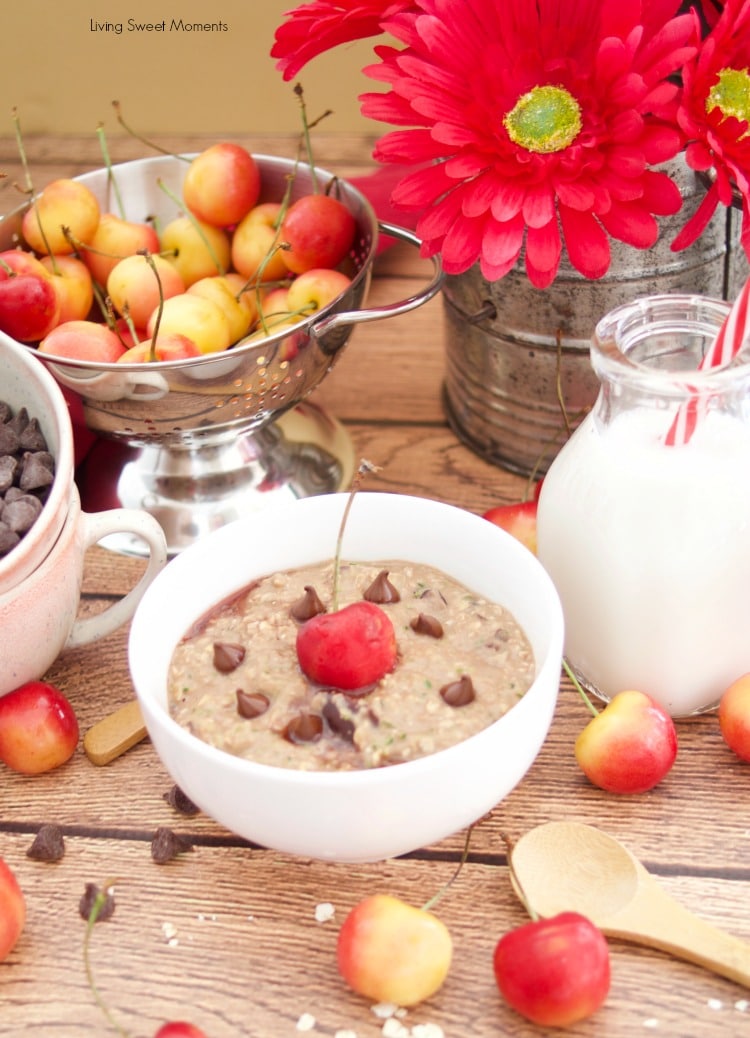 Don't forget to follow Truvia and Devin on their social media pages:
Truvia
o Facebook – https://www.facebook.com/Truvia
o Twitter – https://twitter.com/truvia
o Instagram – https://www.instagram.com/truvia/
o Pinterest – https://www.pinterest.com/truvia/
o YouTube – https://www.youtube.com/user/truvianewsroom/custom
Devin Alexander
o Facebook – https://www.facebook.com/devinalexander
o Twitter – https://twitter.com/chefdevin
o Instagram – https://www.instagram.com/devinalexander/
o Pinterest – https://www.pinterest.com/devinalexander/