Lemon Lavender Chiffon Cake – this airy cake is infused with lavender and lemon and then topped with a lemon glaze. Delicious for dessert and tea time treat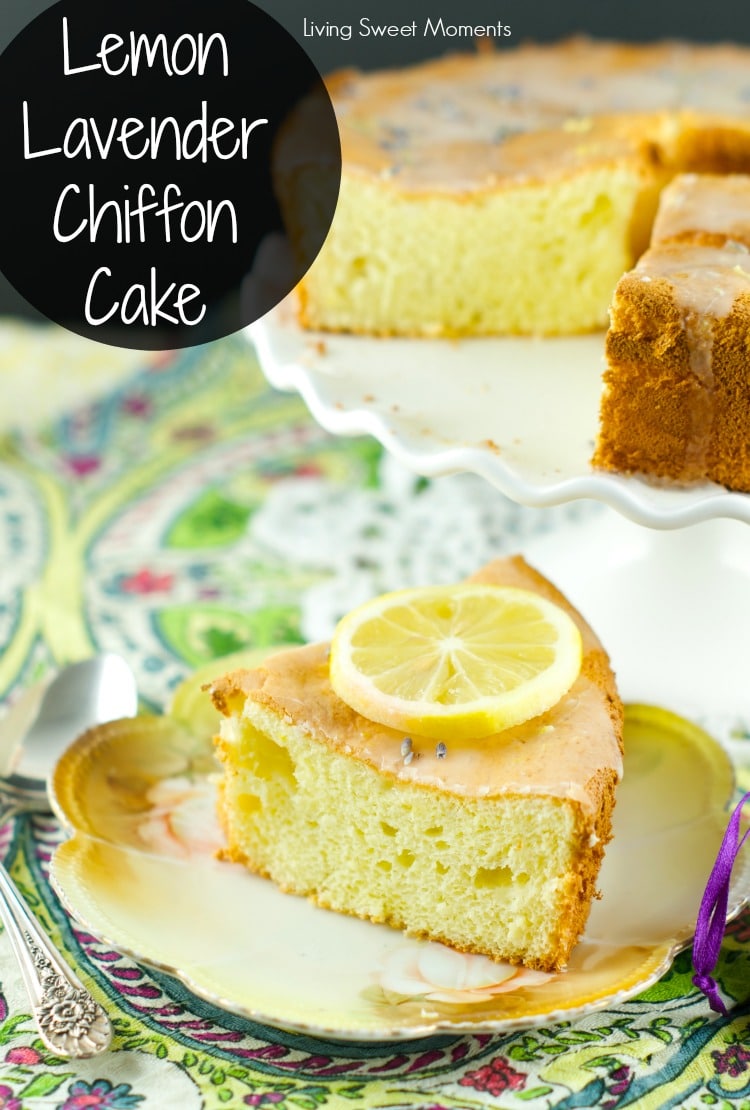 Lemon Lavender Chiffon Cake
A delicate chiffon cake flavored with aromatic lavender and lemon and then glazed with tangy lemon for a delicious, interesting and unique treat that is perfect to serve for dessert or in the afternoon with tea.
Naturally, lemon and lavender make a very delicious combination and has a very distinctive flavor that I know you will love.
If you've never had chiffon cake before, they are Angel Cake's more flavorful's french cousins. In my opinion, an angel hair cake is full of foam and lack of flavor. The chiffon has an airy but still cakey texture.
It's also very easy to take on different flavors, just like a blank canvas.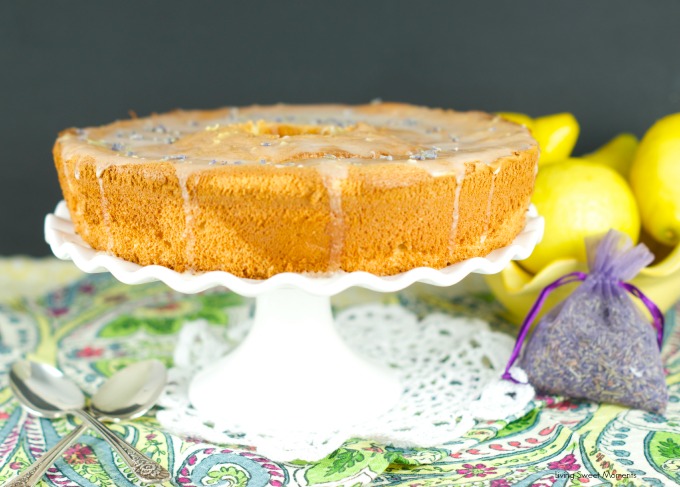 Making it is very easy. All you need are 3 bowls and an Angel Food detachable pan. There are no substitutions here. Believe me, I tried making this Lemon Lavender Chiffon Cake with a regular fluted pan and had to break it up in order to get it out.
Since Chiffon cakes and Angel foods pans can't be greased (otherwise the cake won't stick to the sides and grow), you need a detachable pan. The good thing is that they are fairly cheap, last a long time and can be used for any kind of cake.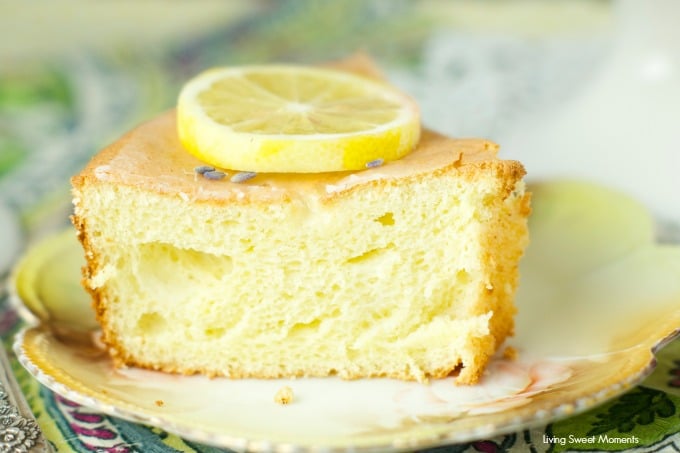 For the lavender flavor, I used real lavender extract and also steeped some dried lavender flowers in hot water. The aromatic liquid was used in the inside of the cake and gave it a delicate, yet delicious flavor.
I bought my lavender at Whole Foods and they are easier to find than you might think.
I know I am using unusual ingredients for this Lemon Lavender Chiffon Cake. But believe me, they are worth it. Cooking with lavender is a pleasure and will definitely use it again for my next dessert.
When I first wrote this recipe, the cake required 3 tablespoons of vegetable oil. I accidentally forgot to add it in and the cake turned out great! So I will put the oil as an optional.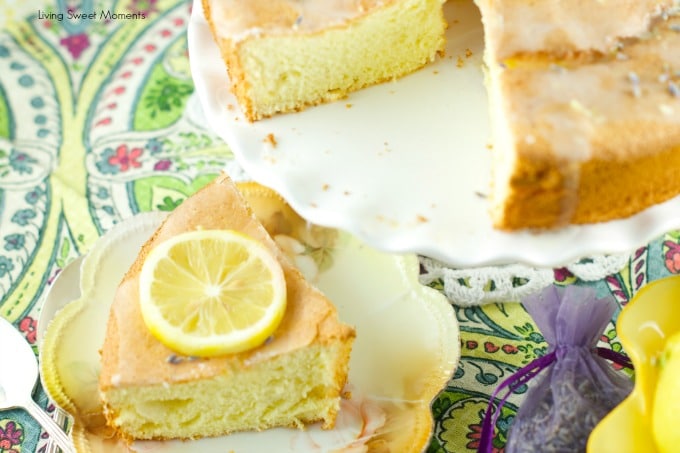 I hope you can try this delicious Lemon Lavender Chiffon Cake at home. If you do, please upload a pic on Instagram and tag me @Livingsweetmoments or use the hashtag #LivingSweet. I promise to repost it.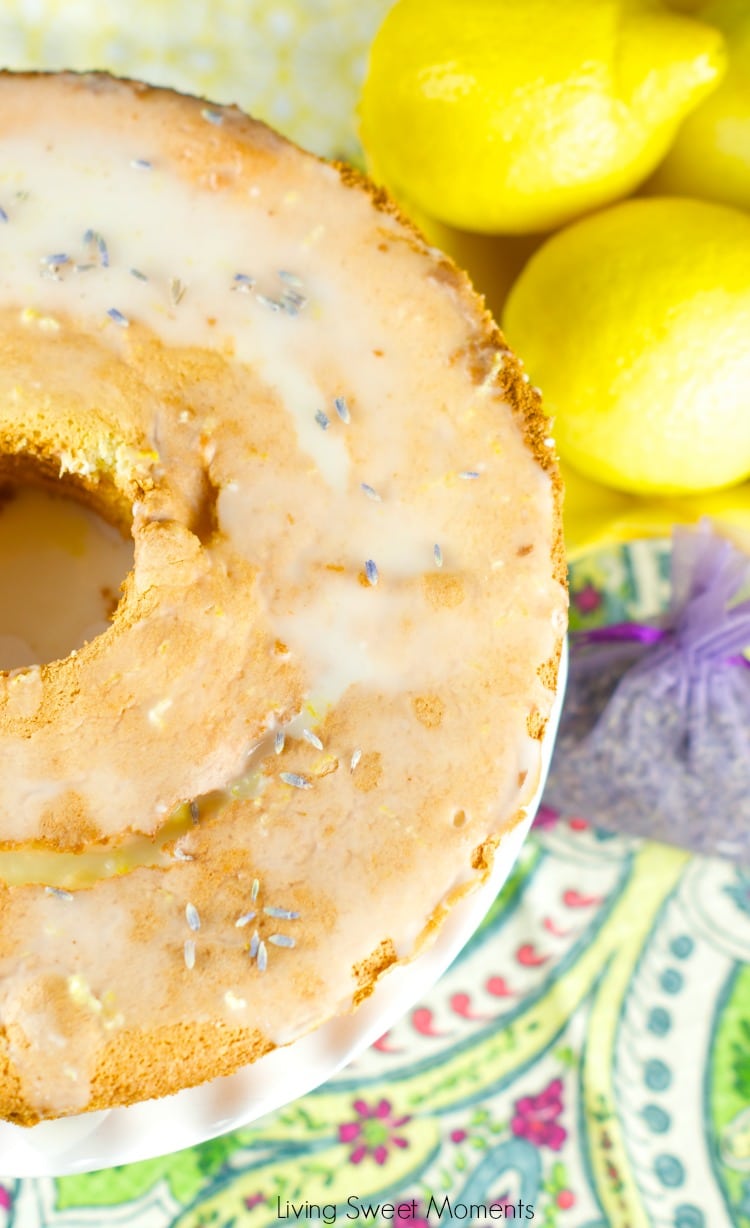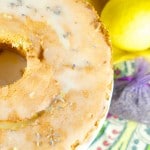 Lemon Lavender Chiffon Cake
Lemon Lavender Chiffon Cake - this airy cake is infused with lavender and lemon and then topped with a lemon glaze. Delicious for dessert and tea time treat
Ingredients
For Chiffon Cake
3

large eggs

separated

1/2

cup

sugar

separated

2/3

cups

cake flour

1

teaspoon

baking Powder

1/4

teaspoon

salt

2

teaspoons

lemon zest

approx 1 lemon

1

tablespoon

lemon juice

approx 1 lemon

1

teaspoon

pure lavender extract

1

Tablespoon

lavender leaves

3

tablespoons

vegetable oil (optional)

I didn't use it in mine

1/4

cup

hot boiling water
For Lemon Glaze
1

Cup

Powdered Sugar

1-2

Tablespoons

lemon juice
Instructions
For Lemon Lavender Chiffon Cake
Preheat oven to 350 degrees Fahrenheit

In a small bowl, place the lavender leaves and the hot boiling water together. Let it sit for 2-3 minutes

In another bowl, using a whisk, beat the egg yolks with 1/4 cup of the sugar for 2-3 minutes by hand

To the egg yolks, add the lemon zest, lemon juice and lavender extract

Strain the lavender tea you steeped before and add 4 tablespoons of the strained liquid into the egg yolks. Whisk with a spoon. Discard the lavender leaves

Using a mesh strainer, sift the flour, salt and baking powder into the yolk mixture. Whisk until everything is combined

In another bowl, beat the egg whites using an electric mixer. Slowly add the 1/4 cup of remaining sugar until the egg white develops hard peaks

Using a spatula, fold the egg whites into the egg yolk mixture in 2-3 additions. Do this step carefully to prevent the egg whites from deflating.

Place this entire mixture in an

UNGREASED

detachable

angel hair pan

. Make sure the batter is spread evenly all around the pan

Tap the cake pan on the counter a few times to let the air bubbles out

Bake for 30-35 minutes or until a toothpick inserted in the middle of the cake comes out clean

When cake is ready place it UPSIDE DOWN on a baking rack to cool

When cake is cool, run a knife gently throughout the sides to release the cake

When cake is released, run a knife in between the bottom of the cake and then in the center to released the detachable bottom

Place on a cake plate and add the glaze on top
For Glaze
In a bowl, mix the powdered sugar and the lemon juice until combined. Spoon this mixture on top of the cake

Decorate with lavender leaves

Enjoy!
Nutrition Facts
Lemon Lavender Chiffon Cake
Amount Per Serving (1 slice)
Calories 114
Calories from Fat 9
% Daily Value*
Fat 1g2%
Cholesterol 40mg13%
Sodium 64mg3%
Potassium 55mg2%
Carbohydrates 24g8%
Protein 2g4%
Vitamin A 60IU1%
Vitamin C 1.6mg2%
Calcium 24mg2%
Iron 0.3mg2%
* Percent Daily Values are based on a 2000 calorie diet.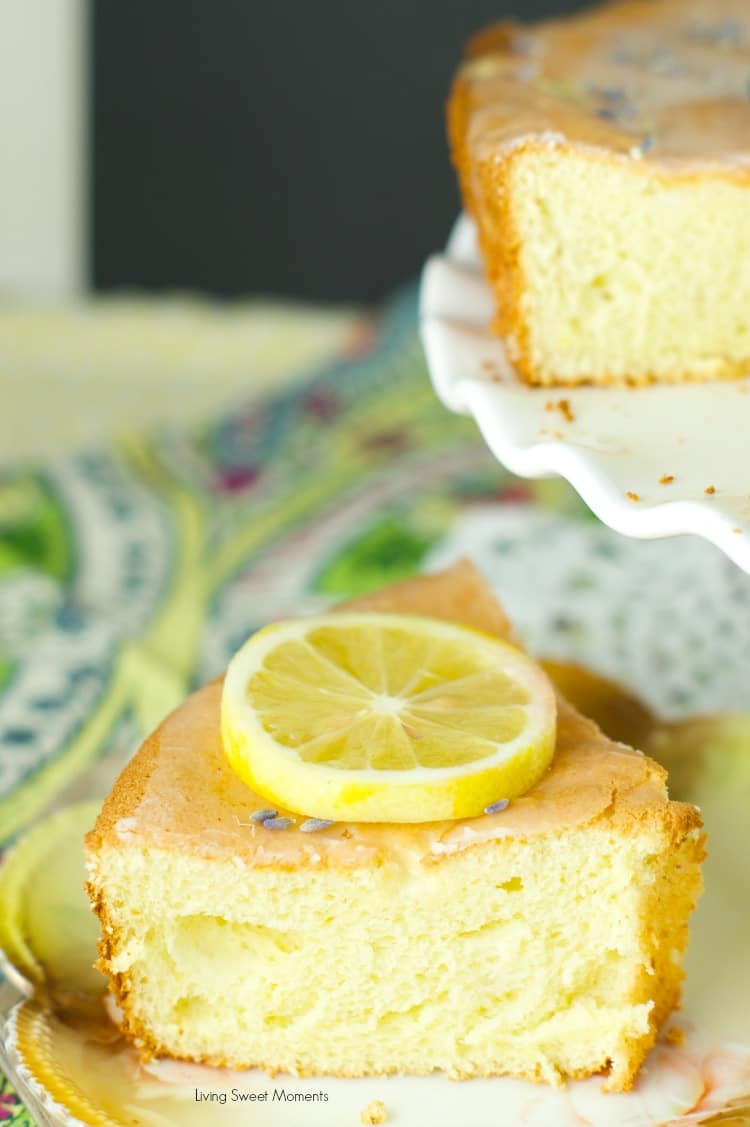 You may also like: