Chocolate Peanut Butter Cheesecake Cake – This is amazing cake features 2 chocolate cakes, a peanut butter cheesecake all covered in peanut butter buttercream and drizzled with chocolate ganache. The ultimate dessert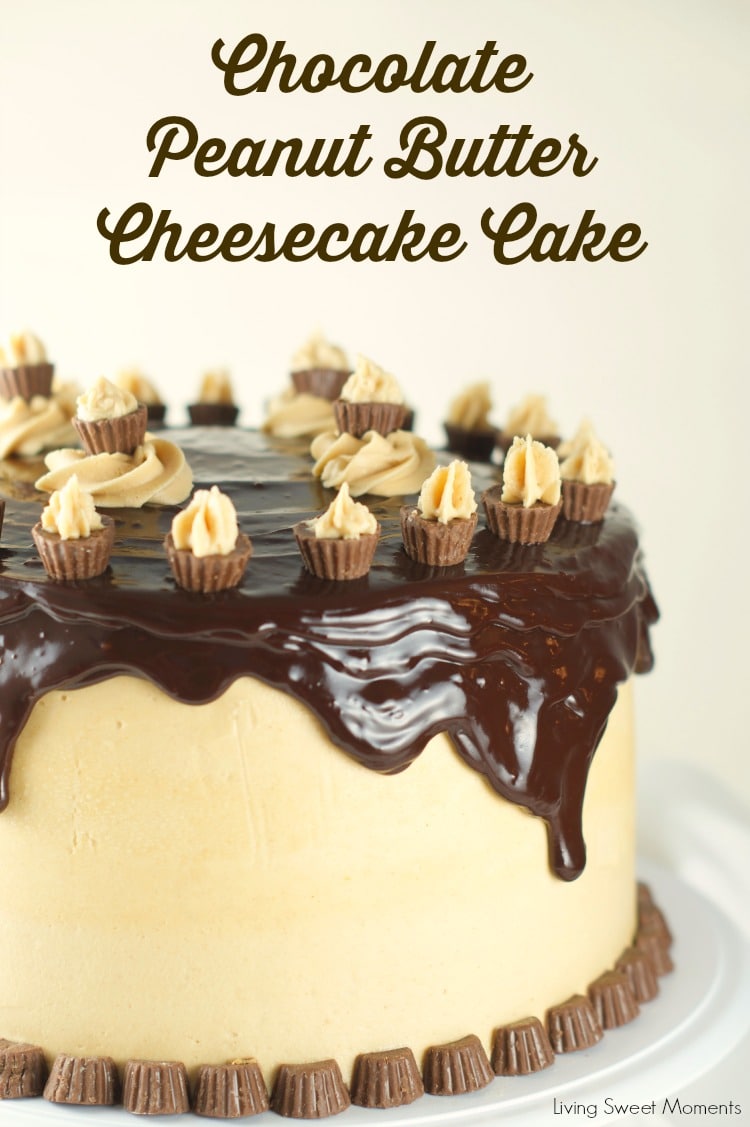 Uncle Johnny's Chocolate Peanut Butter Cheesecake Cake
I cannot begin to describe this cake. First of all, it's huge. It would feed and entire army. Second, when you take a bite, it will remind you of eating a large Reese's cup. 2 chocolate sponge cakes, a peanut butter butter cheesecake, peanut buttercream and chocolate ganache. Definitely a show stopper.
Aside from all the flavors, there's different textures going on that enhance the eating experience to a maximum. You get the sponge cake, the creaminess of the cheesecake, the smooth buttercream and the velvety ganache on top.
We decided to decorate it with mini Reese's cups to add even more peanut butter chocolate flavor.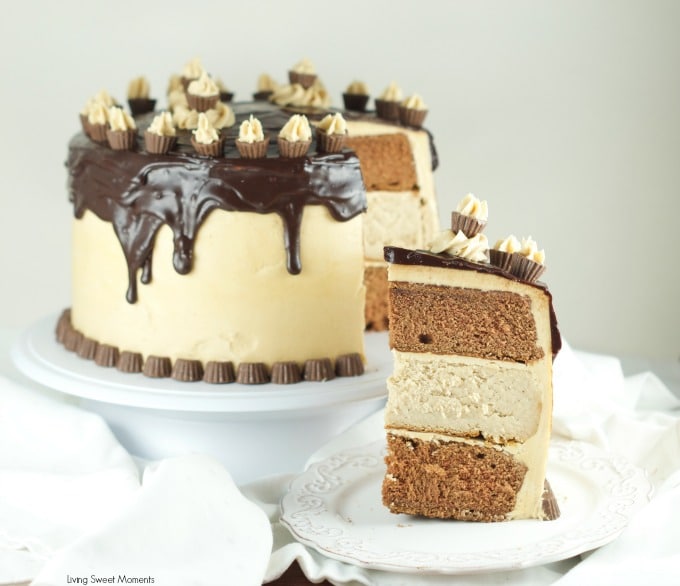 Last week, my brother in law, AKA Uncle Johnny, approached me with the following request: for his Birthday, he wanted a cake that would have his favorites elements, chocolate, peanut butter and cream cheese.
He also said, do not hold back, make the most delicious cake ever. After a few sleepless nights, I had a breakthrough, an EUREKA moment per se. How about using peanut butter cheesecake as a layer? And the rest is history.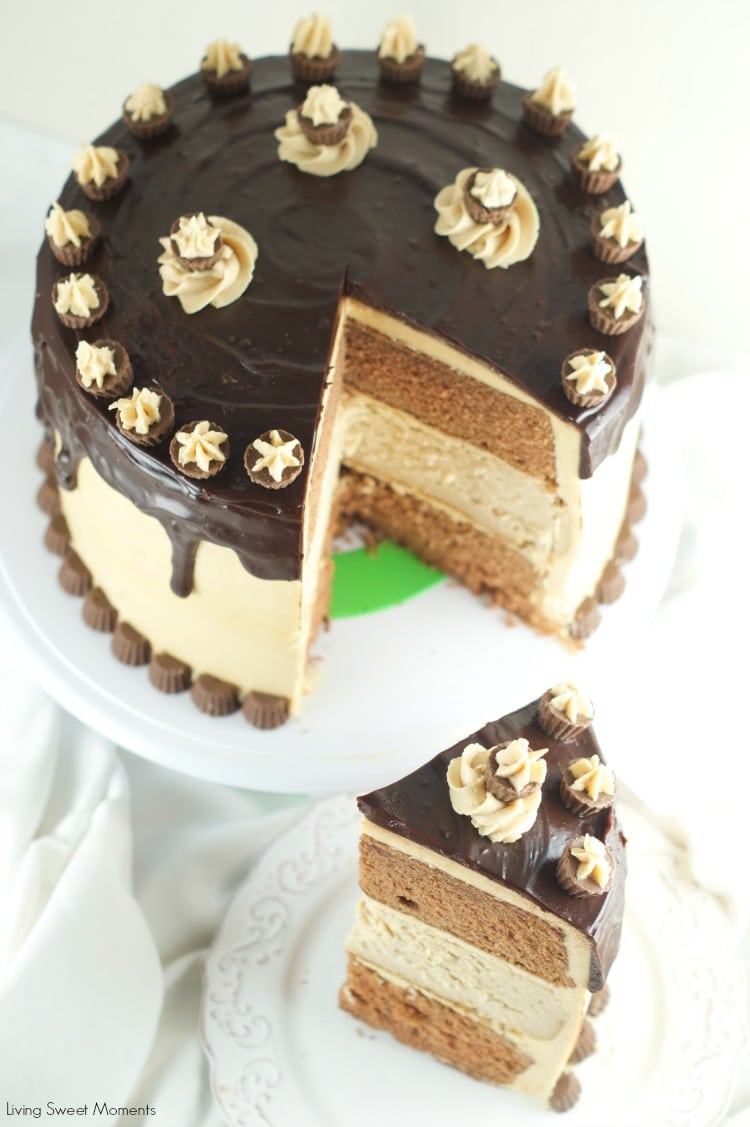 I won't lie, this is serious cake. Not easy to make and it does take 1-2 days to make. But it's so worth the effort. When you see your friends and families faces when they take a bite, it'll make all the work worth your while.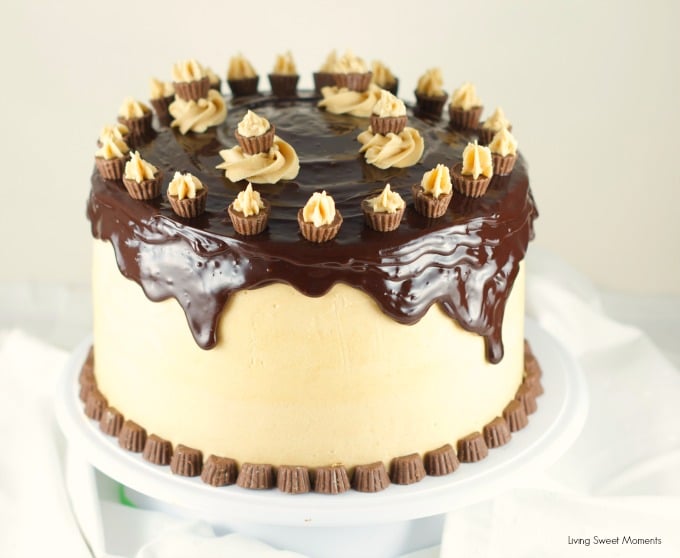 It was really funny, I had no idea how to decorate it and my husband and I would disagree on different ideas. So while we were discussing, we went on Periscope and live streamed the whole frosting process.
I made the mistake of adding to little Ganache on top and at the last minute I had to make some more.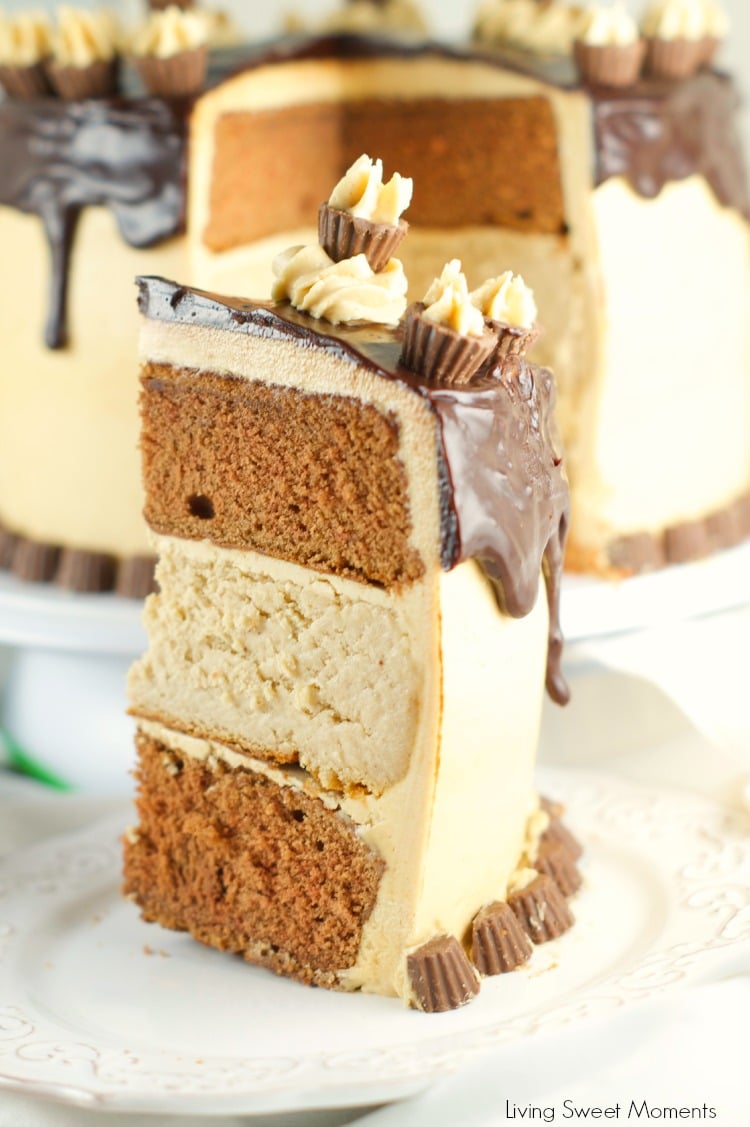 I am really really happy on how this Chocolate Peanut Butter Cheesecake Cake turned out. And, of course, seeing Uncle Johnny's face when he saw it was priceless.
If you're hosting a big party or want to wow someone, then this is it. Did you notice how we added some frosting on top of the mini reese's cups to make it look like cupcakes? Super cute!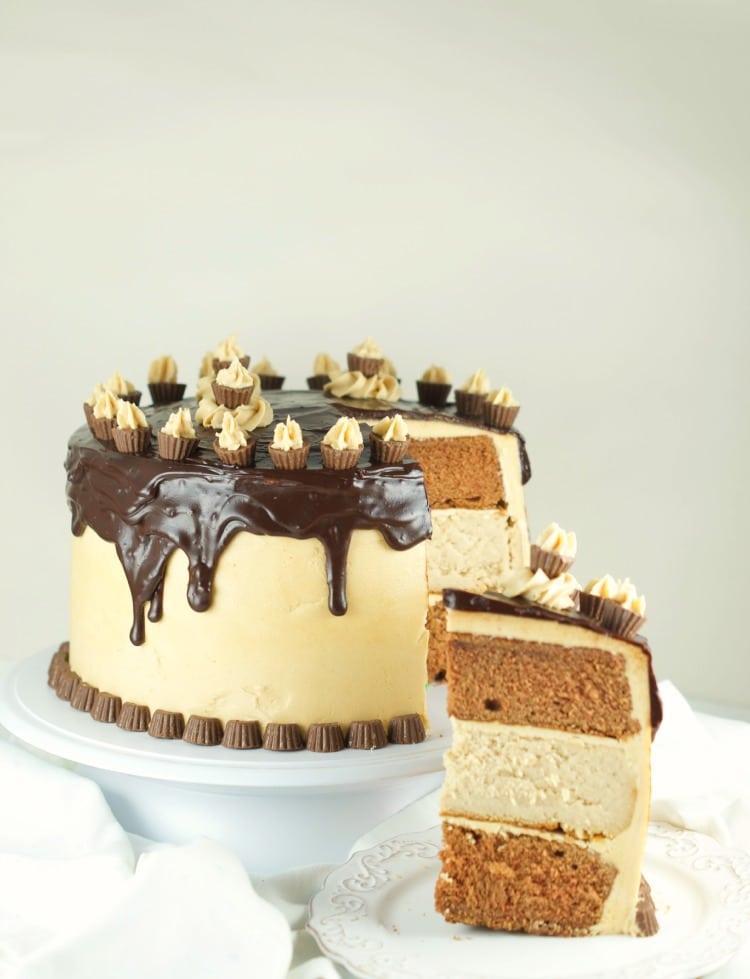 I hope you can try this delicious Chocolate Peanut Butter Cheesecake Cake at home. If you do, please upload a pic on Instagram and tag me @Livingsweetmoments or use the hashtag #LivingSweet. I promise to repost it.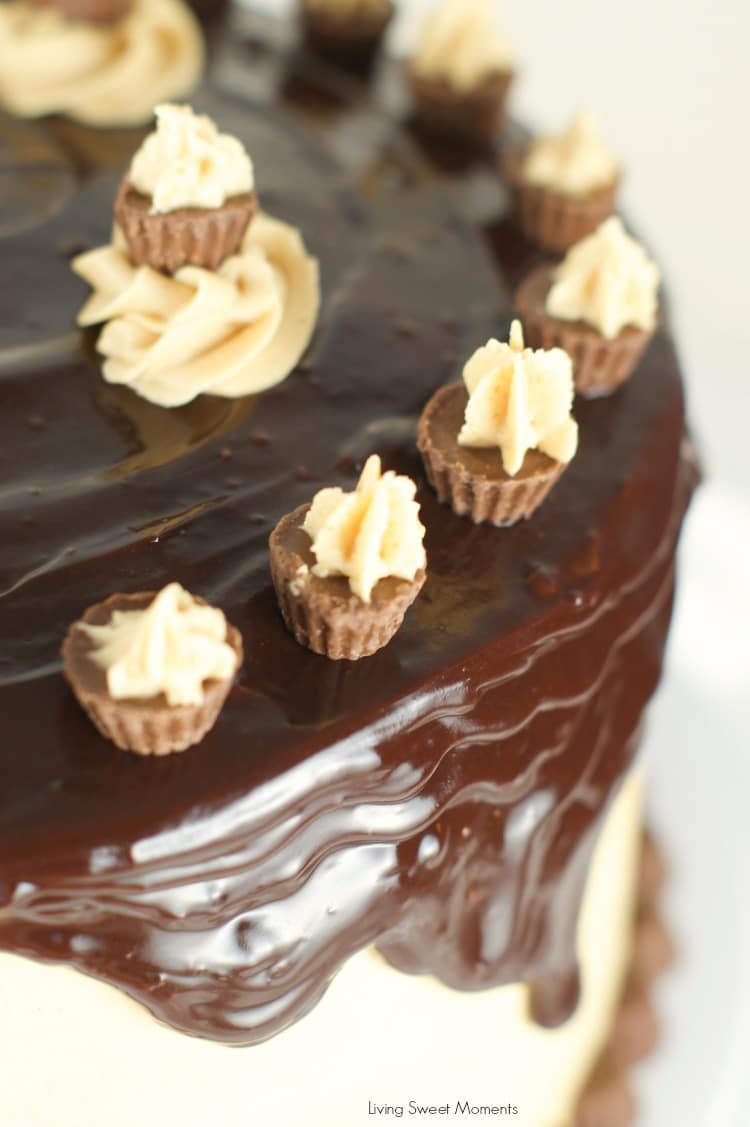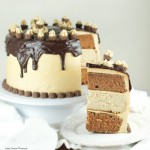 Uncle Johnny's Chocolate Peanut Butter Cheesecake Cake
Chocolate Peanut Butter Cheesecake Cake - This is amazing cake features 2 chocolate cakes, a peanut butter cheesecake all covered in peanut butter buttercream and drizzled with chocolate ganache. The ultimate dessert
Keyword:
cheesecake cake, chocolate cake, peanut butter cake, peanut butter cheesecake
Ingredients
For Peanut Butter Cheesecake
24

oz

Cream Cheese

softened

1

cup

peanut butter

the smooth kind

3/4

cup

granulated sugar

1/4

cup

packed brown sugar

1

teaspoon

pure vanilla extract

4

eggs

large and at room temperature

1/3

cup

sour cream
For Chocolate Cake (makes 2 - 9" cakes)
1

Cup

Butter

unsalted, 2 sticks

2 1/4

Cups

Cake Flour

1

Teaspoon

Baking Soda

1/4

Teaspoon

Salt

1

Cup

Brown Sugar

3/4

Cups

Granulated Sugar

4

Eggs

large

4 oz

Semi-Sweet Chocolate

2

Teaspoons

pure vanilla extract

1

Cup

Buttermilk*
For Peanut Butter Buttercream
2

cups

Butter

softened,

2

cups

Peanut Butter

the creamy kind

2

teaspoons

Vanilla Extract

6

cups

Confectioners' Sugar

sifted

8

Tablespoons

Heavy Cream

maybe more if needed
For Chocolate Ganache
1

Cup

Semi- Sweet Chocolate Chips

1/2

Cup

Heavy Cream
To decorate:
2

Cups

Mini Reese's

optional
Instructions
For Peanut Butter Cheesecake
Line the bottom of a 9" springform pan with parchment paper. Spray the bottom and sides with nonstick spray and wrap the outside of the pan with aluminum foil

Preheat oven to 350 degrees Fahrenheit

Using a stand mixer with a paddle attachment, mix the cream cheese on medium speed until creamy. About 3 minutes

Add brown sugar and granulated sugars and mix for 1-2 minutes. Add the vanilla

Add the eggs, one at a time. Beating well after each addition

Finally, add the sour cream and mix until combined

Pour this mixture into the prepared pan

Bake for 50-55 minutes or until the cake barely jiggles in the center

After the cake cools completely, cover with plastic wrap and freeze
For Chocolate Cakes
Preheat oven to 350 degrees Fahrenheit

Line the bottom of 2- 9" Cake pans with parchment paper. Spray with nonstick spray the bottom and sides of the cake

In the bowl of a stand mixer, combine the butter and sugar. Cream on medium speed until lightened in color. About 2-3 minutes

Add the eggs, one at a time, beating well after each addition. Add the vanilla extract

Melt the chocolate in the microwave doing 15 second intervals. Do not let chocolate burn

Add the chocolate to the mixer and mix until combined

Alternatively add the flour mixture and the buttermilk in 2-3 batches. Starting and ending with the dry ingredients. Mix until combined

Bake for 25-35 minutes or until a a skewer inserted in the middle of the cake comes out clean
For Peanut Butter Buttercream
In a stand mixer, cream the butter and peanut butter for 2-3 until soft

Carefully add the powdered sugar in 3-4 batches

Add the vanilla and mix

Finally add the heavy cream and mix. If the buttercream appears to stiff, add some more cream
For Chocolate Ganache
In a bowl, add the chocolate chip

Boil the heavy cream in a pot

Pour the hot heavy cream on top of the chocolate chips and let it stand for 2 minutes

After 2 minutes, mix with a spoon until the chocolate chips are completely melted
Assembly
With a sharp long knife, slice the top part so it becomes smooth

Repeat the same process with the chocolate cake. Run your knife horizontally along the top to ensure the cake is as flat as possible

Place the cake in the freezer for 10-15 minutes. This will prevent the buttercream to catch any crumbs

Cover the entire top and sides of the cake with the buttercream. Use an off set spatula to smooth down the sides. Save a 1/2 cup of buttercream to decorate the cake

Refrigerate for 15-20 minutes until the buttercream hardens a bit

Drizzle the warm ganache all over the top of the cake and let it drip down the sides

Decorate with the remaining buttercream

If desired, add some reese's cups all over the bottom of the cake

Enjoy!
Nutrition Facts
Uncle Johnny's Chocolate Peanut Butter Cheesecake Cake
Amount Per Serving (1 slice)
Calories 731
Calories from Fat 432
% Daily Value*
Fat 48g74%
Cholesterol 123mg41%
Sodium 478mg21%
Potassium 338mg10%
Carbohydrates 65g22%
Protein 12g24%
Vitamin A 1025IU21%
Vitamin C 0.1mg0%
Calcium 84mg8%
Iron 1.4mg8%
* Percent Daily Values are based on a 2000 calorie diet.
LOVE CAKE??? Me too! Head on over HERE for the Best Cake Recipes 
You may also like: