This delicious overnight oatmeal in a jar recipe is easy, simple and takes literally seconds to prepare and this the perfect quick breakfast on the go!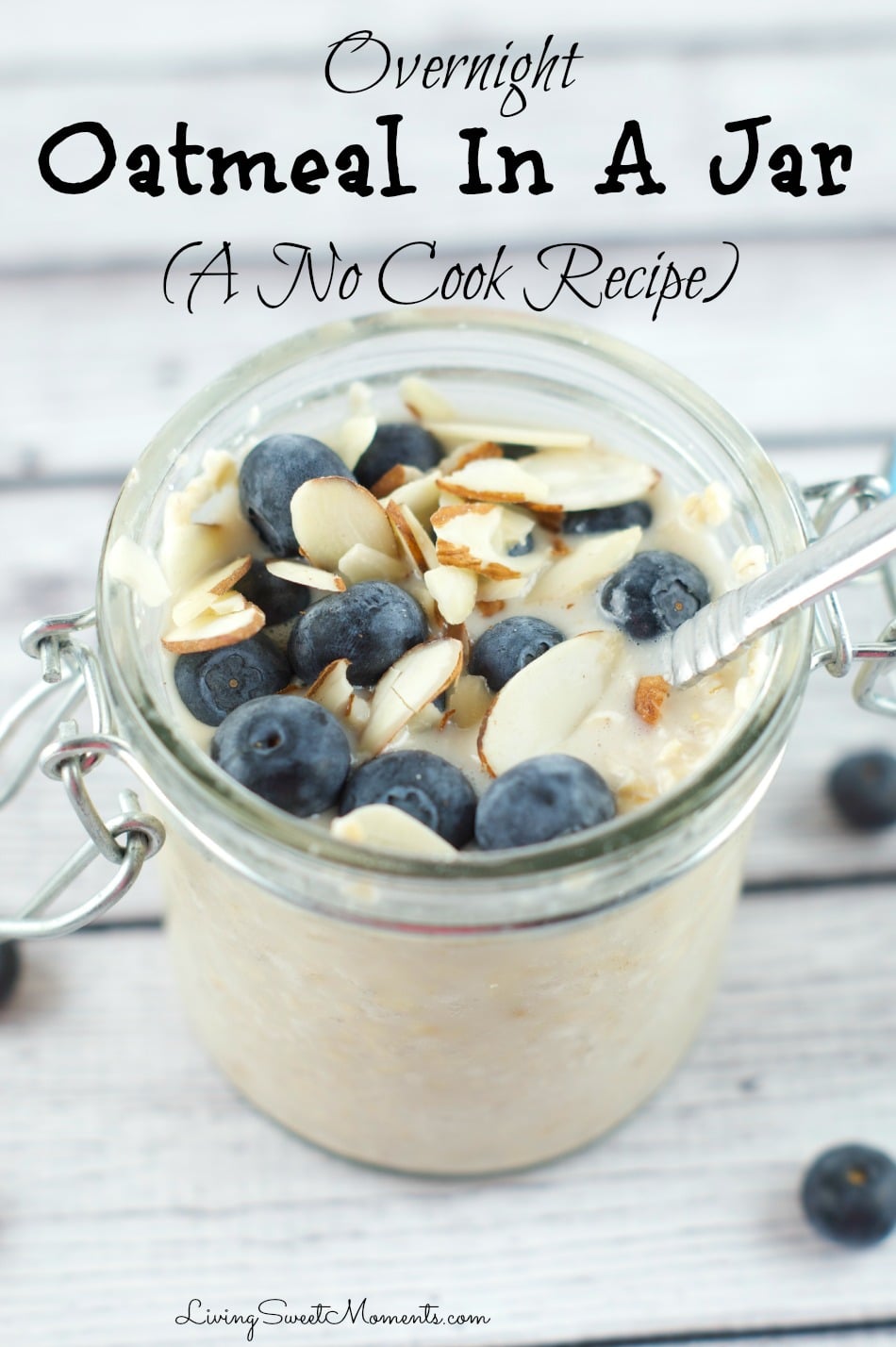 Overnight Oatmeal In A Jar Recipe (A No Cook Breakfast)
I absolutely LOVE this Overnight Oatmeal In A Jar Recipe. It's so easy to make and the results are delicious. Even if you're not a fan of oatmeal, you will love this one.
It's creamy, sweet and packed with flavor and texture. Unlike that gummy oats they sell at the supermarket.
This is the perfect thing to dig your spoon in. Forget about breakfast, this also works as an afternoon pick me up. Add your favorite toppings and you're good to go. Personally, I recommend the blueberries. They compliment the oatmeal flavor so well. Also, the almonds provide the crunch and toasty part.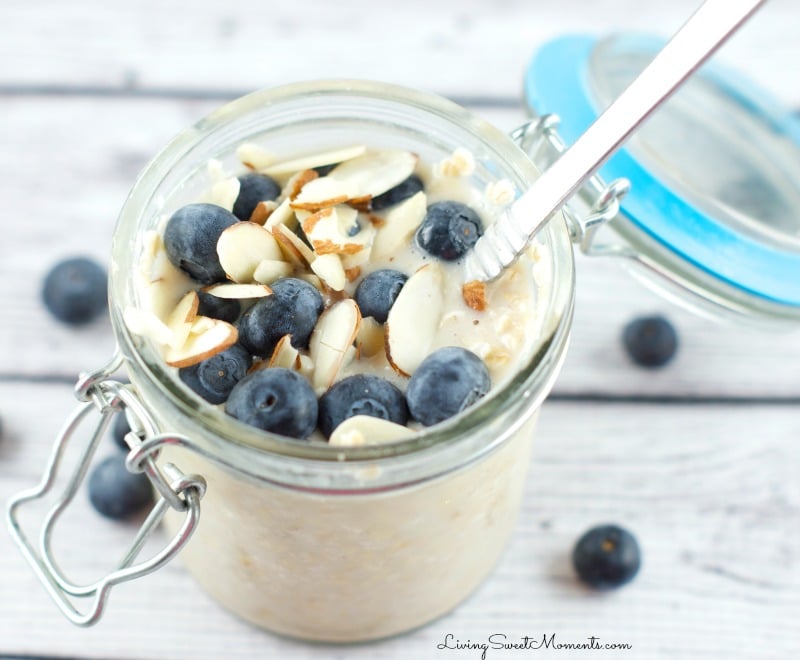 Blueberries remind me of my grandma. She can eat 1-2 pints in one sitting. So much so, that a few years ago, we were picking blueberries off a wild bush in Stowe, Vermont.
My grandma was so busy eating them that she didn't notice that there was a bee sitting on top of a blueberry. That darn bee stung her right on the lips and my poor grandma had swollen lips for one week!
If you're the kind of person that is running around in the morning, this Overnight Oatmeal In A Jar Recipe is perfect for you. Make a few jars the night before and just grab them on the go the next morning.
Take them to your work, gym or even in the kid's lunch boxes – packed in a plastic container of course. This oatmeal takes literally seconds to make and you can customize it any way you would like.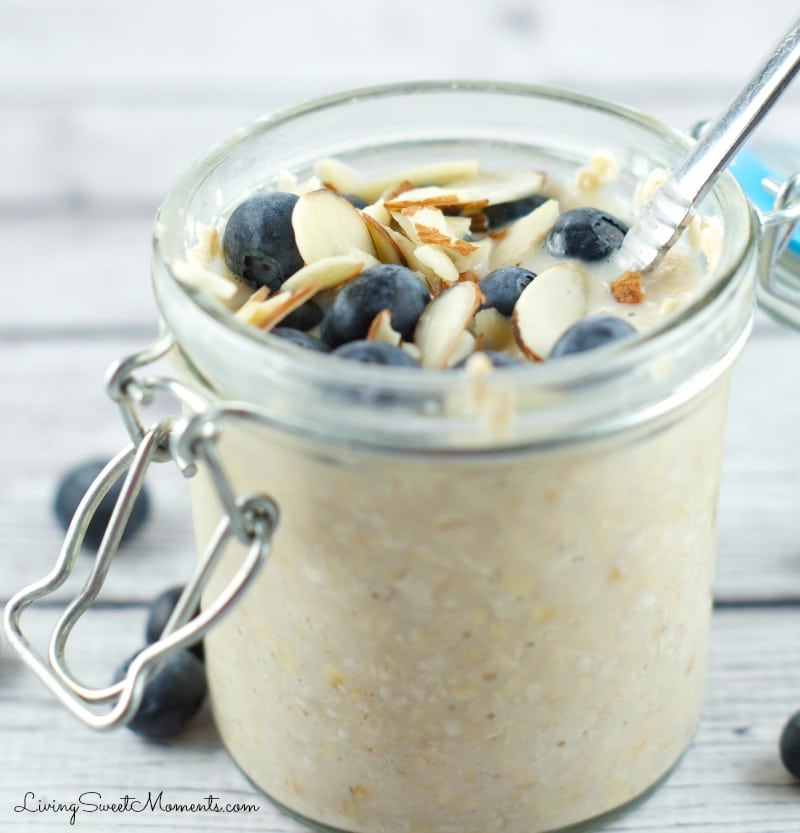 My husband gobbled up this one and asked me to get a few jars ready in the fridge. Tomorrow I am running to Target to get a few more jars, that way when hunger strikes he has something to snack on. Plus, they look so pretty!
I hope you can give this delicious Overnight Oatmeal In A Jar Recipe a try. If you do, please come back and tell me how it came out.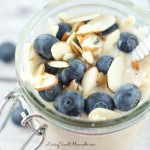 Overnight Oatmeal In A Jar Recipe (A No Cook Breakfast)
Ingredients
3/4

Cup

of Quick Oats

2/3

Cup

of Vanilla Almond Milk

unsweetened

1-2

Teaspoon

of Honey

1/2

Teaspoon

of Pure Vanilla Extract

Blueberries

Toasted sliced almonds
Instructions
In a jar place the oats, almond milk, honey and vanilla and close the lid. Shake vigorously until all the ingredients are combined

Place jar in the fridge for 2-3 hours or until the oats have absorbed the liquid

Top with blueberries and almonds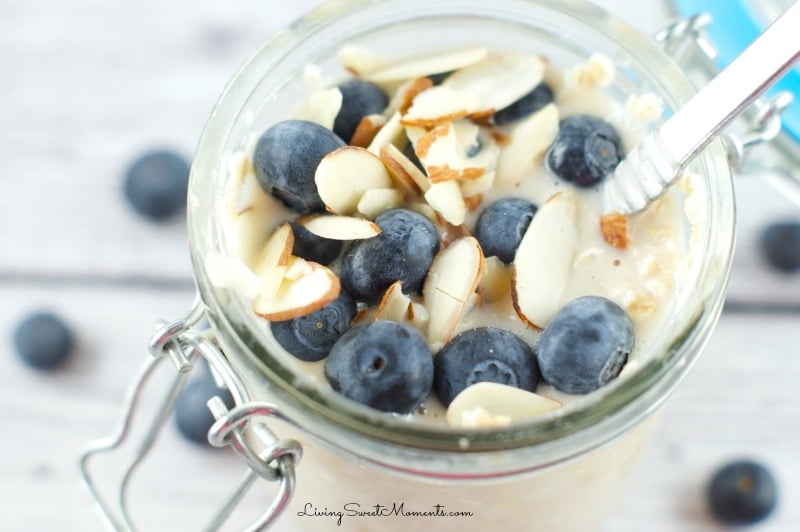 You may also like:
Strawberries And Cream Overnight Oatmeal