These delicious Peppermint Brownie Sticks require only 3 ingredients are are made in 10 minutes or less. Impress your guests this Holiday with a yummy treat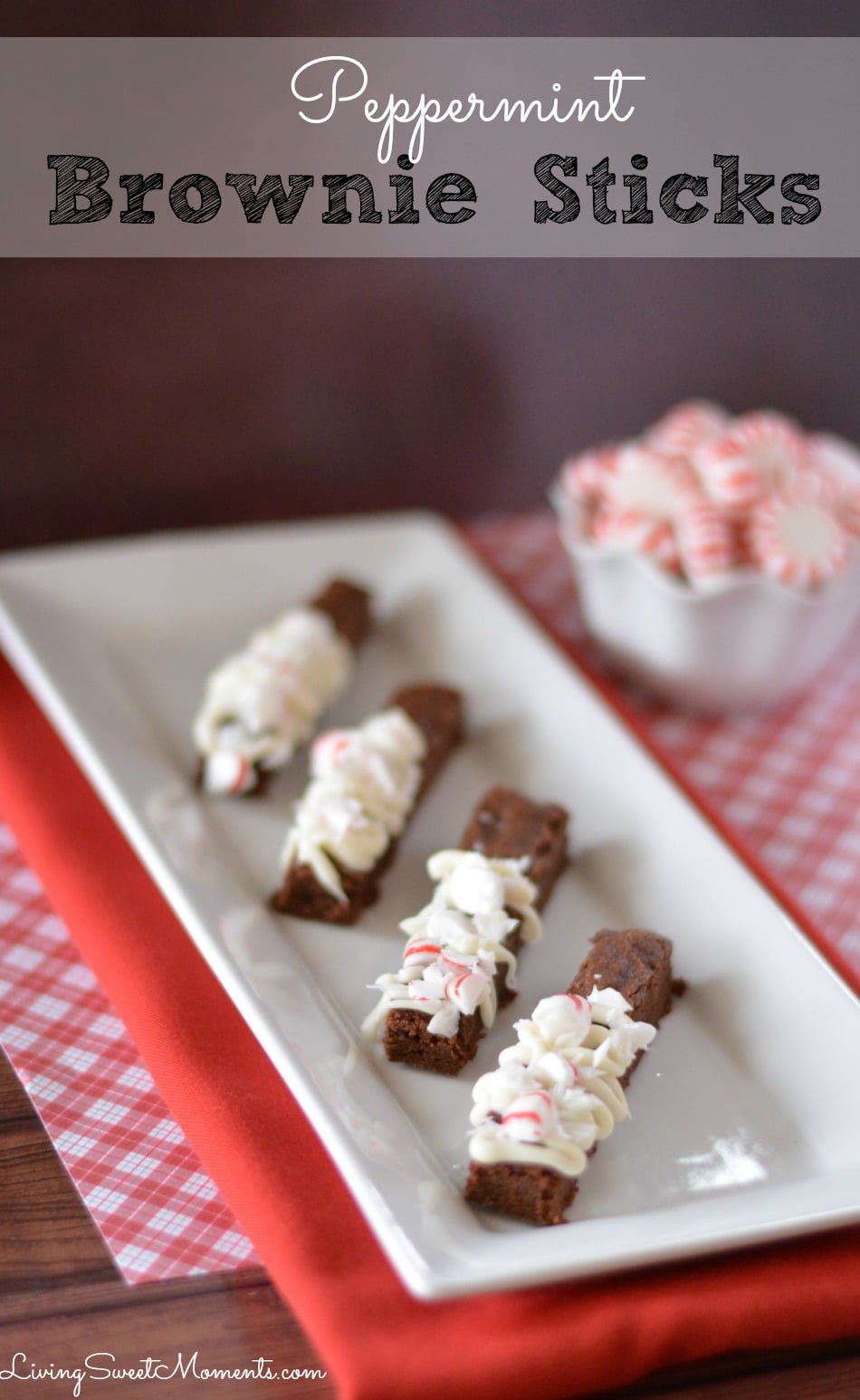 Peppermint Brownie Sticks
These Peppermint Brownie Sticks are so pretty and delicious at the same time! I just love the combination of peppermint and chocolate. It's one of my favorite flavors of the season, aside from Gingerbread of course.
If you're hosting get togethers, cookie swaps or family dinners, take them with you and they'll be gone in seconds. Cutting the brownies into sticks is a brilliant idea since it's the perfect finger food.
Think of french fries for dessert .  I only iced half of the stick so your fingers won't get all sticky when picking up one of these babies.
I used peppermint because I love the combination, but you can certainly use any one kind of icing and candy available. Next time I'll dip half of the stick in milk chocolate and call it a day. That's perfect for any Choco-holic.
For a more sophisticated look, cut the brownie into candy canes or use a cookie cutter to cut out circles, hearts or whatever you can imagine. Also, make your favorite brownie recipe or even buy them premade if you're in a rush or don't feel like baking.
To make these delicious Peppermint Brownie Sticks all you need is a pre-made brownie, candy melts (or almond bark) and crushed peppermint patties or candy canes. That's it!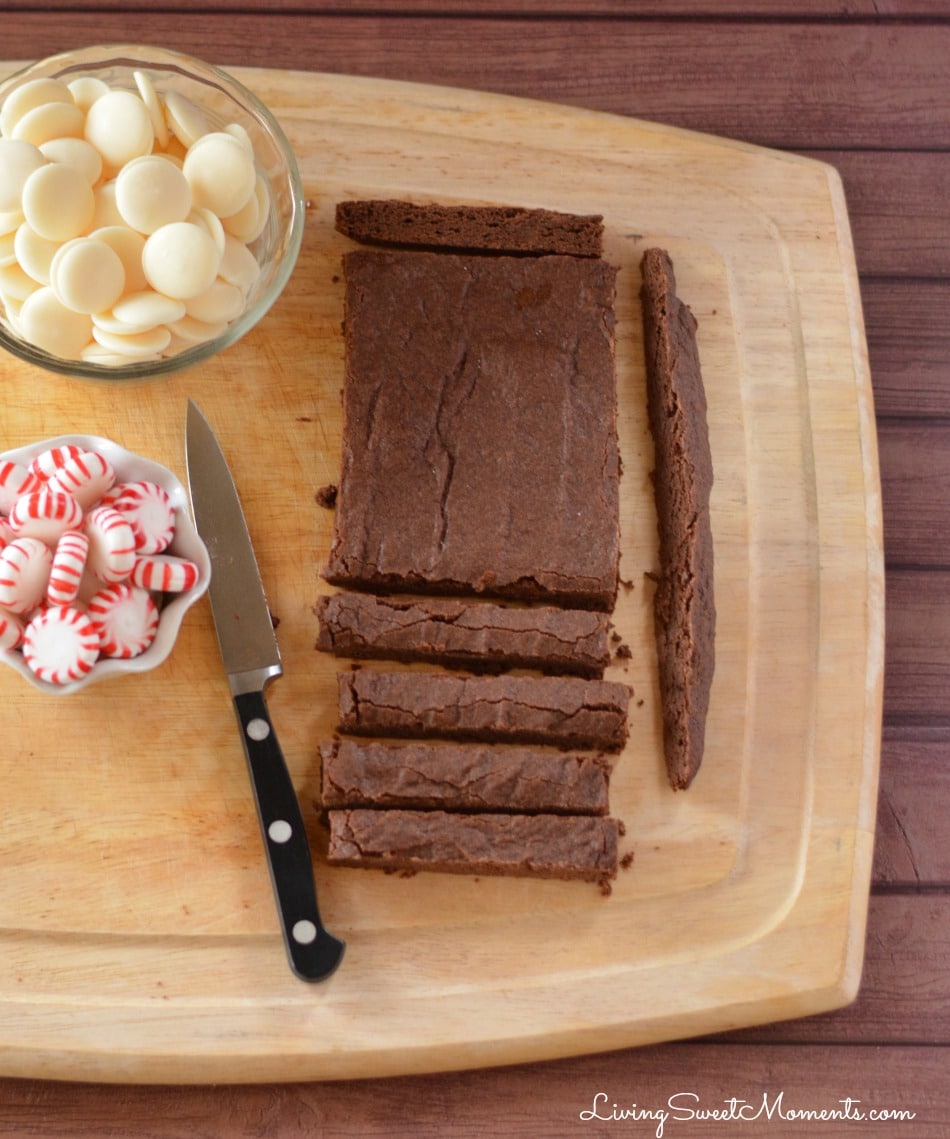 If you want to get the kids involved, cut out the brownies. Melt the candy and have them decorate each stick themselves. They can also add sprinkles and jimmies if they like. Just reserve the edges for munching.
Making these kinds of cute treats are relaxing for me. Put on some music, pour wine in a glass and start decorating. I guess that's why my last batch turned out so sloppy.. Too much wine!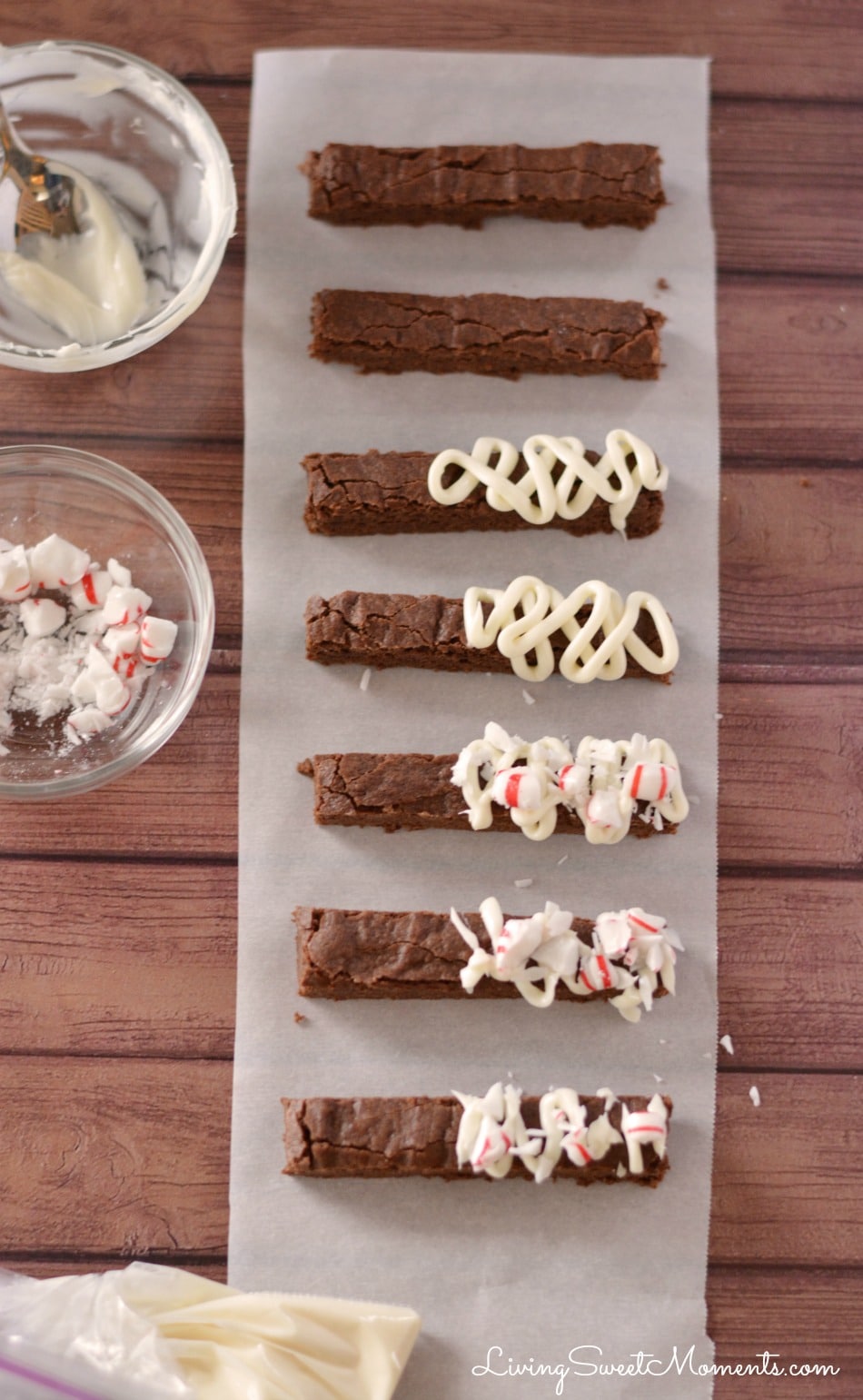 Here's my setup. Cut the brownies, pipe the cream and sprinkle in the crushed candy. Easy peasy!
Hope you can these yummy Peppermint Brownie Sticks at home.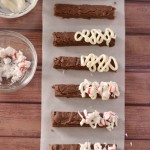 Peppermint Brownie Sticks
These delicious Peppermint Brownie Sticks require only 3 ingredients are are made in 10 minutes or less. Impress your guests this Holiday with a yummy treat
Ingredients
brownies prepared

prepared and cooled completely. Here's mine

1

cup

White Candy Melts

makes about 1 of candy melted

15

Crushed Peppermint Patties or Crushed Candy Canes
Instructions
Remove brownies from the pan and peel away the foil. Place the brownie block on a cutting board and square off the corners.

Decide how long you want your brownie sticks to be. Mine are about 4" which is the length of my knife, so I can cut the brownies in one single slice. Cut your smaller block into 3/4" to 1" brownie slices.

Place a heaping 1/4 cup of candy melts into a microwave safe bowl. Heat according to package directions until melted completely. Pour into ziplock bag.

Snip the corner of the bag and add squeeze the melted chocolate on to the brownie sticks. Sprinkle with crushed candy immediately. Let set until firm.
Nutrition Facts
Peppermint Brownie Sticks
Amount Per Serving
Calories 220
% Daily Value*
Sodium 6mg0%
Carbohydrates 12g4%
* Percent Daily Values are based on a 2000 calorie diet.