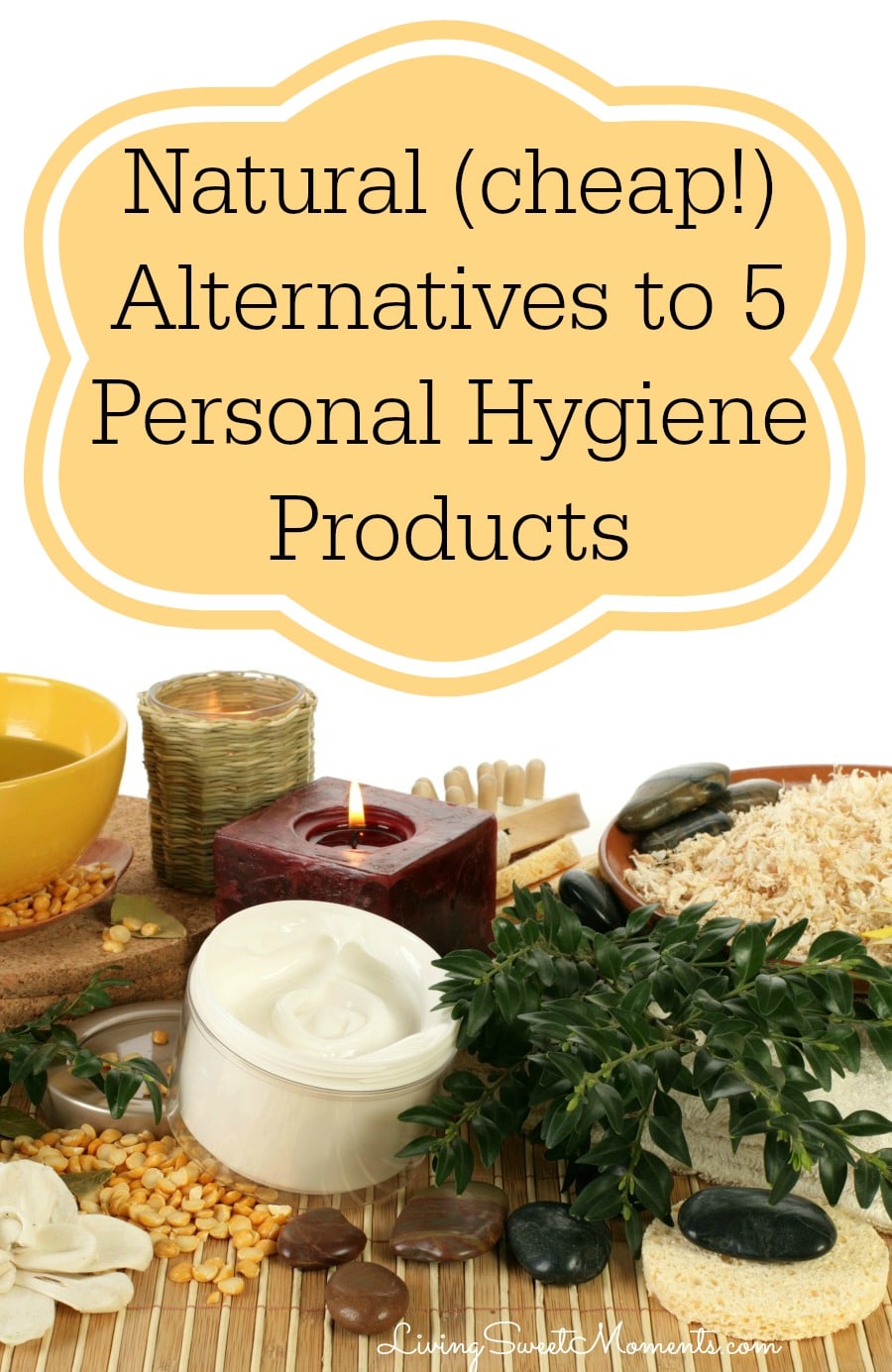 Natural (cheap!) alternatives to 5 personal hygiene products
Are you worried about the chemicals in your food, environment and overall products you use on a daily basis? Are you looking for more information on how to make better choices when it comes to your family's health? If you answered yes to one or both of these questions, I can tell you that there are other options to the traditional store-bought toothpaste, deodorant, haircare, shaving cream and feminine hygiene products that don't contain harmful chemicals AND won't hurt your wallet. Keep on reading to discover natural (cheap!) alternatives to 5 personal hygiene products.
Toothpaste
In light of recent studies that have shown how unsafe some ingredients in popular-brand toothpastes are, I have been searching for more natural options that will still keep my teeth squeaky clean. The most simple idea I came across was to just use sea salt or baking soda dissolved in water (half teaspoon of sea salt for 4 ounces of warm water; a pinch of baking soda for 4 ounces of pure water). If DIY solutions are not for you, there are herbal tooth powders that you can purchase online. Christopher's Original, Jack N' Jill and Eco-Dent are just a few of the most popular brands. All you have to do is wet your toothbrush and dip it in the powder. Easy peasy!
Deodorant
I know that it is difficult to find deodorant alternatives that are truly as effective as the store-bought major labels, but there are many natural options you can easily make at home. One of my favorite recipes is to mix baking soda and cornstarch (1 part baking soda for 6 parts cornstarch) and apply with a cotton ball. Very clever and economical! An even simpler solution is to squeeze the juice of one lemon, rub in your hands and apply directly on your armpits. Can't get more natural than that! If you don't have much time available, consider switching your regular deodorant for an aluminum-free version. Look into brands sold online like Vita-mea (deodorant cream) or Balm Baby (All natural PITS deodorant) that are completely natural and safe for your delicate skin.
Haircare
One of the latest trends in natural haircare is to just use plain water to wash your hair. No more shampoo and conditioner, ever! Are you feeling hesitant? While there is a period of time where your hair will look greasy (which can be about 6 weeks; use a boar bristle brush to even out the sebum from your roots to the ends), your scalp will soon get used to the absence of harsh chemicals and your hair will then effortlessly look healthy and shiny. Still not ready to take the plunge? Think about making your own shampoo by mixing distilled water, castile soap, essential oils and apple cider vinegar. Use yogurt as conditioner and your dry hair will instantly feel more moisturized. Much cheaper than any fancy salon product you have ever tried!
Shaving cream
There are many items you probably already own at home that you can substitute for shaving cream. Hair shampoo or conditioner, baby oil, hand or body lotion, massage oil and even dishwashing liquid are all very good ideas that are inexpensive and efficient. Burt's Bees, The Honest Company and Aveeno are also known to make natural shaving creams if you prefer store-bought products.
Feminine hygiene
Growing more and more popular are menstrual products like cups and cloth pads. A cup is inserted almost like a tampon, just fold, insert and done! It is totally hygienic and safe on top of being environment-friendly. Diva and Lunette are the most well-known brands. Cloth pads, on the other hand, do the exact same job as your store-bought pads, without any harmful chemicals. They come in a variety of sizes and absorbency levels. You can put them in a wet bag until laundry day and just toss in the machine to wash, very much like cloth diapers. Who knew it could be that easy? Trying to change to a greener, more natural lifestyle is not something that is easily done, but I do feel that there is a growing amount of possibilities for those who search for them. With these 5 natural and cheap alternatives to store-bought personal hygiene products, you can do a big favor to your body by keeping it healthier everyday. Don't you owe it to yourself? Which idea are you excited to try first?