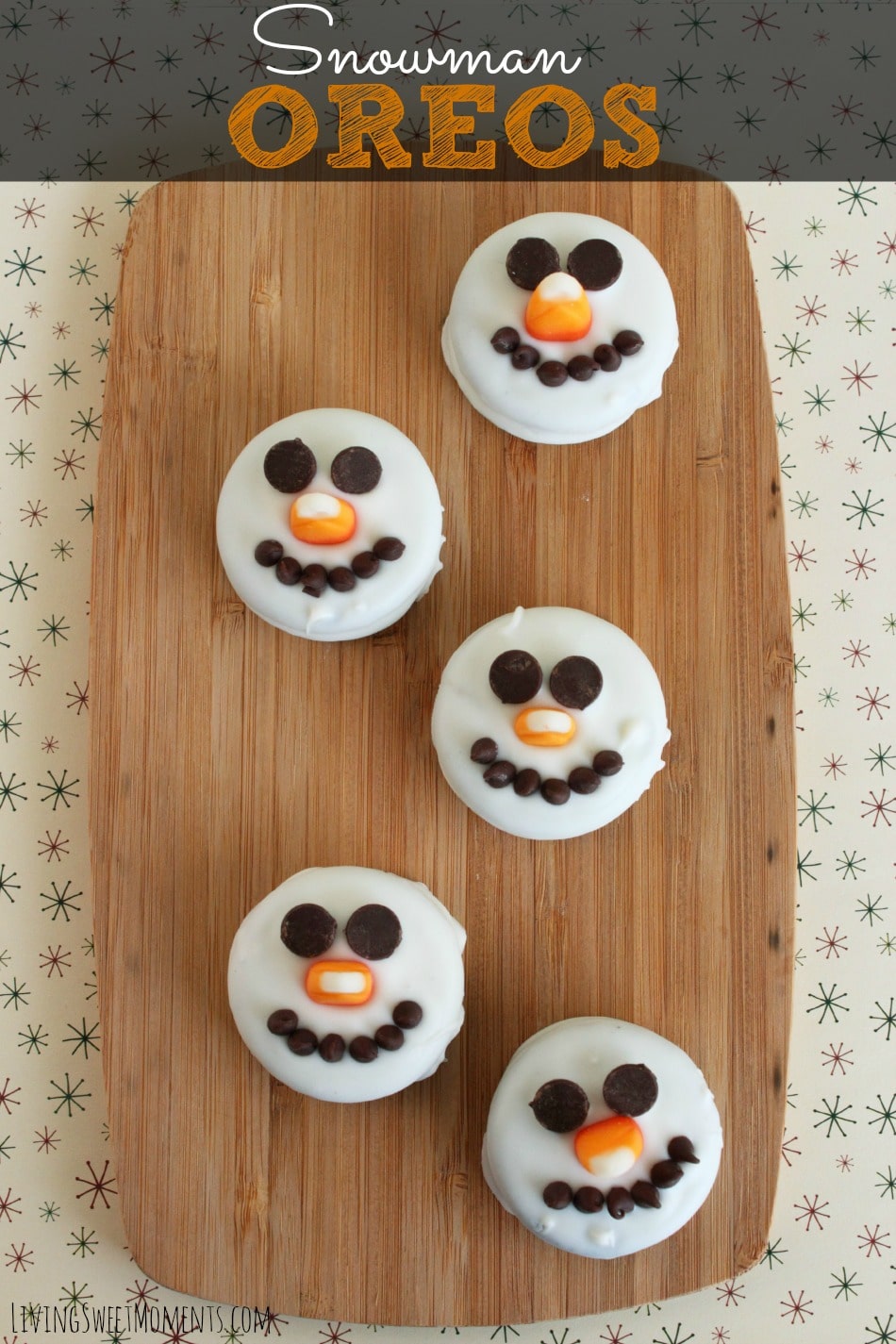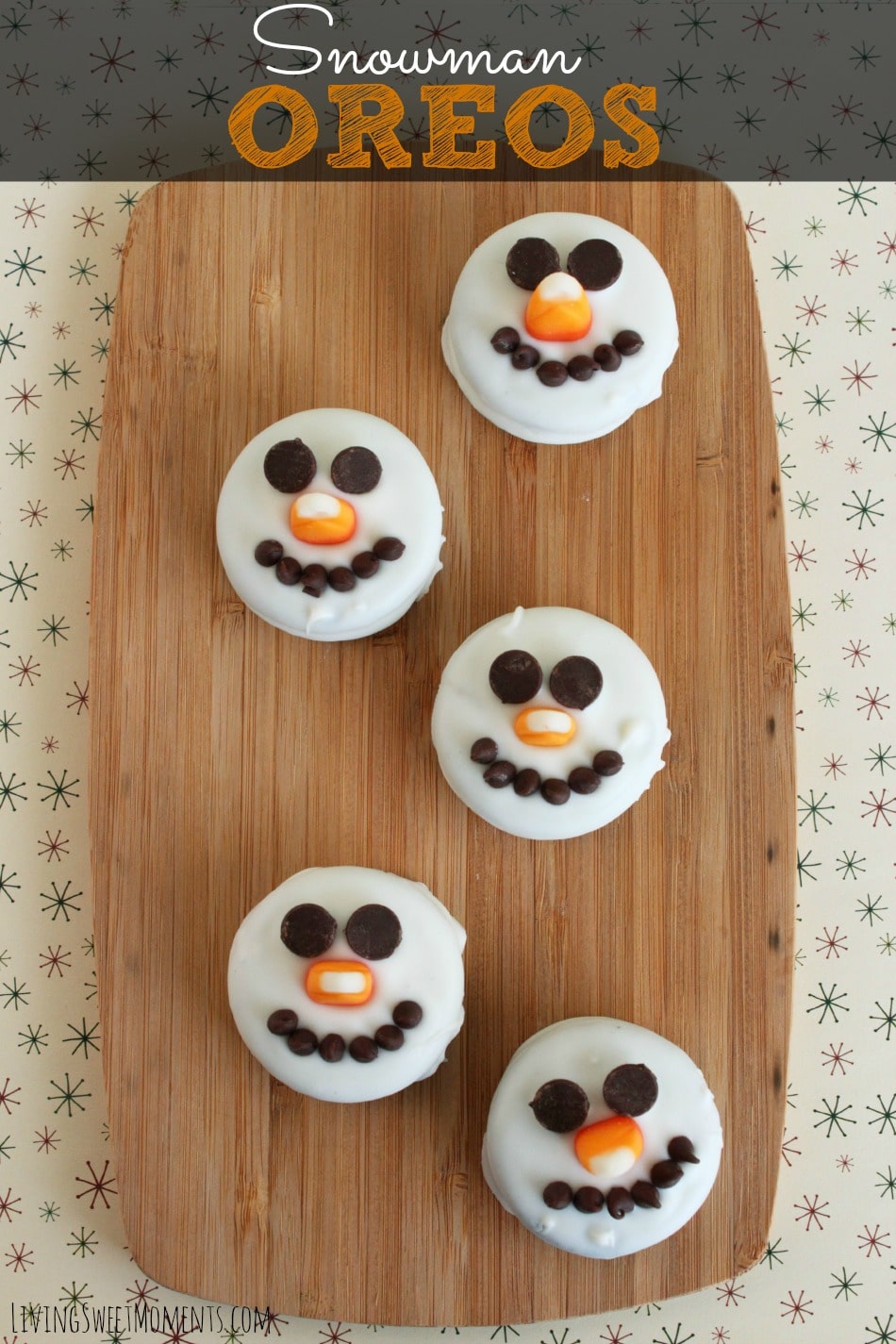 Snowman Oreo Cookies
Aren't they cute? What a festive way to celebrate the upcoming Holidays. These Snowman Oreo Cookies are super easy to make and don't require any piping skills.
If it's raining or snowing outside, have the kids come over to the kitchen and help you make them. I did this project with my daughters and kept eating all the Oreos. More cookies made it to my stomach than to the white bark… I just love them so much! It's one of my favorite cookies and that's why I avoid buying them.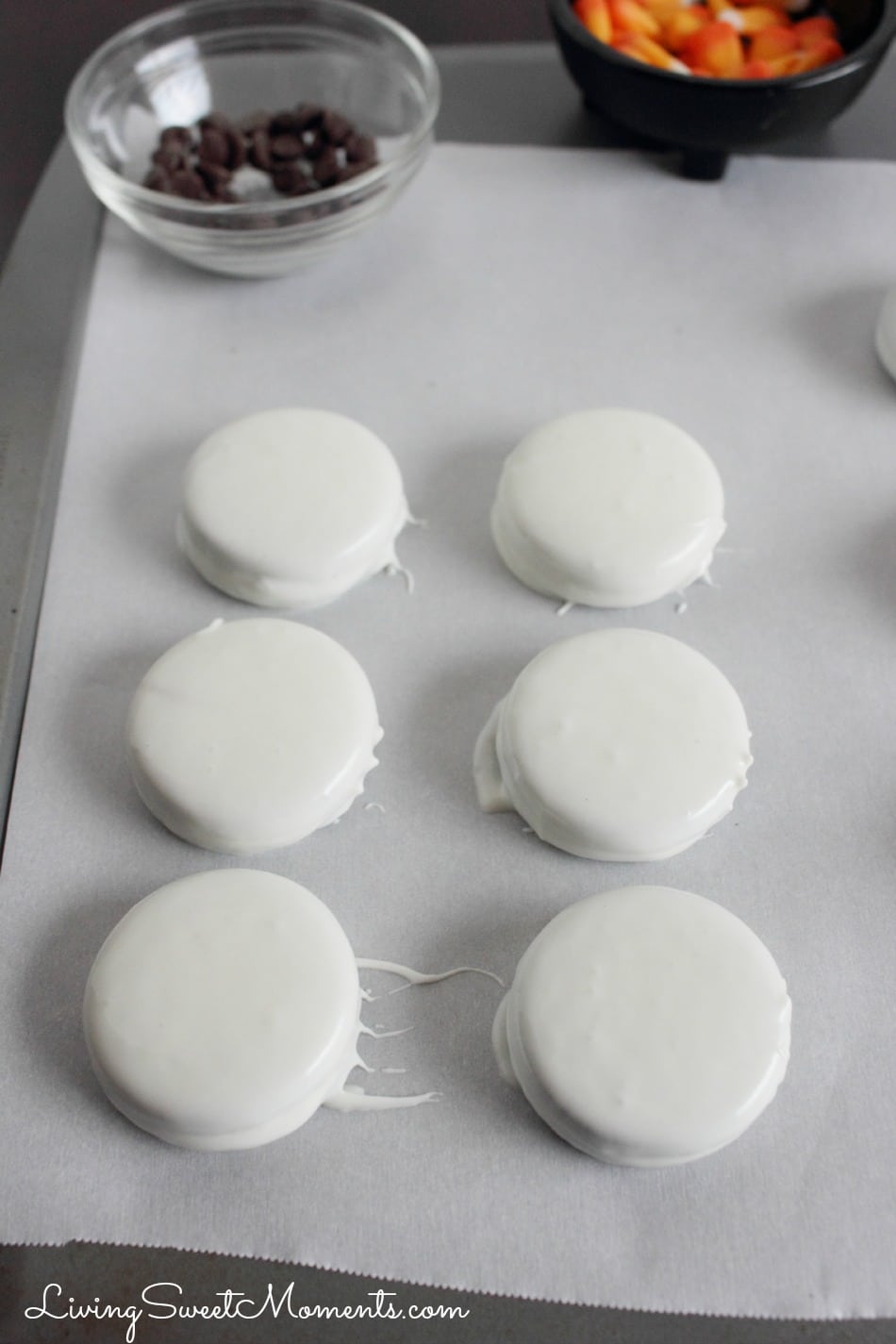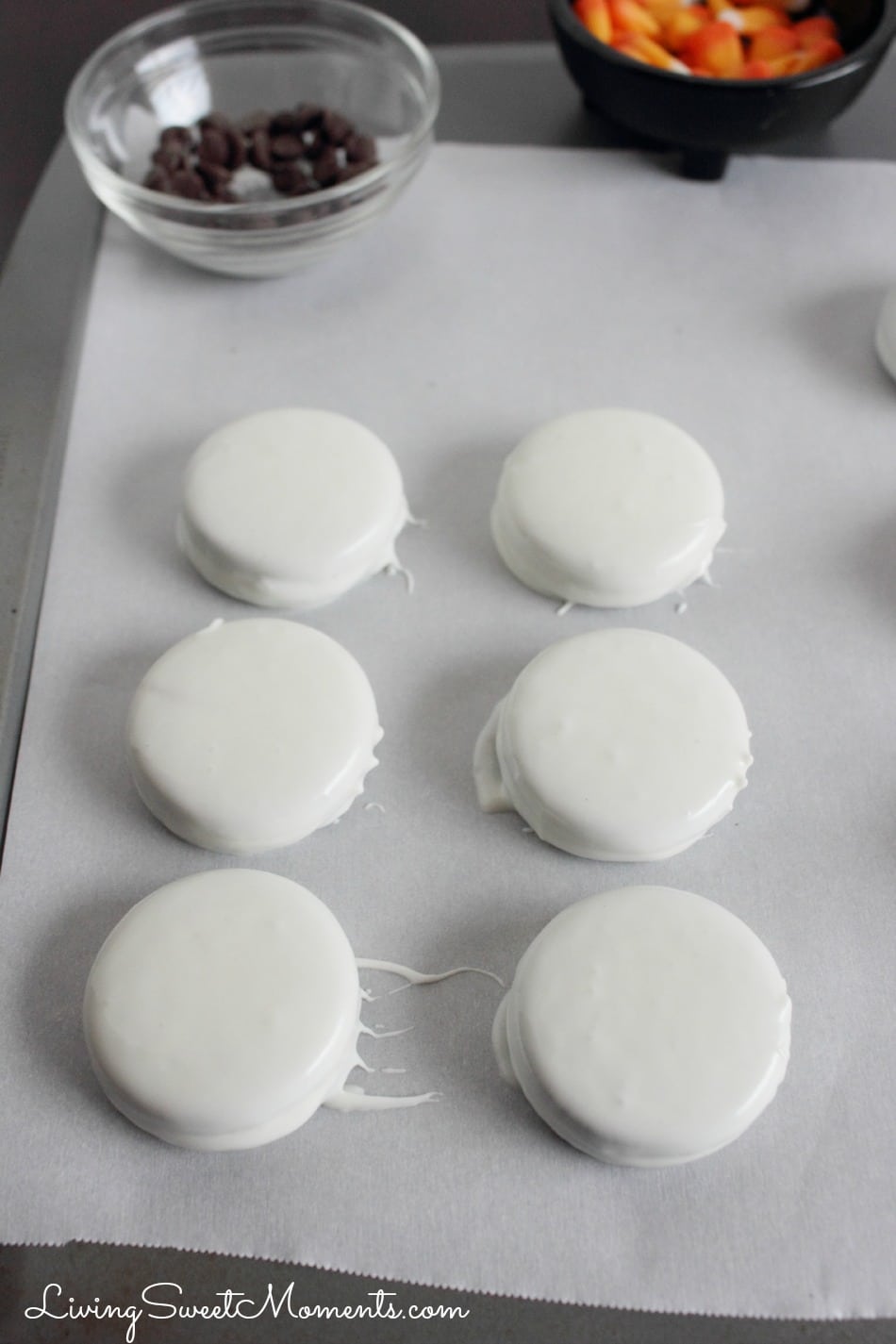 I work with a few of them at a time to give me time to coat them properly. It looks so pretty when the surface is smooth. If you would like to make another kind of design, consider using milk chocolate as a coating and even flavoring it with vanilla, lemon, peppermint or any other kind of extract you like. Since these Snowman Oreo Cookies are targeted towards my kids and their friends I decided to keep it simple. Too many picky eaters around here.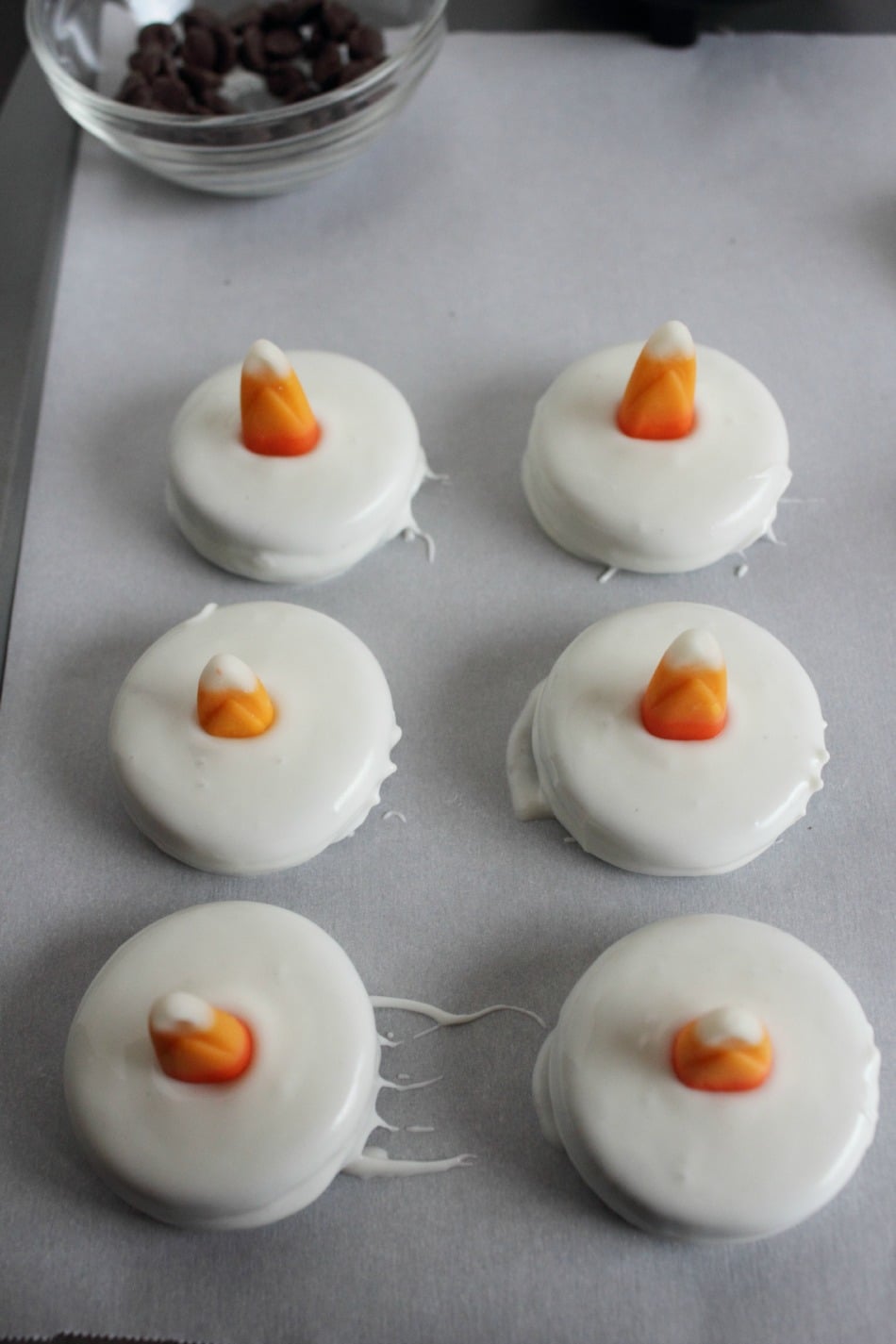 As you can see in the picture above, I used candy corn for the nose and upside down chocolate chips for the eyes and mouth. You can certainly use any kind of candy you have in your home. Better use that leftover Halloween candy before it goes bad.
I love making this little fun desserts for my girls as a special treat. Nothing better to pass the time than doing something productive and something that they can take part and feel proud of their creations. I usually put a few different candies on little plates and let them run wild with their creativity. I tell them not to throw everything on top of the cookie, it's nicer when you have a pattern or design in mind.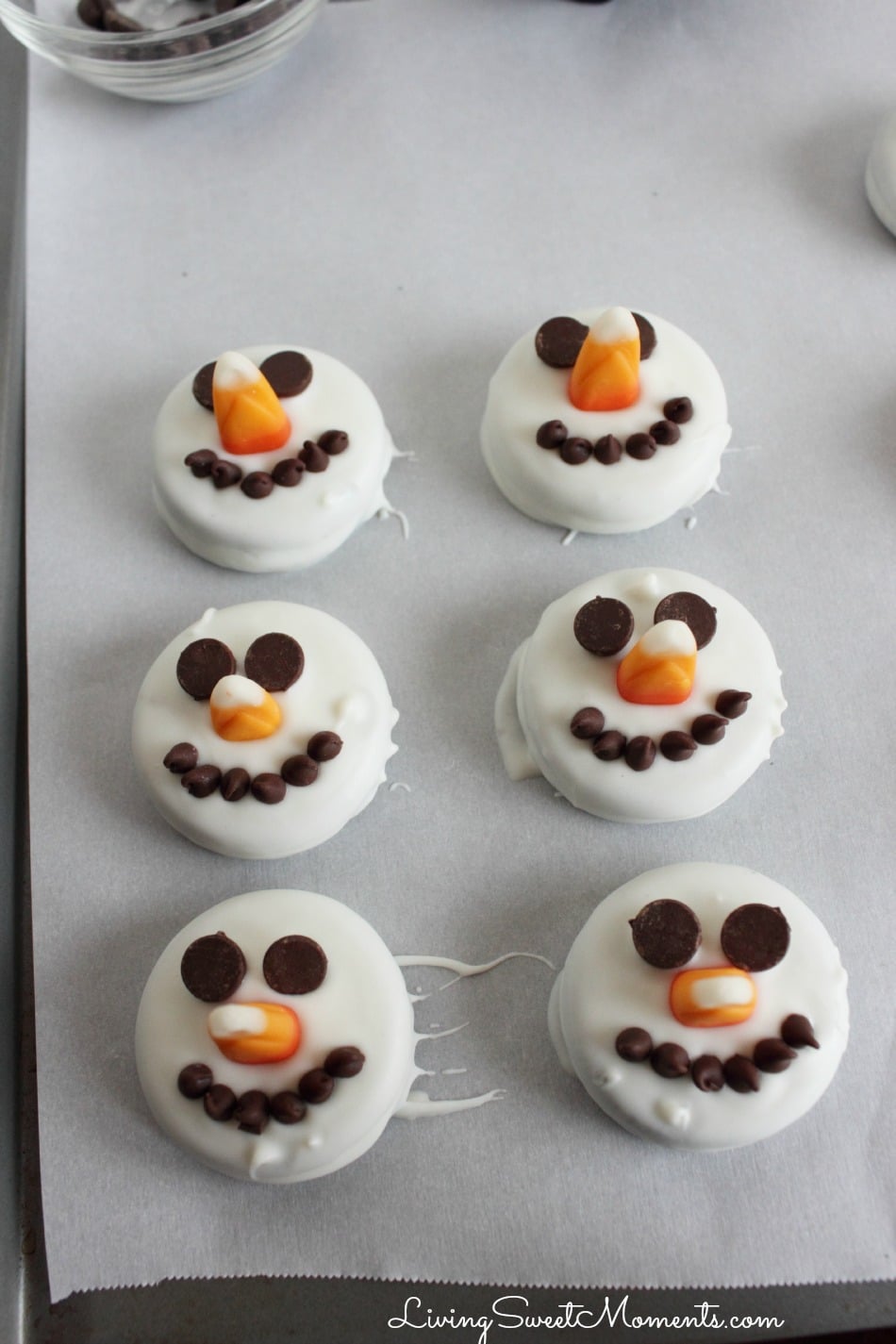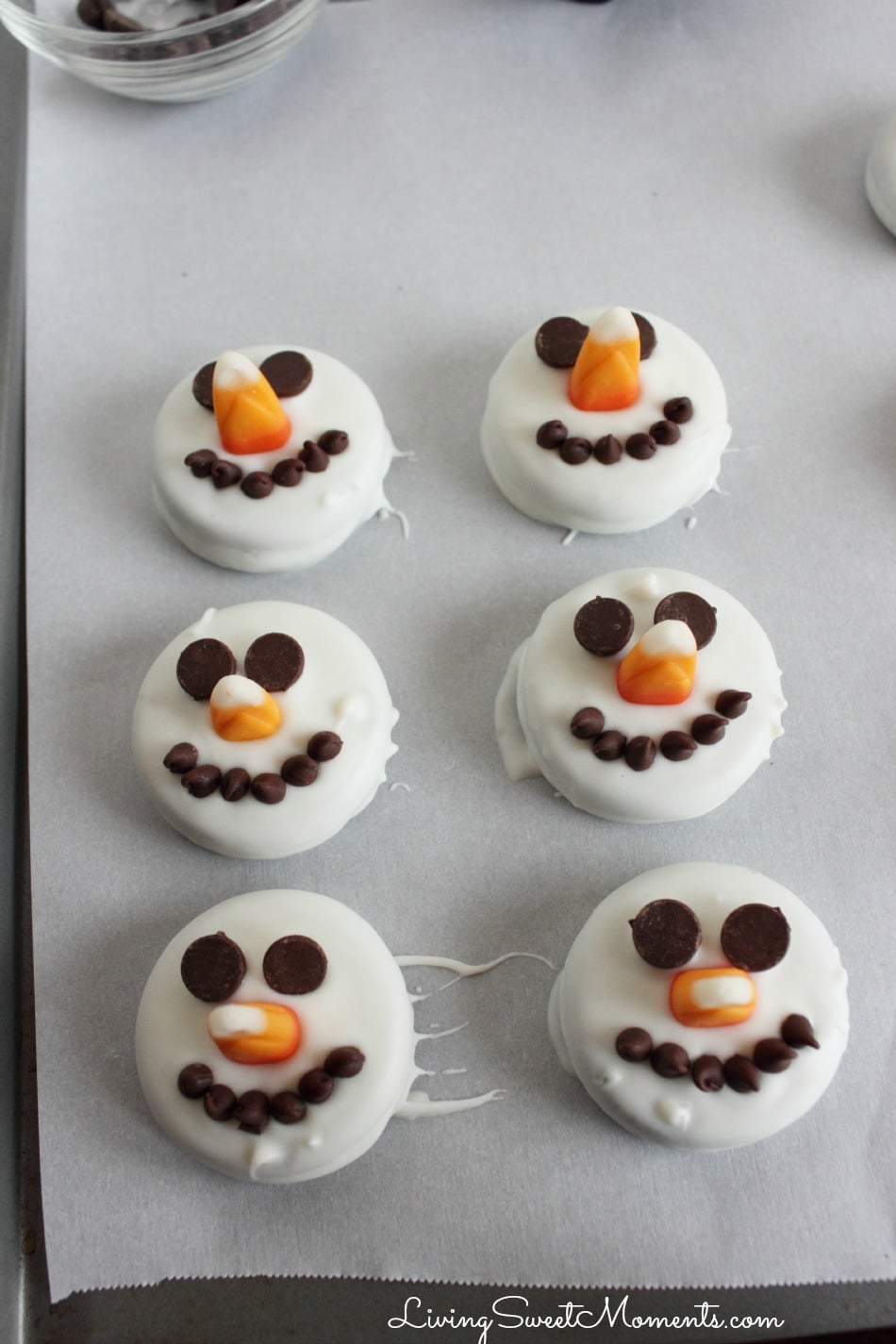 So get yours aprons on, invite the kids to the kitchen a whip up a batch of these fun Snowman Oreo Cookies.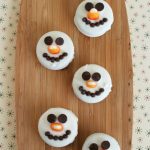 Snowman Oreo Cookies
Ingredients
1

Package Oreo Cookies

lb

½ . Almond Bark or Candy coating

cup

¼ Regular Chocolate Chips

cup

¼ Mini Chocolate Chips

cup

¼ Candy Corn
Instructions
Melt the Almond bark in the microwave in a small bowl. I usually do 60, 30 and then 15 second increments stirring between each until smooth.

Place an Oreo in the melted Almond bark. Flip it using a large fork. Ensure the cookie is completely coated. Keeping the fork tines level, gently tap the handle of the fork on the rim of the bowl. Use a straight up and down motion so the cookie doesn't slide off of the fork. This will give a nice smooth coating on top of the cookie. Place the cookie on a piece of wax or parchment paper.

To build the face start with the nose. Place a Candy corn right in the middle of the cookie.

Next, two regular Chocolate Chips, pointy end down, for the eyes just above the Candy corn.

Now, place 6 Mini Chocolate Chips beneath the Candy corn to make a smile.

Let cool and set at least 20 minutes.

Store in an airtight container.