This creamy plantain corn sformato recipe (Italian custard), is the perfect vegetarian entree or appetizer recipe for any occasion
This is a compensated campaign in collaboration with the American Egg Board and #WeAllGrow Latina Network.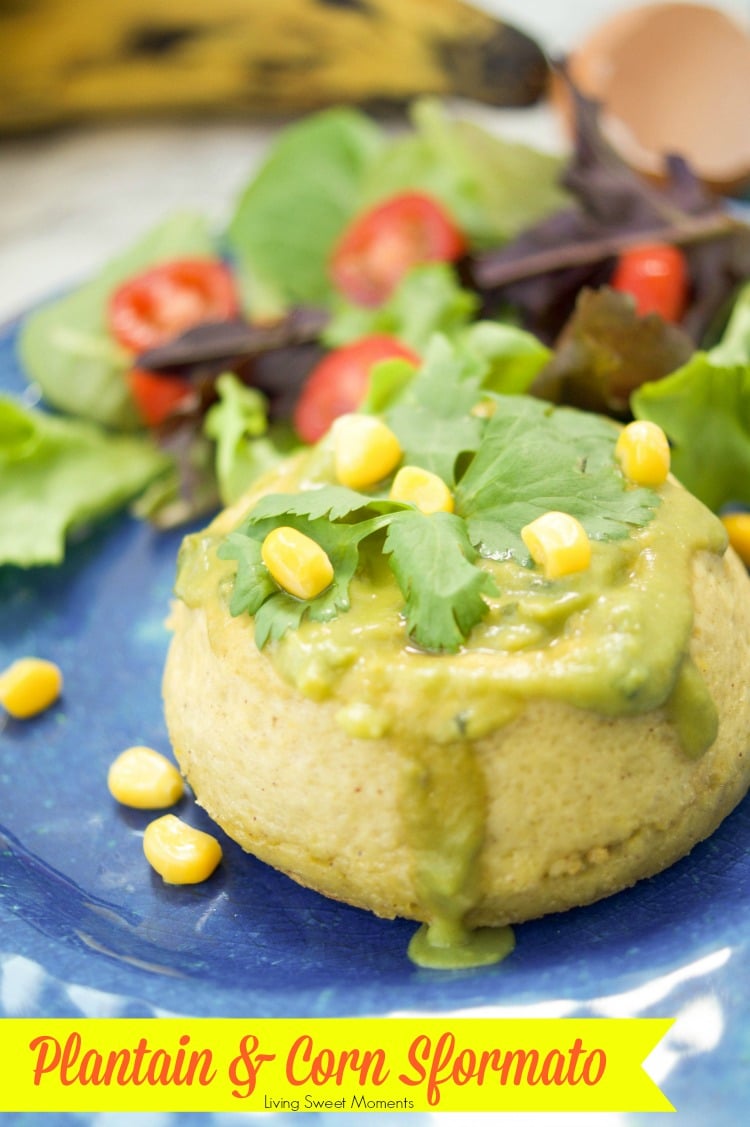 Plantain Corn Sformato
Aside from the funny name, sformato is simply a savory Italian baked egg custard. It's creamy, dreamy, and oh so good.
My dish is Latinized by adding some ripe plantains and corn. Now my Italian custard has some nice sazon. Both vegetables work really well because of their sweetness. Parmesan cheese, nutmeg, and cinnamon are added to give it a nice flavor profile.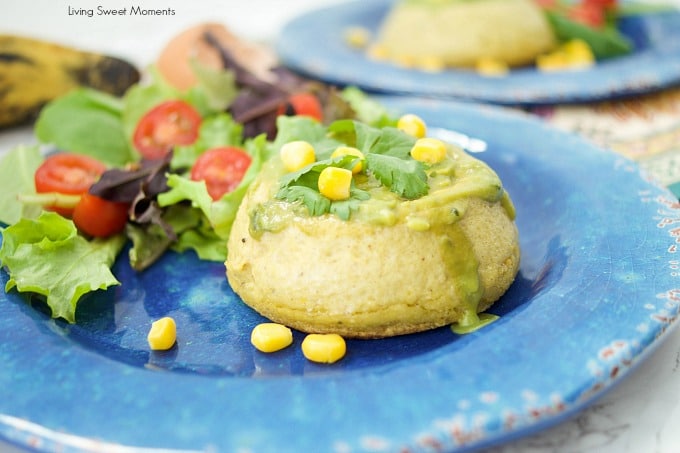 This custard is perfect as a vegetarian entree, when served with salad on the side and is also great as a warm appetizer during a multi-course dinner.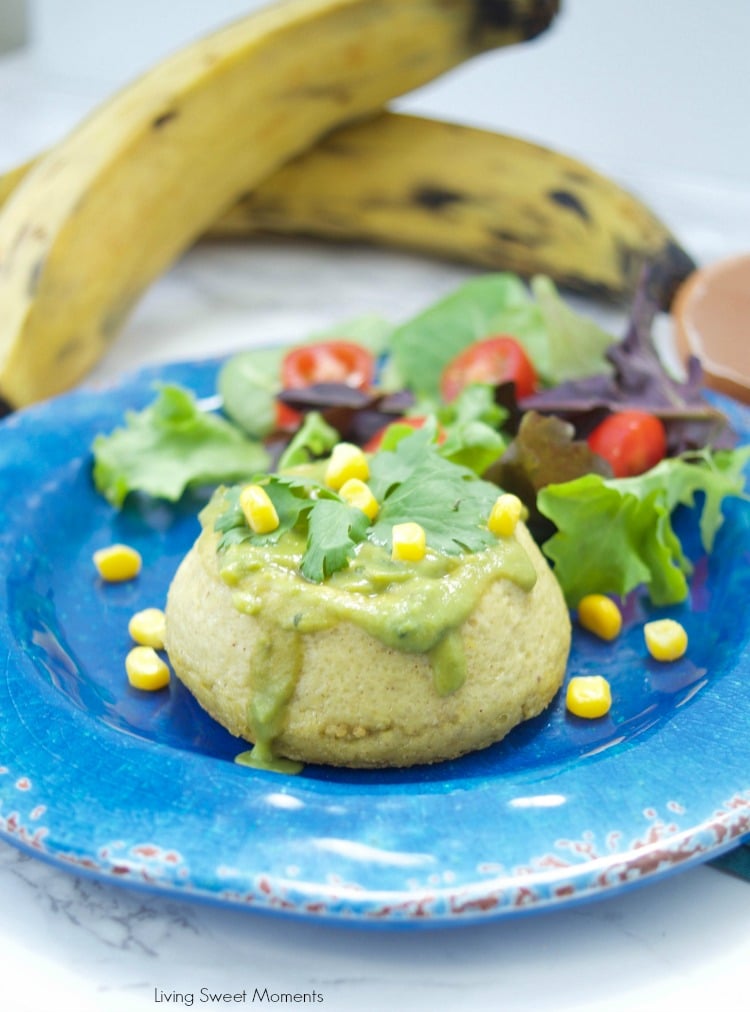 I grew up eating corn and plantain in many variations, including dessert. This time, I decided to pair them together and see how they would turn out. Let me just tell you that I am hooked.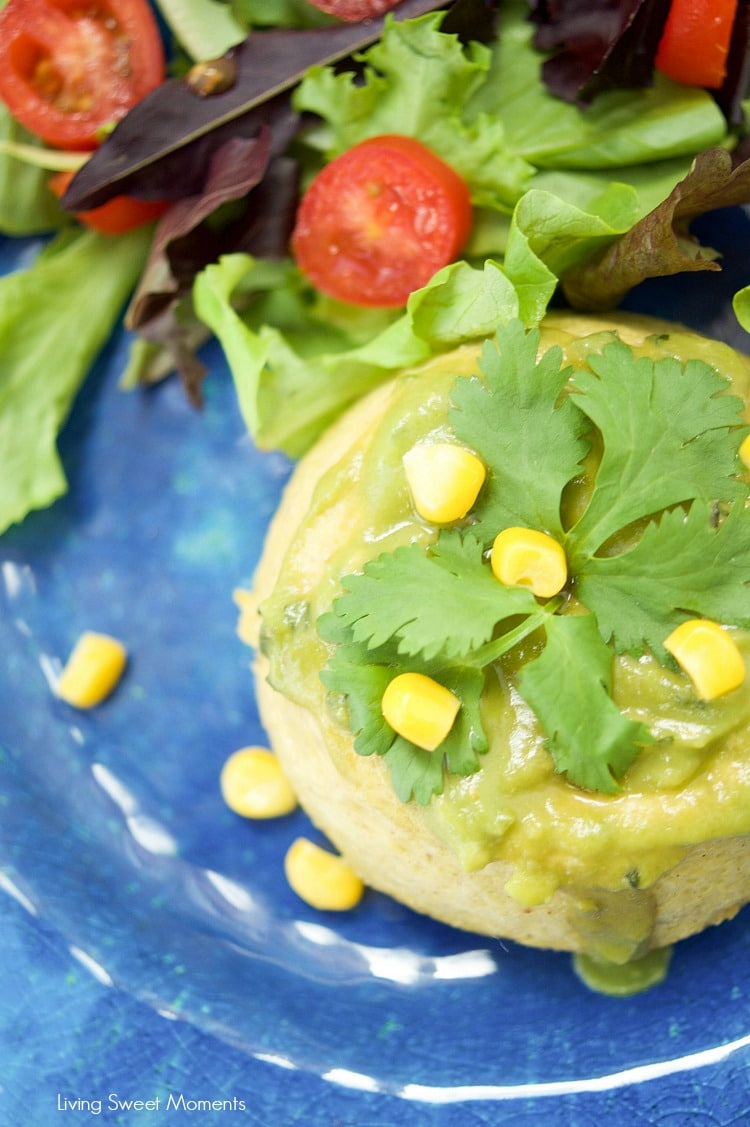 After they are baked, I served them with some fresh guacamole on top. The hot and cold combo was perfect for this recipe. You can skip the guacamole and serve them as is or with a cheese sauce on top.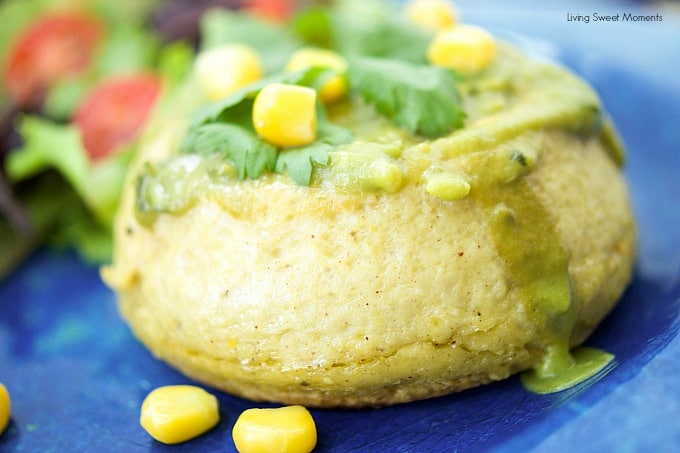 The backbone for this Plantain Corn Sformato has got to be the eggs. No custard can be possible without them. I love using them in many of my dishes. They're just so versatile, with so many ways to prepare – and so many foods they complement well.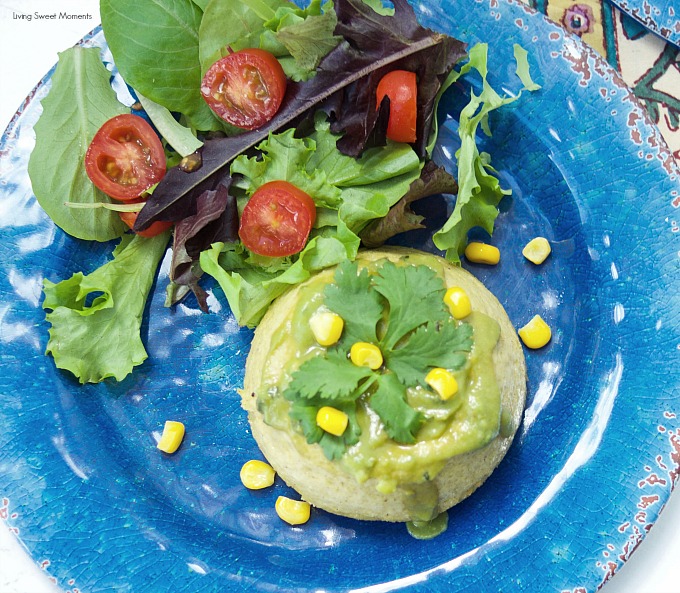 I am not kidding when I say this, but in my house, we go through 25 eggs a week. My husband and I shop at those big warehouse stores because we buy them in bulk.  4-18 egg cartons per 3-4 weeks. October 14h is World Egg day. Let's celebrate by eating some yummy corn sformato.
I give them to my girls every morning before school. It fuels them up and for simply 70 calories in one large egg they receive 6 grams of protein and 9 essential amino-acids.
I hope you can try this delicious Plantain Corn Sformato at home. If you do, please upload a pic on Instagram and tag me @Livingsweetmoments or use the hashtag #LivingSweet. I promise to repost it.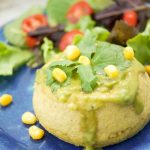 Plantain Corn Sformato
This creamy plantain corn sformato recipe (Italian custard), is the perfect vegetarian entree or appetizer recipe for any occasion
Ingredients
1

ripe plantain

1 1/2

cup

of frozen corn kernels

thawed

1/2

medium onion

chopped

4

tablespoons

of unsalted butter

3

tablespoons

of flour

1 1/4

cups

of milk

2

eggs + 1 egg yolk

1/2

teaspoon

nutmeg

1/2

teaspoon

cinnamon

1

cup

parmesan cheese

Salt + Pepper
Instructions
Preheat oven to 350 degrees Fahrenheit

Spray 4-5 custard cups with nonstick spray

Place cups in a bigger baking pan

Peel the plantain and slice into 3-4 thick chunks

Boil these chunks in water until tender (about 15-20 minutes)

Warm the milk in the microwave

In a saucepan, melt 3 tablespoons of butter over medium-low heat

When the butter is melted, add the flour and whisk until incorporated and the flour is cooked (about 45 seconds to 1 minute)

Add the warm milk and whisk vigorously to avoid lumps

Keep whisking until the sauce starts getting thick and creamy.

Remove from heat and add the salt, pepper, nutmeg, cinnamon and parmesan cheese

In a bowl, whisk the eggs and the yolk

Carefully add the little by little the hot bechamel sauce into the eggs whisking constantly to avoid the eggs from cooking. Set aside

In a skillet melt the remaining tablespoon of butter over medium heat

Add the onions and cook until translucent. Add the corn and continue cooking. Season with salt and pepper

When corn and onions are tender, place them in the blender with the plantain. Blend until you achieve a puree (if puree is too thick add 1-2 tablespoons of water)

Mix the puree with the egg mixture

Pour into custard cups

Add hot water to the baking pan

Bake for 35-45 minutes or until set

Remove from heat and let the custards rest for 3-4 minutes

Invert on a plate and serve

Enjoy!
This is a sponsored conversation written by me on behalf of American Egg Board . The opinions and text are all mine.