Alfajores Recipe – they are delicate shortbread cookies filled with dulce de leche. These cookies use cornstarch as a main ingredient. Great with coffee!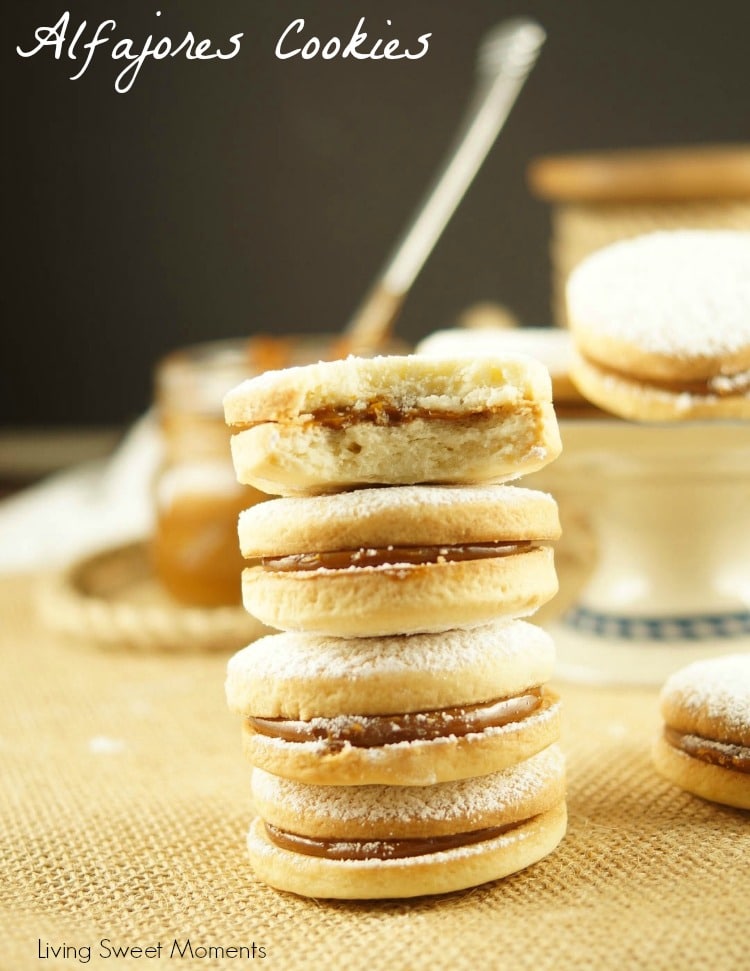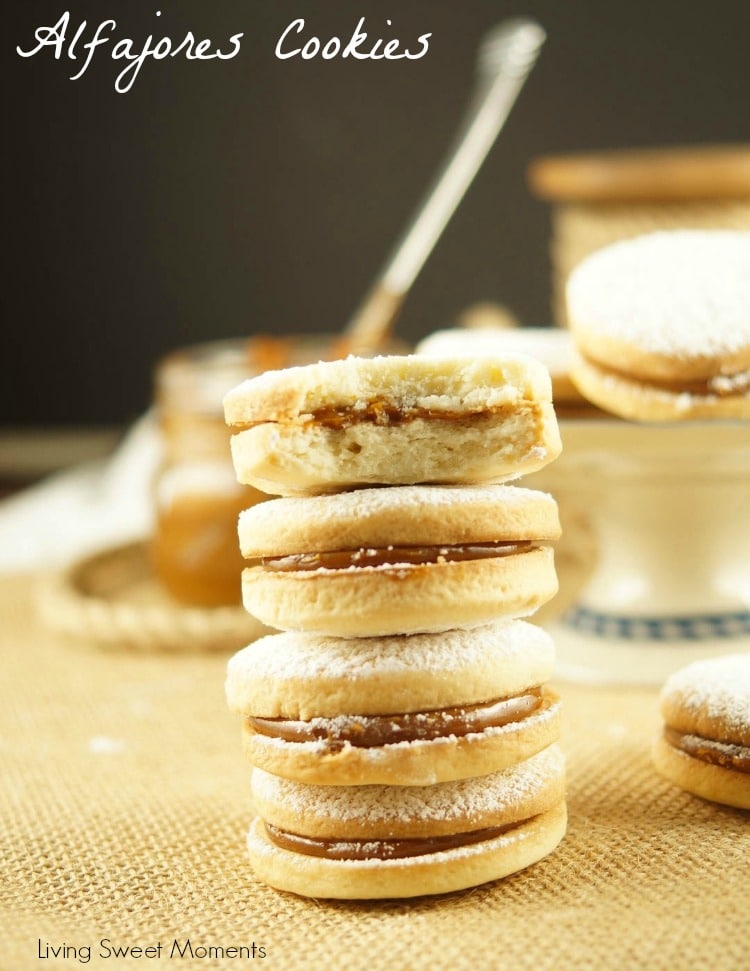 Delicious Alfajores Recipe
Although these cookies are hard to pronounce, they are super easy to make and delicious. This Alfajores Recipe whips up in minutes and they bake up in no time. The secret to retaining their shape is to refrigerate the cookie dough for a couple of hours before cutting and baking.
Since the alfajores use a combination of flour and cornstarch in their dough, the cookie has a much more delicate texture which makes them crumbly and buttery.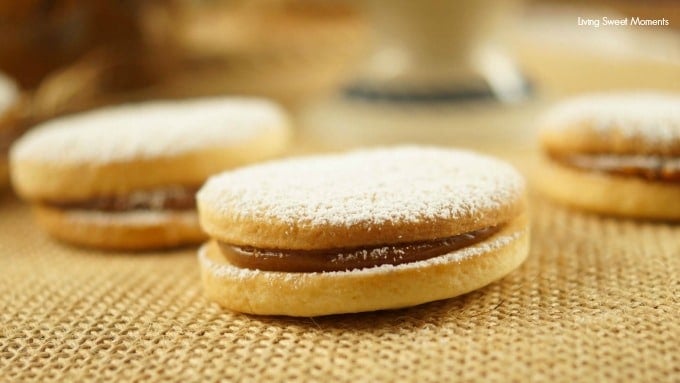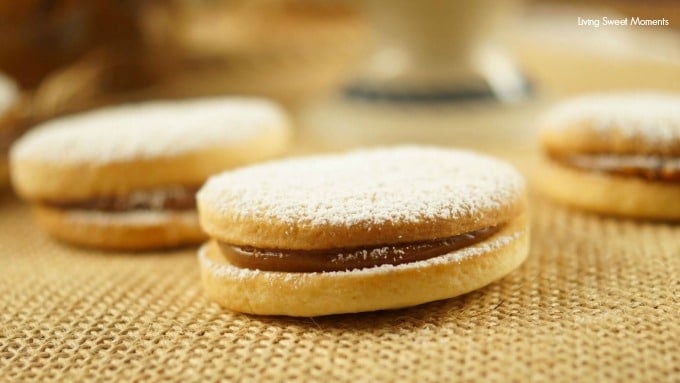 I didn't make them super sweet to avoid dulce de leche filling from overpowering the whole dessert. Every bite you'll take of this crumbly cookies, you'll taste perfection. The smooth dulce de leche, the toasty delicate cookie. Basically, it melts in your mouth.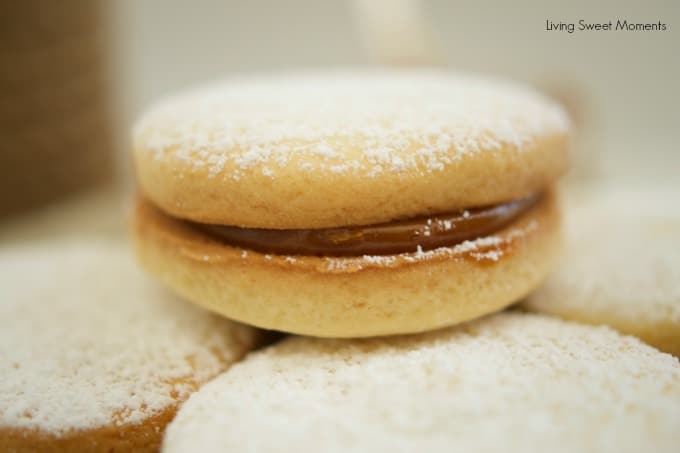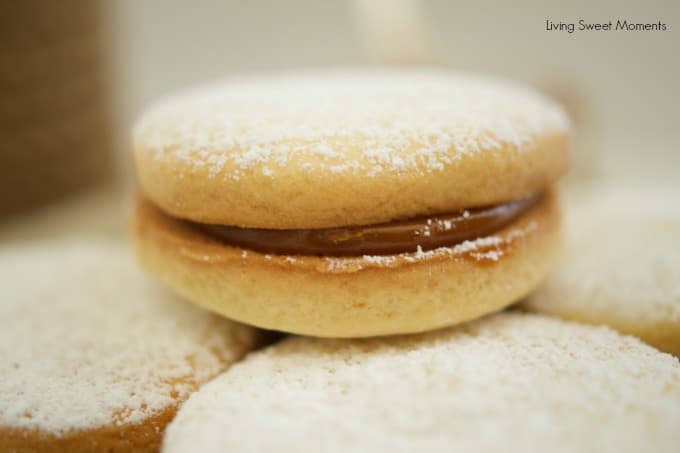 A lot of people roll the sides of the alfajores in sweetened coconut and others dip the whole cookie in melted chocolate. You can also omit the dulce de leche and just fill them with jam, jelly or chocolate ganache.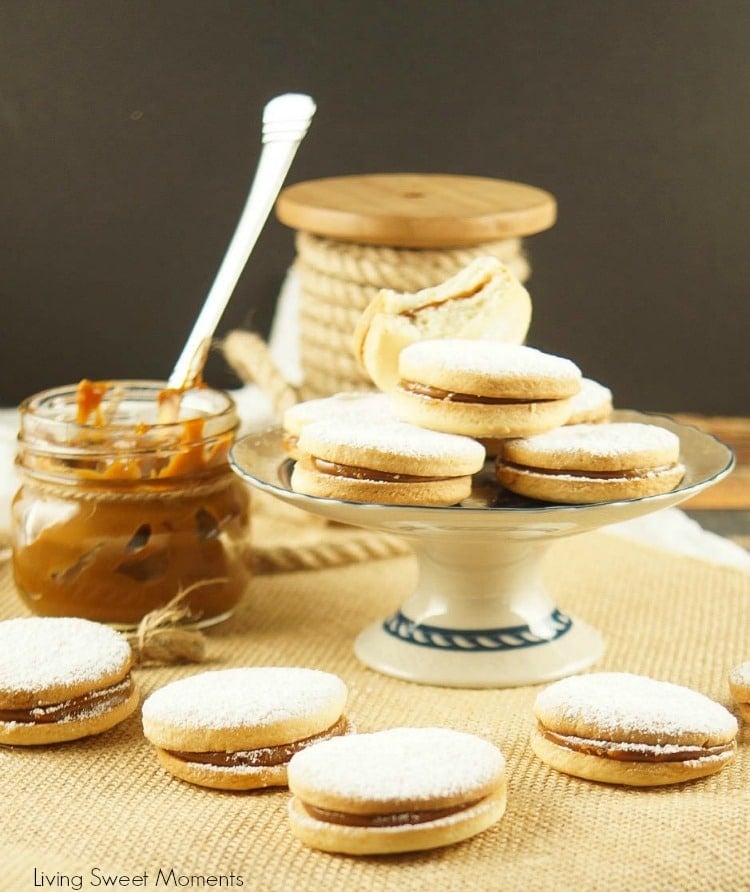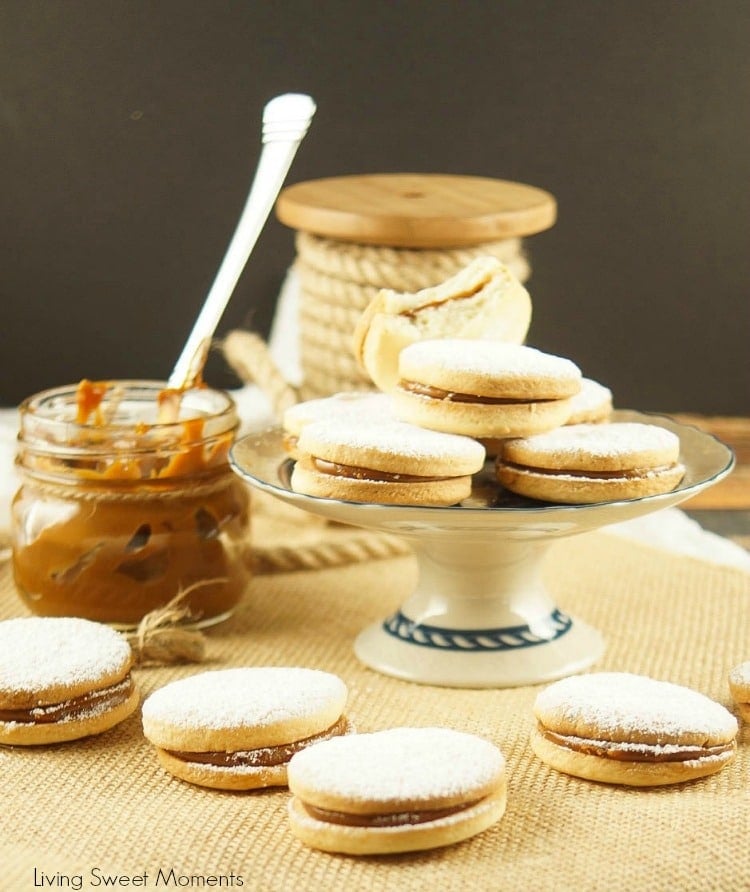 I love to dip mine in Coffee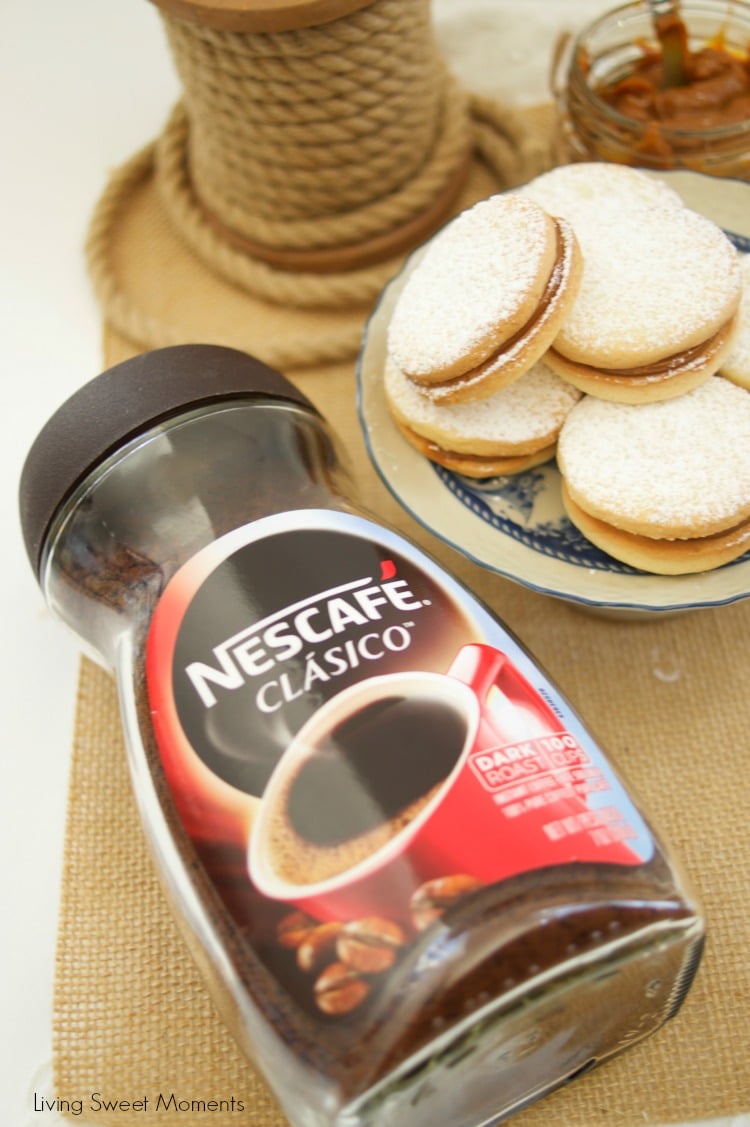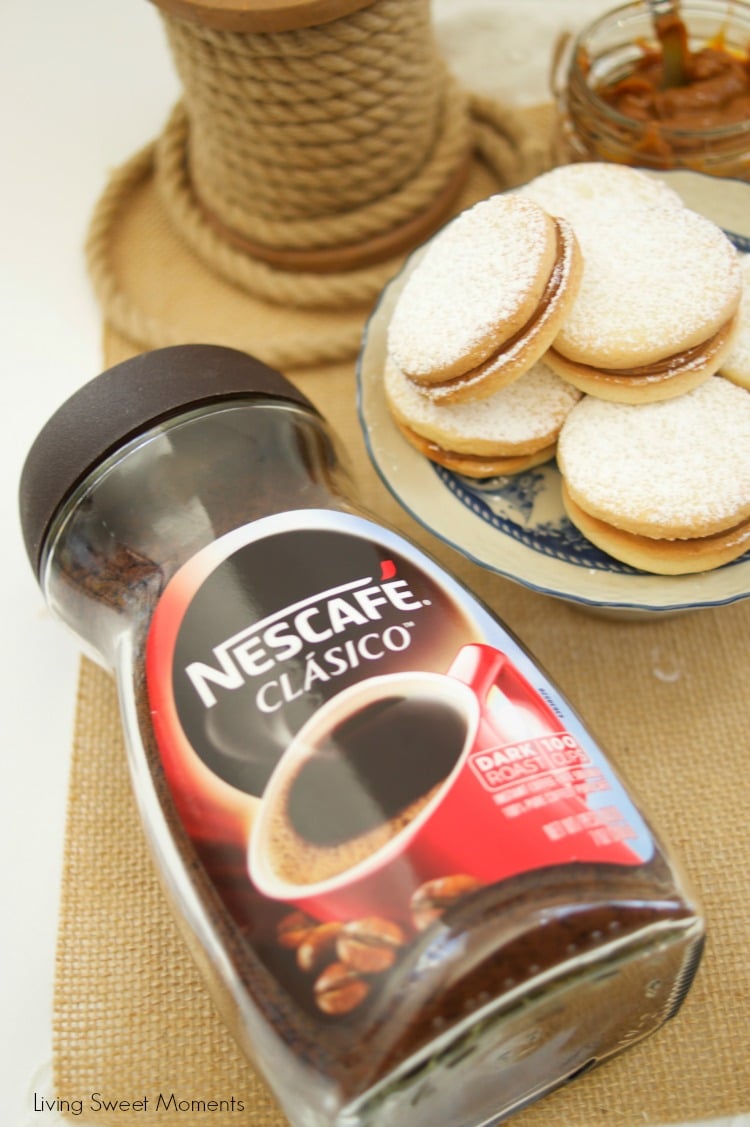 Usually, I have a cheese arepa for breakfast, this time, I decided to break my routine and make this wonderful Alfajores Recipe in the morning. Dipping them in a little cafecito con leche can become my new morning reward.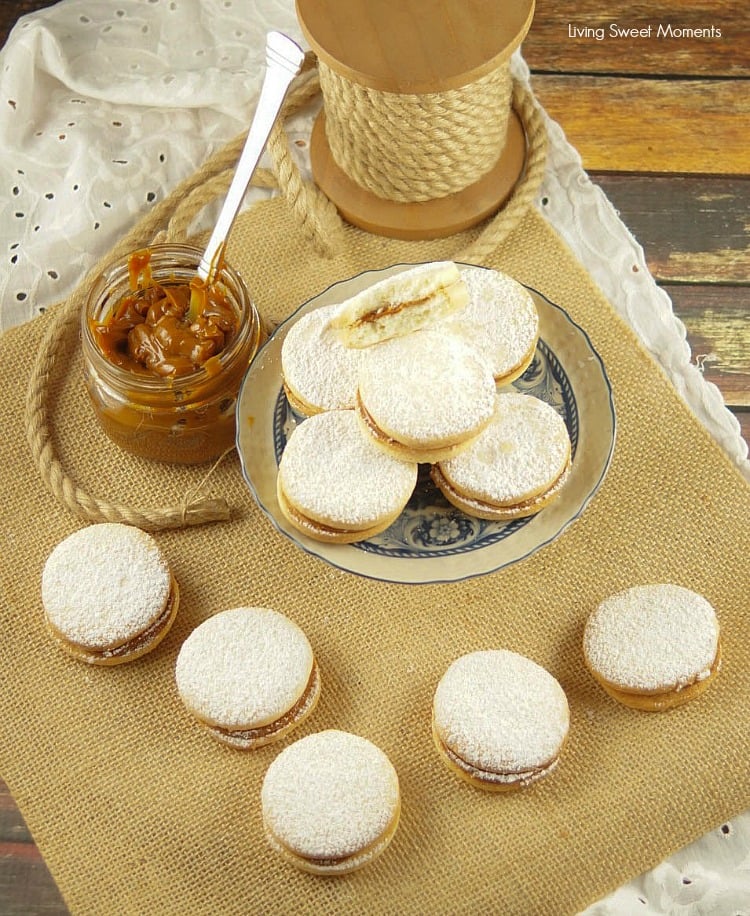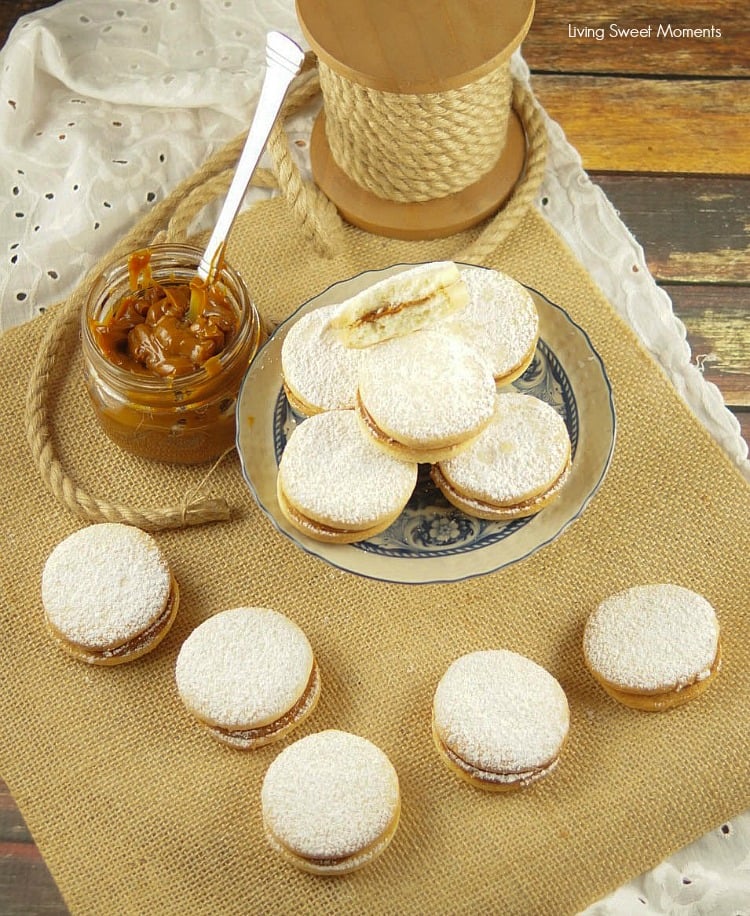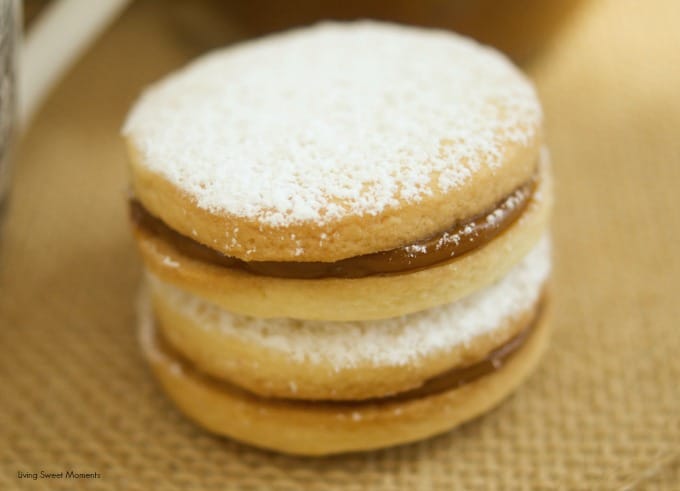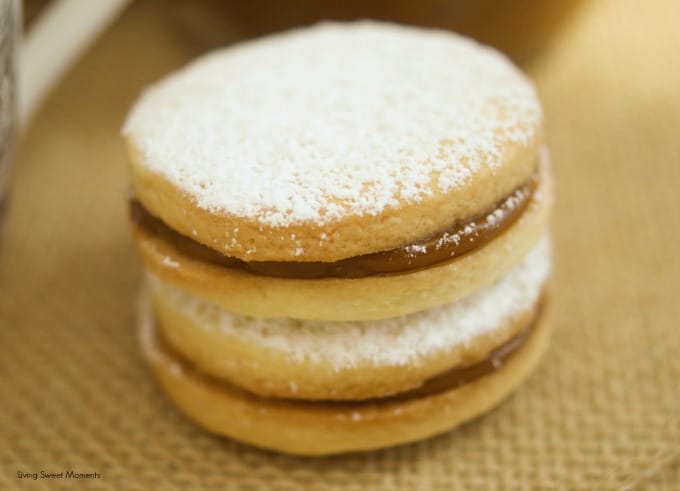 This Alfajores Recipe originated in Andalucia, Spain in the 16th century. Years later the cookies evolved and became very popular in Latin America, especially Argentina and Peru. I've been eating them since I was little and they still are one of my favorite treats.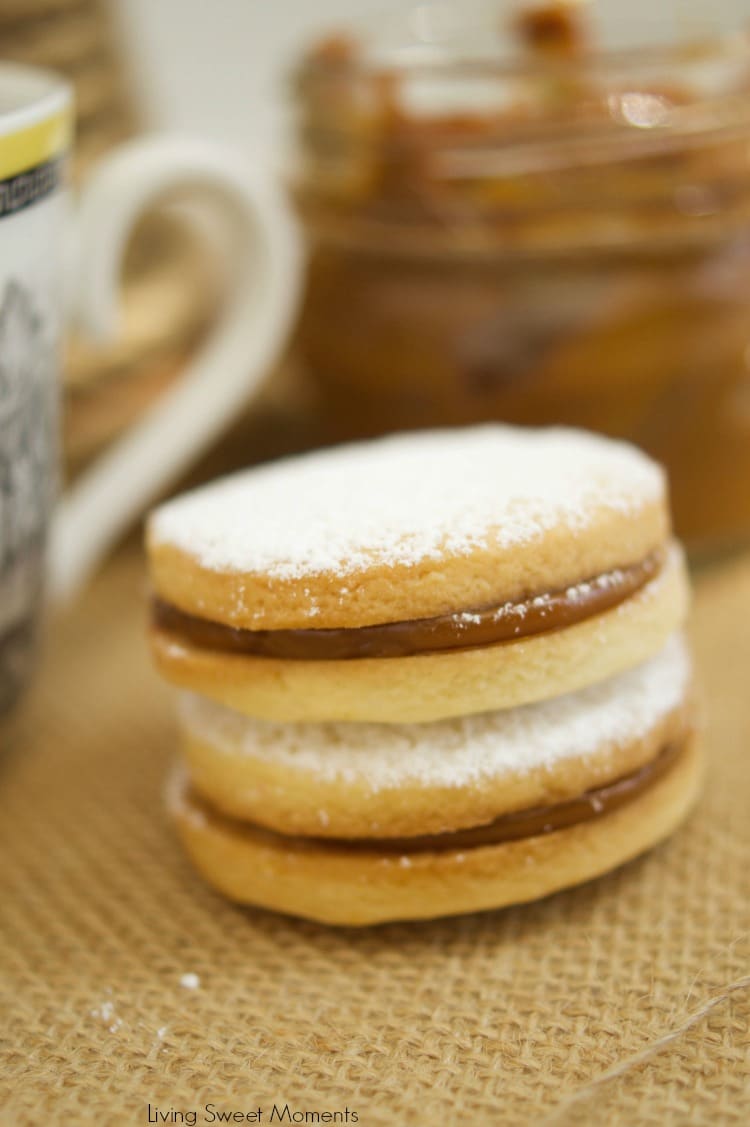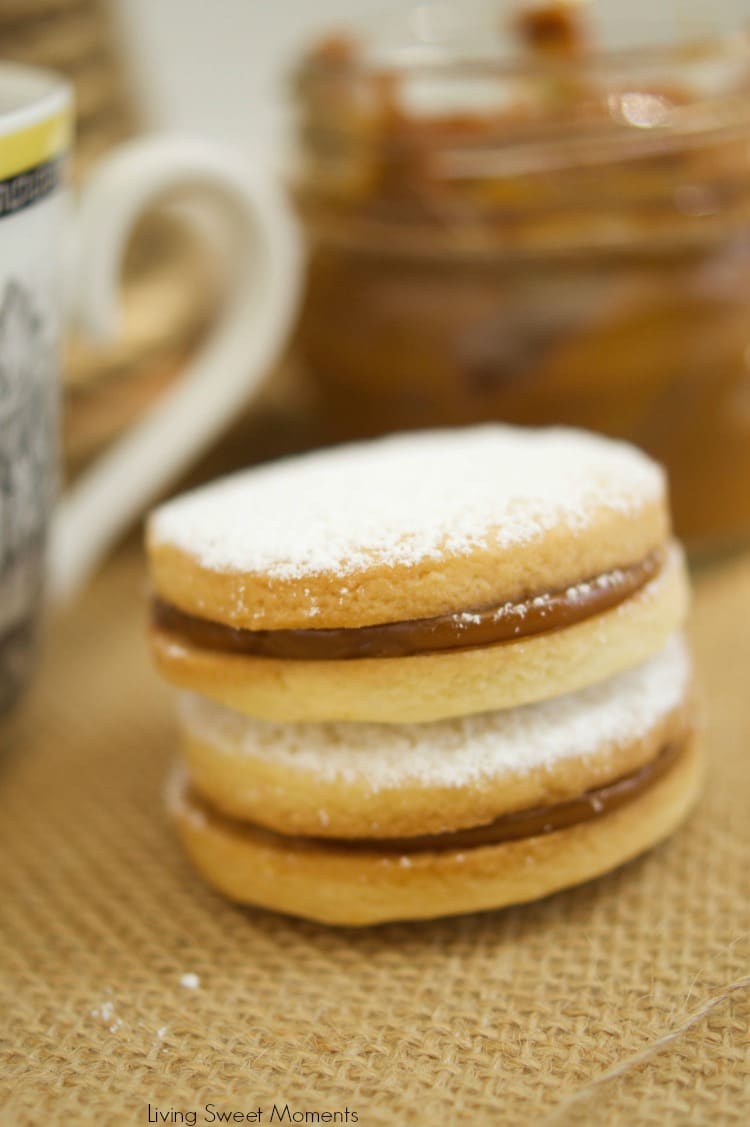 I hope you can try this delicious Alfajores Recipe at home. If you do, please upload a pic on Instagram and tag me @Livingsweetmoments or use the hashtag #LivingSweet. I promise to repost it.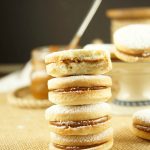 Delicious Alfajores Recipe
Alfajores Recipe - they are delicate shortbread cookies filled with dulce de leche. These cookies use cornstarch as a main ingredient. Great with coffee!
Ingredients
For Cookies

1

cup

of cornstarch

3/4

cup

of all-purpose flour

pinch of salt

1/2

teaspoon

of baking powder

1

egg

1

teaspoon

of vanilla

10

tablespoons

of unsalted butter

at room temperature

1/2

cup

of sugar

Filling

Prepared dulce de leche

Topping

Powdered sugar

optional
Instructions
For Cookies

In a bowl mix the flour, cornstarch, baking powder, and salt

In the bowl of a mixer, add the butter and sugar. Mix using a paddle attachment of high speed until creamy and fluffy. 3-4 minutes

Scrape the sides of the bowl with a spatula

Add the vanilla and egg. Mix

Lower the mixer speed and slowly add the flour mixture.

Remove cookie dough from mixer and divide in 2

Shape into flat disks and cover with plastic wrap

Refrigerate for at least 2 hours or overnight

Preheat oven to 350 degrees Fahrenheit

Remove one cookie disk from the fridge

Roll on a floured surface until the dough has 1/4" inch thickness

Using a round cookie cutter about 1 3/4" inches or your desired size cut out circles

Place cookies on a sheet pan lined with parchment paper

Repeat with remaining disk of dough

Bake for 7-8 minutes or until browned on the edges

Remove from oven and place cookies on a cooling rack

Pour dulce de leche on a zip top bag. Snip a small hole in the corner of the bag

Turn half of the cookies over

Pipe dulce de leche mounds in the middle of each cookie

Place a cookie on top and press gently to distribute the dulce de leche all over the cookie surface

Dust with powdered sugar

Enjoy!
Recipe Notes
If cookies become too soft during the rolling process, place them back in the fridge for 30-40 minutes and then roll them again.
You may also like: