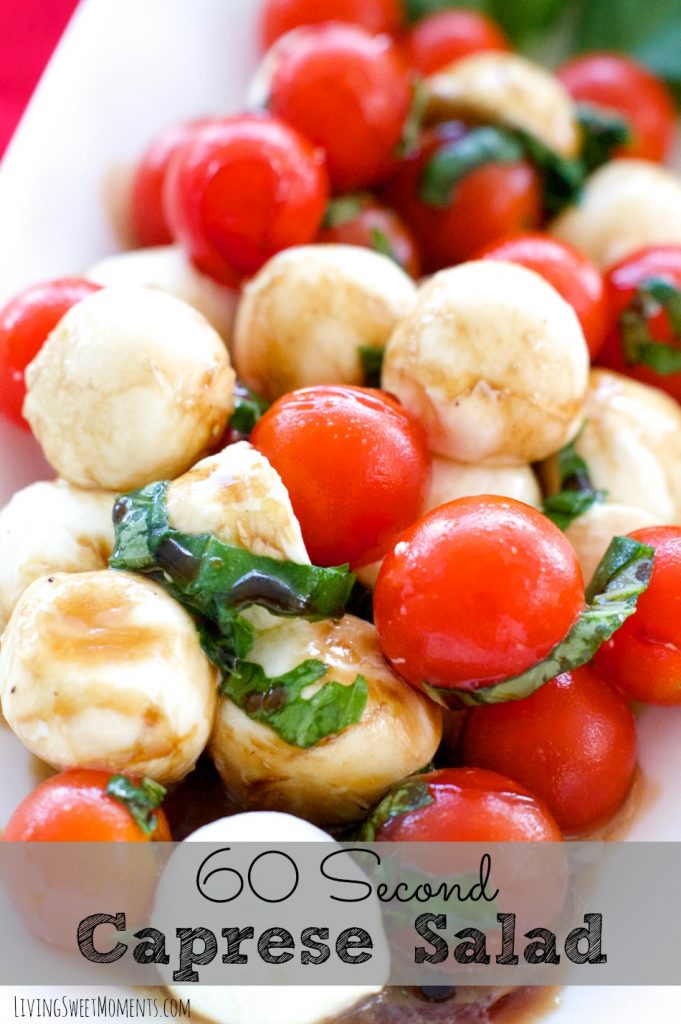 Got 60 seconds? If the answer is yes then you got enough time to make a Quick Caprese Salad. Yes! is that easy, there's virtually no chopping involved, except the Basil. Oh and the flavor? delicious, fresh and oh so addicting.
Imagine this scenario: Your husband comes home from work and says, "Honey, I invited my boss over to watch the game and he's right at the door, can you make appetizers". Your first thought would be to KILL him of course, but the boss is watching.. too many witnesses so, new plan: You go to the pantry and search for chips, no chips, you go to the fridge and check for dips, no dips.. But wait! I have a solution that will wow them: It's my super quick Caprese salad! Toss some tomatoes, toss some cheese, herbs and spices and voila! The boss is happy, hubby is happy (but he'll pay for it tomorrow) and you are the hero. Like my scenario? If that ever happens to you, the next day you have to right to ask your hubby for a new pair of shoes… and a matching purse of course.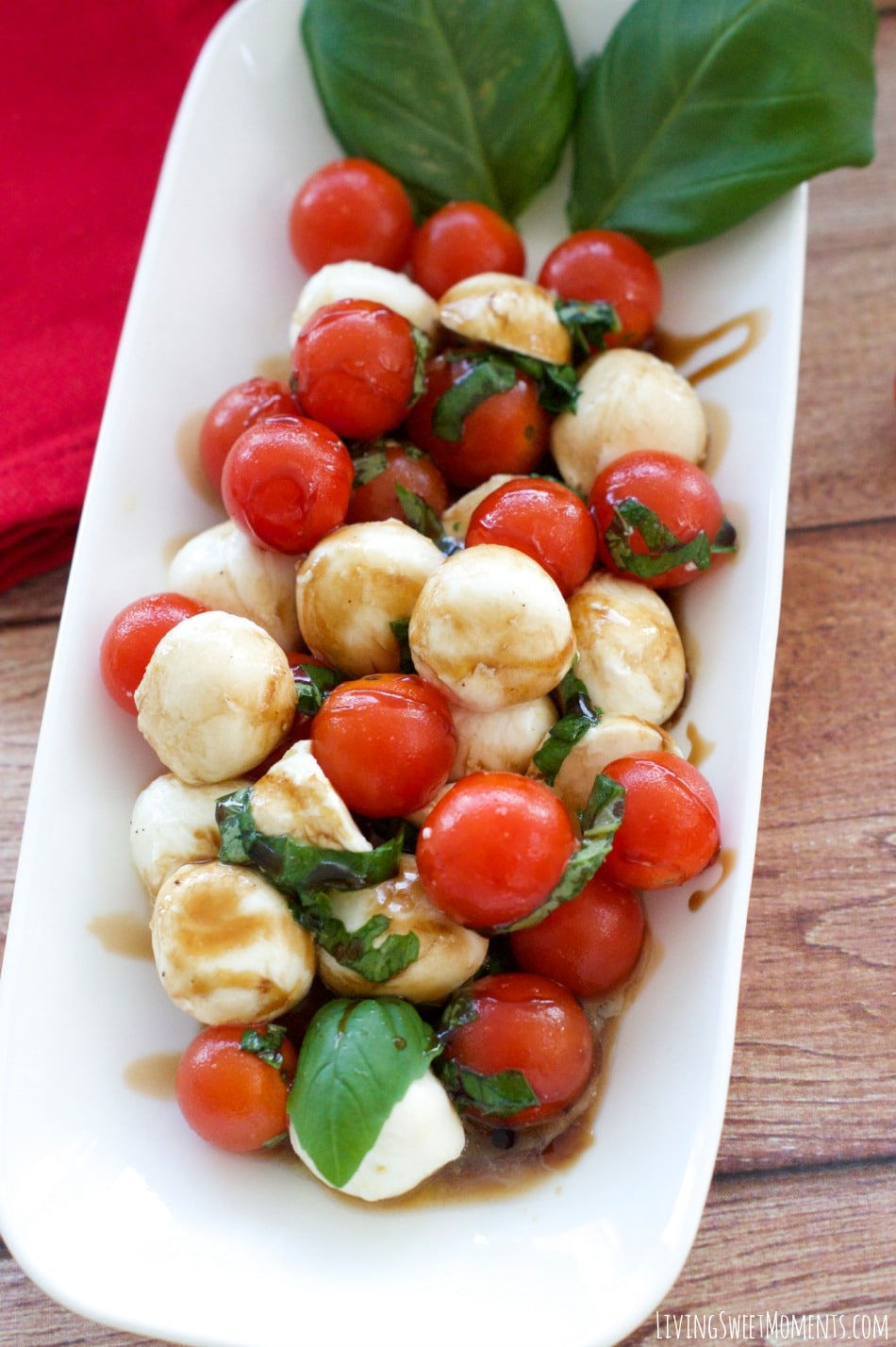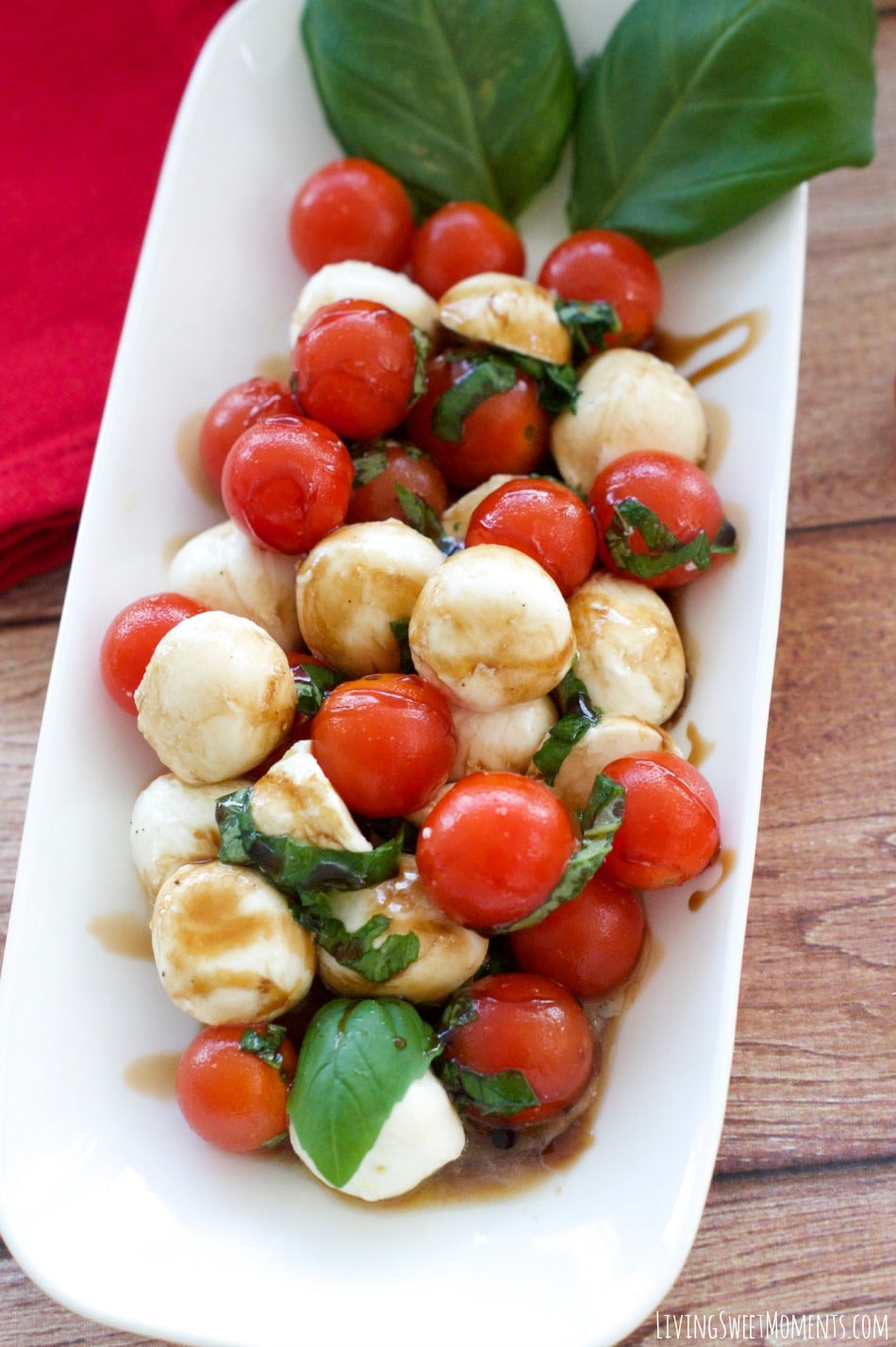 All jokes aside, when time is of the essence I choose for options where there's no cooking or chopping involved. Simply toss things together in a bowl and eat. That goes for other kinds of salads as well. If you have some leftover chicken, eggs, turkey you can toss either of them in a bowl with lettuce, cherry tomatoes and corn for an instant dinner.
This delicious Quick Caprese Salad taste amazing because it has a drizzling of sweet Balsamic Glaze on top as well for added flavor. This will taste just exactly like your favorite restaurant without the steep bill afterwards. The downside? Forget about leftovers.. these are too addicting!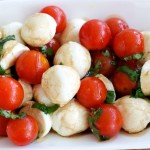 Quick Caprese Salad Recipe
Ingredients
2

Cups

of Bocconcini

Tiny mozzarella Cheese

2

Cups

of Cherry or Grape Tomatoes

2

Tablespoons

of Olive Oil

4-5

Leaves

Basil

chopped

Balsamic Glaze

Salt + Pepper
Instructions
In a bowl, add the cheese, tomatoes, basil, olive oil and salt and pepper. Toss well and drizzle Balsamic Glaze over the salad.

Enjoy