This delicious One Pot Caprese Pasta Recipe is made in 10 minutes and requires absolutely no draining. It's the perfect easy weeknight dinner idea.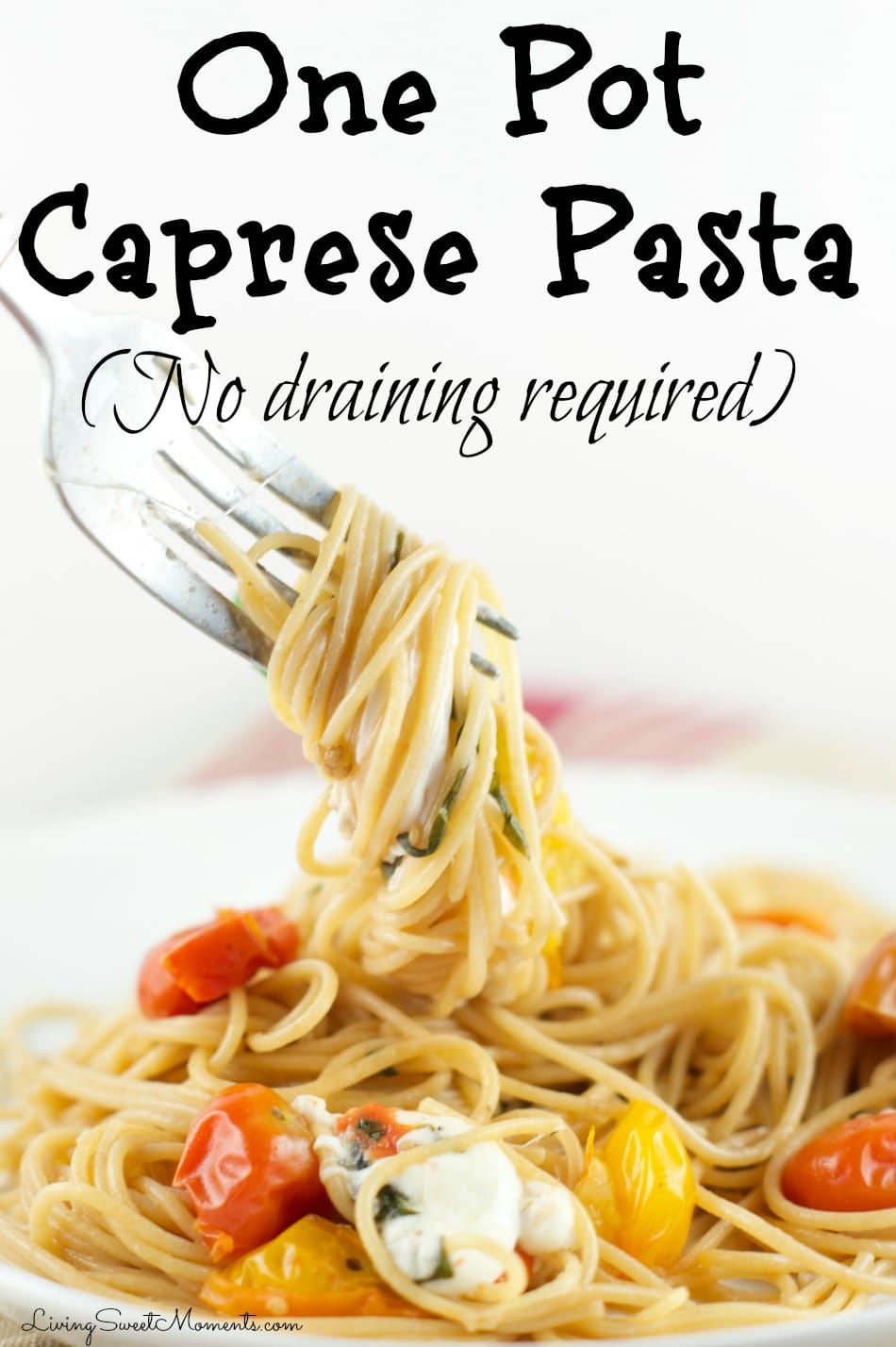 One Pot Caprese Pasta Recipe
Don't you just love easy recipes? The ones that you can whip up in minutes and are delicious and pretty enough for company? Yup! Me too, that's why this One Pot Caprese Pasta Recipe will be a weekly staple in your household.
If you're a novice cook or an advanced one, you can't mess up this dish. Just toss some raw ingredients in a pot and stir. That's it, no draining, rinsing, reducing or any other technique needed… A pot, a spoon and some basic ingredients. I end the dish with little mozzarella cheese pieces so they can melt inside the hot pasta. Yum.
Here's how this One Pot Caprese Pasta Recipe starts: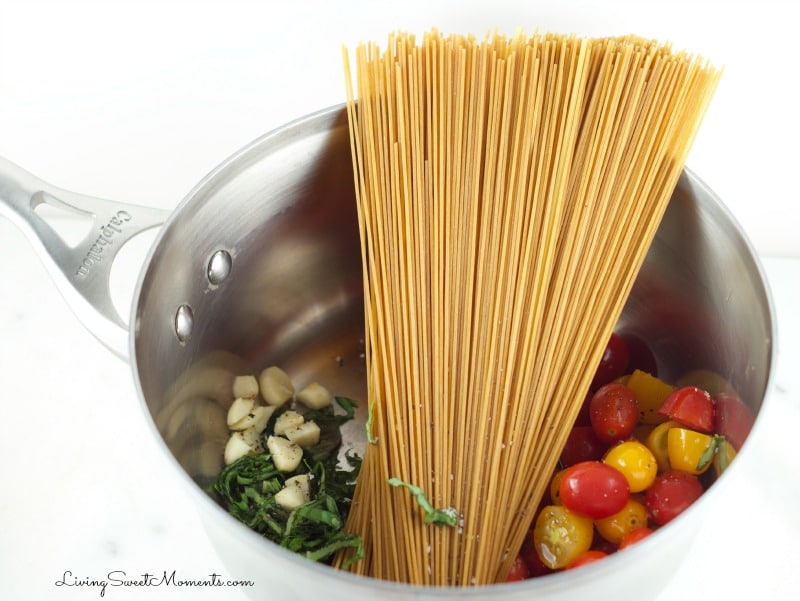 Multicolored tomatoes, pasta, basil, garlic, olive oil, salt and pepper. Your typical caprese salad ingredients in a delicious pasta dish. I had to prepare this recipe without my 4 year old finding out. She's addicted to those yellow tomatoes. I even tried growing them once and when the first ones came out, she ate them all and they never grew again.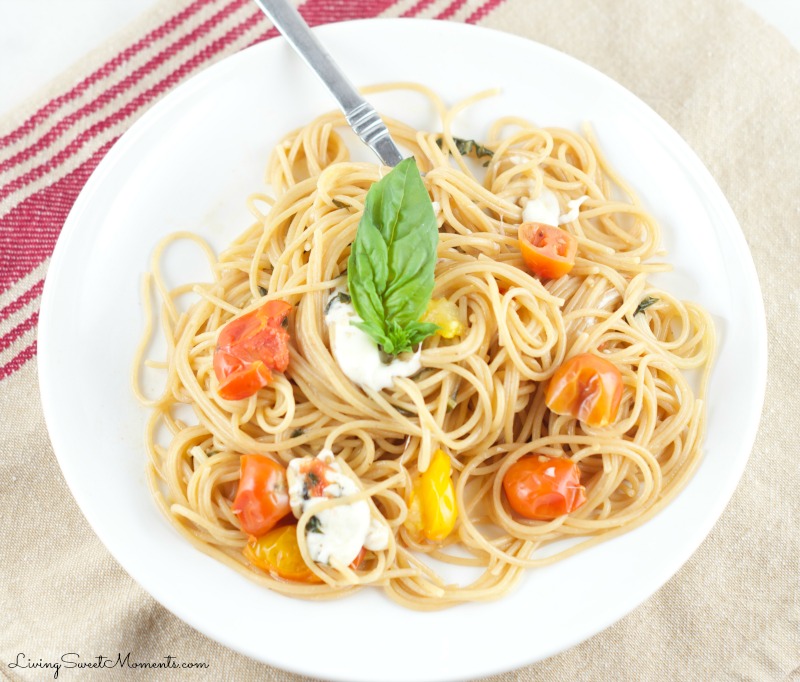 You can use any kind of tomato you may like, I chose the little ones because I was lazy and didn't want to spend the day chopping. Some of them are halved but the vast majority are whole. They cook inside the pot and develop delicious and creamy flavor.
See how delicious those strings on cheese become? some are hidden within the pasta and create little surprise pockets of yumminess – yes it's a technical word, I did the research.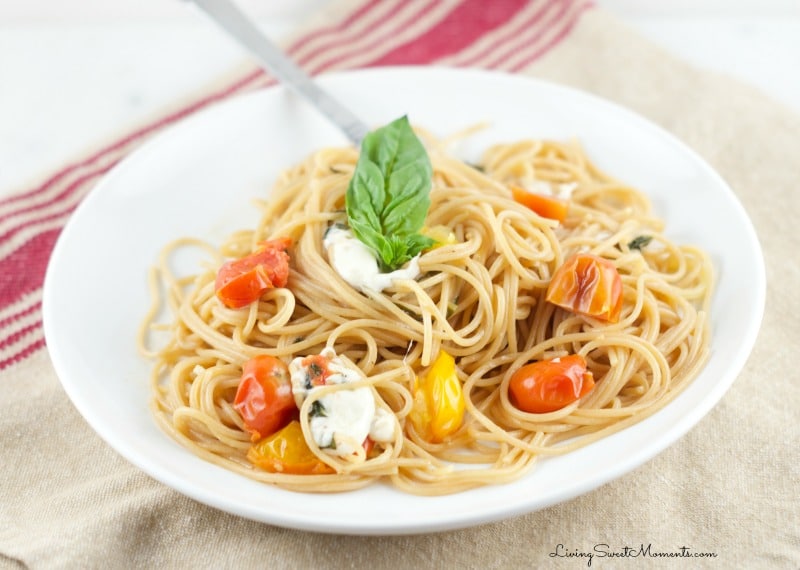 Now think about the time you saved making this One Pot Caprese Pasta Recipe.. What will you do with it? Finish watching the last episode of Shameless? Get in line be the first one to see Fifty Shades? I'd personally will sit on the couch and decompress..
Hope you can try this delicious One Pot Caprese Pasta Recipe at home. If you do, please come back and let me know how it came out.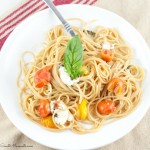 One-Pot Caprese Pasta
Ingredients
12

oz

of Spaghetti

4 1/2

Cups

of Water

1/4

Cup

of Basil

chopped

3

Cloves

of garlic

chopped

1

Pint

of cherries tomatoes

1

Tablespoon

of Olive Oil

8

oz

of fresh mozzarella cheese

cubed

Salt and Pepper to taste
Instructions
Place all ingredients except the cheese in a big pot

Boil over medium-high heat until the liquid is absorbed and the pasta is cooked. Check for seasoning and make the necessary adjustments

Remove from heat and add the mozzarella cheese. Stir until all the ingredients are combined

Enjoy!!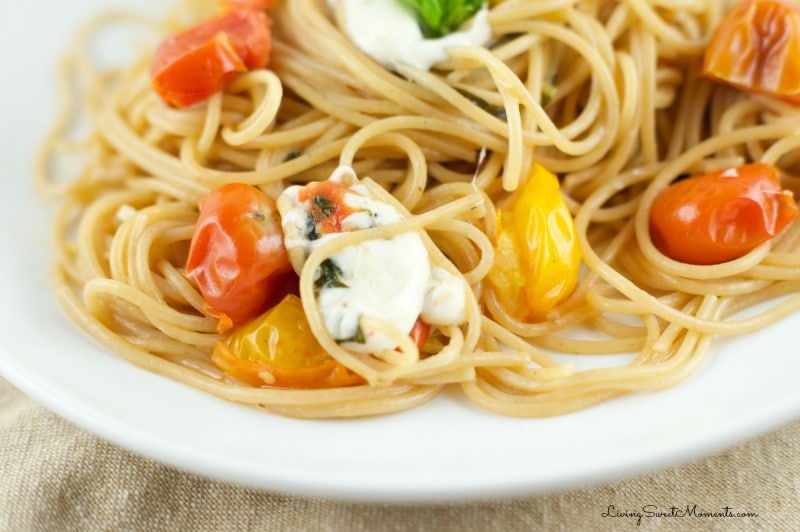 Here's another Caprese recipe you will love: