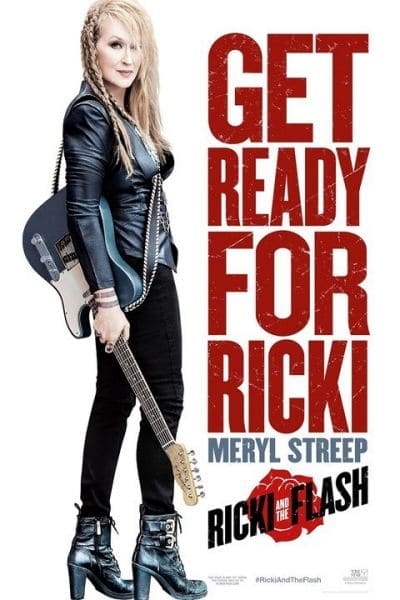 Rick And The Flash Review: Did It Live Up To The Hype?
Today is the day! Ricki And The Flash is debuting nationwide in Theaters. I got the wonderful opportunity to watch it beforehand and interview Meryl Streep, Rick Springfield and Mamie Gummer. Lead actors in the movie. Here's a brief Synopsis of the movie:
Meryl Streep takes on a whole new gig – a hard-rocking singer/guitarist – for Oscar®-winning director Jonathan Demme and Academy Award®-winning screenwriter Diablo Cody in Ricki and the Flash. In an original and electrifying film loaded with live musical performances, Streep stars as Ricki Rendazzo, a guitar heroine who made a world of mistakes as she followed her dreams of rock-and-roll stardom. Returning home, Ricki gets a shot at redemption and a chance to make things right as she faces the music with her family. Streep stars opposite her real-life daughter Mamie Gummer; Rick Springfield, portraying a Flash member in love with Ricki; Kevin Kline as Ricki's ex-husband; and Audra McDonald as Kline's new wife. 
As you can see, this movie is written, directed and acted by a pretty talented bunch and you can appreciate the level of creativity and professionalism from beginning to end. Meryl Streep plays a raw character that provoke so many emotions. For anger to compassion. Basically you love to hate Ricki.
Another aspect that I liked, is that all the music performed in the movie was shot live. No lip-syncing or pre-recorded sessions. Meryl spend months with an instructor who taught her how to play the guitar. The Flash became a real band playing your favorite cover songs.
If you saw Sophie's Choice in the past, you probably remember the power duo of Kline And Streep. Now they come together again in Ricki And The Flash. There's funny moments and dramatic ones. I found the movie entertaining and heart warming. So if you're making plans for the weekend, stop by your local theater and check it out.