I participated in a movie junket organized by Sony Motion Pictures. I was not compensated for this post. All opinions are 100% mine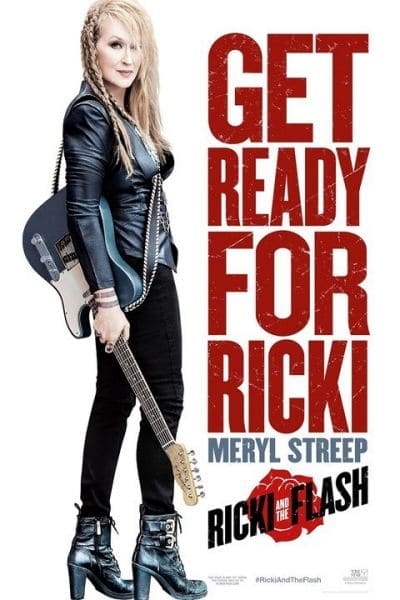 This past weekend I was very fortunate to be able to interview Meryl Streep, Rick Springfield and Mamie Gummer for their upcoming movie: Ricki And The Flash. To me, it was a dream come true. I kept pinching myself! It was unbelievable to be in the presence of such talent.
Ricki And The Flash is a movie with great emotional content and awesome music played LIVE by a band where Meryl Streep actually plays the guitar (really!) and sings for the movie. Rick Springfield is the talented well known singer of Jessie's Girl. Mamie Gummer is Meryl Streep's daughter in real life and has starred in various shows and movies, my favorite: American Horror Story.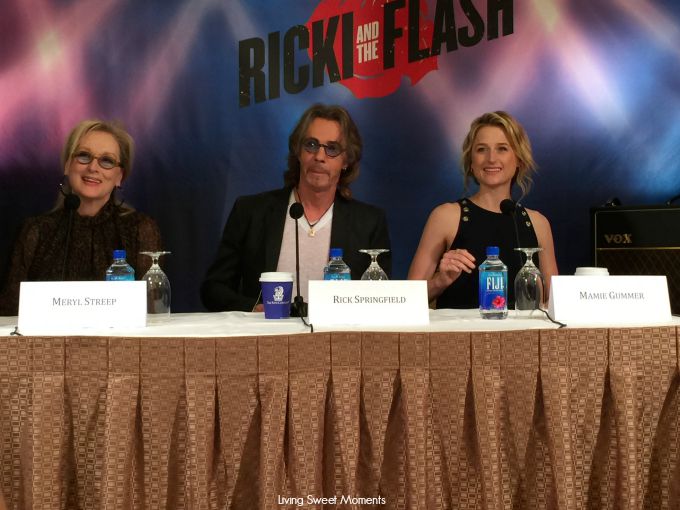 I cannot begin to tell you how down to earth these actors were. I was laughing just listening to their awesome anecdotes and jokes about playing this movie.
Here's a few of my favorite questions during the junket:
– Question To Meryl Streep: Is there a time where you were offered a professional opportunity that you really wanted to take but ultimately you turned down because of your family?
Meryl Streep: Yes, I was casted in a Movie called Ragtime and I found out I was pregnant and I had to give up that part.
– Question to Meryl and Rick: Did you had any say in the songs chosen for the movie?
Meryl Streep: Yeah we had a little bit of say. We were supposed to be a cover band from the San Fernando Valley who had a set of songs from the American Rock & Roll Songbook. So we went though that and saw what songs I could play and what we loved.
Rick Springfield: When I heard of some of the songs chosen I was like "Really?" But then they allowed us to arrange them and they sounded great in the movie. They really worked for the band and for the story.
-Do you have a personal song or lyric that you consider part of your own soundtrack?
Mamie Gummer: Yes, it has changed over the years. In the 90's it was Fiona Apple, Sarah McLachlan. They spoke straight to my heart. I used to indulge in that melancholy. But now I figured out that when you're feeling kind of crappy you should probably play some hip hop.
-What was your favorite lesson that came from the movie?
Meryl Streep: I spend a lot of time saying: "I am sorry, sorry, sorry" and I loved the fact that Ricki said: "You know what? I am not sorry" I am who I am and I am not going to stop being that. I found there was something real about that and freeing.
Rick Springfield: I learned not to throw away old guitars. The guitar I played in the movie was actually a guitar I bought when I was 21 years old and it's actually written into the script before they even know I was up for the role. It was a 68′ Gibson SG that I bought when I was 21 years old and I wrote "Jessie's Girl" in it.
-Question for Mamie Gummer: How does Julie learn to forgive Ricki?
Mamie Gummer: In understanding her better. Just getting to know her as an adult. I love thinking about the resolution of the life that you've given and the life that you have. And Julie embraces the similarities she has to her mom, even though they were suppressed she ends up embracing them.
-How was the experience of performing live music for the movie?
Meryl Streep: It was more fun that anything I've ever done. It's a privilege to step into something that people do really well and pretend that you can hold your own. When we started it was a set in Brooklyn that was meant to look like a a club. When we were playing the extras said "Man! I wish this was a real club! I would come here every night!"
Rick Springfield: Yes! It felt really great. We knew the tape was cut when Jonathan (the director) comes spinning and dancing right at the dance floor. We jammed in between sets.
Here's a trailer of the movie: