The World's Best Turkey Recipe – This delicious turkey recipe is moist and full of flavor. Perfect for Thanksgiving or any other Holiday.  Yummy!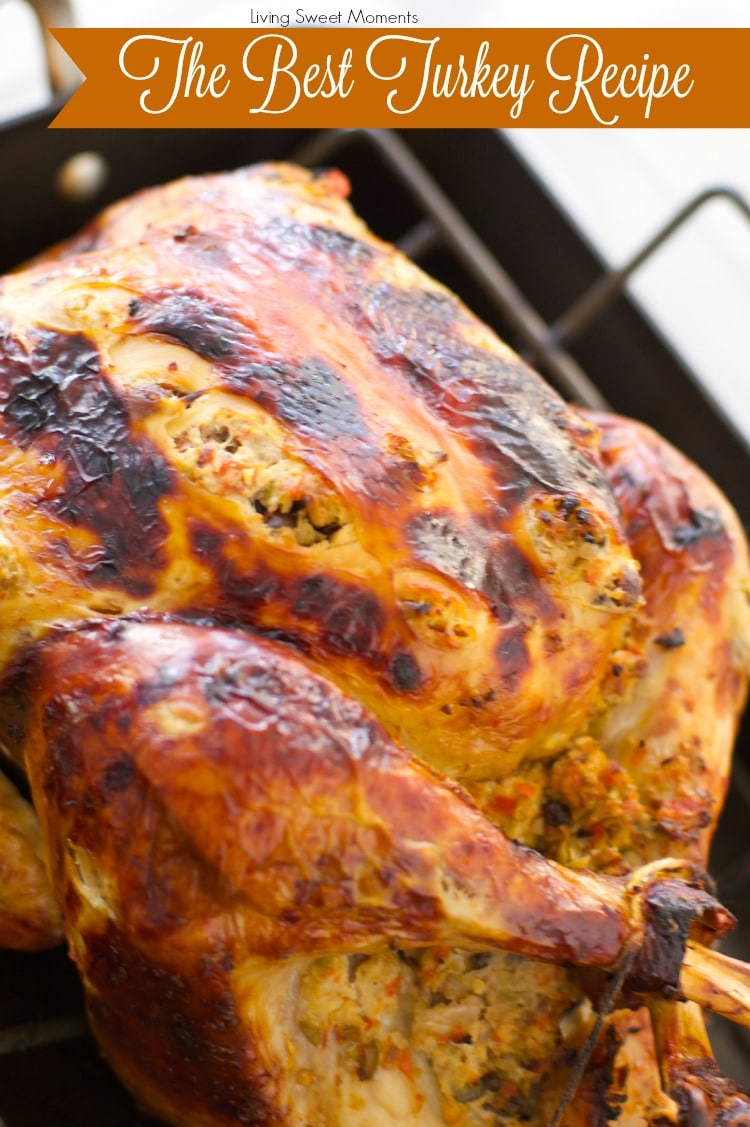 The World's Best Turkey Recipe – A Tutorial
You didn't think I was going to miss a Thanksgiving Turkey recipe. After trying many dishes I finally hit the jackpot and have found the World's Best Turkey Recipe.
Granted, the recipe came from my Mother in Law. She's a turkey genius and famous for making this dish.
One Thanksgiving I was lucky enough to have spent it with her and with a pen and paper, I watched her every move.
Not only did she used unusual ingredients for the stuffing, her way of flavoring the turkey made a lot of sense.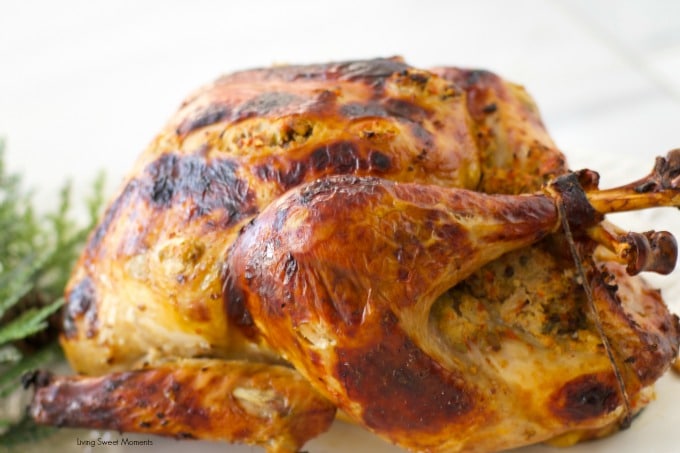 The Best Turkey Recipe is very easy to make and it will become your favorite dish to replicate for Christmas or Hanukkah. I will show you step by step photos in case you're a visual learner like me.
The first and foremost thing you need to do is DEFROST your turkey. It may take a couple of days in the fridge, depending on the size.
I personally like to buy 2 smaller turkeys instead of one big one. 2 – 10 lb. turkeys will cook better and faster than a huge 20 pounder.
Remember to remove the little bag with the turkey organs and the neck. Usually, it's found inside the cavity.
I also prefer to serve it already cut on a platter so people don't have a time carving it mid-table. Most of the time guests end up butchering the bird and then it becomes a big mess.
My tip is to carve it on the kitchen and serve it on a beautiful platter. I also add a little bit of the stuffing on the side. See?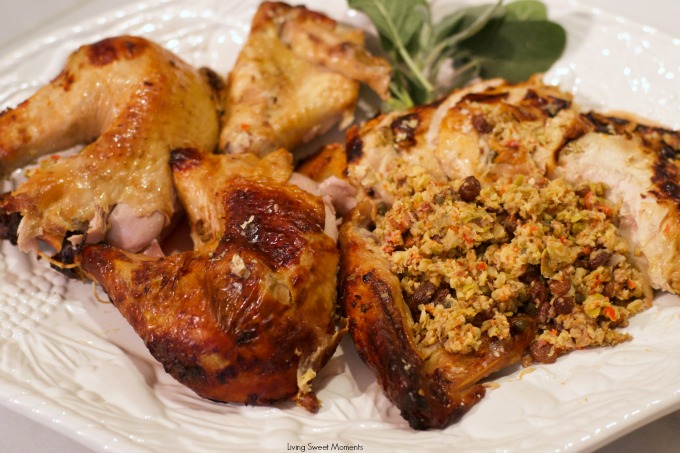 Ok wash your hands and grab your defrosted turkey. Let's start this Thanksgiving celebration.
2 DAYS BEFORE THANKSGIVING
I inject my bird with wine ALL OVER. It doesn't matter if it's red or white. Some years I use red, this year I used white. Personally, I love a dry red white.
If you didn't read this on time or don't have 2 days to marinate yours, it's ok, 1 day, 1 hour.. whatever time you have available, inject it with tons of wine.
You'll see the breast and legs getting plump. If some wine spills over or comes out, don't worry, it'll be part of the sauce. Let it drip into the roasting pan.
I also rub it with some onion powder, salt, and pepper.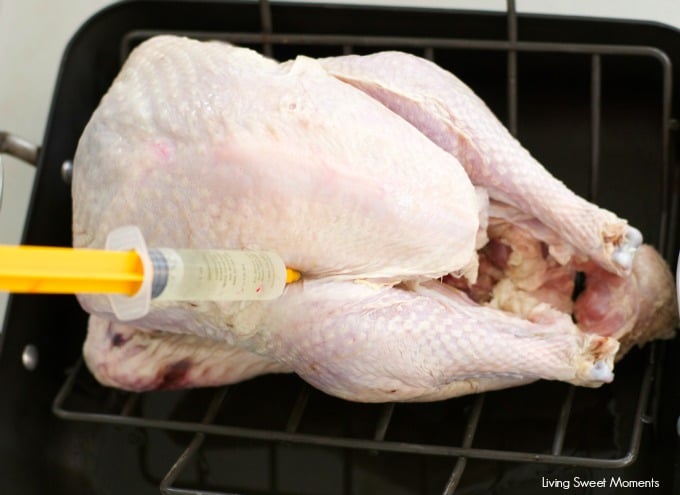 I cover my bird with foil and let it hang out in the fridge for a couple of days (or whatever you have available) – it'll give him time to get drunk.
The day we are cooking him, I take him out and make the stuffing.
The stuffing recipe is below, it's basically a combination of capers, olives, onion, tomatoes, raisins, apples etc. I place each ingredient (minus the capers and raisins) in the food processor so everything becomes the same size and makes it easier for stuffing. See how small everything is?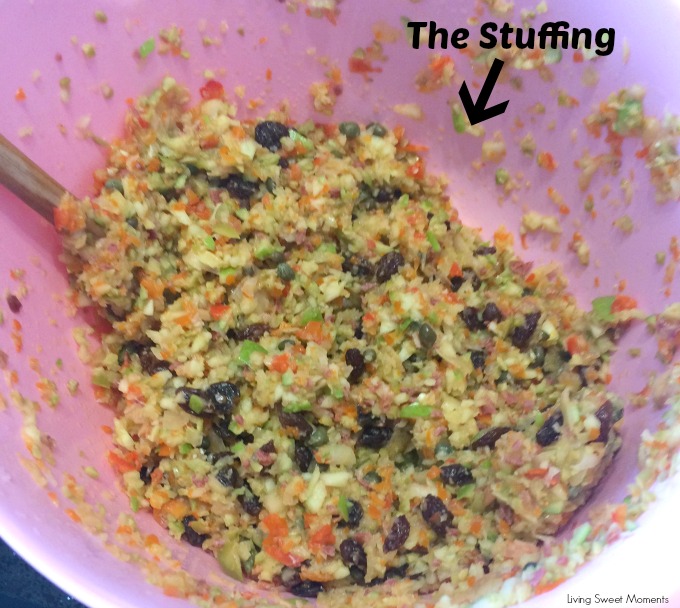 Now that our bird is drunk, we tuck his wings and we tie his legs together with a string. And we stuff him… Not on the butt but ALL OVER.
With a knife, I make deep incisions on the breasts, legs, wings and anywhere I can. I then, add the stuffing inside the meat. This is what makes this the Best Turkey Recipe.
Every bite you take, it will have turkey and stuffing flavor. No more boring turkey meat.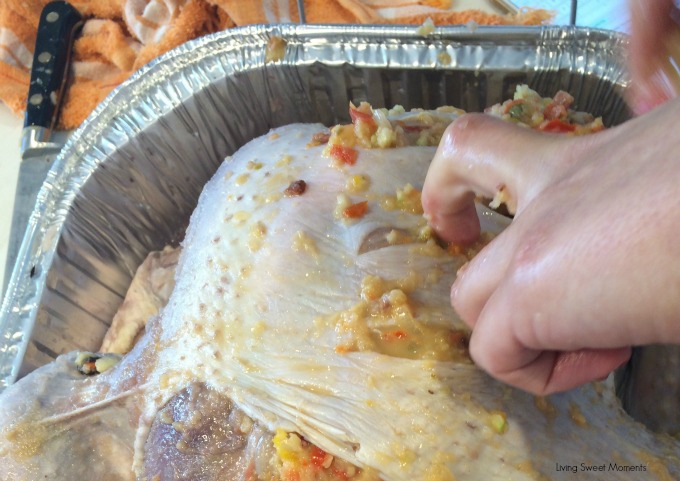 I will admit, this process takes time, but at the same time, it's relaxing. I use a deep knife and with my hands add the stuffing inside each cavity I make.
Now I season my bird all over with some salt and add some more wine because, what the heck? Here's what he looks like before heading into the oven. Check out all the incisions with stuffing he has.
With the remaining stuffing, I add some more in between his legs and the cavity. Underneath you can see wine and stuffing that fell out. That delicious combination is going to make a yummy sauce.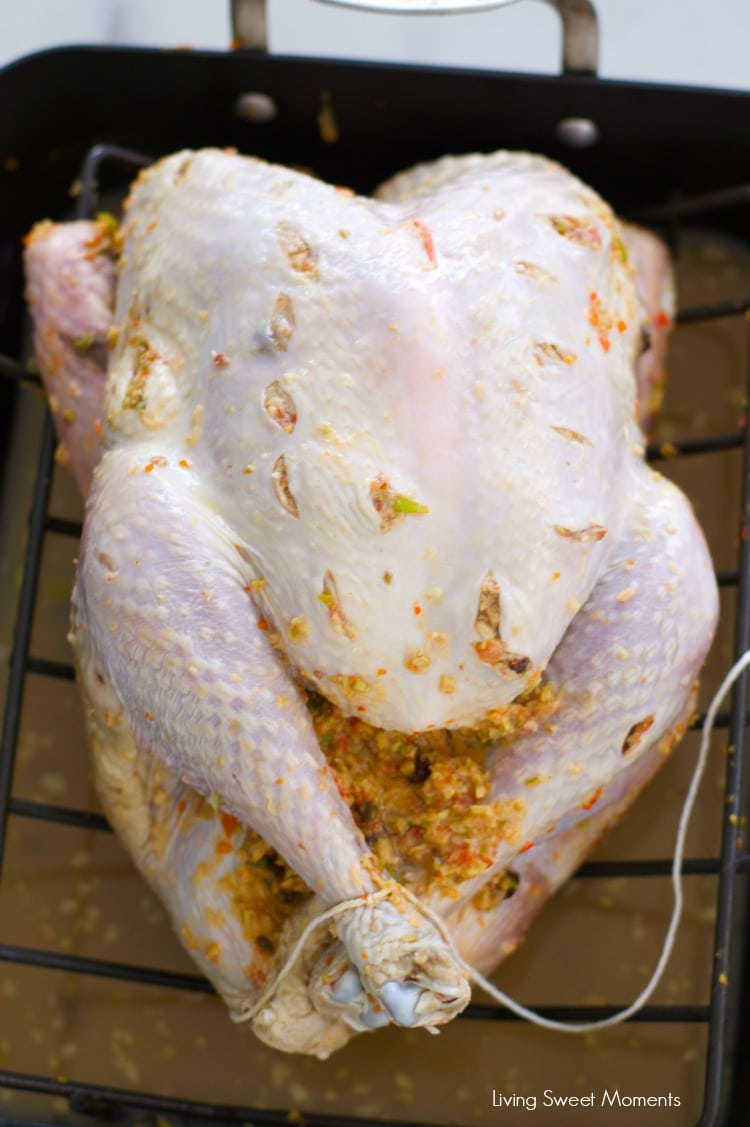 To prevent my turkey from browning that much, I cover him with MOISTENED cheesecloth.
One year I covered my turkey with a dry cheesecloth and the thing caught on fire! Yikes! Now I soak my cheesecloth with some water or wine.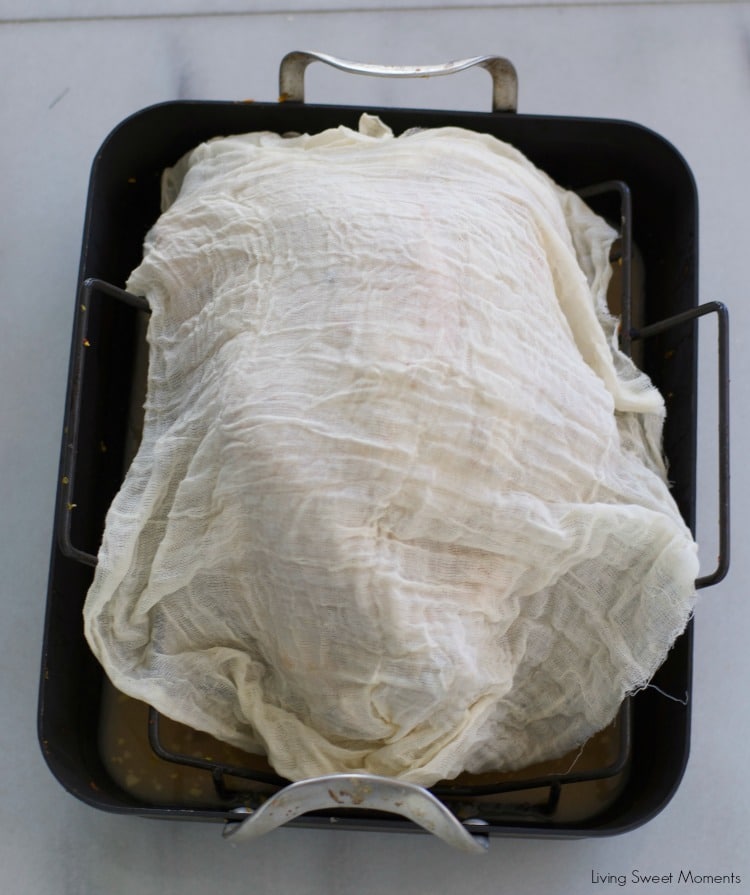 Now it's time to roast. I add some more wine and baste him every 45 minutes or hour. The last hour I uncover him so he browns on top.
Then I pull him out of the oven and let him rest covered in foil for at least 30 minutes. In the meantime, get the other dishes ready.
Finally, I carve and serve. In a deep gravy boat, I pour in the sauce.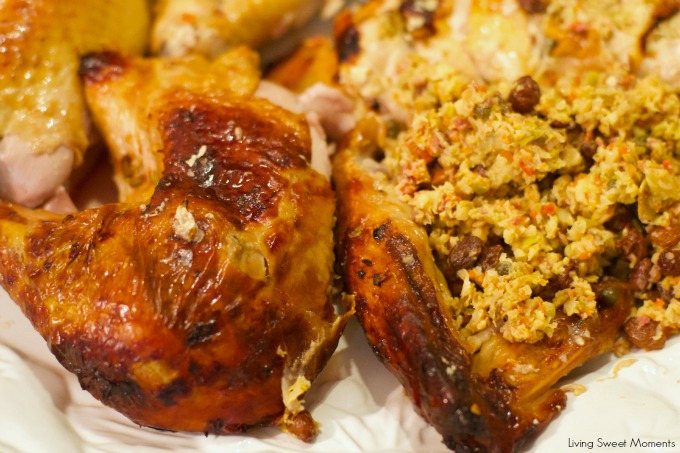 Doesn't this look like the Best Turkey Recipe ever? With every inch of meat mixed with yummy stuffing.
I hope you can make the Best Turkey Recipe home. If you do, please upload a pic on Instagram and tag me @Livingsweetmoments or use the hashtag #LivingSweet. I promise to repost it.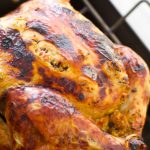 The World's Best Turkey Recipe - A Tutorial
The World's Best Turkey Recipe - This delicious turkey recipe is moist and full of flavor. Perfect for thanksgiving or any other Holiday. Yummy!
Ingredients
For the Turkey
10-14

lbs

Turkey

1

Bottle of Wine

Salt + Pepper

Onion Powder
For the Stuffing
3

Large Onions

peeled

6

Plum Tomatoes

2

Red Peppers

5

Granny Smith Apples

cored and seeded

1

Jar

Capers

drained

2

Cups

Raisins

1

Cup

Green Olives

pitted

6

Strips

Turkey Bacon

or regular bacon

4

Eggs

lightly beaten

2

Teaspoons

Olive Oil
Tools needed
Roasting Rack

Turkey Injector

Cheesecloth

Probe thermometer
Instructions
Clean turkey inside and out and pat dry with paper towels

Place turkey on a roasting pan with a rack

Inject the bird ALL OVER with wine (red or white)

Season with salt, pepper and onion powder

Cover and place in the fridge to marinate for 48, 24 or 2 hours
For stuffing
Place onions on a food processor and pulse a few times until the onion is cut in tiny pieces

Repeat the same process with tomatoes and peppers

Place a large pan over medium heat, add the olive oil and cook the tomatoes, onions and peppers until softened. Season with salt and pepper

Meanwhile, place the apples on the food processor and pulse until the apple is cut in tiny pieces. Repeat the same process with the olives and the cooked bacon

In a large bowl place the cooked onions, tomatoes and peppers. Add the olives, bacon, apples, capers and raisins. Mix until combined.

Let this mixture cool BEFORE adding the eggs

Add the eggs and mix
For the turkey
Remove turkey from fridge and uncover

Tuck the wings underneath the bird and tie his legs together with a string

Preheat oven to 325 F.

With a thin knife, make DEEP incisions all over the turkey.

Using your hands, stuff each incision with stuffing. The more incisions the better

Place the rest of the stuffing in the cavity and over the legs

Season the surface of your turkey with salt and pepper

Cover your turkey with a moistened cheesecloth

Roast on the lower rack of your oven

Every 45 min to 1 hour pour some wine over the cheesecloth to keep the bird moist

The last hour remove the cheesecloth and keep basting

Turkey is ready when a thermometer inserted the meaty part of the bird registers 160 F.

Remove from oven and let it rest covered for at least 30 minutes. The bird will continue cooking to 165 F.

Carve and serve!
Nutrition Facts
The World's Best Turkey Recipe - A Tutorial
Amount Per Serving
Calories 668
Calories from Fat 207
% Daily Value*
Fat 23g35%
Cholesterol 297mg99%
Sodium 625mg27%
Potassium 1274mg36%
Carbohydrates 41g14%
Protein 74g148%
Vitamin A 1435IU29%
Vitamin C 43.6mg53%
Calcium 79mg8%
Iron 4.3mg24%
* Percent Daily Values are based on a 2000 calorie diet.
You may also like:
The Ultimate Thanksgiving Menu