Baked Eggs With Goat Cheese And Tomato – delicious eggs are baked in a homemade tomato sauce and  goat cheese. Perfect for breakfast,  lunch and dinner. More on www.livingsweetmoments.com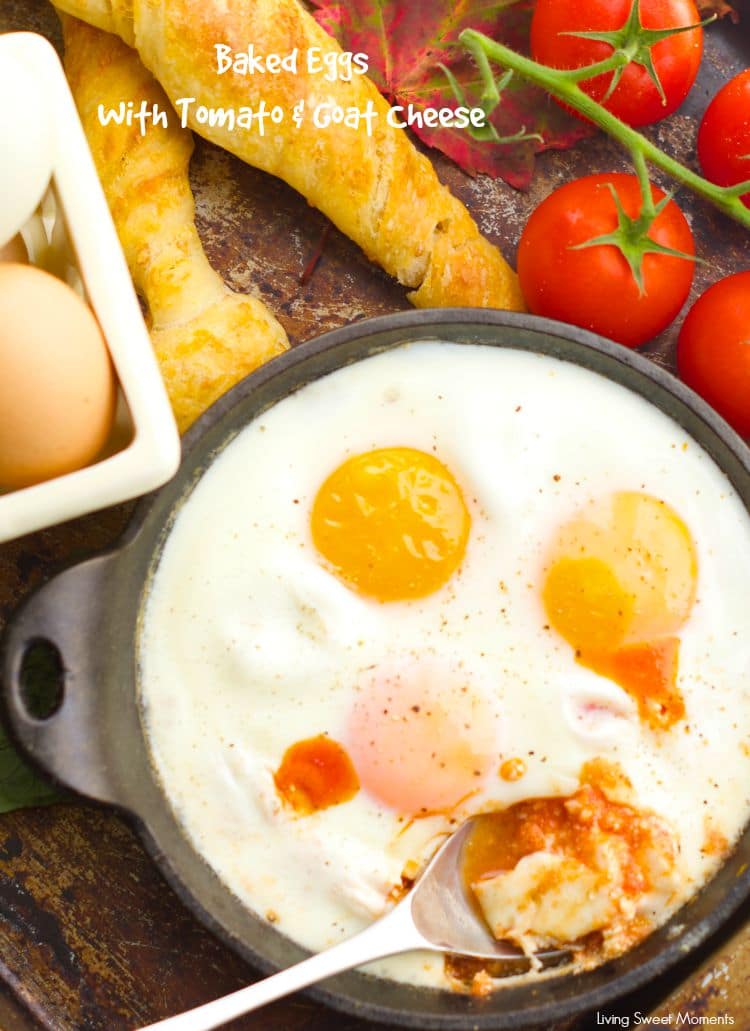 Baked Eggs With Goat Cheese And Tomato Sauce
Have you ever gone to a restaurant and tried a dish that stayed with you? The flavors, the aroma, the texture.. I had this experience a few weeks ago and ran home to recreate it. This delicious dish consists on baked eggs in a homemade tomato sauce and creamy goat cheese.  I love eating it by the spoonful. It feels creamy, tangy and so decadent. One cannot imagine it's an egg dish.
Making this dish is super simple. No special tools or long hours cooking needed. That's why it's perfect for a quick brunch or dinner. Serve it alongside a crusty bread and get ready to tantalize your palate with an amazing array of  flavors and textures. The tomato sauce really brings everything together.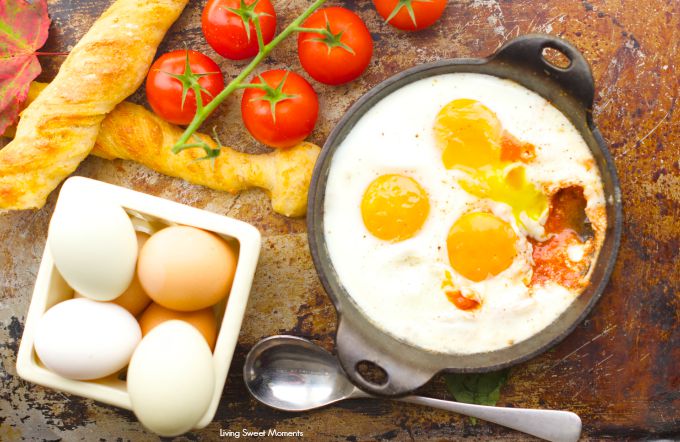 You can choose to make it a big skillet for company or serve it in individual portions. If you loved the Eggs En Cocotte I made a few months ago, you will fall in love with these Baked Eggs With Goat Cheese And Tomato Sauce. It's kind of a milder Shakshuka.
If you've been following me on Instagram. You may have noticed that I've been traveling New England during the summer. Right now I am in Vermont and I am using their local items to prepare this dish. Last week I went to the Farmer's Market and found a lady selling these beautiful colored eggs and immediately bought a dozen. Upon cracking them, I noticed that the yolks had an intense almost orange color and since I wanted to re-create a recipe that I ate previously in a restaurant, it was a match made in heaven.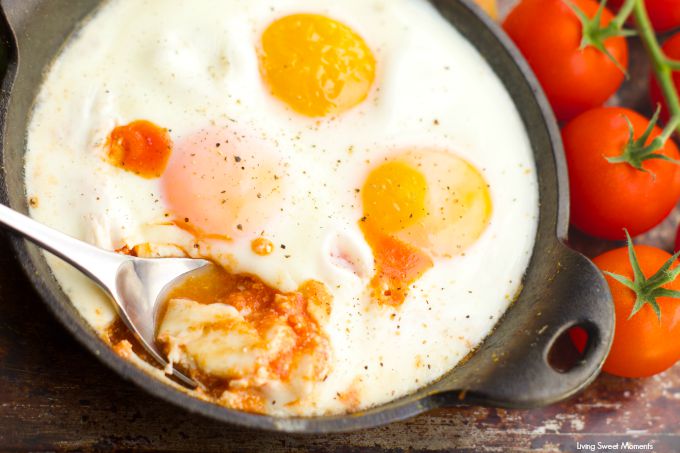 I hope you can try these delicious Baked Eggs With Goat Cheese And Tomato at home. If you do, please upload a pic on Instagram and tag me @Livingsweetmoments or use the hashtag #LivingSweet. I promise to repost it.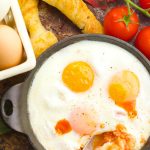 Baked Eggs With Goat Cheese And Tomato Sauce
Baked Eggs With Goat Cheese And Tomato - delicious eggs are baked in a homemade tomato sauce and goat cheese. Perfect for breakfast, lunch and dinner.
Ingredients
6

Large Eggs

4-5

oz

of Goat Cheese

28

oz

cans of crushed tomatoes

large

1

Medium Onion

chopped

1

clove

garlic

crushed

1/2

teaspoon

sugar

1

teaspoon

of Olive Oil

1/2

Teaspoon

of dried Oregano

1/2

Teaspoon

of dried Basil

Salt and Pepper to taste
Instructions
Heat an oven proof skillet* over medium heat. Add the olive oil

Add the onions, salt, pepper, oregano and basil. Cook for 2-3 until softened

Add the garlic and cook for 1-2 minutes more. Be careful no to burn the garlic

Pour in the crushed tomatoes and let the sauce come to a boil

Let it cook on low heat for 10 minutes (more if you have the time). Check for seasoning and make the necessary adjustments

Meanwhile preheat the oven to 400 degrees Fahrenheit

Add dollops of goat cheese all over the simmering tomato sauce

Crack in the eggs all over the skillet

Place the skillet in the oven and cook for 8-10 minutes or until the eggs are cooked and the center is still runny

Carefully remove from heat and season the eggs with salt and pepper

Let it cool for 1-2 minutes before eating
Recipe Notes
*If preparing individual portions. Just cook the sauce in one pot and add it to the individual containers.