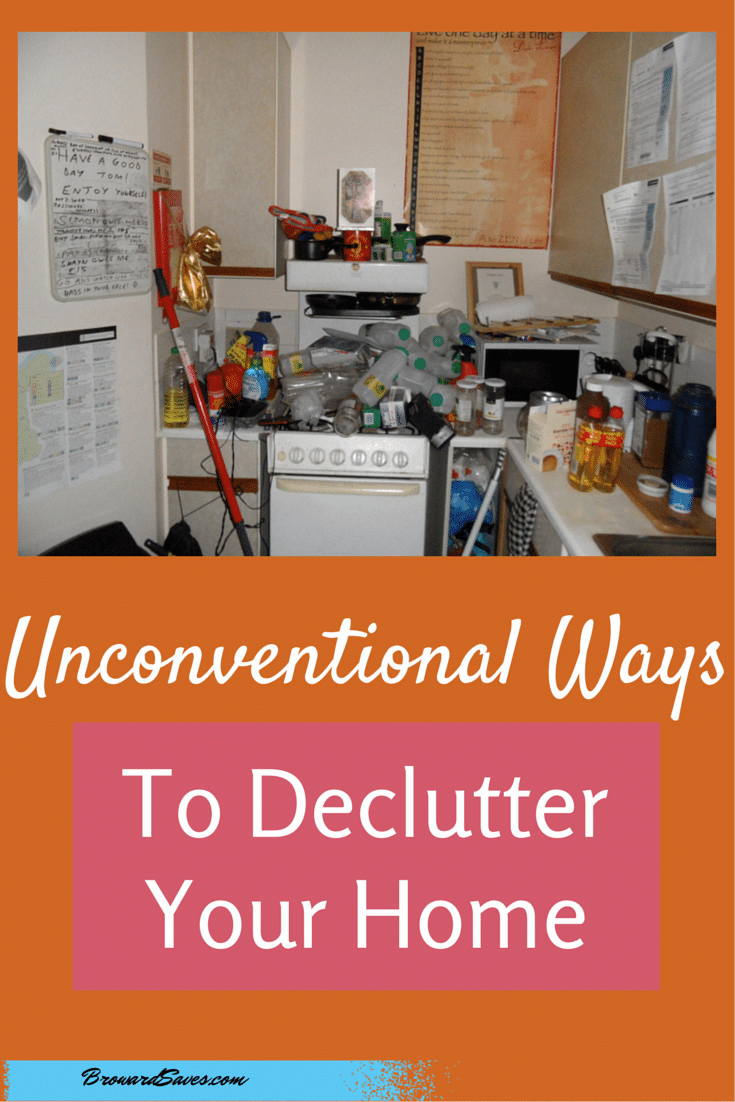 7 Unconventional Ways To Declutter Your Home
Are you tired of the clutter? Well, there are some ways you can get rid of it. You might be tired of hearing the same ideas over and over again, so I'm here with some unconventional ways to clear clutter.
#1. Burn It
Skip the throwing everything away step, hear me out. Take all of your clutter and put it in a burn barrel. Burn all of the clutter until it's gone and can't bother you anymore. 
#2. Give-it-away
Most people throw clutter to the curb, but I think you should call in your friends and family. Have them come in your home and "shop." They might find things that they need and you can get rid of your clutter at the same time. Unconventional? Yes! But it works. 
#3. Hide the Clutter
If you have guests coming over that you're not expecting, you might not have a choice but to hide the clutter from the important areas of your home. Keep bins on hand to help you get rid of excessive clutter throughout your home. Not all clutter is bad; sometimes you have no choice but to keep some of the clutter in your home. Papers, toys, and other household items, to some extent, are needed in your home. That's why you need extra bins to throw the clutter in, just in case you get a few visitors. 
#4. Live off Less
We live in a society, where more is better. If you want to live clutter free then you need to get past this "need" for more stuff. Living off less is one way to make sure you can clear out the clutter and keep it gone for good. Make a decision on how many shirts, pants, and pairs of shoes you are going to keep in your home. You can do this for every item within your home to help keep the clutter out. This could be known as an "inventory" of sorts within your home. 
#5. Take a Picture
Man, pictures have a way of showing the world for what it is. When was the last time you were on camera? Well, here is an unconventional way to clear the clutter. Take a picture of what your home looks like and take a look at it a couple of hours later. You might be surprised at what is lurking behind that camera screen. Looking at it through a lens may also help you come up with a clutter clearing plan. 
#6. Game Plan
Okay, usually when you are clearing clutter you do not have a game plan. I'm saying this is the best way to get rid of the stuff. Instead of saying you are just going to do it, make a game plan. Have a strategy for each room. Think of it like a real game strategy. After all, you want to win this game. 
#7. Be Choosy
Humans have a really hard time parting with their stuff. At this point in time, you might need to go ahead and choose a certain amount items to keep. If you have 30 pairs of shoes, narrow it down to ten. If you have 100 blouses, go down to 50. This can be a slow process, and it doesn't need to be all at once. Make sure you are making a constant effort to reduce the amount of items in your home. As I like to say, be choosy (it's also wise to be choosy about the type of items you welcome into your home). 
How do you reduce clutter from your home? What is the most unconventional way you've done it?