This amazing French Lyonnaise Salad Recipe is easy to make & delicious. Enjoy greens, bacon & fruit tossed with a mustard vinaigrette & a soft boiled egg. 
I participated in Mom Blog Tour at the Summer Fancy Food Show on behalf of Wendy's Bloggers and received Colman's Mustard products to facilitate my review.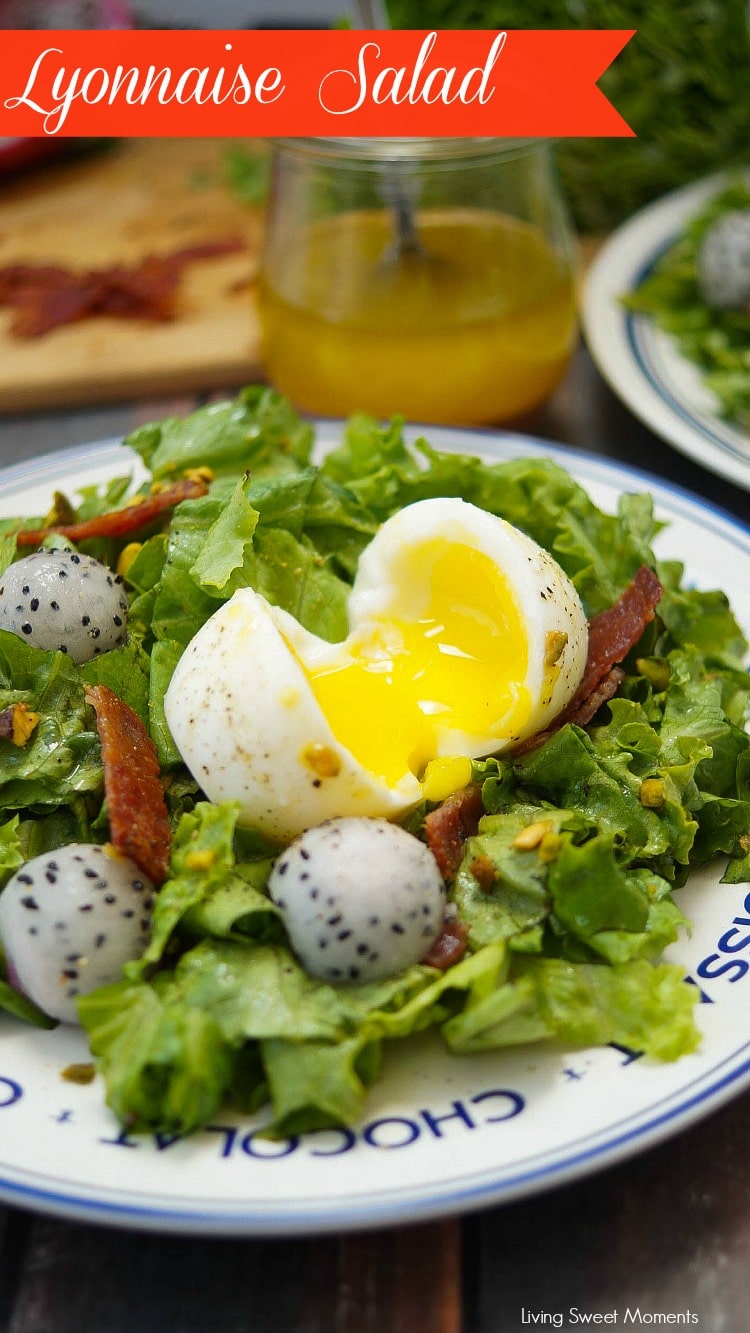 Amazing Lyonnaise Salad Recipe
Who said salads are boring? This amazing Lyonnaise Salad Recipe has the flavor and pizzazz that's needed to survive a hectic weeknight. For me, it's the perfect entree.
Ever since I discovered how easy it is to make a soft boiled egg, I add to anything. Leave it to the French to get me excited for salad.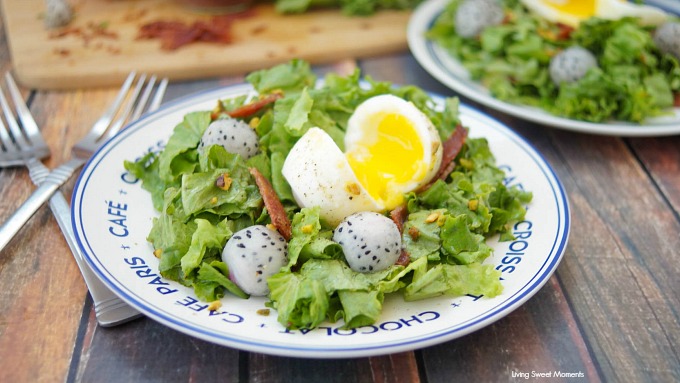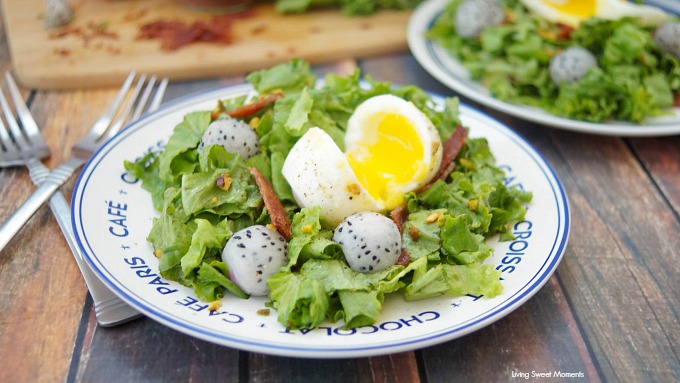 Usually, this classic dish is made with Frisée lettuce which is stringier and crunchier. Unfortunately, I looked for it everywhere in Miami and couldn't find it. Maybe they're not in season. This version is still delicious and gets the job done.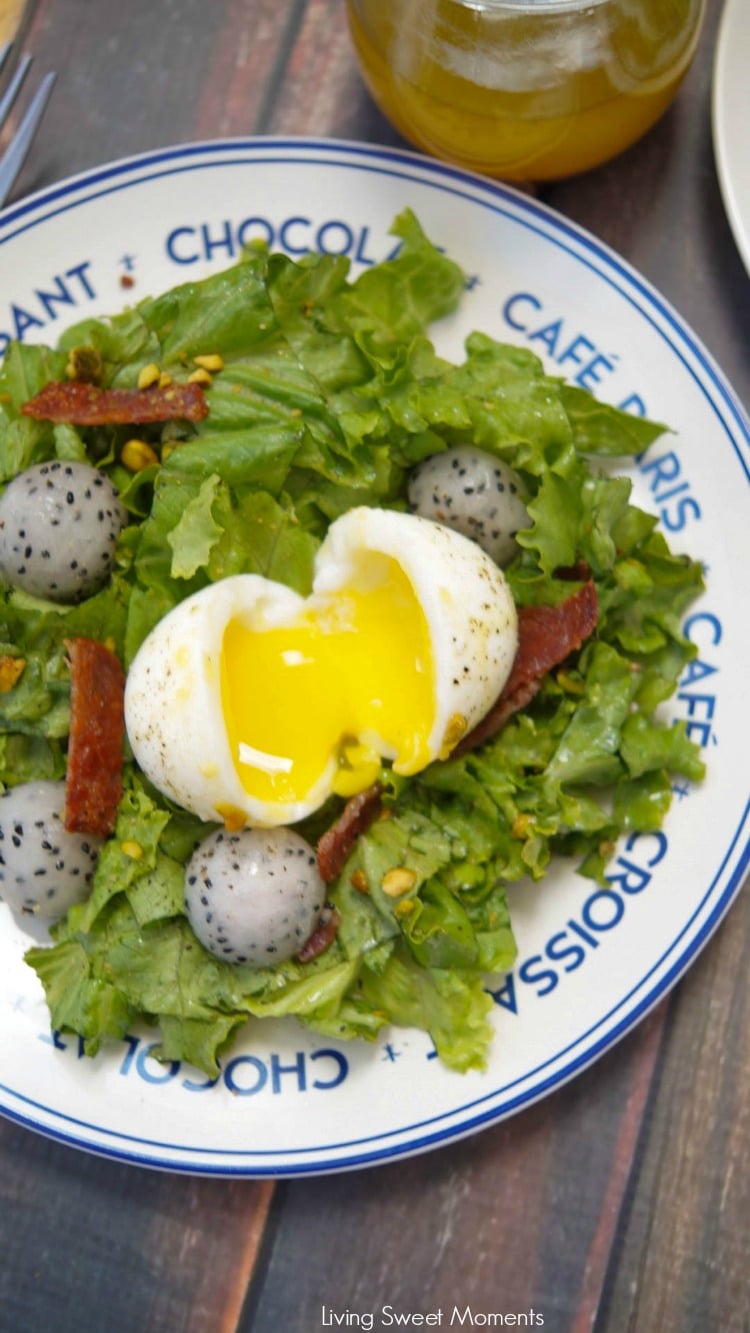 Also, I added some nice fresh fruit to brighten up the lettuce. In this case, dragonfruit. Figs, strawberries, and Peaches will also work here. It's great to experiment with in-season fruits and veggies.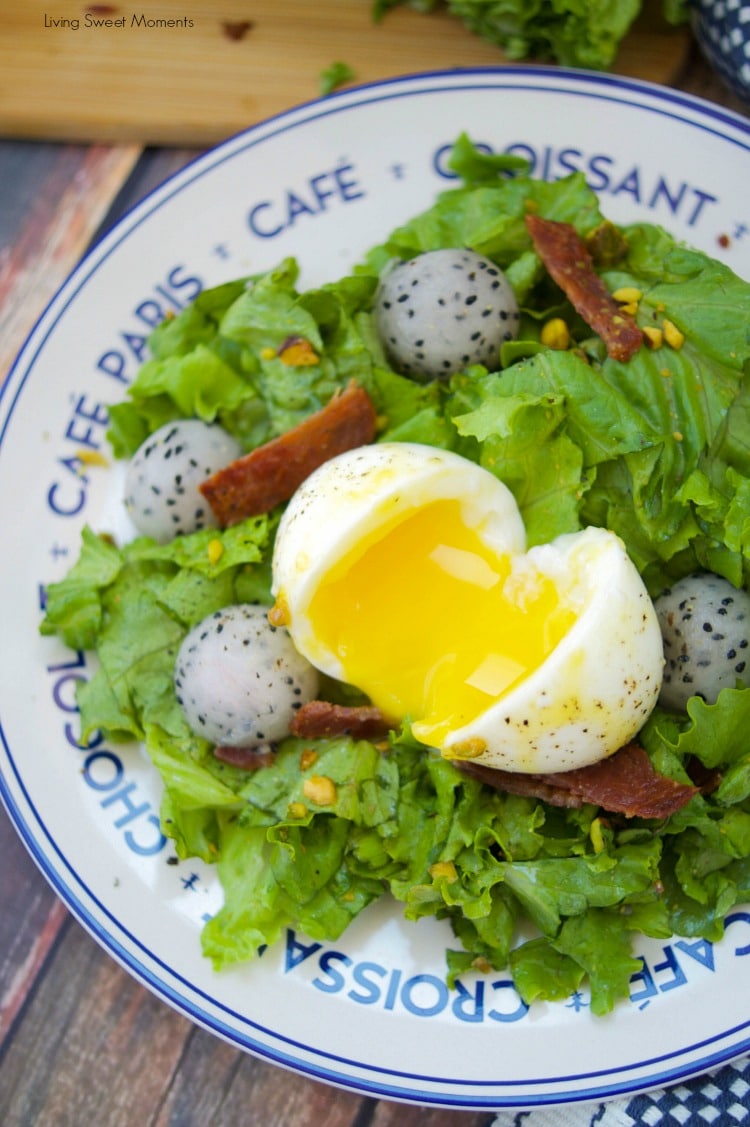 After having a plate of this salad, I had it every day of this week. The bacon, the crispy lettuce, the soft boiled egg, and the vinaigrette, all these flavors and textures together were definitely a party in my mouth.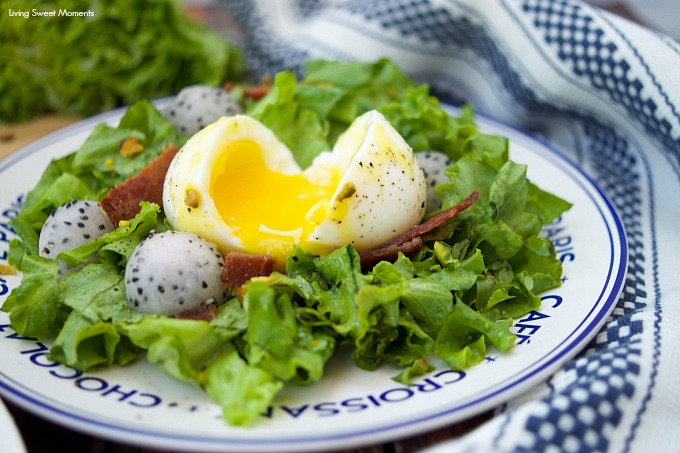 Since I am not a huge fan of regular bacon, I bought uncured smoked turkey bacon. Tastes the same and is has much less fat and calories than its counterpart.
Now, the vinaigrette has a very intense mustard flavor because I used the hot English powdered version. It's a tip I learned in Culinary School and it's a pantry staple.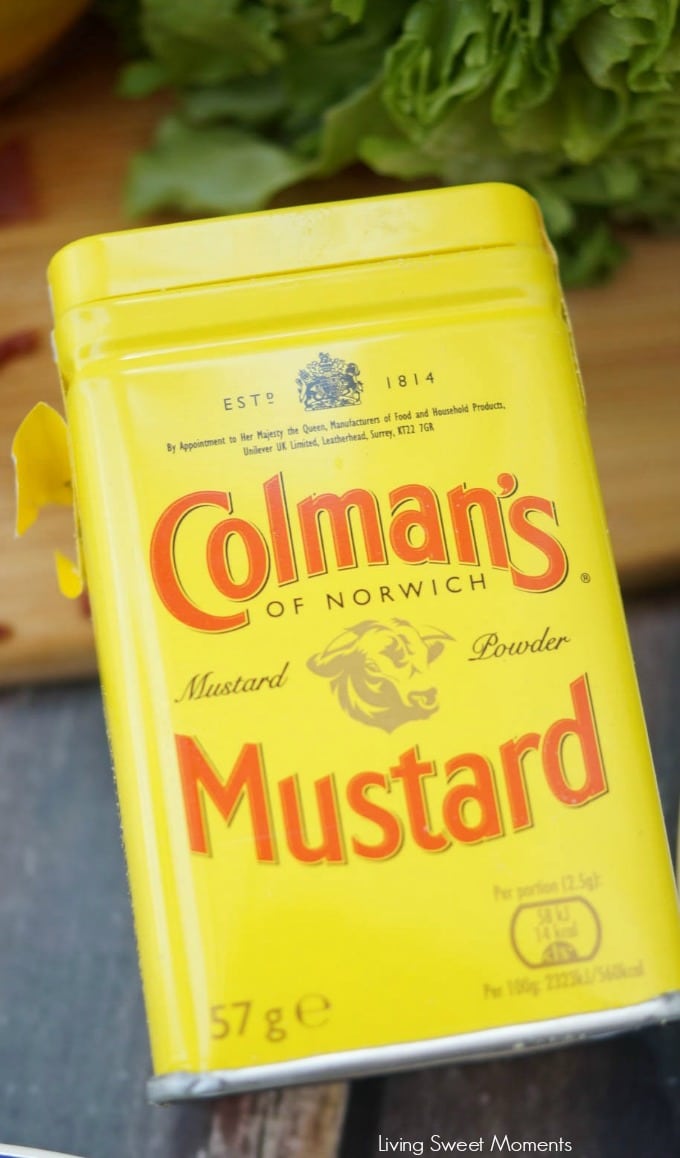 During the Summer Fancy Food Show, I got to learn a lot more about Colman's Mustard and its rich history. Their very distinctive flavor comes from grinding white and brown mustard seeds together. Check out all the things you can do with it. Even drinks!
The fact that it's powdered makes it much more than a condiment. I add it to sauces, Mac&cheese, and if I'm craving really hot mustard, I mix it with a little hot water. It's amazing.
Who has these in their cupboard? @Colmansusa #MomBlogTourFF #SFFS16 pic.twitter.com/9AYPP6CGvn

— Tiffany Bendayan (@LivingSMoments) June 26, 2016
Colman's also offers a wide variety of prepared mustards in different shapes and sizes to suit your mustardy needs. I don't know why, but as I write, I am craving a hot dog.
Add @Colmansusa dry mustard to any recipe and it it will give it an amazing taste! #MomBlogTourFF #SSFS16 pic.twitter.com/S7rp6FQO3N

— Tiffany Bendayan (@LivingSMoments) June 26, 2016
I hope you can try this delicious Lyonnaise Salad Recipe at home. If you do, please upload a pic on Instagram and tag me @Livingsweetmoments or use the hashtag #LivingSweet. I promise to repost it.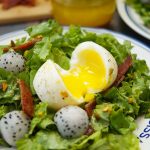 Amazing Lyonnaise Salad Recipe + Giveaway
This amazing French Lyonnaise Salad Recipe is easy to make & delicious. Enjoy greens, bacon & fruit tossed with a mustard vinaigrette & a soft boiled egg.
Ingredients
For Salad

3-4

cups

of crisp lettuce such as frisee

6

strips of bacon

1

dragon fruit or 2-3 figs

1/2

cup

of chopped pistachios

4

eggs

For Mustard Vinaigrette

1/2

cup

extra virgin olive oil

1/4

cup

red wine vinegar or champagne vinegar

1

teaspoon

of Colman's Mustard

dry

Salt + Pepper
Instructions
For Salad

Place eggs in a pan of boiling water

Simmer for 5 minutes

Remove from heat and quickly place in a bowl with ice and cold water (to stop from cooking further)

In a skillet over medium-high heat, add the bacon and cook on both sides until crispy. About 4-5 minutes

Place crispy bacon on top of paper towels to drain

Cut bacon into chunks

Cut dragon fruit into chunks or use a melon baller for balls

Wash and spin dry the lettuce

Place lettuce in a bowl with bacon, dragon fruit, and pistachios. Toss with vinaigrette

For Mustard Vinaigrette

Place all the ingredients together and whisk vigorously. Check for seasoning

To serve:

Serve tossed salad with a peeled soft boiled egg on top. Season with salt and pepper

Enjoy!
GIVEAWAY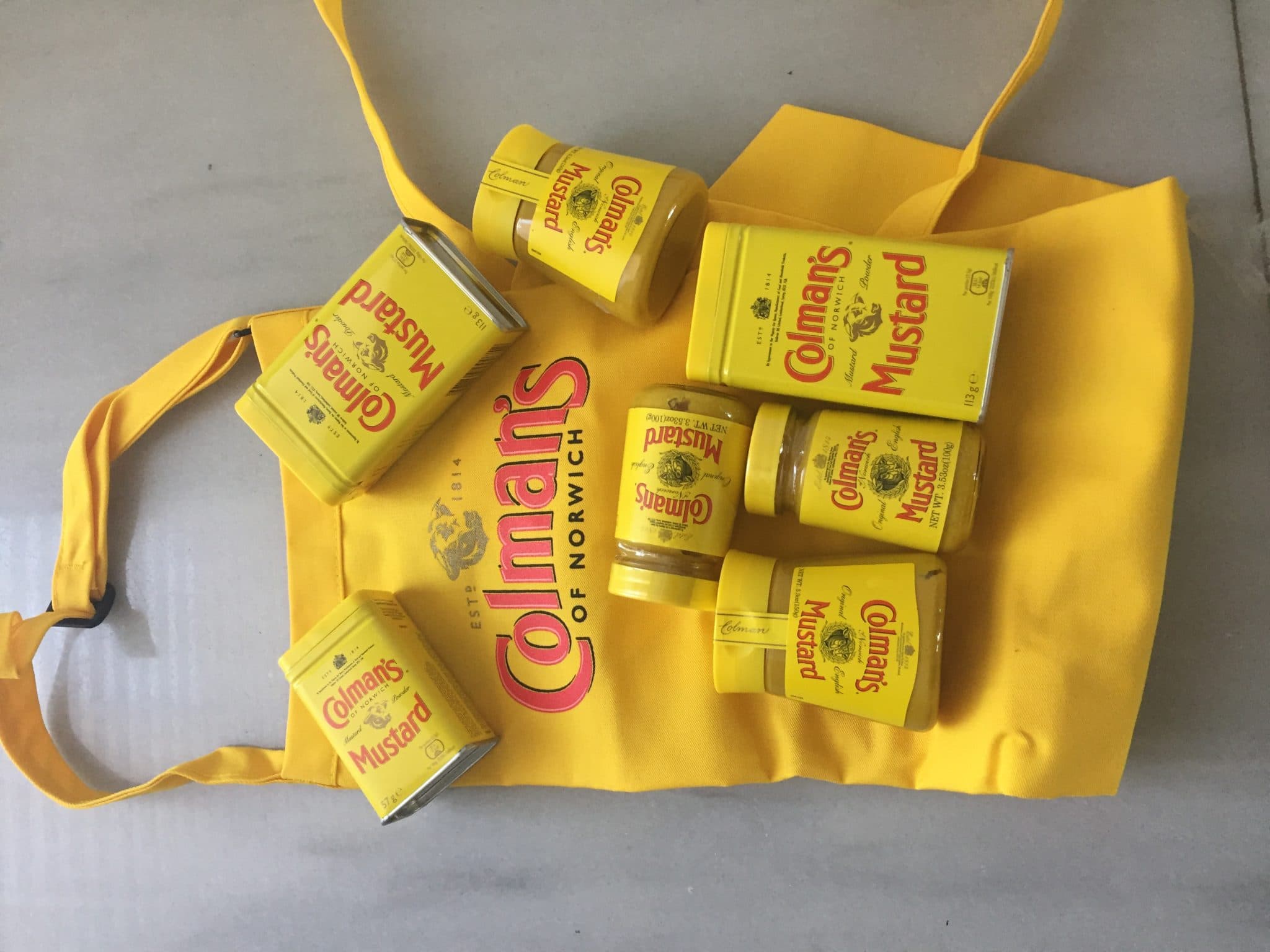 One lucky reader will win a box full of Colman's Products so you can try for yourself and make this delicious salad. To enter, simply follow the instructions on the Rafflecopter form. Giveaway ends 9/8/16. Good luck!
Giveaway Disclaimer
One winner per household, email address, or home address. If you have won this prize on another blog you are ineligible to win again. Winner must have a U.S.-based address to receive the prize.