This chocolate covered Apple Cider Caramels recipe is easy to make. The perfect fancy dessert for fall. Made with reduced apple cider for a deeper taste.Â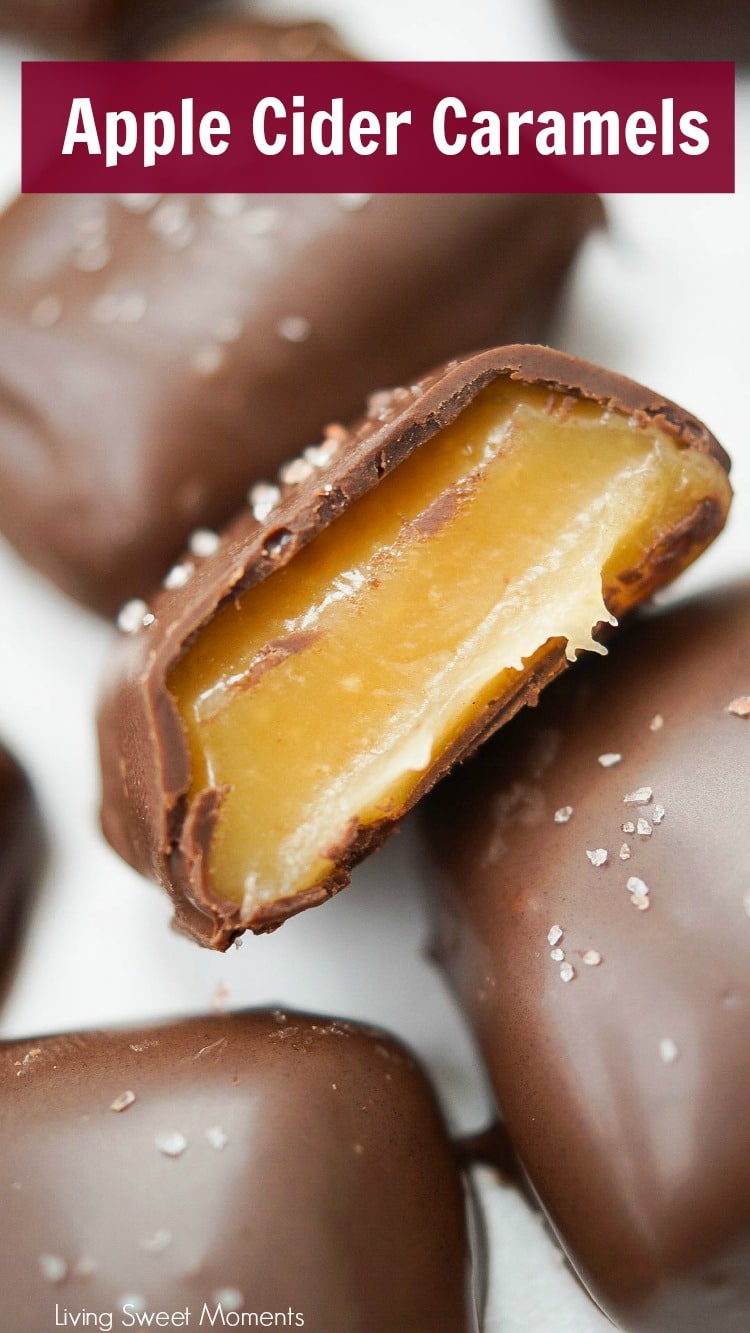 Chocolate Covered Apple Cider Caramels
Even though it's been a hot Miami summer, I am ready for some fall flavor. These Chocolate Covered Apple Cider Caramels are gooey with tons of deep cider flavor encased in a yummy dark chocolate coating. I topped them with some flaky sea salt to add a contrast of flavor and also some crunch.
Making them is not that difficult but it does require a bit of time and patience. I also recommend purchasing a candy thermometer.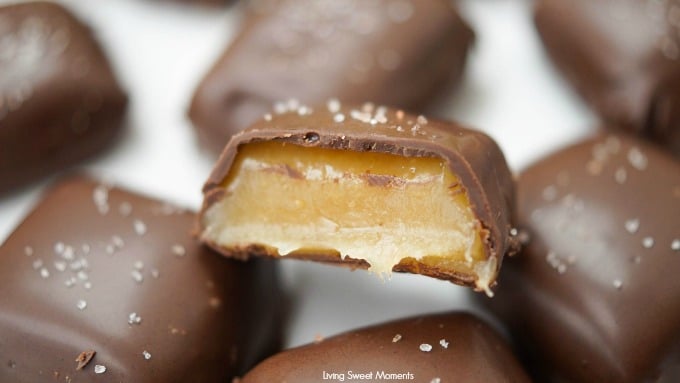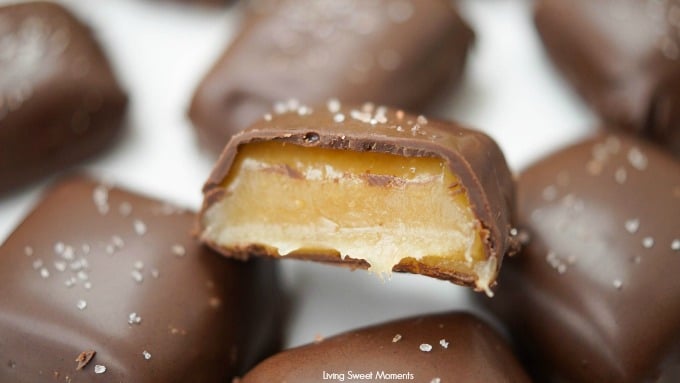 They are inexpensive and they will guarantee that your caramels will be cooked at an exact temperature ensuring the perfect texture and flavor. You can purchase them at any kitchen store or HERE at Amazon.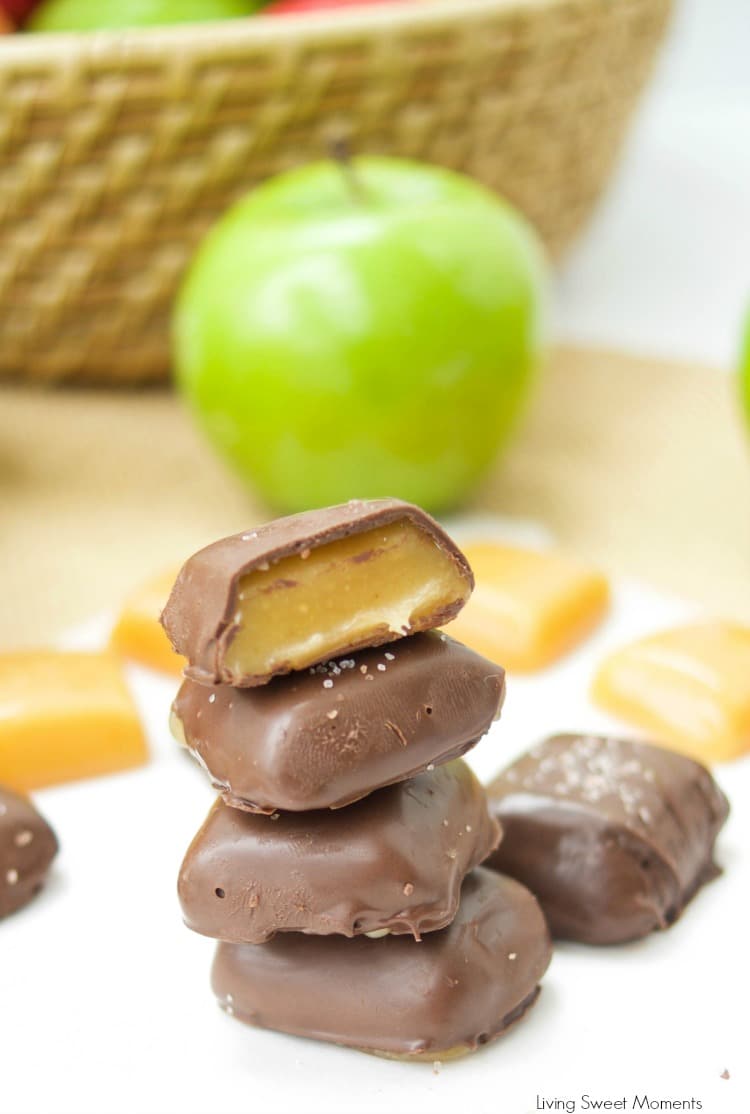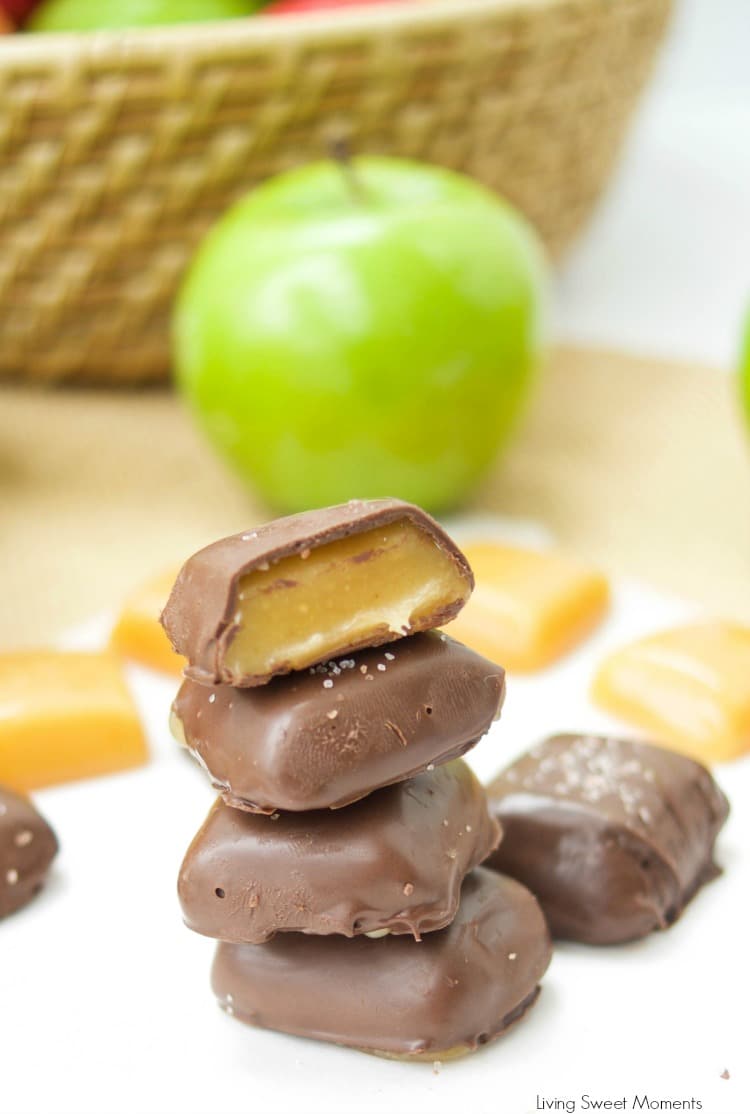 I tried these Chocolate Covered Apple Cider Caramels during my trip to Vermont at the famous Lake Champlain Chocolatier. As soon as I took a bite I was hooked! I couldn't imagine how they managed to squeeze so much cider flavor into a caramel.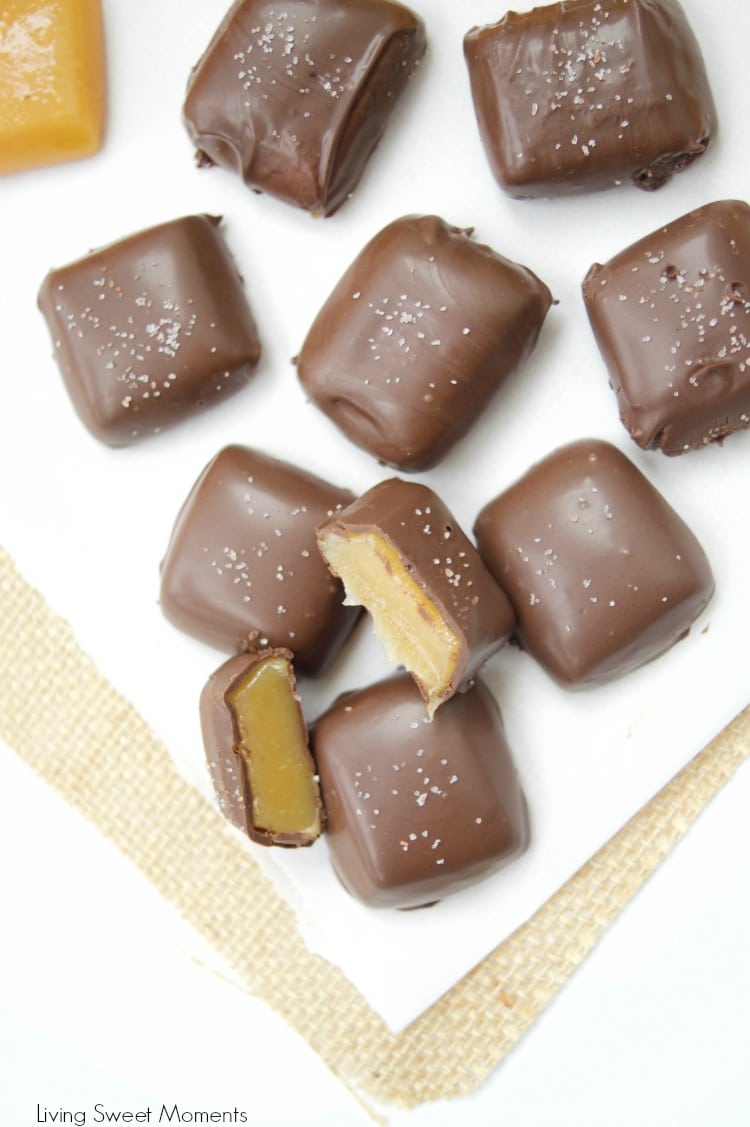 When I went home I tried different recipes I found online and tried adapting them. Unfortunately, it took me 8 tries. YES, 8 TRIESÂ (no kidding) to achieve the perfect flavor and texture I was looking for. Of all the food I've made over the years, it has never taken me this long. Therefore, you get the best of all the recipes.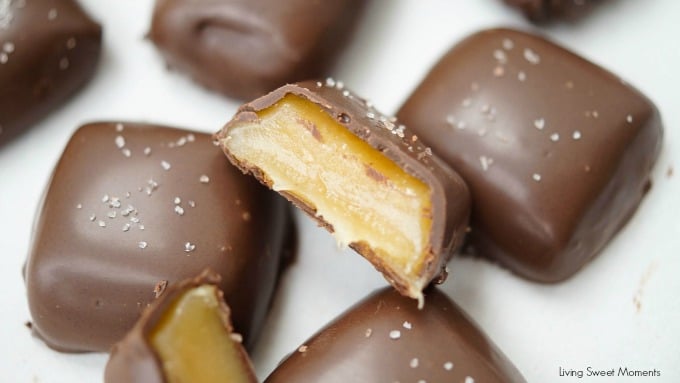 Of all the food I've made over the years, it has never taken me this long to get a recipe right, talk about frustrating. In the end, I got it and it's amazing.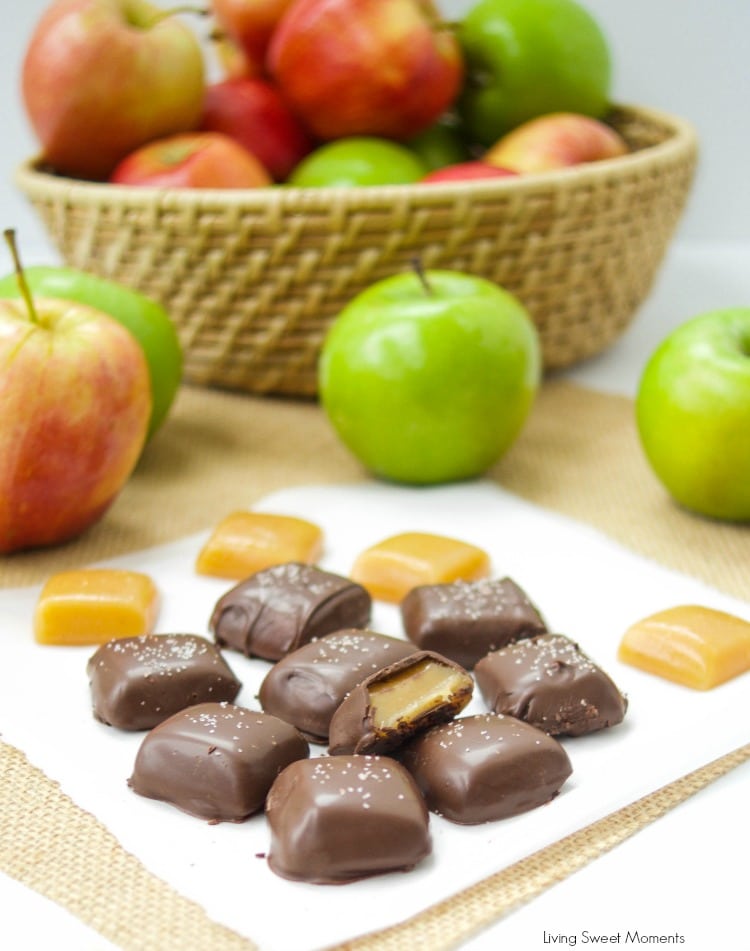 These caramels yield about 60-70 pieces and they are perfect to give out as gifts in a cute box or serve them as dessert to a fancy dinner or with coffee in the afternoon.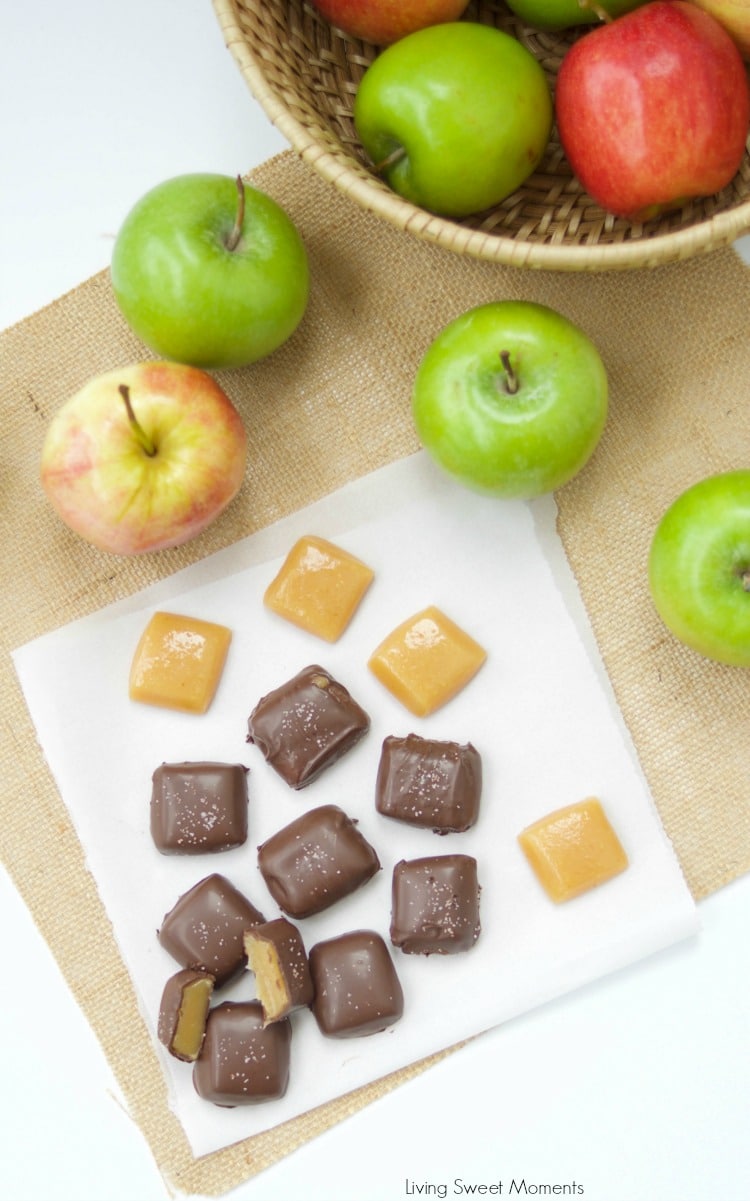 Finally, I hope you can try this delicious Chocolate Covered Apple Cider Caramels at home. If you do, please upload a pic on Instagram and tag me @Livingsweetmoments or use the hashtag #LivingSweet. I promise to repost it.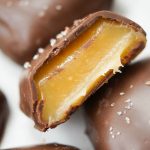 Chocolate Covered Apple Cider Caramels
This chocolate covered Apple Cider Caramels recipe is easy to make. The perfect fancy dessert for fall. Made with reduced apple cider for a deeper taste.
Ingredients
For Cider Caramels

2

cups

of fresh cider

2

cups

of heavy cream

2

cups

sugar

1

cup

corn syrup

1/2

cup

unsalted butter

1 stick

1/2

teaspoon

cinnamon

Pinch of salt

For Chocolate coating

1

lb

. semi-sweet or dark chocolate

2

Tablespoons

butter

Coarse salt for tops

optional
Instructions
Line an 8x8" square pan with parchment paper leaving an overhang paper on the sides for easy removal. Spray nonstick spray over the parchment paper

In a large saucepan, pour the cider and boil on medium heat until the cider reduces to 1/2 or 1/3 cup. This takes about 20-25 minutes (watch it closely because the cider can burn)

After the cider is reduced, add the butter, corn syrup, heavy cream and sugar. Cook this mixture over medium-high heat.

Insert a candy thermometer and cook until the caramels reach 248-250 Degrees F. About 20-25 minutes

Immediately remove from heat and add the cinnamon and salt. Mix

Pour into the square pan and leave it on the counter to set. About 4-6 hours

Remove from mold and cut into caramels

Place the caramels on a sheet pan lined with parchment paper and place in the fridge for a minimum of 30 minutes to harden

For chocolate topping

Place all but 1/3 cup of the chopped chocolate in a bowl

Add the butter

Melt in the microwave by heating 30 seconds, then giving it a stir and heat for 30 more seconds. Repeat this step until all the chocolate has been melted

When chocolate is melted, add the remaining 1/3 cup of chocolate and mix until all the chocolate has been completely melted and the mixture is smooth and shiny

Dip caramels into the chocolate using a fork. Tap the fork on the edge of the bowl to shake off the excess chocolate

Place dipped caramels into a lined sheet pan and sprinkle with coarse sea salt

Let the chocolate set and enjoy!
You may also like:
Peanut Butter Caramel Popcorn Bars