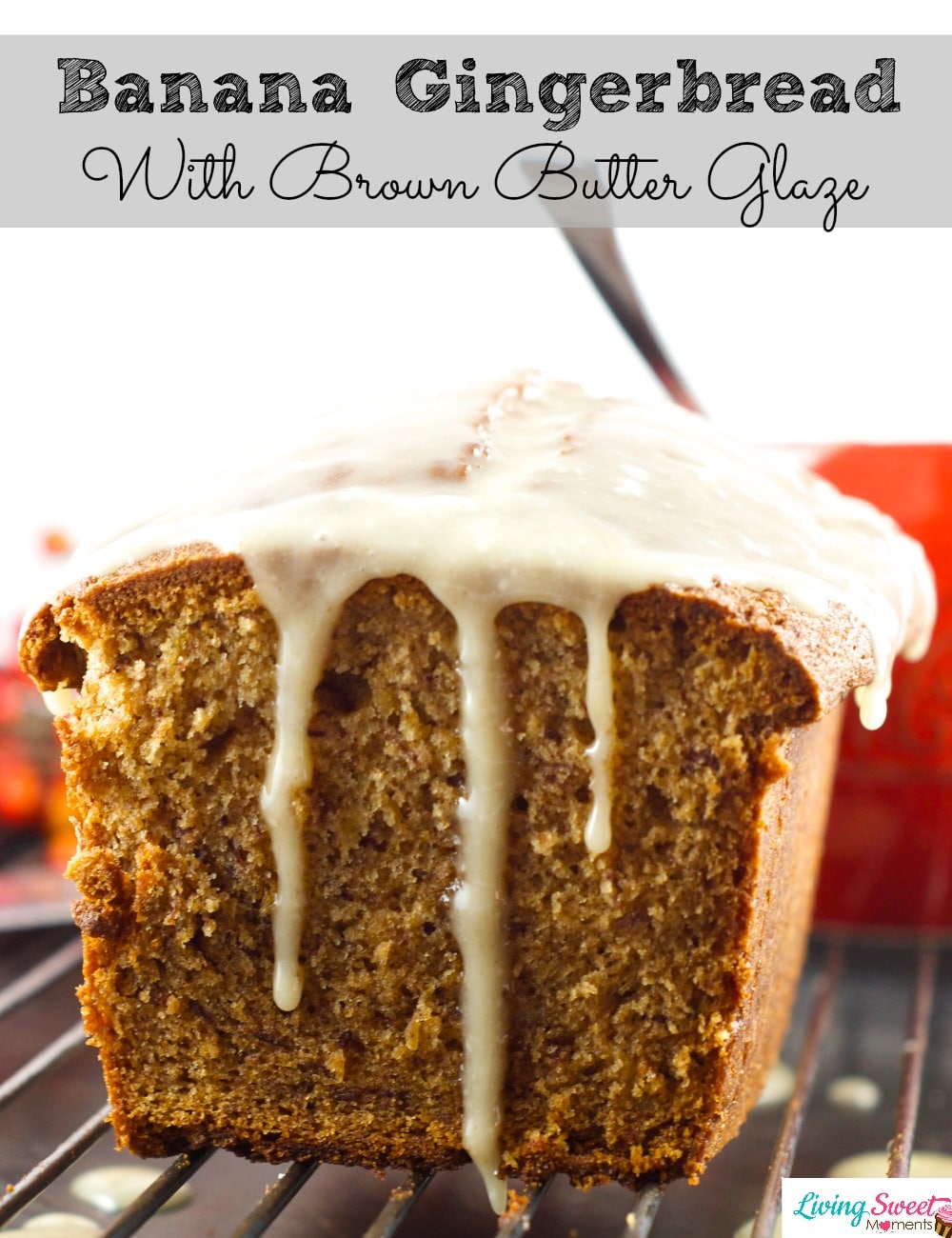 Yup.. This Banana Gingerbread Recipe  looks as good as it tastes.. a combination of 2 strong flavors: banana and gingerbread mixed together under a deliciously creamy blanket of brown butter glaze.
This Banana Gingerbread Recipe is so easy to prepare and yet it's filled with complex flavors that compliment each other perfectly. The smell of banana while it's baking is amazing. The bread is moist, soft and perfect for your Holiday breakfast/brunch.
Coming up with this recipe wasn't easy, since the challenge was to keep the gingerbread from overpowering the banana. To resolve this issue I did 2 things: reduce the amounts of cinnamon, ginger and clove. Also, I mashed the bananas but kept a few chunks in the batter. Basically every bite you take has banana inside. Yum!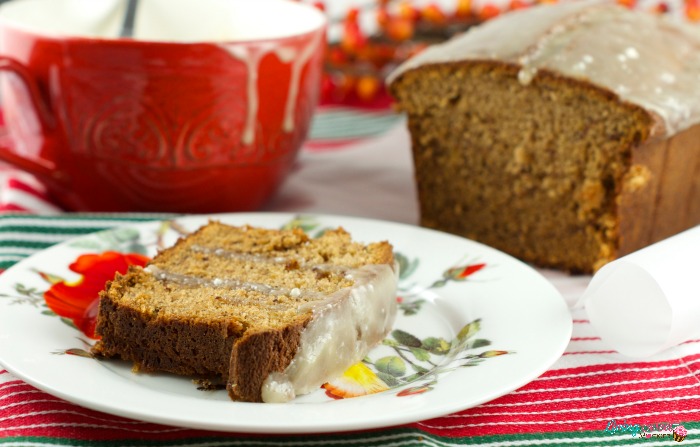 You can make the batter beforehand and bake when needed. The glaze is spreads much better when the bread comes out of the oven and is hot. What I did is start to cook it as soon as the bread came out of the oven .The butterscotch -vanilla flavor from the glaze is so delicious with the gingerbread and banana. I wanted to lick that red bowl so bad!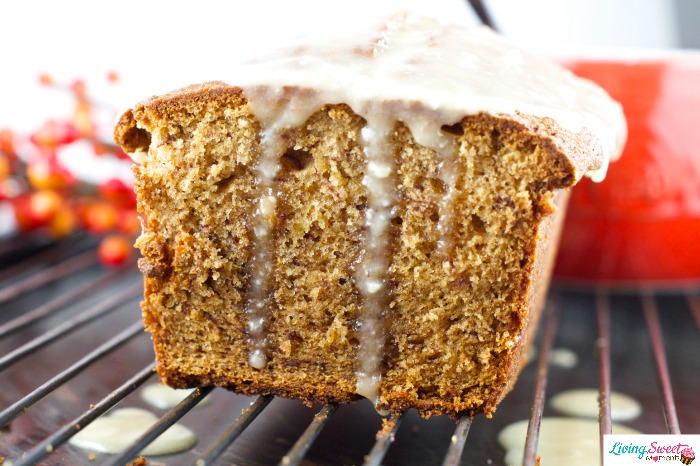 To make this Banana Gingerbread Recipe you need bananas that are very ripe. If you don't have these on hand, not to worry! There's a nifty little trick to get them ripened in minutes! That's right, your heard me, minutes. Just place your bananas with peel and all on a sheet pan lined with parchment paper. Bake for 30-40 minutes at 300 Degrees F or until the peel becomes black. Let them cool in the fridge and mash.. That's it!
Another flavor infuser in the bread is the use of butter over oil. To me, oil helps with batter consistency and texture but offers no flavor at all. Butter does the same thing and gives a nice flavor to the bananas. I hope you can try my delicious Banana Gingerbread Recipe and let me know how it comes out. My family loved it.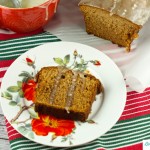 Banana Gingerbread Recipe With Brown Butter Glaze
Servings
:
1
Loaf of Bread
Ingredients
For Banana Gingerbread
1 1/2

Cup

of All Purpose Flour

1

Teaspoon

of Baking Soda

1

Cup

of Sugar

1/2

Cup

of Unsalted butter

softened

2

eggs

2

Ripe Bananas

mashed

1 1/2

Teaspoon

of Cinnamon

1/2

Teaspoon

of Cloves

1/2

Teaspoon

of Salt

1 1/2

Teaspoons

of Ginger

2

Tablespoons

of Sour Cream
For Brown Butter Glaze
2

Tablespoons

of butter

1

Cup

of Powdered Sugar

1 1/2

Tablespoons

of Milk

1/2

Teaspoon

of Vanilla
Instructions
For Banana Gingerbread
Preheat oven to 350 Degrees F.

Grease a loaf pan with nonstick spray or butter

In a mixer, cream the butter and sugar for 3-5 minutes

In a bowl, combine the flour, salt, baking soda, cinnamon, cloves and ginger

Add the eggs, sour cream and bananas to the mixer. Mixture will look broken up and crumbly

Finally add the flour slowly and mix until combined

Bake for 45 minutes to 1 hour

Unmold unto a baking rack to cool down
For Brown Butter Glaze
Melt butter over Medium-low heat until it turns an amber color and starts to smell nutty (3-5 minutes)

Pour sugar in a bowl and add the butter and milk. Mix until mixture become thick but runny

Spread glaze all over the warm bread

Enjoy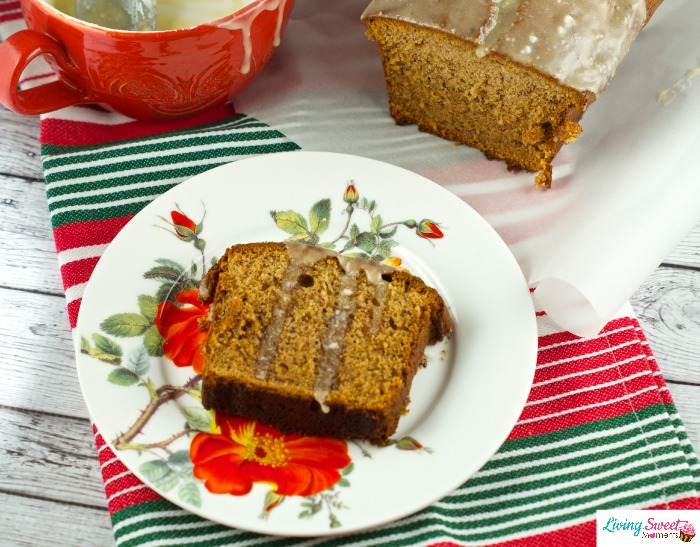 LOVE BREADS? Me too! Here's another great recipe: