Disclosure: "This shop has been compensated by Collective Bias, Inc. and its advertiser. All opinions are mine alone" #FlavorofFall #CollectiveBias
Apple & Chocolate Spiced Cupcakes With Cider Frosting – Great Fall Recipe
Apples are in season (finally!) and if you live up North I can just imagine the beautiful Apple Orchards in full bloom. Here in Miami, unfortunately we can't fully experience the cool weather, apple orchards and pumpkin patches that other states do. Luckily we can create great fall recipes to simulate the mood like this delicious Apple & Chocolate Spiced Cupcakes With Cider Frosting made with Mott's Applesauce, Mott's Apple Juice and M&M's. 3 Yummy favorites all wrapped up in a little creamy cupcake.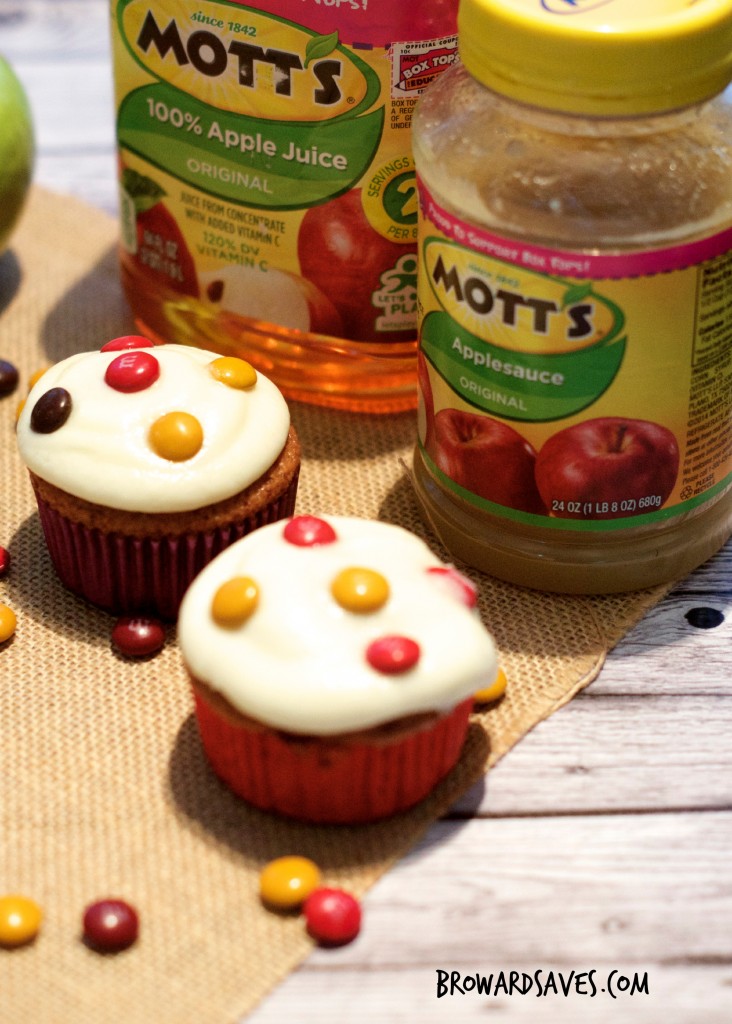 I think this recipe came in just in the nick of time before Rosh Hashana since this celebration requires apples and a little sweetness to start the year just right. This week I headed off to my local Walmart and found the new M&M's Candy Apple flavor available exclusive for Walmart and the specially marked M&M's along with Mott's Items.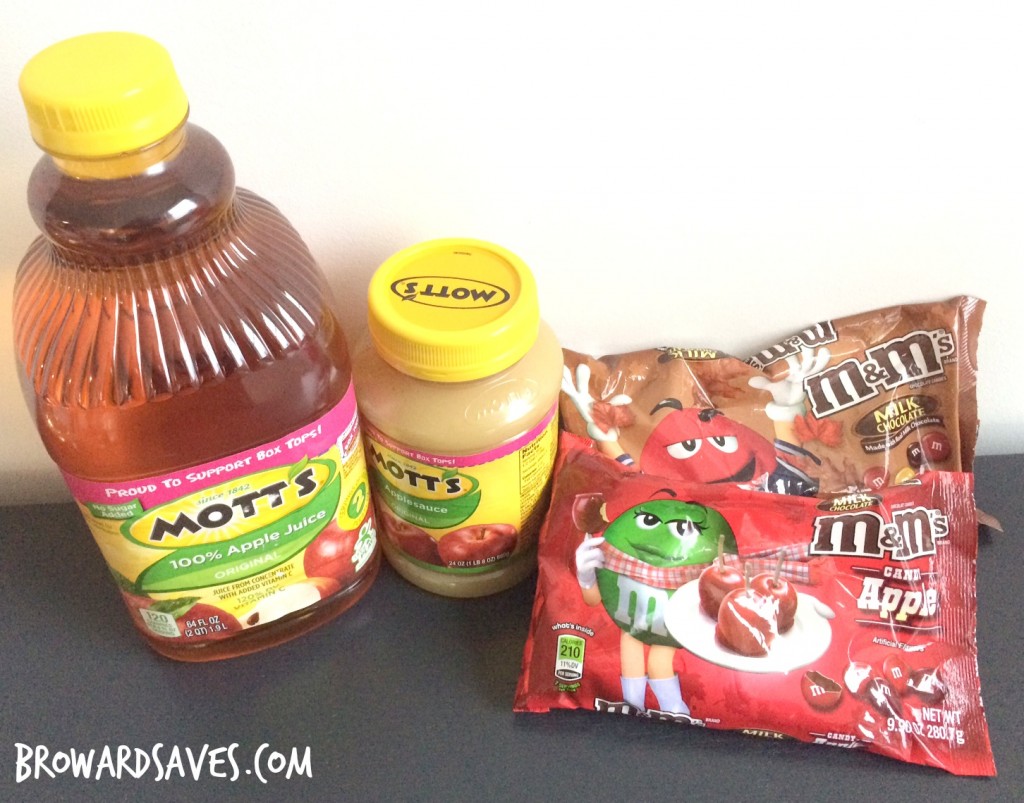 They taste delicious. I opened the bag to take try them out and my girls went on the attack. Guess I have to buy a few more bags  before winter arrives.
The cake part is made with ground M&M's, Cake Mix Spice Flavor, eggs, Mott's Apple Sauce, Mott's Apple Juice and water. To make your cupcakes simply combine dry ingredients and then incorporate wet ingredients. Place batter into cupcake lined molds and bake for 15-17 minutes. When the cupcakes are ready simply place is cooling rack and cool completely.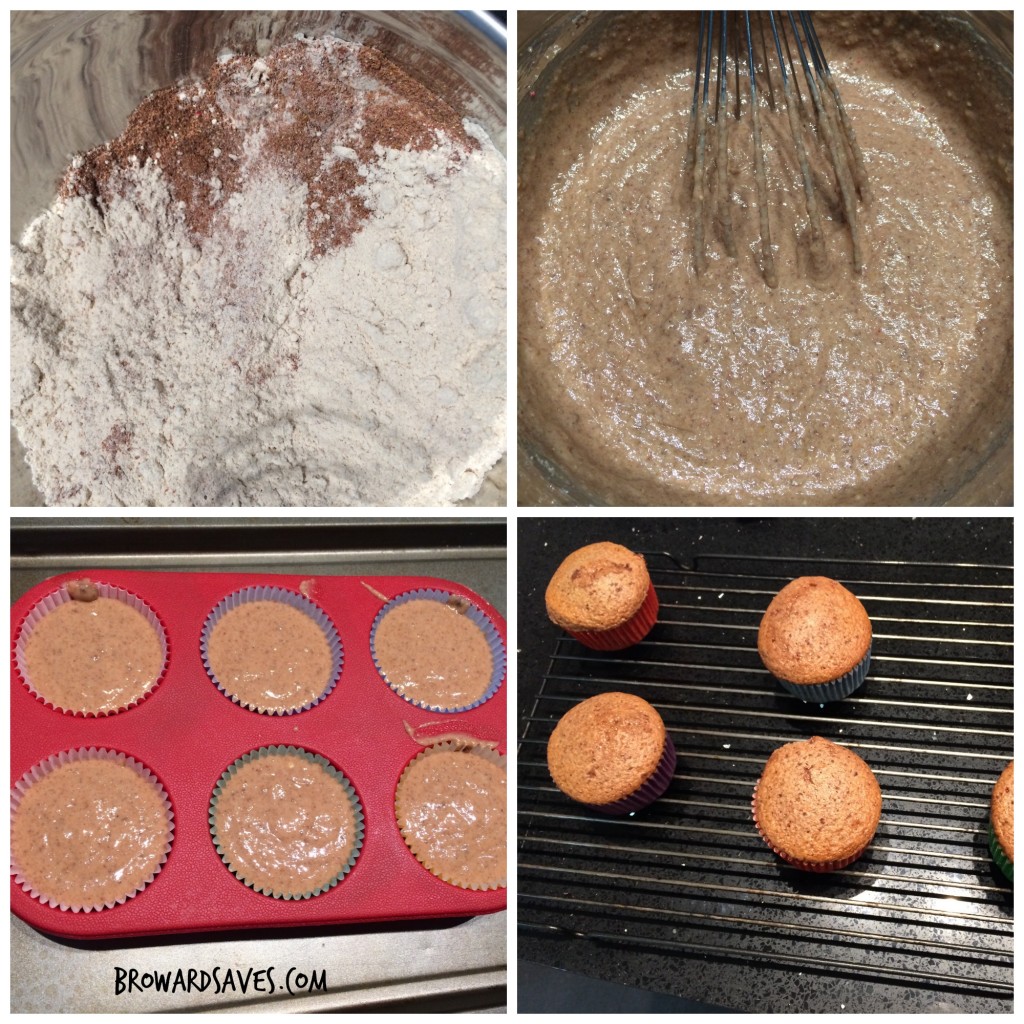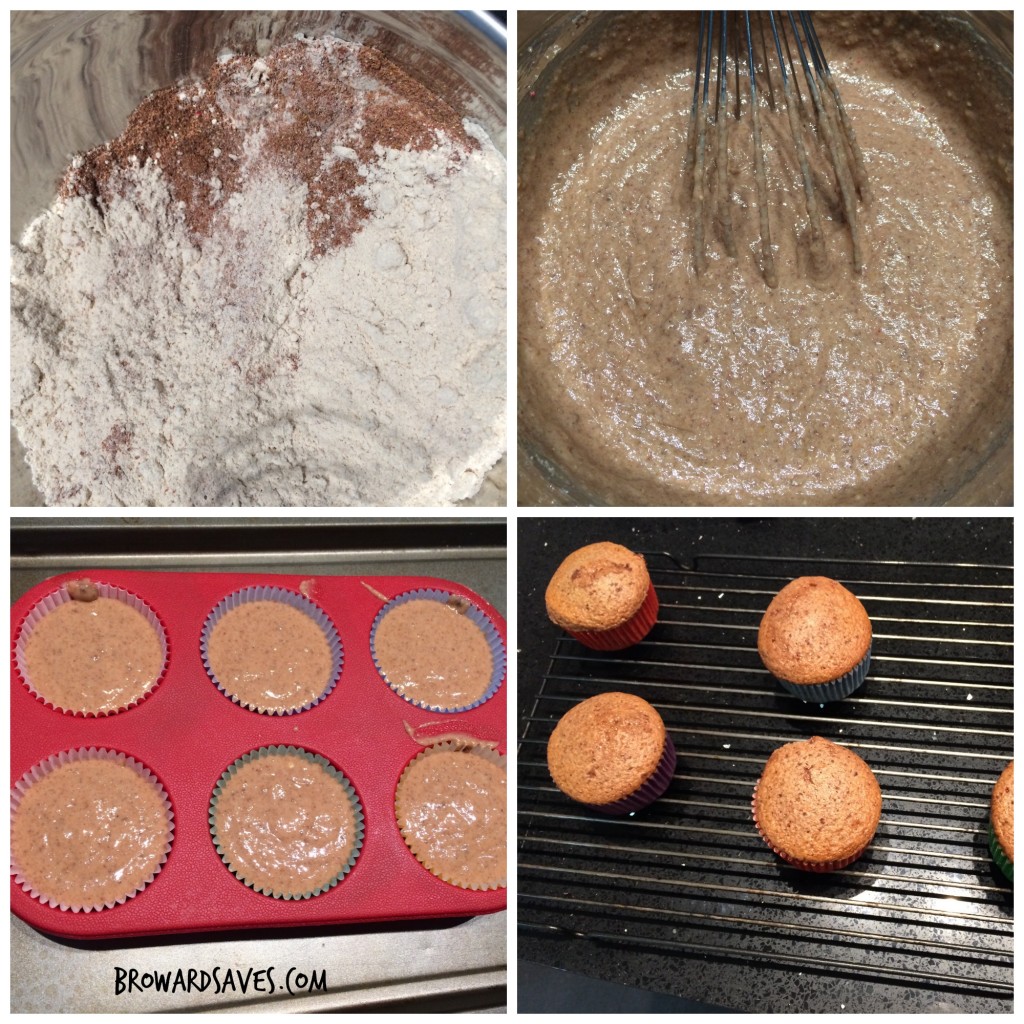 The delicious frosting is so easy to make as well. Ingredients: cream cheese, butter, Mott's Apple Juice or Cider and Powdered sugar. Keep in mind that the cream cheese and butter must be at room temperature so they can blend easily.
In a bowl, mix the cream cheese and butter using a mixer on high speed. Add the cider and the powdered sugar in batches. Spread over cooled cupcakes using a piping bag or simply with a spoon. Decorate with M&M's. Refrigerate until the frosting is set. Enjoy!. Full recipe and quantities below.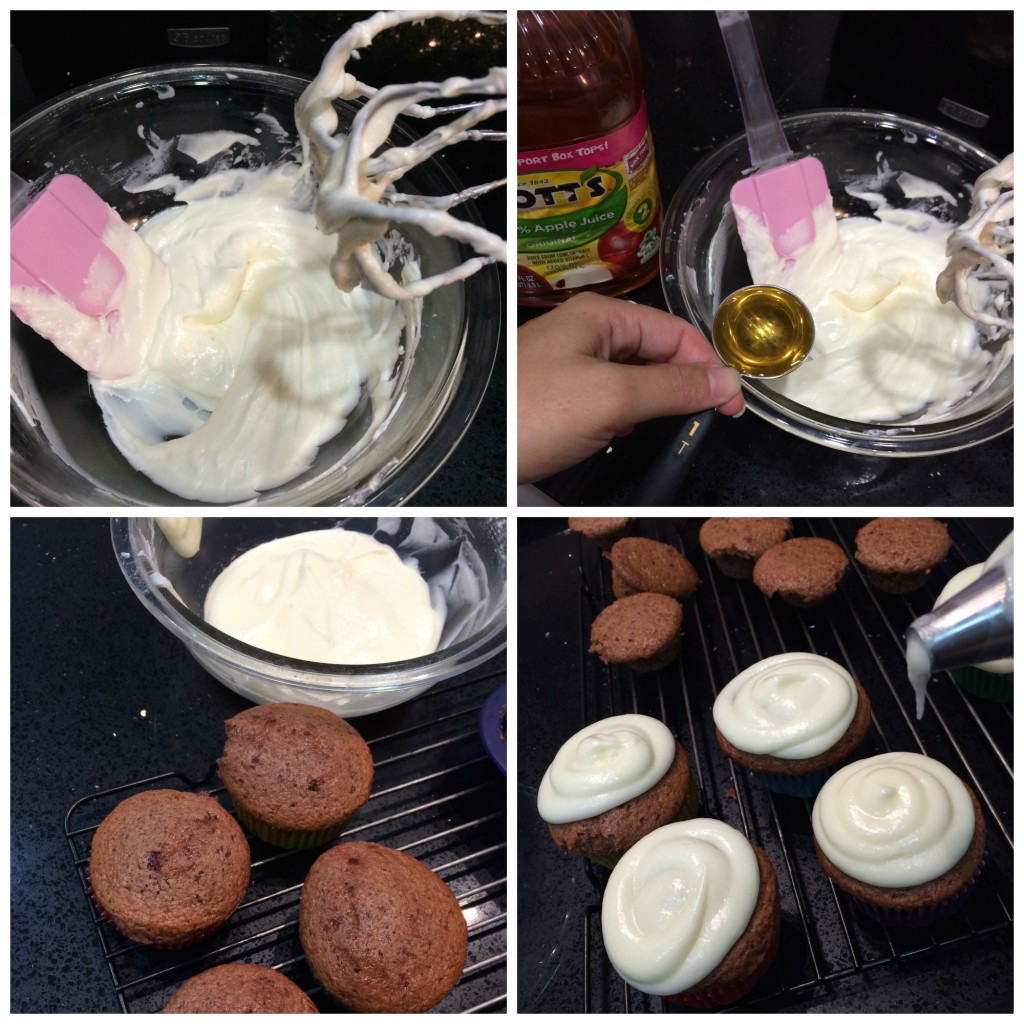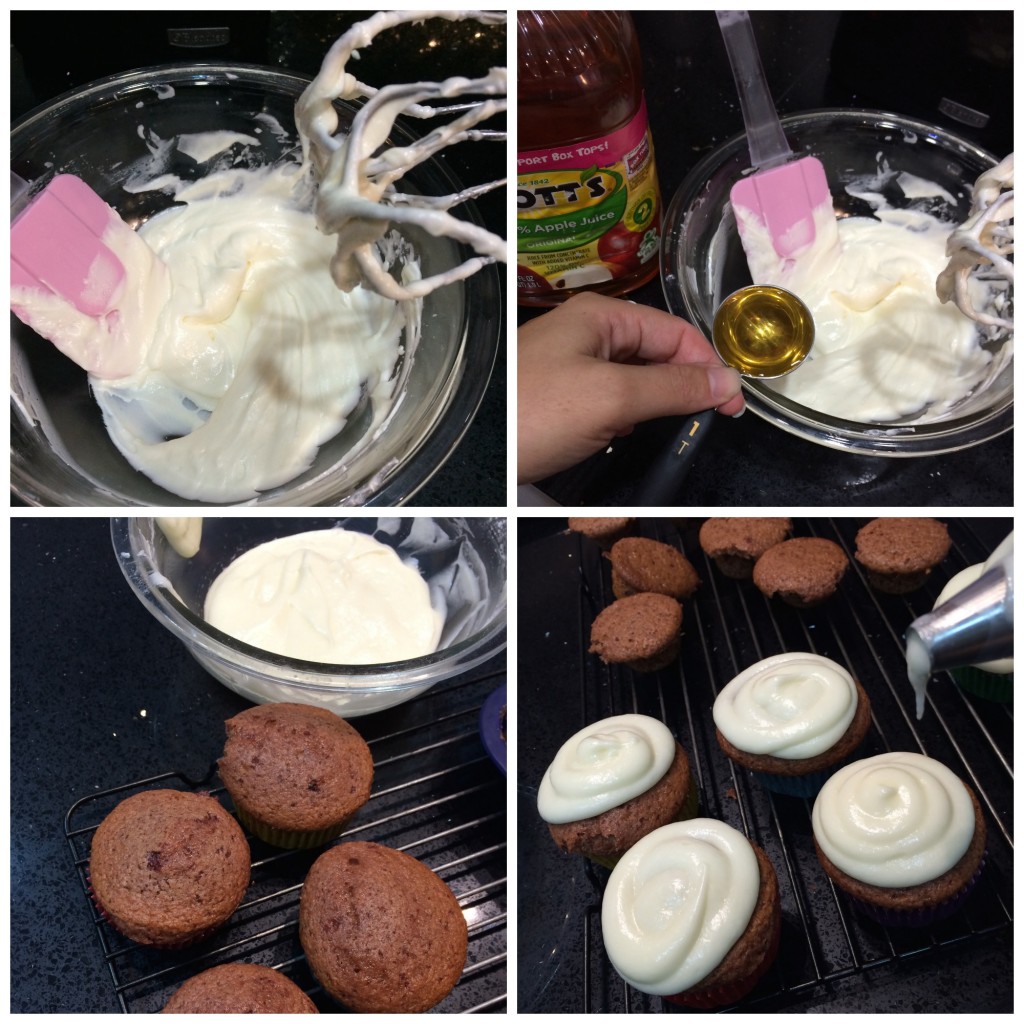 I love the fact that it's the perfect fall recipe because of all the spices and apples combined. The applesauce inside the cupcakes provide not only a lot of flavor but moisture as well.  You can just feel them after they come out of the oven, so spongy. PLUS the aroma while they bake will carry on throughout the house.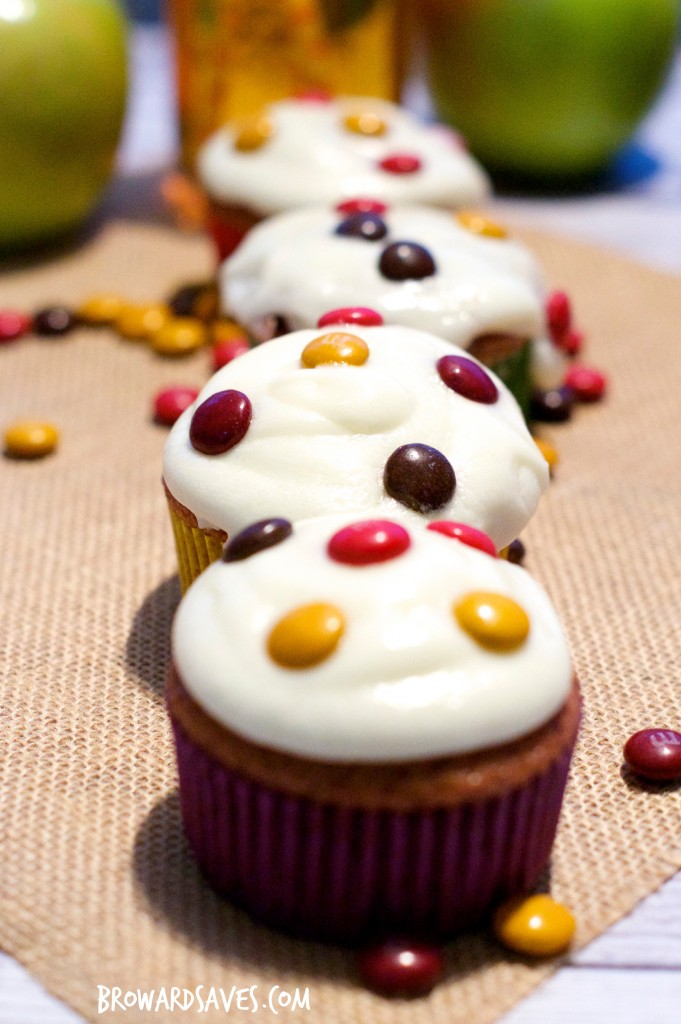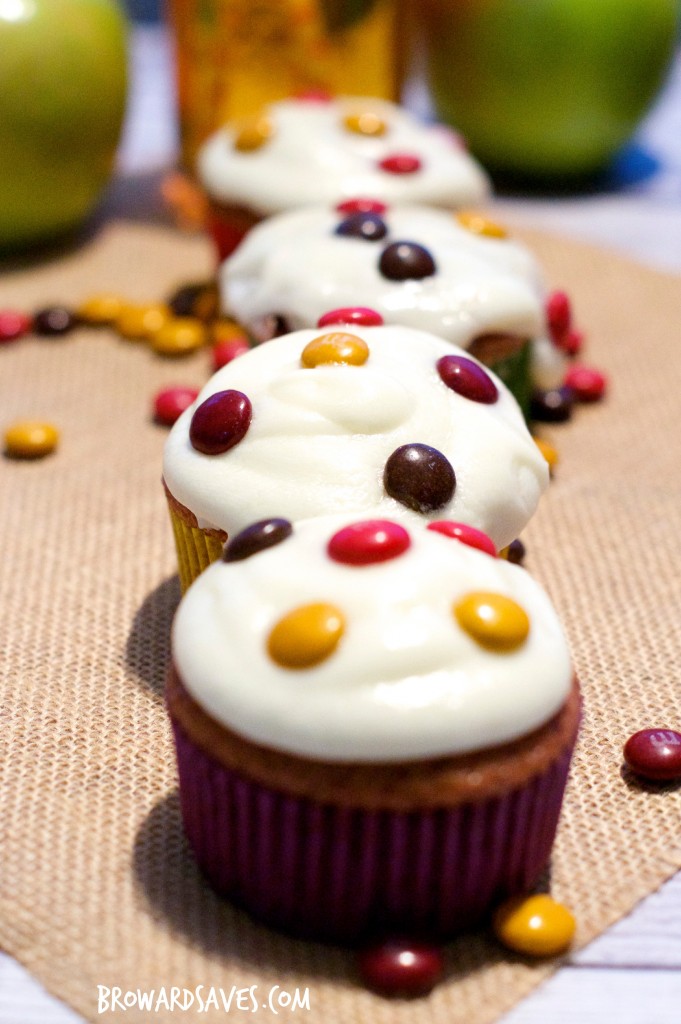 You can find Mott's and M&M's products right on the aisles of your local Walmart. Applesauce is on the baking section, M&M's on the candy aisle and Apple Juice in the juice area.
Apple & Chocolate Spiced Cupcakes With Cider Frosting
Author:
Prep time:
Cook time:
Total time:
Ingredients
For the Cupcakes
1 Box of Cake Mix, spiced flavor
3 Eggs
1/2 Cup of Mott's Apple Juice
1/2 Cup of Mott's Applesauce
1/2 Cup of Water
1/4 Cup of M&M's
For the Cider Frosting
8 oz of Cream Cheese, at room temperature
1 Stick of Butter, at room temperature
2 Cups of Powdered Sugar
2 Tbs. of Mott's Apple Juice or Cider
M&M's for garnish
Instructions
To make the Apple & Chocolate Spiced Cupcakes:
Preheat oven to 375 degrees F
Place M&M's in a food processor and ground them
Combine cake mix in a bowl with the ground M&M's
Incorporate the eggs, water, apple juice and apple sauce until combined
Pour batter into a cupcake tin filled with cupcake liners
Bake for 15-17 minutes
When ready, take them out of the oven and place on a cooling rack
To make frosting:
Using a mixer, whip the cream cheese and butter until combined
Add the apple juice and keep mixing
Incorporate the Powdered sugar a little at a time
Spread on top of the cooled cupcakes and refrigerate until the frosting is set
Garnish with M&M's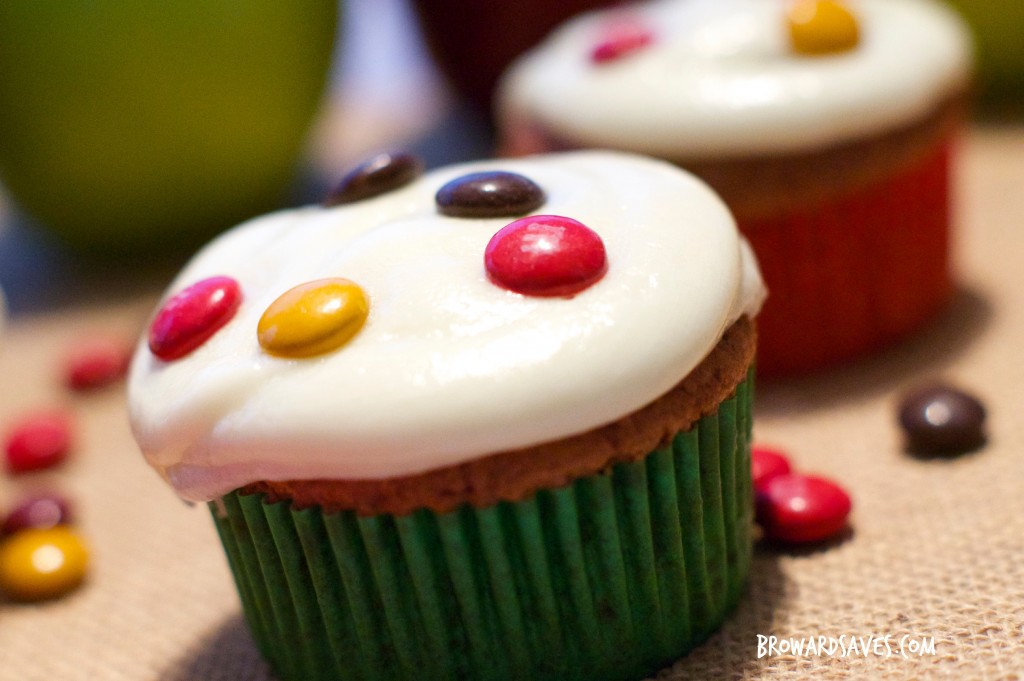 I couldn't resist so I took a big bite! They are so good. Please try them at home and let me know how they come out.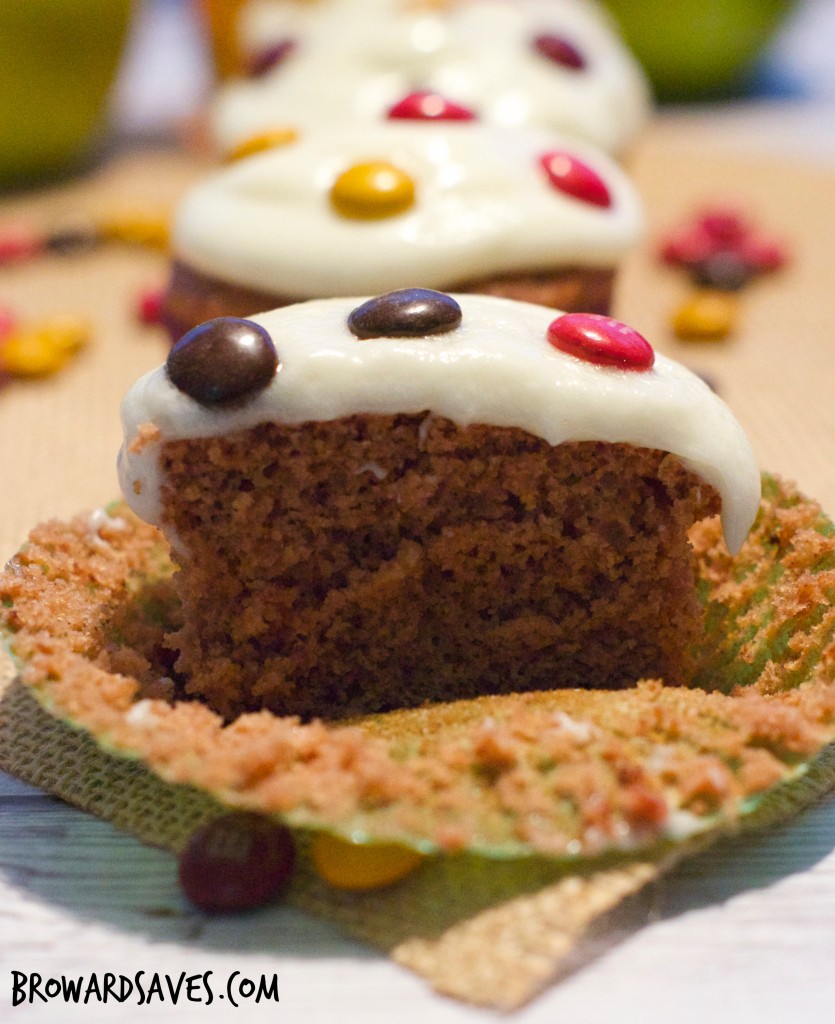 One more for the road…