Bananas Foster Cookie Cups- chewy cookie cups filled with rice pudding and topped with homemade bananas foster. An easy to make dessert for any occasion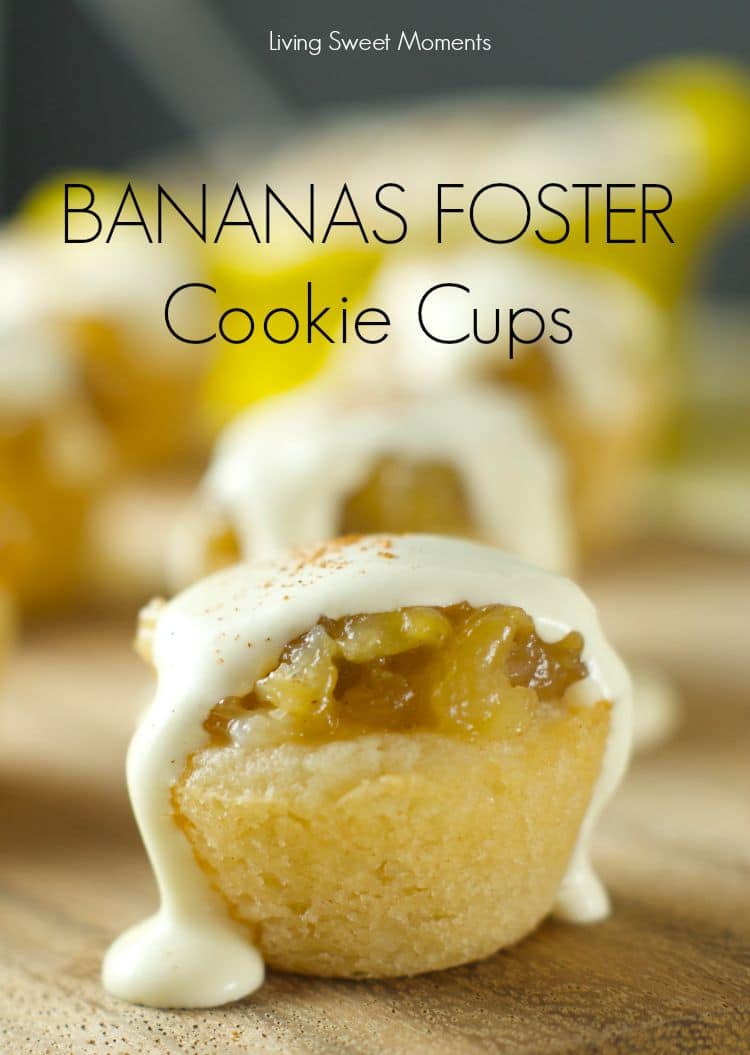 Bananas Foster Cookie Cups
This dessert will have you weak in the knees. There's so many flavors and textures going on in one bite that there's simply no describing. You need to try it for yourself and see what I am talking about. The cookie cup is crispy and chewy, the rice pudding is creamy and the bananas foster gives off tons of homey flavor and sweetness. I top it off with a bit of whipped topping and cinnamon.
The only downside about these Bananas Foster Cookie Cups is that you can't eat just one. Maybe you will stop at 2 or 3.. Maybe..  So you better get your apron on and start cooking. Don't worry these sweet treats are super easy to make and will not leave a mess in the kitchen.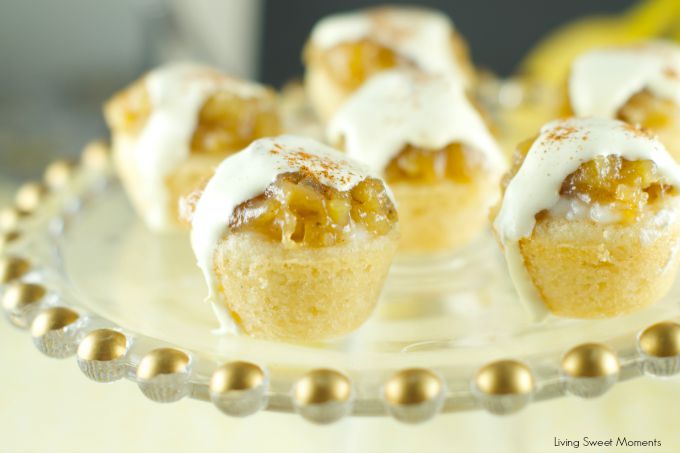 So let's go step by step on how to make these cookie cups: First I start out with refrigerated sugar cookie dough. I divide it into equal pieces and roll them into balls. Finally place them on a mini muffin pan to bake in a preheated oven.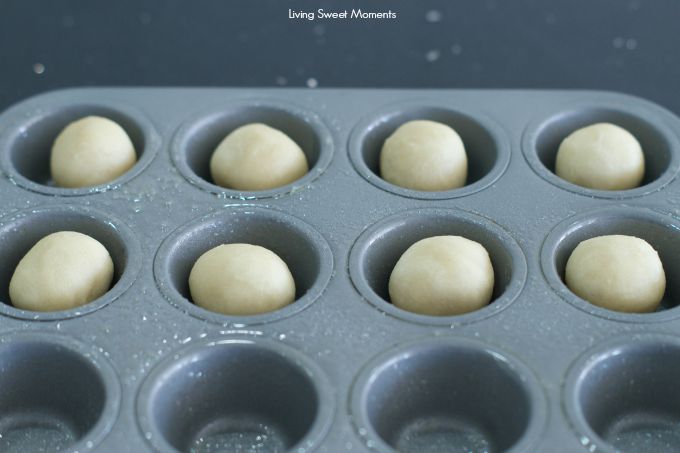 After they bake for a few minutes and get golden. I remove them from the oven and poke the center with the end of a wooden spoon. Be careful no to press all the way to the bottom.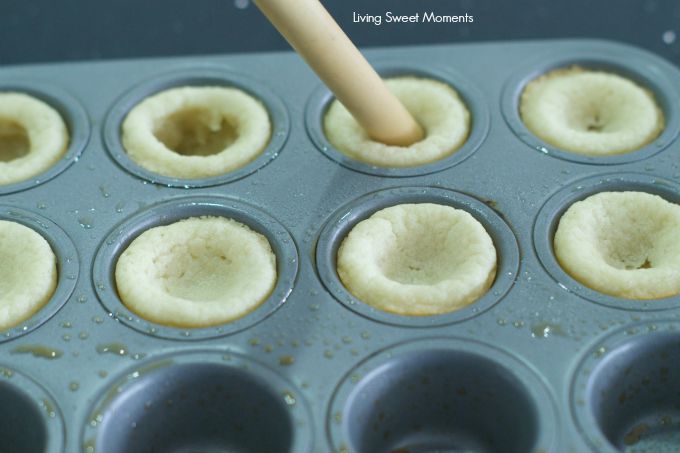 Let these guys cool and then refrigerate before removing from the muffin tin. This will make it easier to unmold. See how cute they look?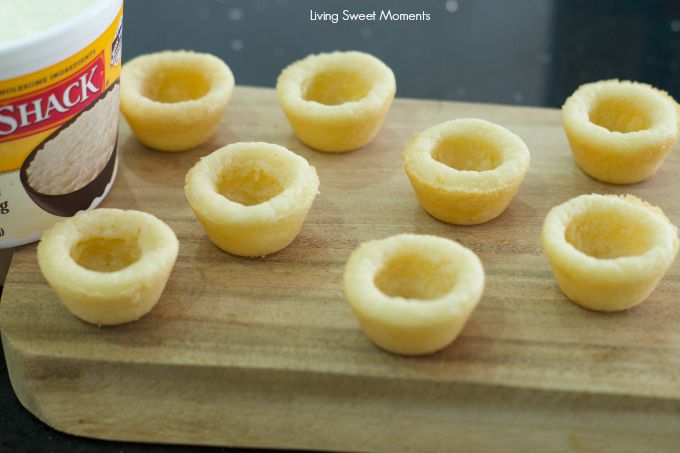 Now these are ready to be filled with anything you want. Even ice cream! I chose something that I truly love: Kozy Shack® Rice Pudding. It's sweet, creamy and oh so delicious. It reminds me of the rice pudding my mom used to make when I was a little girl in Venezuela. There's even a famous song I used to sing: "Arroz con Leche me quiero casar….." The perfect song to sing on National Rice Pudding Day, August 9.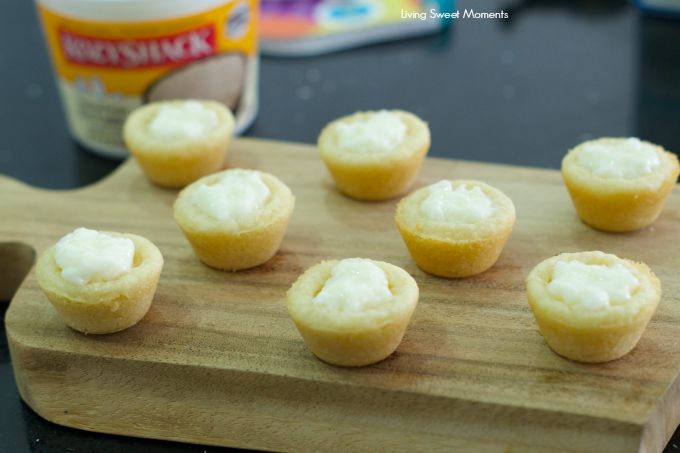 You can stop the recipe at this point and leave your rice pudding filled cookie cups. But I decided to take it one step further by adding a delicious and easy to make Bananas Foster. Don't worry! It's kid friendly and rum free (I only used Rum extract).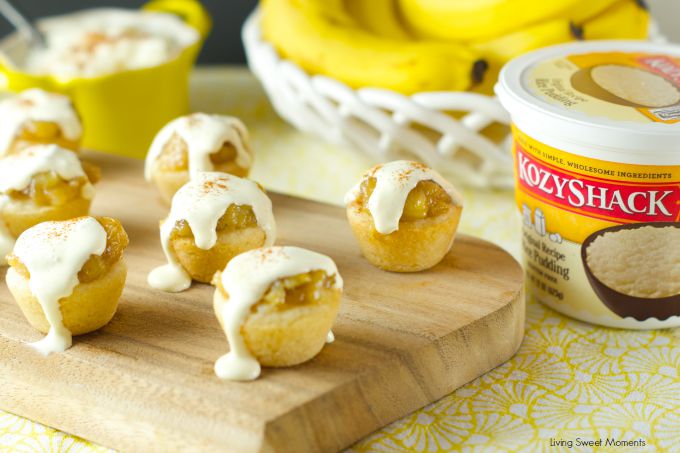 Now finish of with whipped topping on top and a dusting of cinnamon. Wasn't that super easy? I am sure this will impress your family and friends. My husband took a bite out of one, paused, sighed and said mmmmm.. In him that's a sign of enjoyment and deliciousness. 🙂
I hope you can try these delicious Bananas Foster Cookie Cups at home. If you do, please upload a pic on Instagram and tag me @Livingsweetmoments or use the hashtag #LivingSweet. I promise to repost it.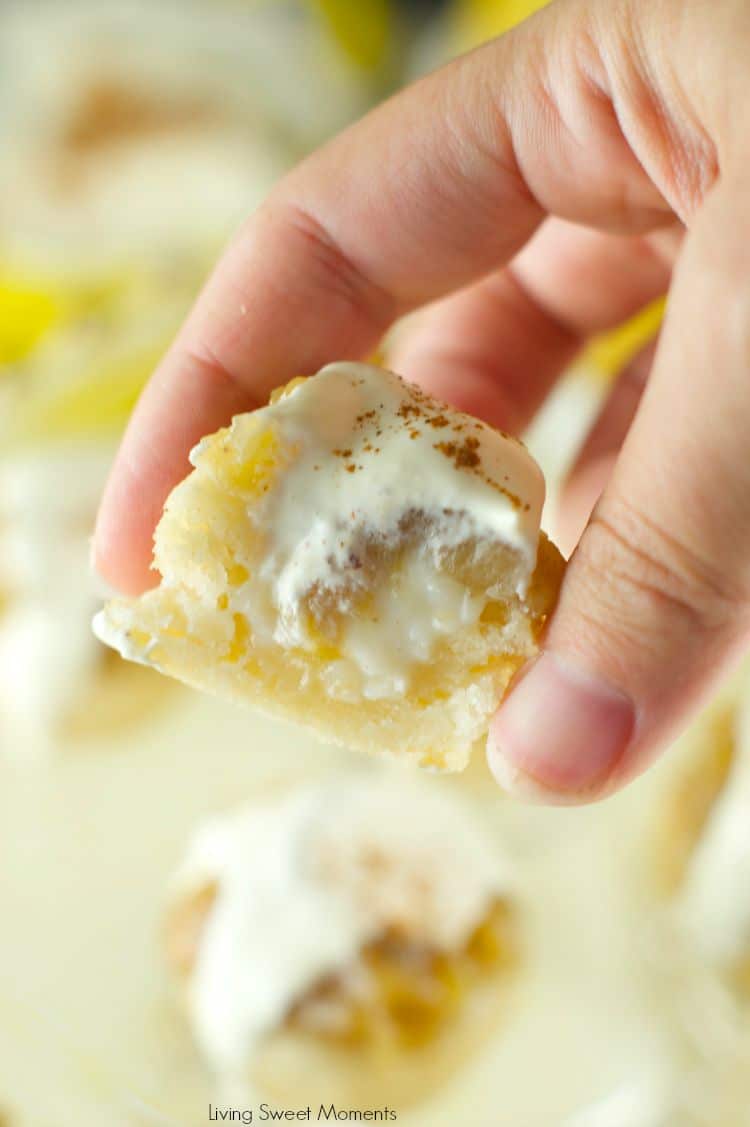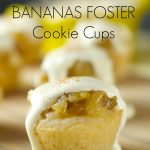 Bananas Foster Cookie Cups
Bananas Foster Cookie Cups- chewy cookie cups filled with rice pudding and topped with homemade bananas foster. An easy to make dessert for any occasion.
Ingredients
Refrigerated Cookie Dough

1 1/2

cups

of Kozy Shack® Rice Pudding

1/4

Cup

butter

6

tablespoons

of brown sugar

1

teaspoon

of rum extract

1/2

teaspoon

cinnamon

2

Ripe Bananas

cubed

Whipped Topping

optional
Instructions
For Cookie Cups

Preheat Oven to 350 degrees Fahrenheit

Spray a mini muffin tin with non stick cooking spray

Divide dough into equal size pieces and roll into a ball

Place the cookie dough into each crevice of the tin

Bake for 11-15 minutes or until the dough is golden

Remove from oven and while still hot, press in the center of each cookie using the back of a wooden spoon. Careful not to cut all the way through

Let the cookies cool at room temperature

Place the tin in the fridge for 1 hour to cool completely

Unmold from muffin tin

Spoon Rice Pudding inside each cookie cup

For Bananas Foster

Melt butter in a saucepan over medium heat

Add the brown sugar and stir

Add the bananas cinnamon and rum extract

Cook until bananas are tender

Remove from heat and let them cool

Divide the bananas foster on top each cookie cup

Top with whipped topping and cinnamon (optional)