Behind The Scenes Look At Wendy's Freshly Made Salads
A few days ago, I received an invitation to attend a local Wendy's Restaurant here in Miami to see how they make their salads. Of course, I was intrigued since I'm always wondering how everything is made, how much does it come prepackaged and how fresh is the produce. Here are the results:
It was definitely a learning experience from me. I was happy to to learn that Wendy's makes their salads from scratch every morning. They start out washing the lettuce, cutting it and then draining them in a giant salad spinner. The cucumbers, peppers and tomatoes are hand cut every day by their employees. Other restaurants just get everything prepackaged and assemble at the last minute.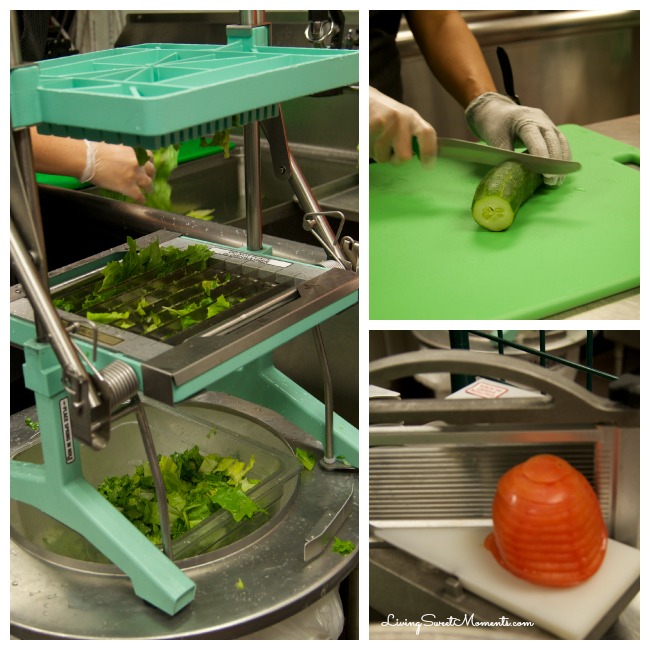 When you order a salad from Wendy's, all the veggies are hand cut that very morning and the chicken is freshly made and cut to order. Ensuring quality and freshness.
See the blue machine in the picture up top? That how the chop the lettuce after washing it. Just pull the lever and it cuts tons of lettuce heads in seconds. They use that lettuce for the burgers too.
I was so excited when they allowed me to make my own salad. I chose to make the BBQ Ranch Chicken because it has tons of ingredients I liked: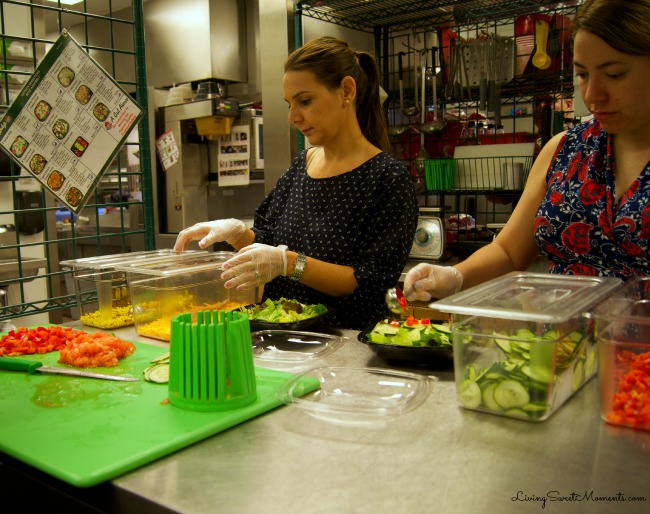 I wore gloves and washed my hands to ensure maximum food safety. Just like the employees do when you order a salad. It was real fun being inside the kitchen and assembling my own dish. When you taste it, you will know it's fresh. The crunch of the lettuce, peppers and cucumbers says it all.
Every core salad you order at Wendy's has a freshly made chicken breast on top that is diced on the spot. So basically you are getting a full meal with tons of flavor. As a busy mom of 2, it's a perfect option for dining on the go.
As I was observing how a salad is made on the line, it was really impressive how they build it from the lettuce up. They start with the greens, then the veggies, then comes chicken and finally the dressing or the cheese. Here's a picture I took of a salad being made on the spot. Doesn't it look delicious?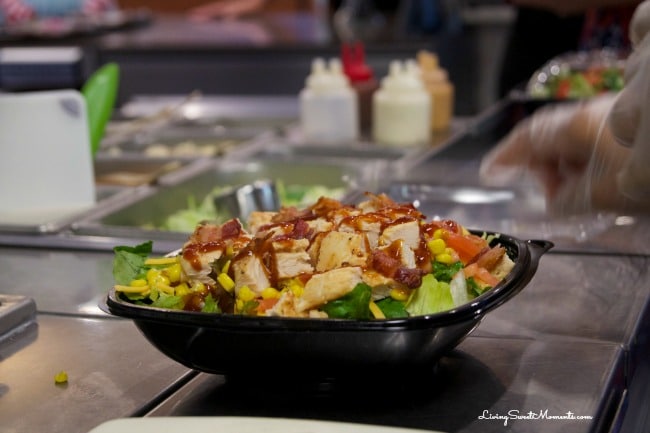 Here's the 3 Wendy's Core Salads that I feel in love with:
Asian Cashew Chicken: Lettuce, fire roasted edamame, cucumbers, peppers and chicken all covered in a Light Spicy Asian Chili Vinaigrette topped with toasted cashews. Only 380 calories!
BBQ Chicken Ranch: lettuce, peppers, fire roasted corn, bacon, chicken and cheddar cheese topped with BBQ Sauce and vinaigrette.
Apple Pecan Salad: green and red apples, cranberries, lettuce, roasted pecans and blue cheese, served with a tangy vinaigrette.
There are also seasonal salads that I will definitely try in my next visit. Keep in mind that you can ask for half a portion and you can also customize your salad any way you would like to. So it's easy to get exactly what you want.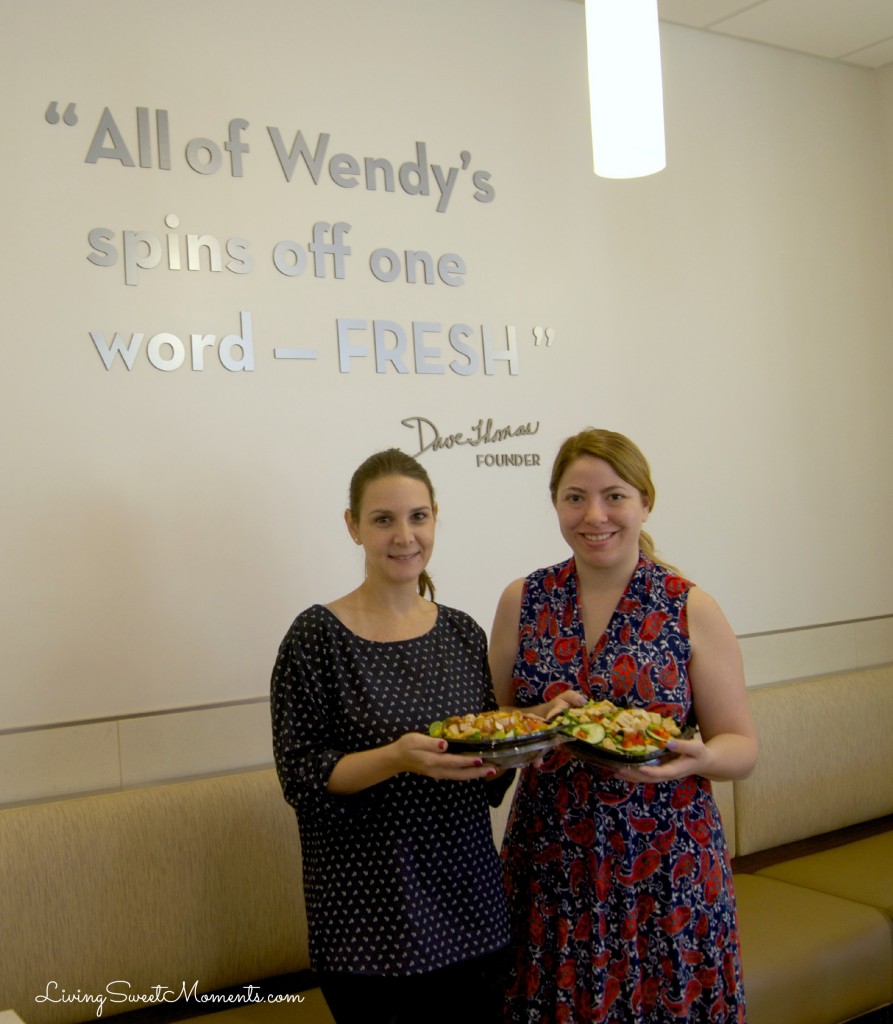 Here's my blogging buddy April and I behind the great quote from Dave Thomas: "All off Wendy's spins off one word – FRESH"
The burger patties are never frozen and the salads are made everyday. In other words: fresh, high quality and delicious is something you can always associate with Wendy's.
Take a look at this cool video that shows you the journey of a Romaine Lettuce from the farm to your salad:
I was selected for this opportunity as a member of Clever Girls and the content and opinions expressed here are all my own.