Big Hero 6 opens in Theaters Nationwide November 7th. I am so excited to see this futuristic movie with my kids. This week, my girls and I had the wonderful opportunity to attend the Miami Children's Museum and interview the talented Genesis Rodriguez, voice of Honey Lemon in the movie.  While I interviewed Genesis, my girls got the chance to tour around the museum and they were so excited! They went fishing, boating and even "shopped" at the Publix store inside the Miami Children's Museum.
Synopsis of Big Hero 6
Big Hero 6 is an action-packed comedy-adventure about robotics prodigy Hiro Hamada, who learns to harness his genius—thanks to his brilliant brother Tadashi and their like-minded friends: adrenaline junkie Go Go Tamago, neatnik Wasabi, chemistry whiz Honey Lemon and fanboy Fred. When a devastating turn of events catapults them into the midst of a dangerous plot unfolding in the streets of San Fransokyo, Hiro turns to his closest companion—a robot named Baymax—and transforms the group into a band of high-tech heroes determined to solve the mystery.
Myself along with other local Bloggers got the chance to meet Genesis Rodriguez in person. It was a fun interview because she's a Miami Native, some parts were in English and others were in Spanish.  Here's a selfie I was able to take with her. I was so starstruck!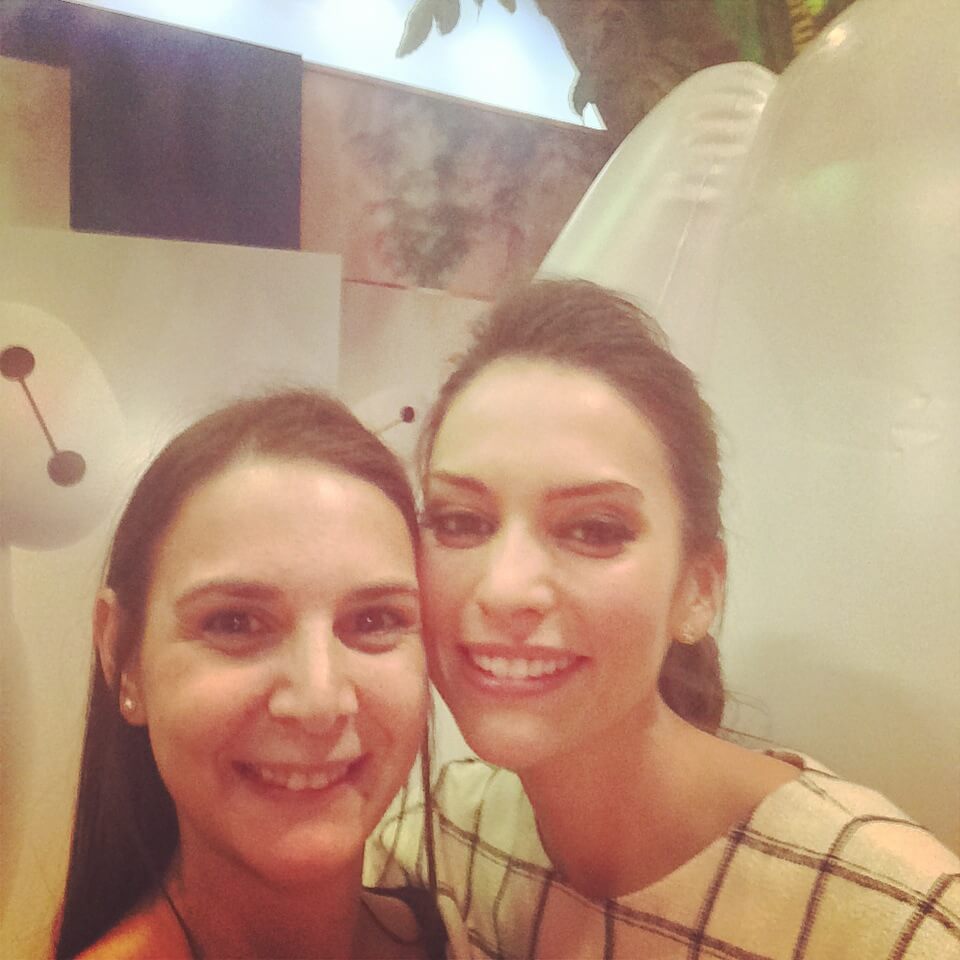 Interview
-Question: Is Big Hero 6 oriented more towards boys?
Answer: It's not only for boys, there's 2 very strong female characters in the movie that are more fearless than the boys. A lot like Frozen, these are girls that don't need saving. They are the first ones ready for action and to take over the world. I love the fact that they are featuring their brains and intellect. I hope the girls in class raise their hand in class first. Knowledge is power.
-Question: How did feel about playing a girl in science?
Answer: A lot of kids these days want to be famous. I would love to add something to that sentence, like: "I want to be a famous scientist". I want them to have that hunger, that curiosity for technology. I have always been a fan of the sciences. I am a star ways freak, I a huge fan of technology and always have the latest app downloaded on my phone. I was in all girls robotics team in high school. We use to build robots – I was the welder of the team and I had to figure out the pneumatics of the robots.
-Question: What do you think of BayMax?
Answer: He's so cute! He's so heartwarming. Do you know what it would be if we all had BayMaxes in out lives? Right now with al the health scares and whatnot, how wonderful would it be to have a robot could take care of you and treat you.
-Question: If BayMax could heal you? What needs to be healed?
Answer: My stress levels
-Question: What part of yourself do you see in Honey Lemon
Answer: Everything, the only difference between us is that she's 2 octaves higher than me. She's so happy. It was so fun! I just went into a room and acted silly. Could't believe people could call that work or get paid for that sort of thing. It was a gift to be giving a Disney Character for genrations.
-Question: What part of Honey Lemon do you wish you had?
Answer: The ability to run in heels
-Question: Do you think the world is ready for a Latina Superhero? What Powers would she have?
Answer: Honey Lemon is latina and she happens to be a superhero and the world is ready for her. As you can see she pronounces Hiro in a latin accent. Like a term of endearment. I was allowed to put something in Honey Lemon which is the accent. Honey Lemon uses action words like Photo-Photo, Ayy, Waasss which sound latino.
-Question: Fransokio is kind of a hybrid city and I feel that Latinos living in the States face a hybrid place as well.. A mix between the 2 cultures. How do you breach the 2 cultures?
Asnwer: (She answers in Spanish) I am a bilingual and a bi-cultural girl. My dad never talked to me in Spanish and I went to school in English. Latin is in me because of my family. I identify with 2 cultures perfectly. In the movie, these groups of friends are together because of their love of science. It's an advantage to have both world. It's a super power!
-Question: You've done Novelas, movies and animation. What do you prefer?
Answer: I love to be on film.
-Question: What was the hardest and the easiest scene to play on Big Hero 6?
Answer: The most diffiuclt were part of the actions things because you have to stay still and make it like you are falling off a building. My favorite scene was when the team was trying on their gear with the Butler.
-Question: If you had a superpower, what would it be?
Answer: to be able to communicate to anyone in the world