Disclosure: This shop has been compensated by Collective Bias, Inc. and Quaker. All opinions are mine alone. #CollectiveBias #LoveMyCereal #QuakerUp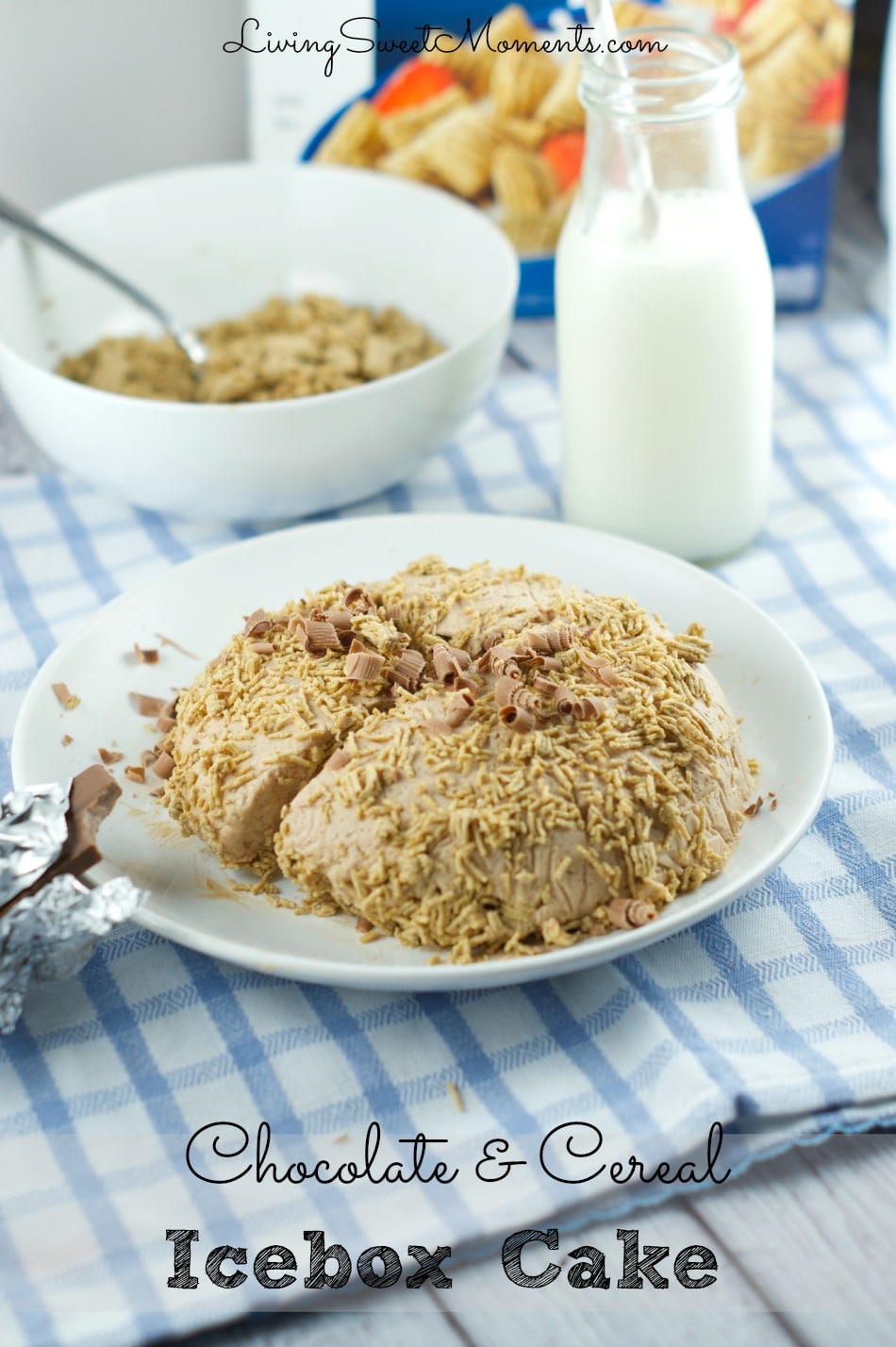 Cereal And Chocolate Icebox Cake Recipe
I have a confession:  I am a cereal addict. I've been going regularly to CAA (Cereal Addicts Anonymous) and I am on the right patch way to recovery, one flake at a time. When I was single and lived by myself, my friends used to call me Seinfeld because my apartment was full of cereal boxes. For me, cereal was breakfast, lunch and dinner so combine that with my love for chocolate and that's how this Cereal And Chocolate Icebox Cake Recipe was born.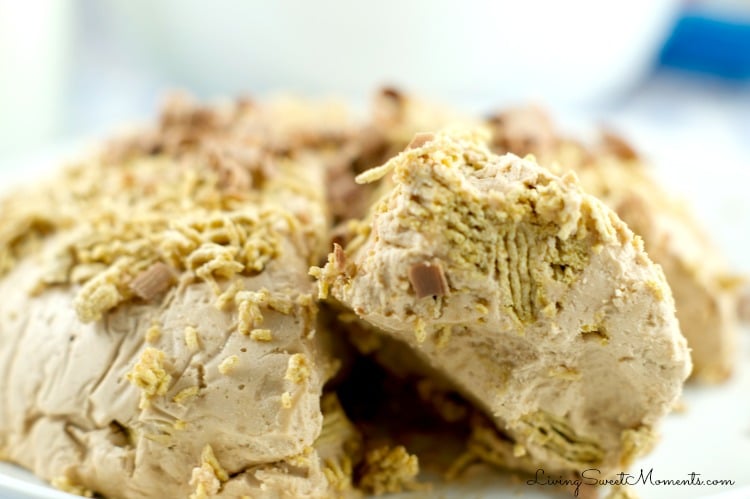 In Venezuela, we have an icebox cake called Marquesa De Chocolate. It's usually round sugar cookies or ladyfingers with a luscious chocolate buttercream combined in layers. The Marquesa is the most popular cake during Holidays and Birthday parties. This is my personal version made with Quaker® Oatmeal Squares. They are so perfect because they are super crunchy and not overly sweet.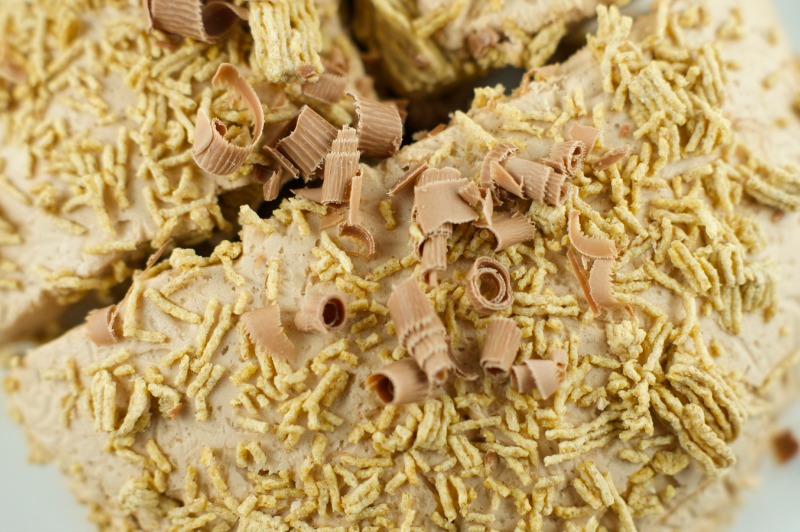 Quaker® also has a few other great cereals to try out:
Quaker® Real Medleys®
Quaker® Oatmeal Squares
Quaker® Simply Granola
Quaker® Life
My daughters go wild for Life and Oatmeal Squares Cereal. I put them in baggies inside their lunchbox as a school snack. They also eat it for breakfast with or without milk.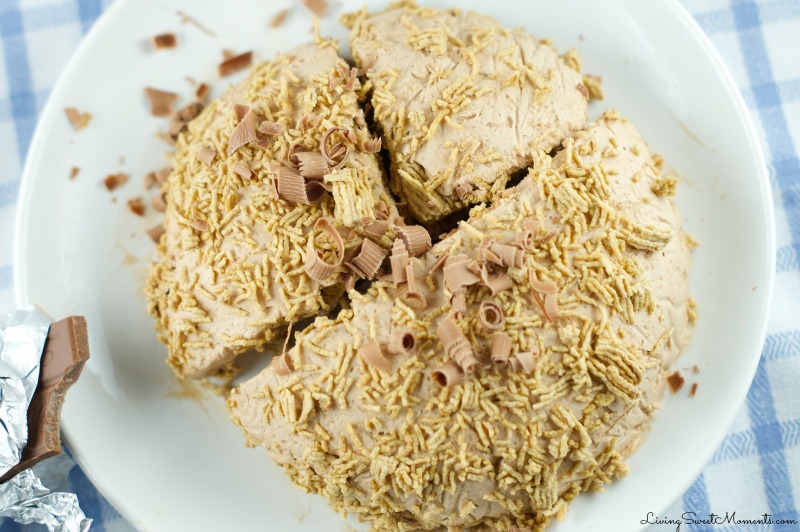 Since I was out of sugar cookies this weekend, I decided to try out with the oatmeal squares and it was a huge hit. I made the chocolate buttercream completely kid friendly. I omitted the coffee and rum that's usually inside this mixture and replaced the dark chocolate with milk chocolate. For flavorings I went with rum extract, all the flavor minus the alcohol.
To honor the cereal, I made the cake in the shape of a cereal bowl and cut it into 4 wedges. All the outside it sprinkled with crushed cereal and shaved chocolate for crunch and flavor. Here's how the process goes into this Cereal And Chocolate Icebox Cake Recipe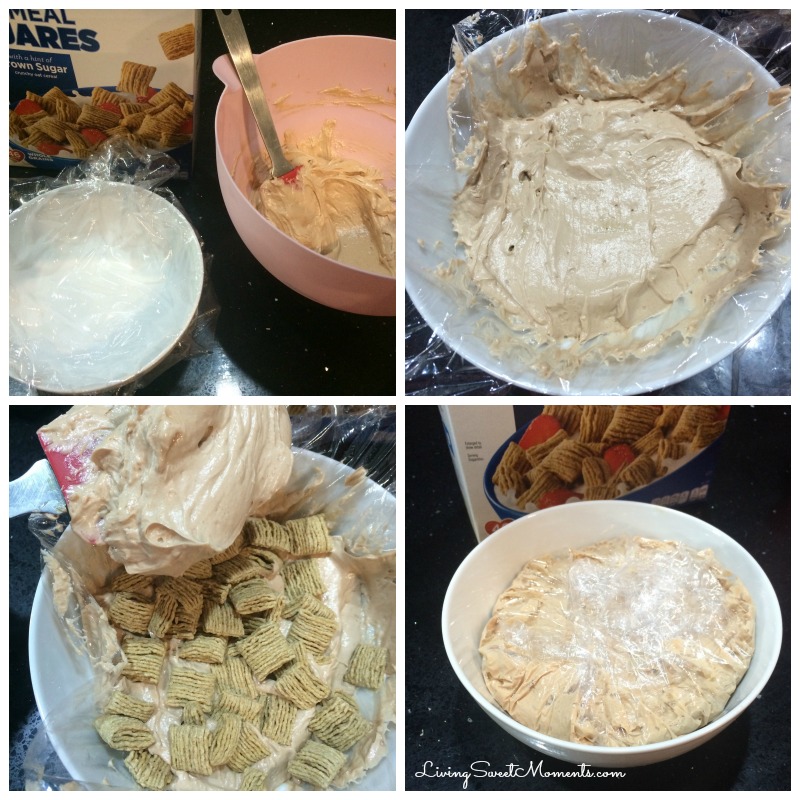 I used a cereal bowl lined with plastic wrapping paper. I add chocolate buttercream and layer them with the Oatmeal Squares. Then I finish it off with more chocolate. I close it up with the plastic paper and into the fridge to set up for a few hours. When it comes out I sprinkle in some chocolate shavings and crushed cereal.
Quaker® Oatmeal squares and all the ingredients needed to make this cake can be found at your local Walmart. Check the cereal aisle for Life, Oatmeal Squares and more.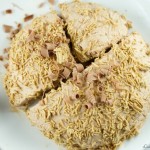 Cereal And Chocolate Icebox Cake Recipe
Ingredients
3

oz

of Milk Chocolate

1

egg

1

Stick of butter

at room temperature

1/2

Cup

of Sugar

1

teaspoon

of Rum Extract

may substitute for Vanilla

1/2

Cup

of Quaker® Oatmeal Squares

Garnish: crushed Oatmeal Squares and shaved chocolate
Instructions
In a mixer, cream the butter and sugar together for 2-3 minutes

Add the egg and sugar and continue mixing

Melt the chocolate and add in the mix

Line a cereal bowl with plastic wrapping paper. Add some chocolate buttercream on the bottom and on the sides

Sprinkle in the cereal. Cover with buttercream. Add another layer of cereal and top off with remaining buttercream. Close it off with the plastic wrapping paper and place in the fridge for a minimum of 4 hours

When the chocolate sets ups, sprinkle with crushed cereal and shaved chocolate
Hope you can make it at home!