This delicious Shrimp Stuffed Eggplant Recipe is easy to make and is perfect for a nice weeknight dinner idea. The filling is inspired by Italian Caponata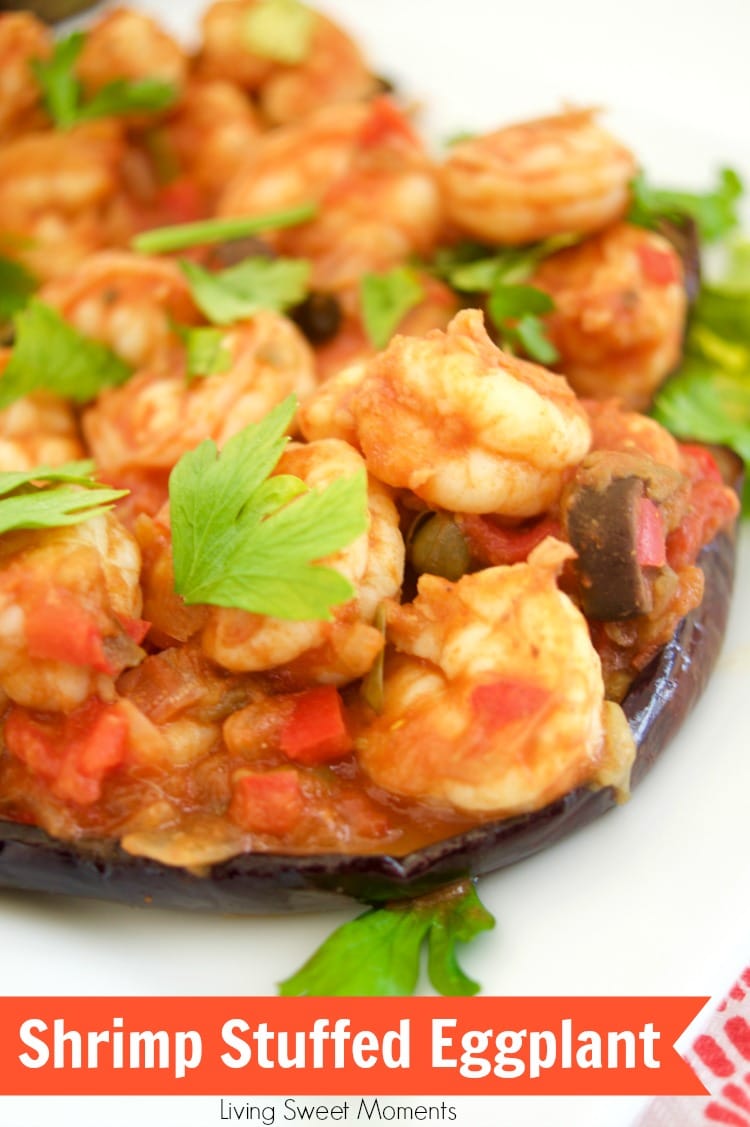 Shrimp Stuffed Eggplant Recipe
I love experimenting with new textures, flavors, and ingredients. This easy Shrimp Stuffed Eggplant Recipe is so easy to make, exciting and tasty. It's one of those dishes that fills you up without weighing you down.
A few months ago I made a fish with Caponata sauce inspired by Mediterranean flavors. This Shrimp Stuffed Eggplant Recipe is a play on that dish. The flavor of roasted eggplant and tomato along with the olives and capers is amazing.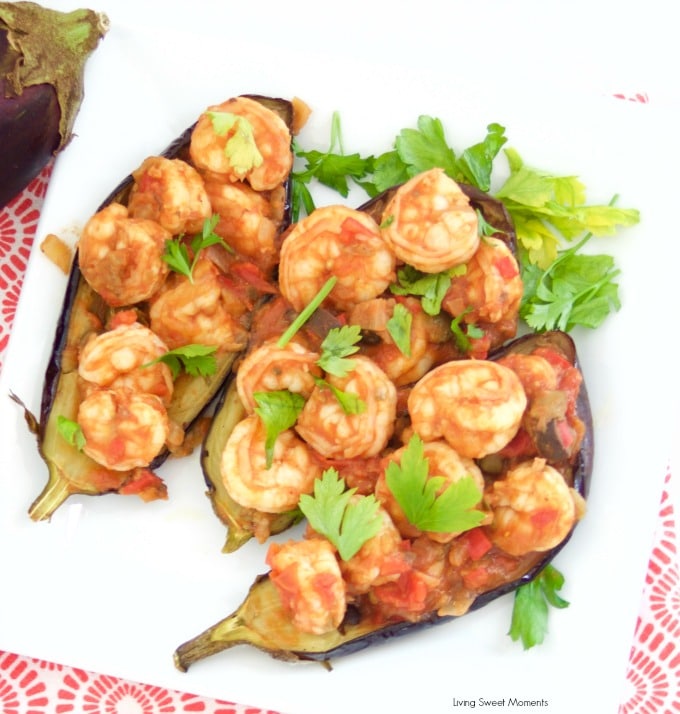 I used these cute mini eggplants I found in the supermarket the other day, but you can certainly use the big eggplants to serve a crowd. The mini ones roast faster and they are perfect to serve individually.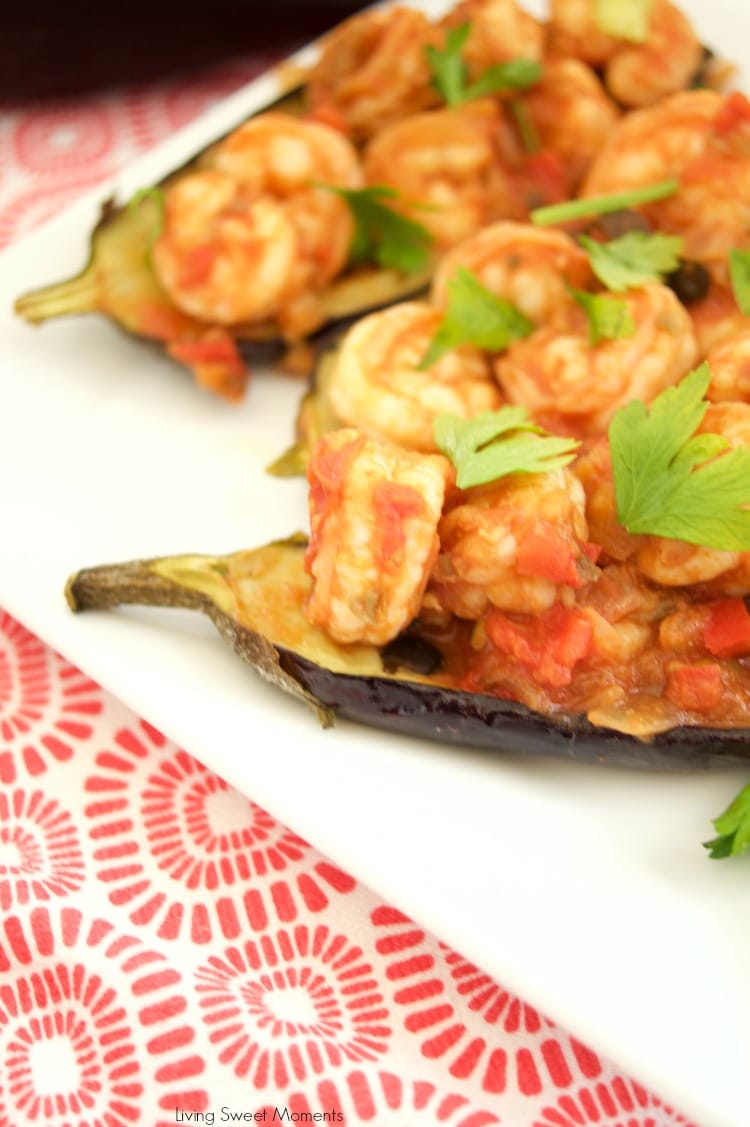 If you're not a fan of shrimp, you can simply omit them or simply swap them out for another protein like beans, ground beef, turkey or even scallops.  They are delicious vegetarian or even vegan.
When I told my husband the idea to make this Shrimp Stuffed Eggplant Recipe he said: "hmm that sounds delicious but make sure the shrimp to eggplant ratio is correct, I don't want to stick my fork down and fish for the hidden shrimp".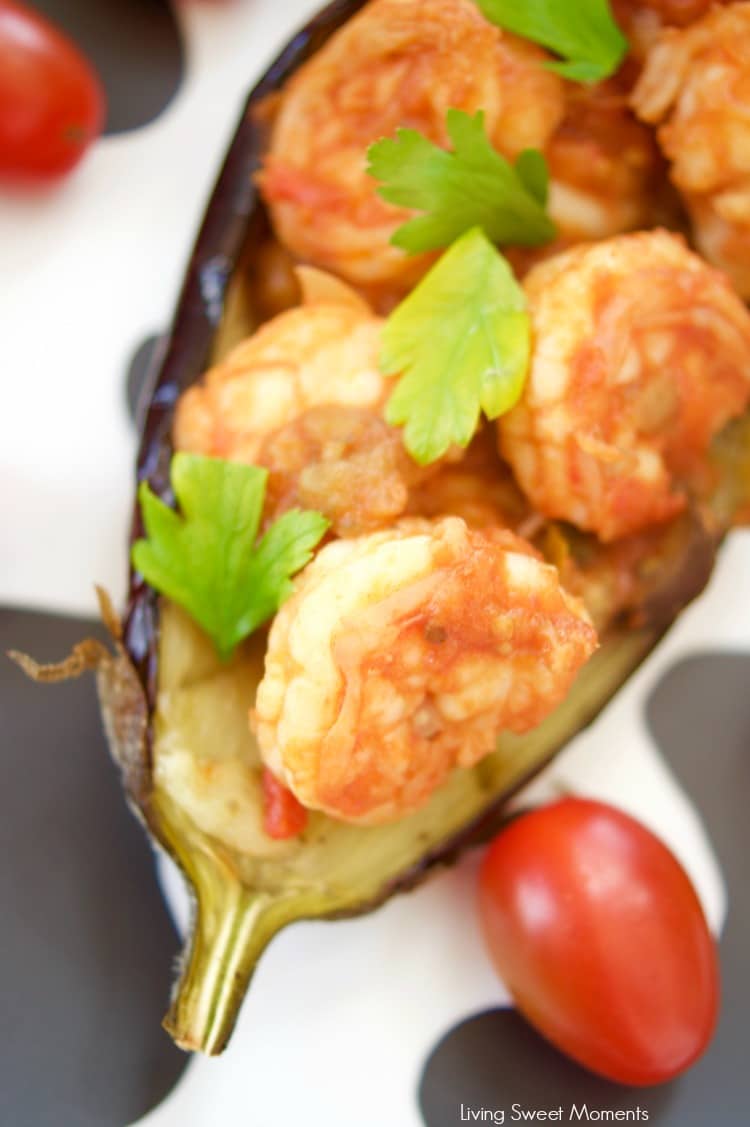 He had a great point, so I packed every roasted eggplant with tons of shrimp, so every bite you take will have tons of meat and veggies.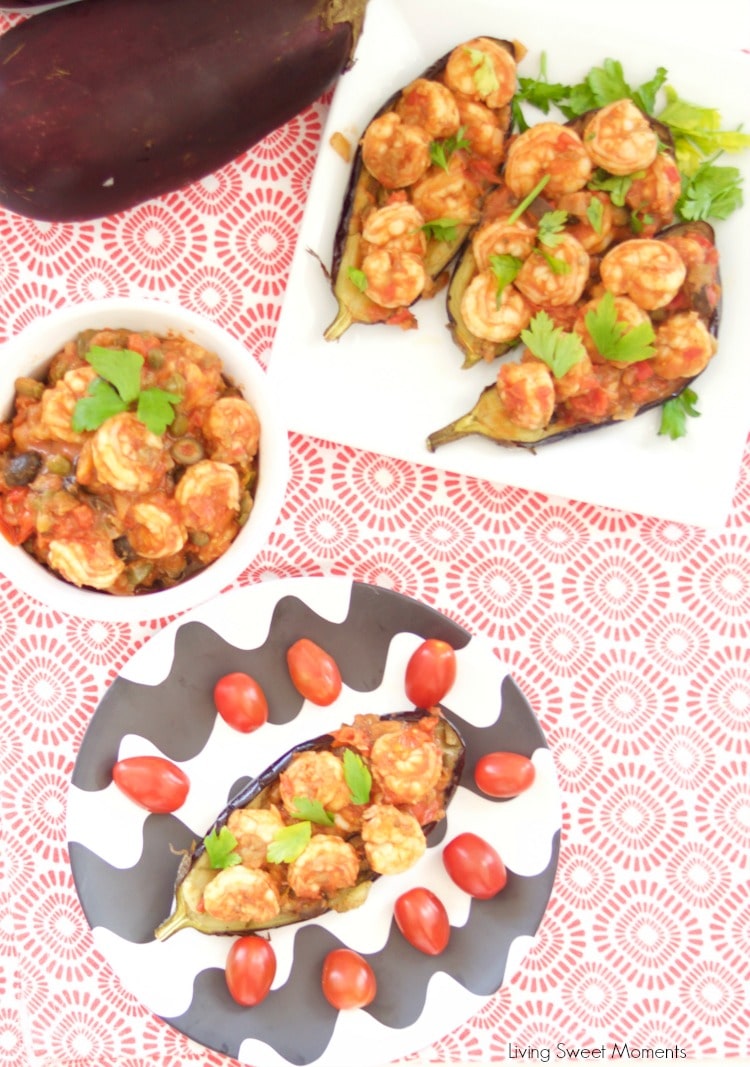 If you're entertaining guests, you can easily make this recipe in 30-40 minutes (depending on the size of the eggplant) without breaking a sweat. It's something different and original.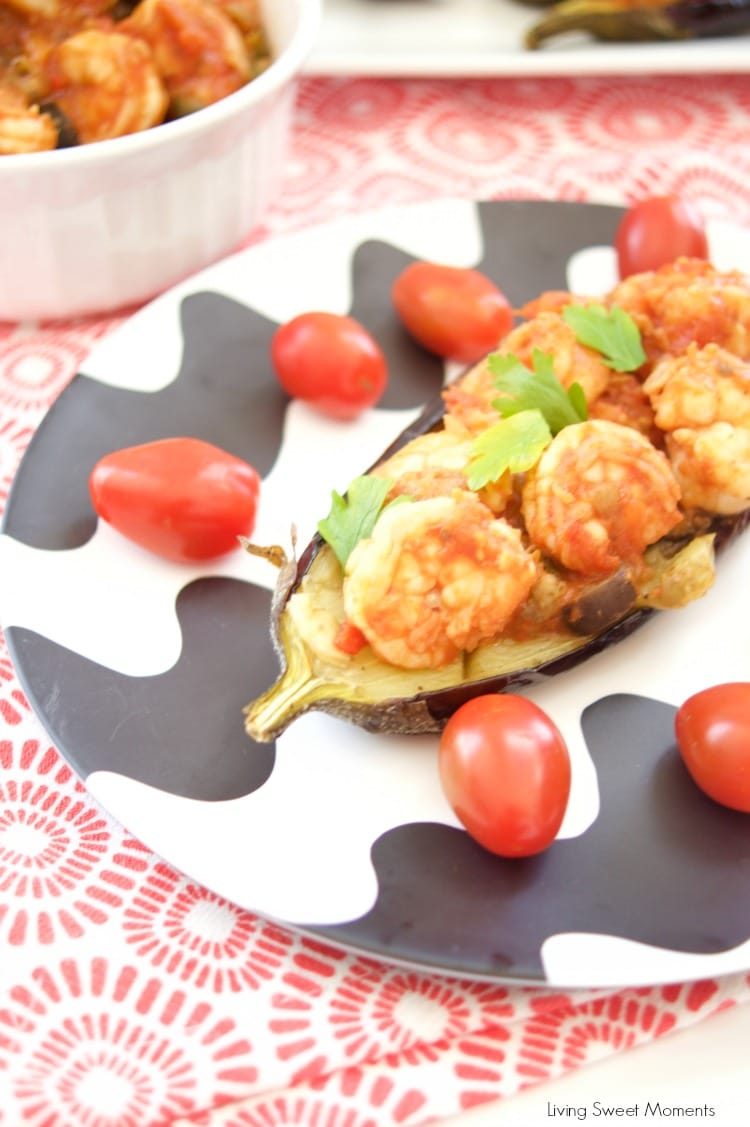 I hope you can try this delicious Shrimp Stuffed Eggplant Recipe at home. If you do, please upload a pic on Instagram and tag me @Livingsweetmoments or use the hashtag #LivingSweet. I promise to repost it.
CLICK HERE FOR MORE STUFFED EGGPLANT RECIPES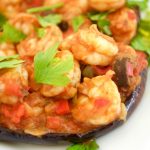 Shrimp Stuffed Eggplant Recipe
This delicious Shrimp Stuffed Eggplant Recipe is easy to make and is perfect for a nice weeknight dinner idea. The filling is inspired by Italian Caponata
Ingredients
2

Large eggplants or 6 mini eggplants

8

oz

cherry tomatoes

3

tablespoons

of olive oil

plus more

1

large yellow onion

chopped

2

cloves

Garlic

1

Red Pepper

chopped

teaspoon

½ of Red pepper flakes

optional

3/4

cup

of pureed Italian tomatoes

cup

½ of black Olives

sliced

2

tablespoons

of Capers

drained

2

tablespoons

of Balsamic Vinegar

1

tablespoon

of Tomato Paste

1 -2

Tablespoons

of Granulated Sugar

Salt and Pepper To taste

chopped parsley
Instructions
Preheat oven to 400 degrees Fahrenheit

Line a sheet pan with aluminum foil

Cut the eggplants in half

Score the meat of the eggplant in a crisscross pattern being careful not to cut through the skin

Roast the eggplant in the oven

Place tomatoes in a bowl, toss with 2 teaspoons of olive oil salt and pepper

When eggplant has been 8-10 minutes in the oven, add the tomatoes to the oven and bake for 10 more minutes (depending on the size of the eggplant)

Remove from oven and let them cool

When the eggplant cools, remove the filling with a spoon leaving a bit of pulp to ensure they are strong enough to be stuffed

Cut the filling in small pieces as well as the roasted tomatoes

In a large skillet or pot add 1 tablespoon of olive oil

Sautee the onions and red pepper until soft. Add the garlic and cook over medium-low heat stirring frequently. Do not let the garlic burn. Season with salt and pepper

Add the shrimp and cook for 1 minute on each side (do not overcook)

Add the capers and olives. Continue cooking for 1 more minute

Pour in the balsamic vinegar and cook until the vinegar has reduced by half

Add the tomato puree, tomato paste, sugar, salt, pepper, roasted tomato and eggplant. Cook until the liquid has reduced by half and the sauce is thick

Check for seasoning and remove from heat

Fill each eggplant with the shrimp and garnish with chopped parsley