Fluffy, soft, and delicious. These amazing Condensed Milk Bread Rolls are super easy to make and perfect to serve with dinner or breakfast.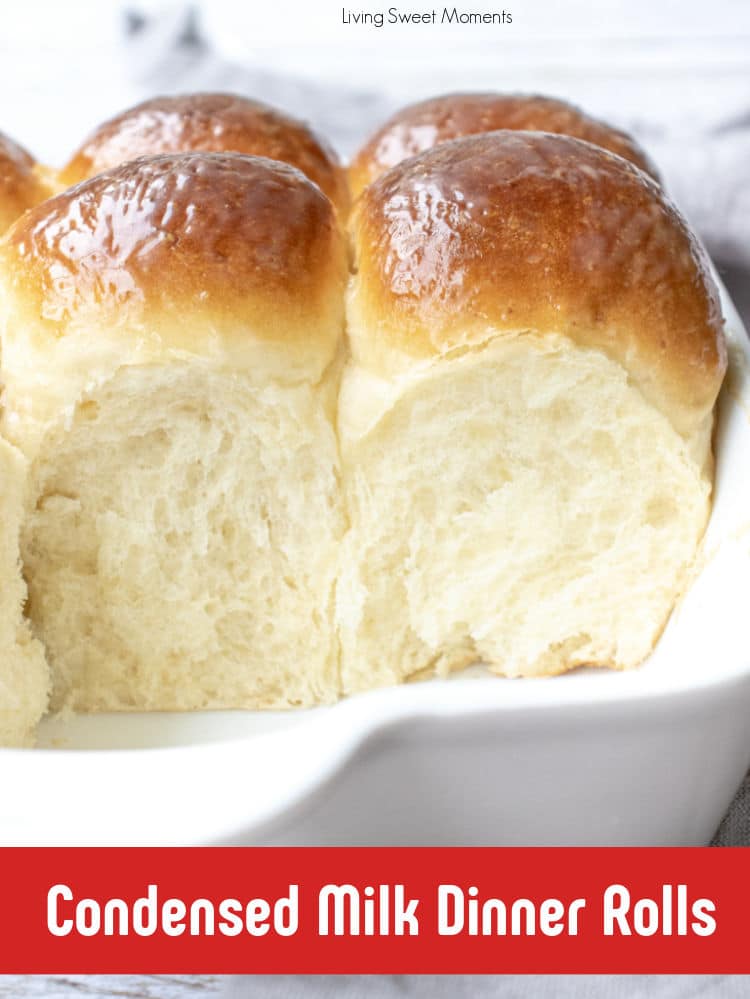 Condensed Milk Dinner Rolls
Every time I post a bread recipe, I always mention that my favorite is bread. Working with yeast is part science and part magic.
Kneading the dough and feel it become soft and elastic, watching it grow as it proofs and then the transformation while it bakes has always fascinated me.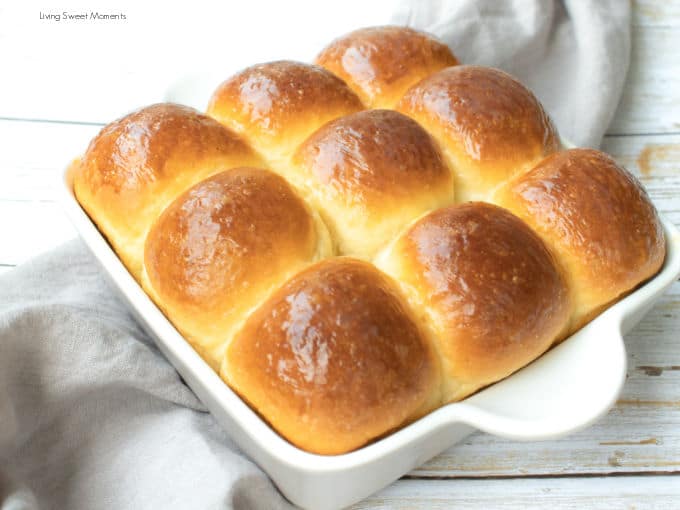 These delicious dinner rolls are sweet, because they are glazed on top as soon as they come out of the oven.
The texture reminds me of those rolls they served us at Chinese restaurants in Venezuela.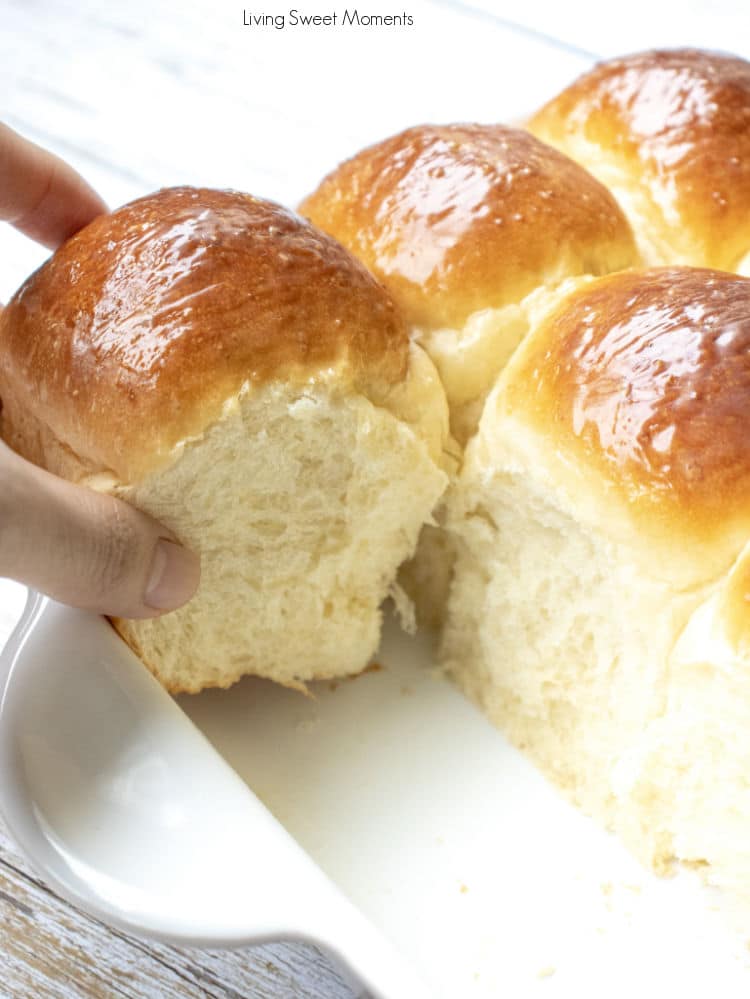 You can add any citrus zest, herbs, and spices to your liking.
I love spreading some jam and butter if I'm having them for breakfast. I can just toast them up the next day and they will be as delicious as ever.
They are great for small sandwiches as well. Perfect to stuff in the lunchbox for your kids at school and for work.
When making these, check the expiration date of your yeast to make sure it will activate.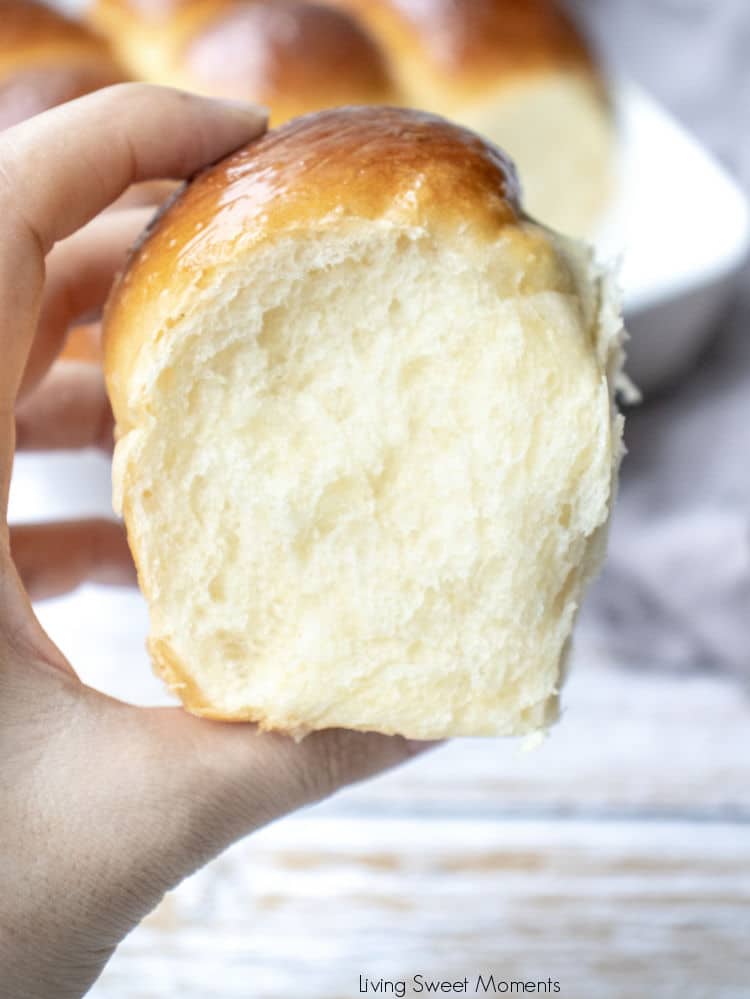 This recipe will yield 8 rolls. If you would like a bigger quantity, simply double or triple the recipe. The proofing time will not change.
As a Latina, condensed milk is part of our basic pantry and we use it for savory and sweet recipes. We love the versatility of this ingredient.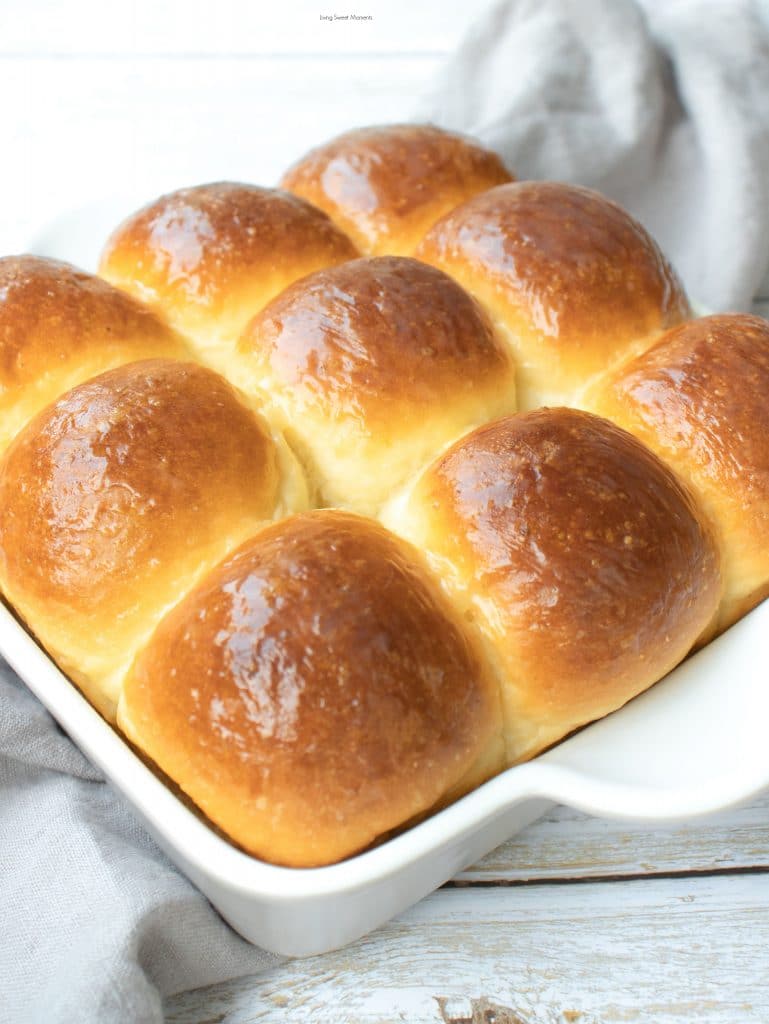 I hope you can try these delicious Condensed Milk Bread Rolls at home. If you do, please upload a pic on Instagram and tag me @Livingsweetmoments or use the hashtag #LivingSweet.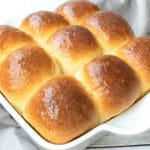 Condensed Milk Bread Rolls
Fluffy, soft, and delicious. These amazing Condensed Milk Bread Rolls are super easy to make and perfect to serve with dinner or breakfast.
Ingredients
For the dough
3 1/4

cups

All Purpose Flour

1

tablespoon

Instant Yeast

1/2

teaspoon

Salt

1

cup

Milk

room temperature

1/2

cup

Condensed Milk

1

Egg

large

2

oz

Butter

room temperature, cubed
For the glaze
3

tablespoons

Condensed Milk

1

tablespoon

Butter

room temperature
Instructions
Sift flour through a fine sieve mesh into a mixing bowl

Add the rest of dry ingredients into the bowl

Using a dough hook, on slow speed, add egg, milk, condensed milk to drymixture and mix until cohesive dough starts to form, about 1 minute

Use rubber spatula to scrape downsides of the bowl if necessary

Increase speed to medium-low, add butter, one piece at a time, and mixuntil butter is fully incorporated

Continue to mix the dough until it is smooth and elastic, about 2minutes. Make sure there is no dry flour remains on the bottom of the mixingbowl. Do not add more flour to the mixture because the dough islightly wet

Transfer the dough to a lightly greased large mixing bowl and use yourhand to knead the dough a few times to form a smooth round dough

Turn the smooth dough seam side down. Cover the bowl tightly with plastic wrap and let the dough rise untilit is double in size, approximately 1.5 to 2 hours. Do not rush this proofingprocess or you'll end up with heavy, not fluffy rolls

In a mean time, grease your baking pan

When the dough is ready punch down the dough and carefully transfer it to a lightly-floured counter. Divide the dough into 8 equal pieces (about 2.6 ~ 3 oz each)

Work with 1 piece of dough at a time.Cover the rest with plastic wrap if you need sometimes to form each small dough

Stretch the dough by using your fingers and pinch the edges together atthe bottom to form a smooth dough

Place the dough seam side down back on the counter and use your hand todrag it in small circle to create a smooth round ball

Then transfer the round ball, seamside down, to an already greased baking pan. Repeat for theremaining pieces

Arrange them nicely in the pan then lightly cover with plastic wrap and let them rise until almost double insize. Make sure they don't rise above the rim of the pan

Gently brush dinner rolls with eggwash mixture and bake from 25 to 30 minutes, rotate the panhalf way.

Dinner rolls should have a deep orbright golden-brown crust, depends on your references.

When the rolls are done baking, take them outand let them cool down for 5 minutes at room temperature. Lightly brush a layerof condensed milk glaze on top of the rolls when they are still warm

Then let them cool down foranother 30 minutes to an hour before serving. You can serve these rolls warm orat room temperature
Recipe Notes
Tips for kneading: Use your fingertips and gently lift and fold the edge of the dough that's farthest away from you toward the middle. Turn the bowl several times and repeat those steps.
Nutrition Facts
Condensed Milk Bread Rolls
Amount Per Serving
Calories 371
Calories from Fat 108
% Daily Value*
Fat 12g18%
Cholesterol 72mg24%
Sodium 273mg12%
Potassium 218mg6%
Carbohydrates 55g18%
Protein 10g20%
Vitamin A 404IU8%
Vitamin C 1mg1%
Calcium 128mg13%
Iron 3mg17%
* Percent Daily Values are based on a 2000 calorie diet.
You may also like: