This no cook Cranberry Chutney has only 4 ingredients and is perfect to serve with turkey or as a spread with crackers. Perfect for your holiday meal. Yum!!
Disclosure: Thank you BJ's for sponsoring this post and collaborating your delicious cranberry recipe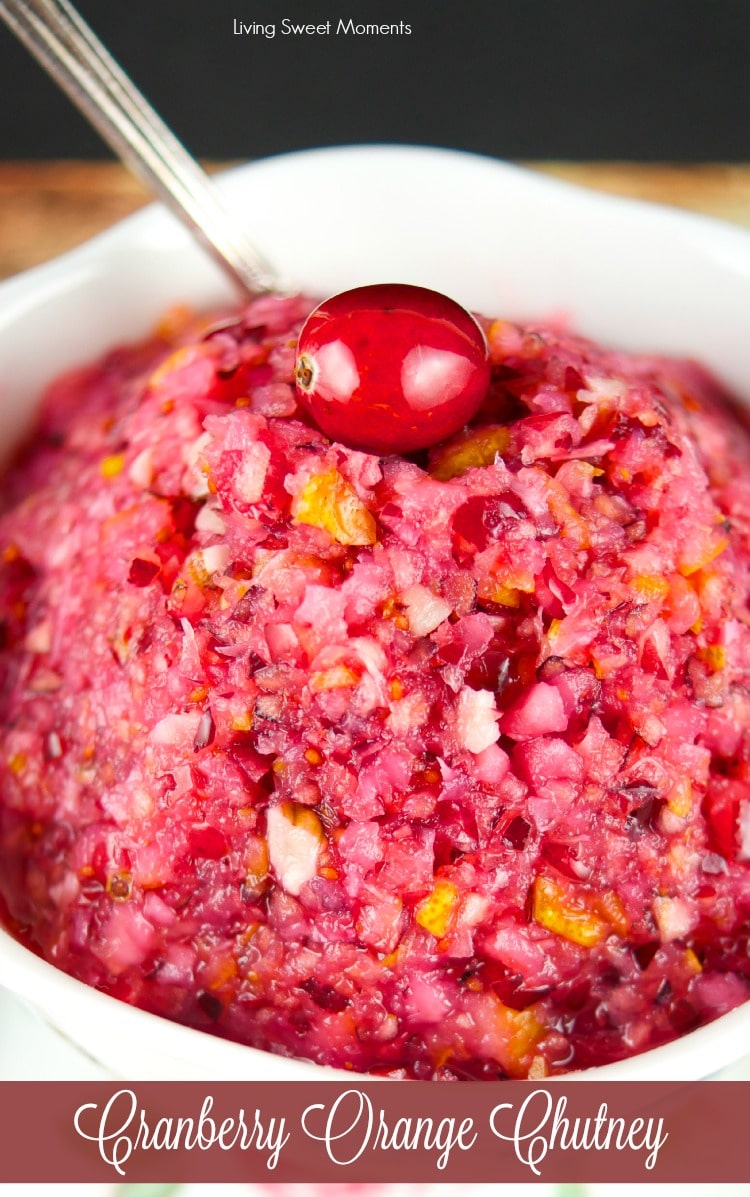 'Tis the season for cranberries. In a few days we'll be celebrating Thanksgiving and in the coming weeks, you'll be making and baking lot's of cookies and cakes containing cranberries.
This delicious cranberry chutney is SUPER EASY to make and it only has 4 ingredients. I am sure all of your burners and oven will be busy during Thanksgiving Day. But no worries, this chutney doesn't require any cooking and can be made days in advance before the big day.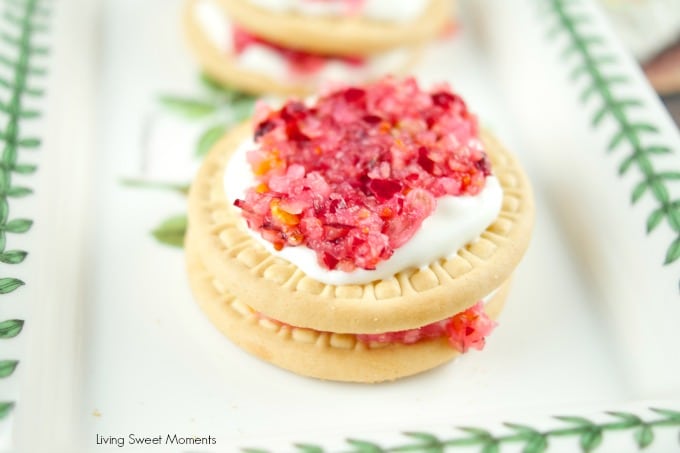 What's so great about this cranberry chutney, is that is very versatile. You can serve alongside your turkey for a tangy sauce, but it's also amazing as a spread for crackers, breads or rolls. I am also thinking of using it as a filling for sweet cookies.
What makes this cranberry chutney stand out is the use of oranges with their peel. It makes a huge difference. But if you're not a huge fan of the citrus, simply use one less orange or peel them. I personally, love the taste as it is.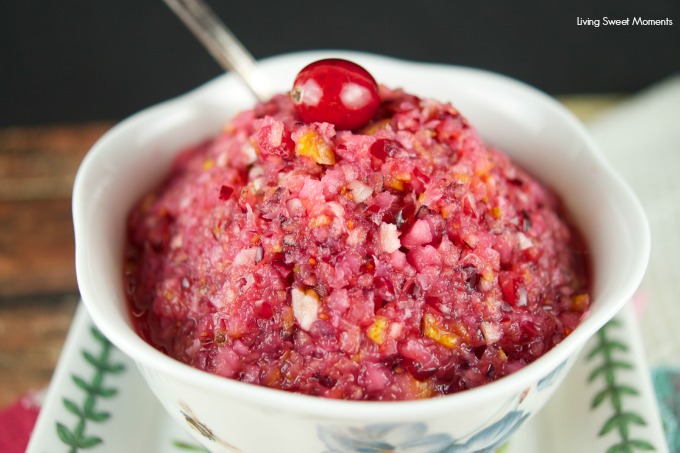 BJ's was nice enough to provide this recipe. A one stop shop for all your Holiday shopping needs. Not only can you get all your ingredients there, but also the PRESENTS. What a time saver!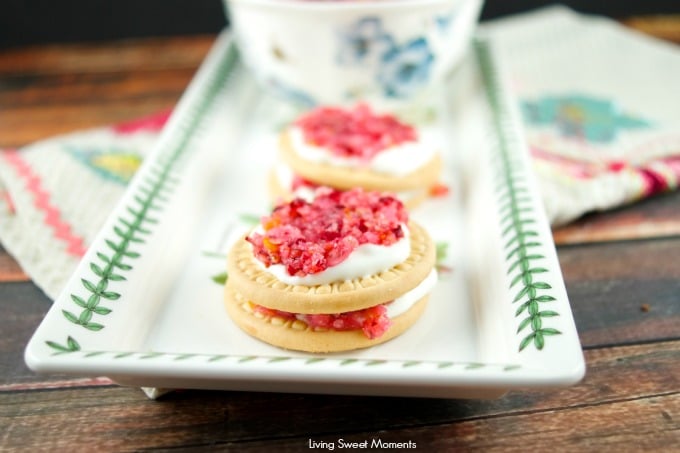 So without further ado, here's the 4 ingredients needed to make this yummy recipe: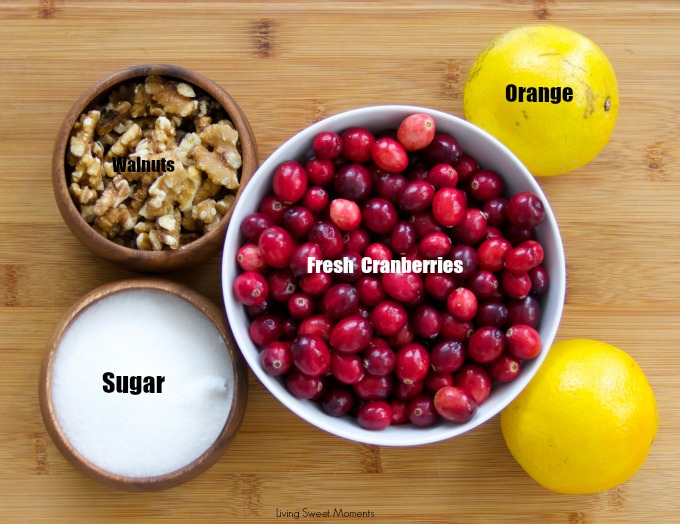 Cranberries, walnuts, sugar and oranges. Easy peasy! Throw them all in a food processor and your chutney is good to go! This recipe was created by Laura Sen's Mom (CEO of BJ's)
Need more uses for cranberries? Check out this awesome graphic:

Can't wait to make these other great ideas!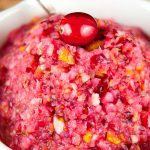 Cranberry Chutney
This no cook Cranberry Chutney has only 4 ingredients and is perfect to serve with turkey or as a spread with crackers. Perfect for your holiday meal. Yum!!
Ingredients
12

oz

. Cape Cod Fresh Cranberries

2

Tropicana Navel Oranges

2

cups

Domino Pure Cane Sugar

1

cup

chopped

toasted Wellsley Farms Walnuts
Instructions
Pour cranberries into a food processor bowl.

Cover and pulse in 2-second bursts, scraping down bowl with a rubber spatula, until the berries are coarsely chopped. Do not over-process. Transfer cranberries to a medium mixing bowl and set aside.

Quarter unpeeled oranges and place in the processor bowl. Pulse until just coarsely chopped.

Combine oranges with cranberries in mixing bowl.

Stir in 1½ cups of sugar and chopped walnuts (if using). Taste and adjust sweetness if necessary by adding more sugar a little at a time.

Cover bowl tightly with plastic wrap. Refrigerate at least 4 hours or overnight to let the flavor fully develop.

Serve chilled.
Recipe Notes
Recipe was provided by BJ's
1 - For appetizers, serve Cranberry-Orange Chutney with sharp cheddar or mixed with cream cheese as a spread. Or enjoy it with traditional pork and poultry dishes.
2 - Prefer sweeter chutney? Instead of using two whole oranges, use a sharp knife to remove the zest from one of them. Then peel it, discarding the remaining peel. Place the zest and peeled orange in the processor bowl and proceed as directed in step 2 with the second orange.
Want more mouthwatering Thanksgiving recipes??? Check out my MENU IDEA and MY TURKEY RECIPE