This melt in your mouth hazelnut Madeleines recipe is made with brown butter and ground hazelnuts for an amazing taste. The perfect delicate French cookie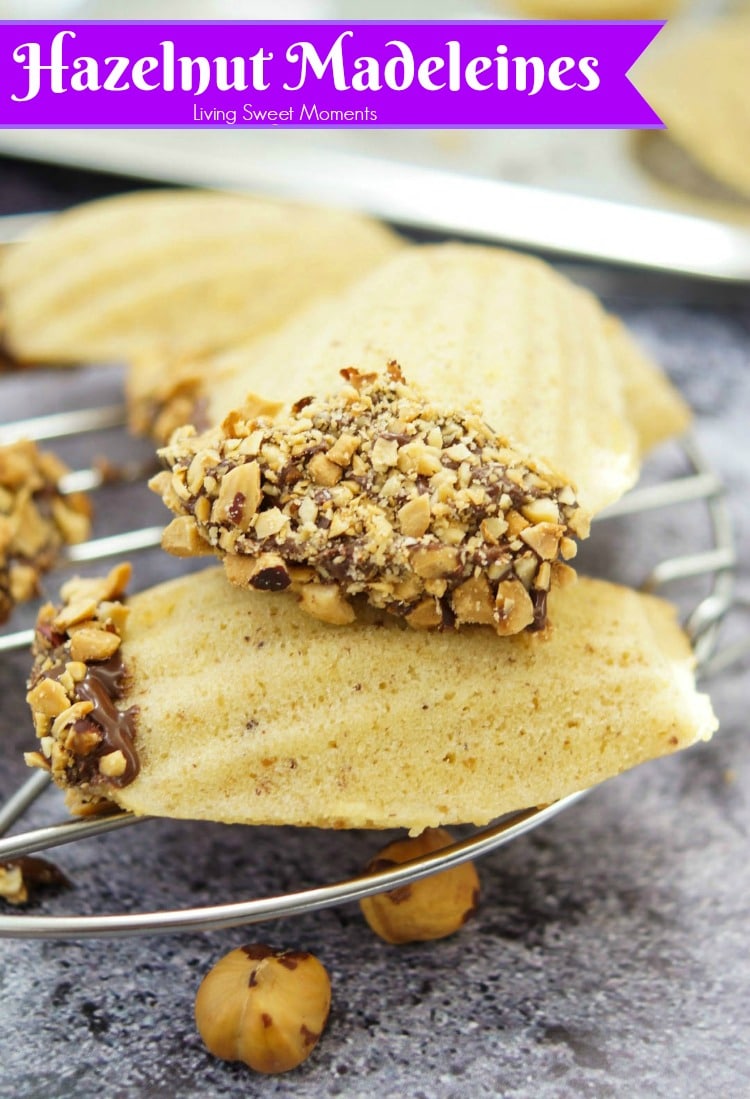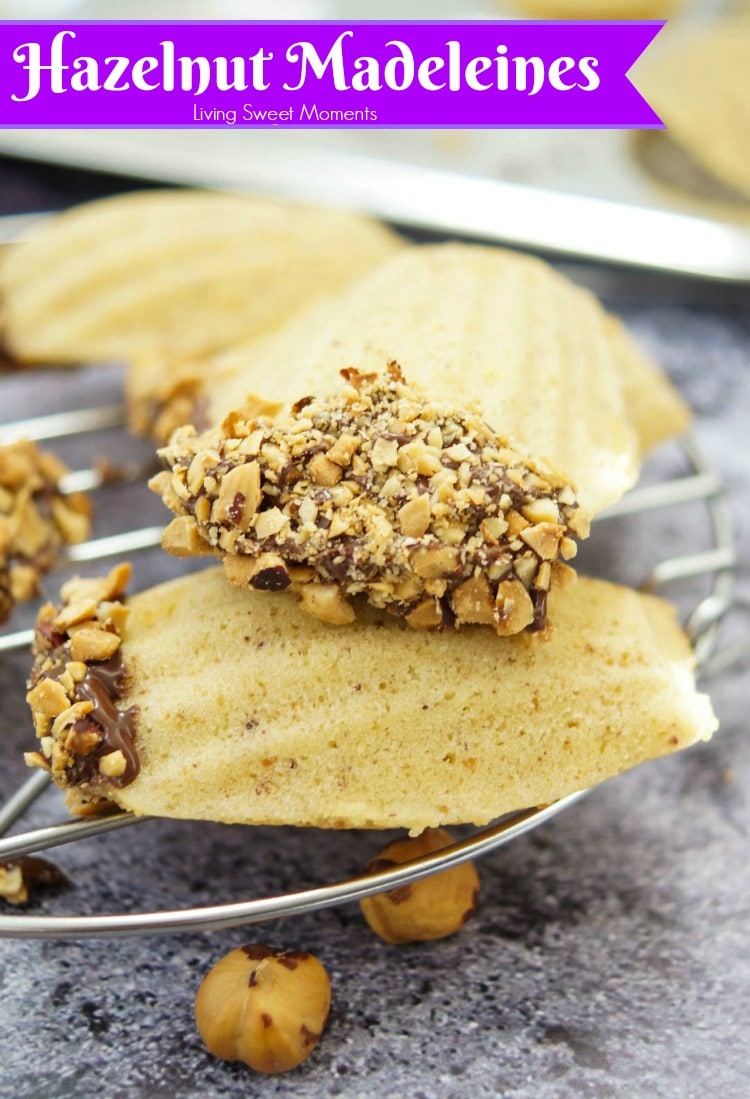 Delectable Hazelnut Madeleines
If you're into delicate taste, sweetness, and French Cuisine, then you're going to love these Delectable Hazelnut Madeleines cookies. They super easy to make, don't require a mixer and are ready in 30 minutes or less.
Madeleine cookies are tender, moist and cakey, just like French Financiers. Both start off with brown butter and use nut flours in their recipes. You can use almond, hazelnuts, walnuts, and pistachios. To me, they're more like portable little cakes than cookies.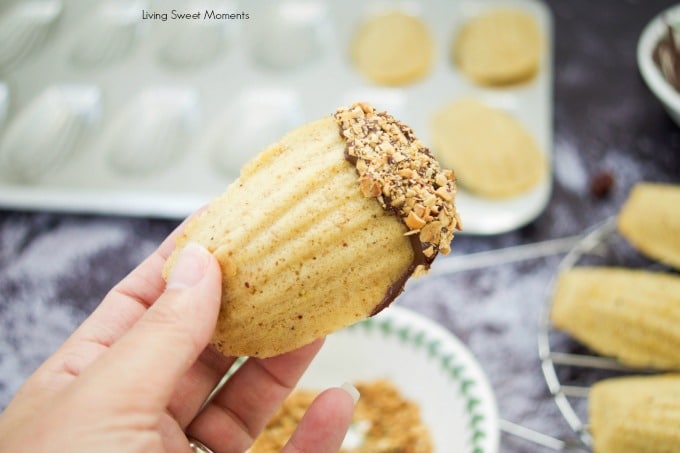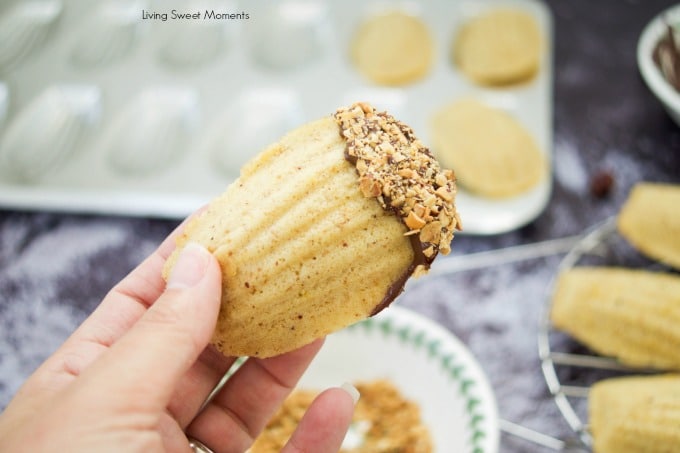 Whenever we go to New York, we stop by The Pierre Hotel to enjoy 5 o'clock tea. My daughters and I enjoy sipping some aromatic tea, enjoying tea sandwiches, Classic English Scones, and of course, their pastries.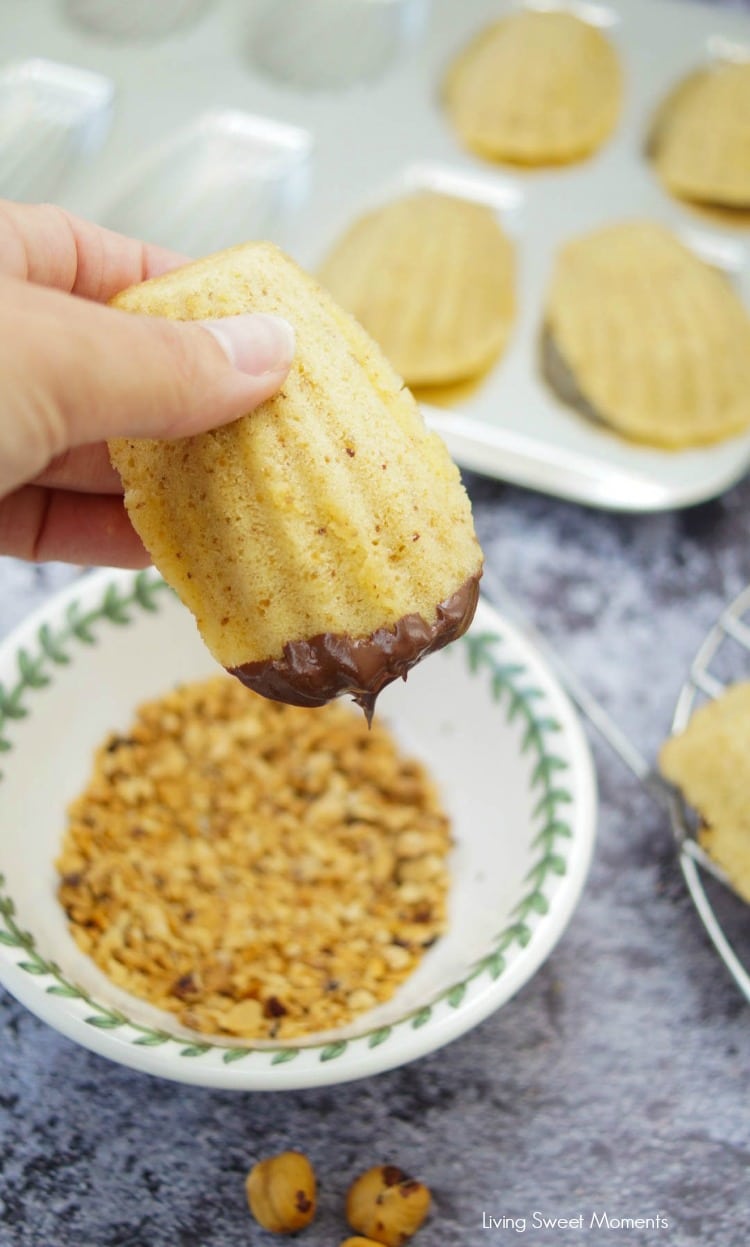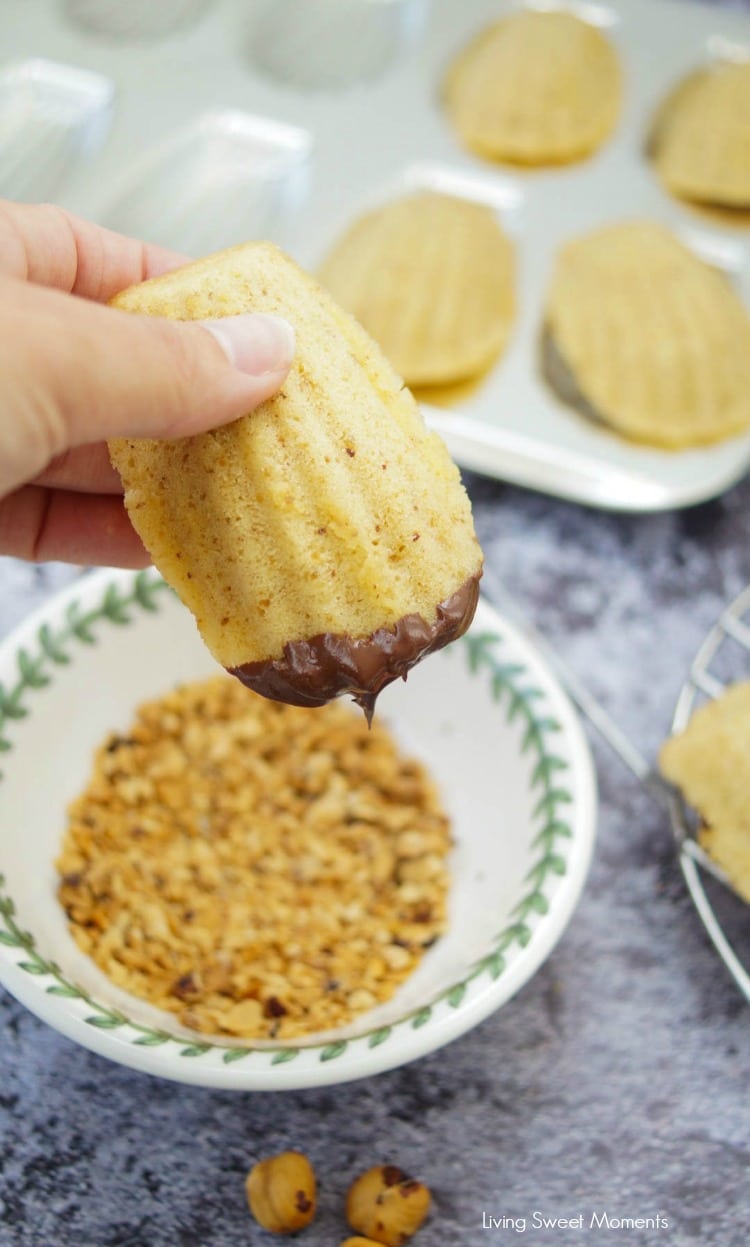 My oldest, always orders "Le Petite Madeleines" on the side. She loves that these cookies are dipped in dark chocolate.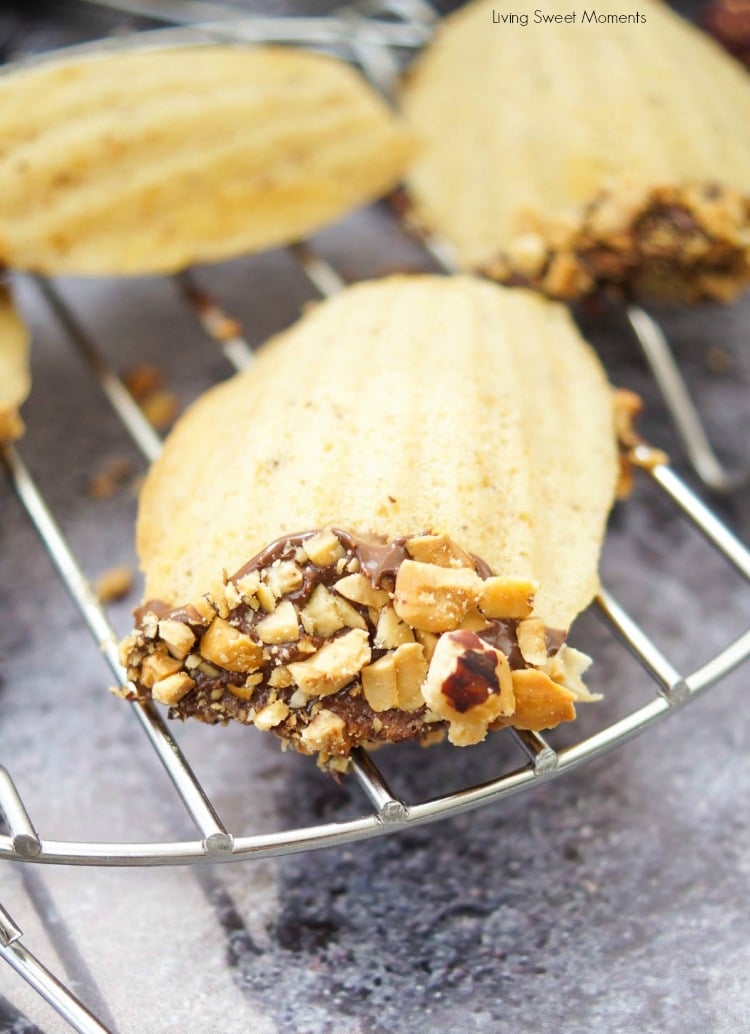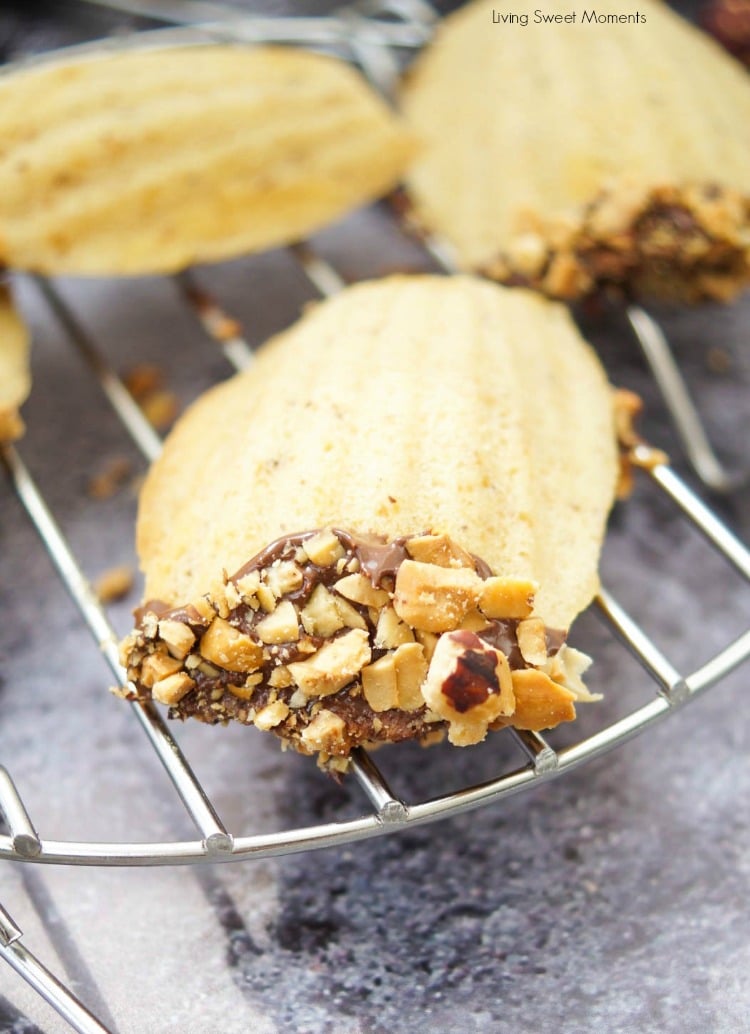 Lately, she's been asking me to make them at home. Since I'm always busy with the blog, my plan has been sitting on the back burner until Mother's Day.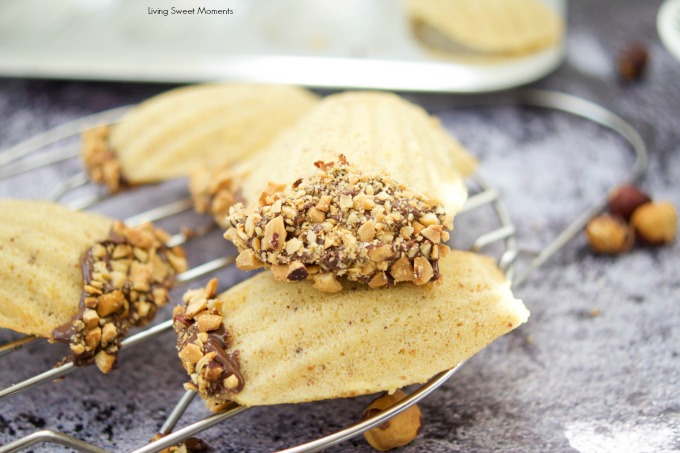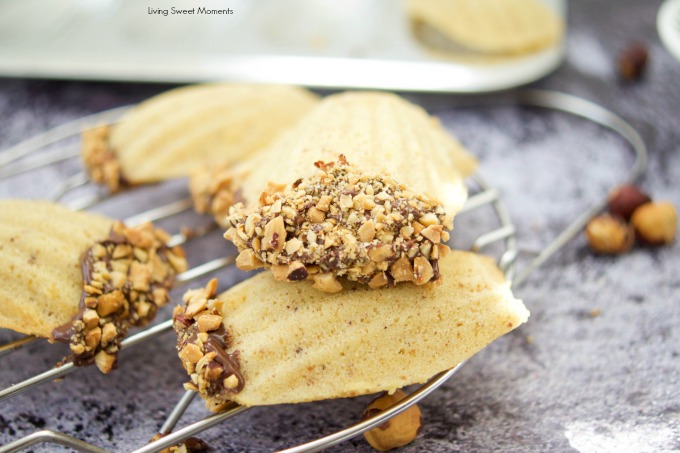 My husband came home with a huge bag from Sur La Table. Inside the bag, he gifted me lots of baking stuff. One of the things he bought was a Madeleine Mold. My daughter took it as a sign and we spent the day baking with them.
As you can see, these cookies are great to make with kids.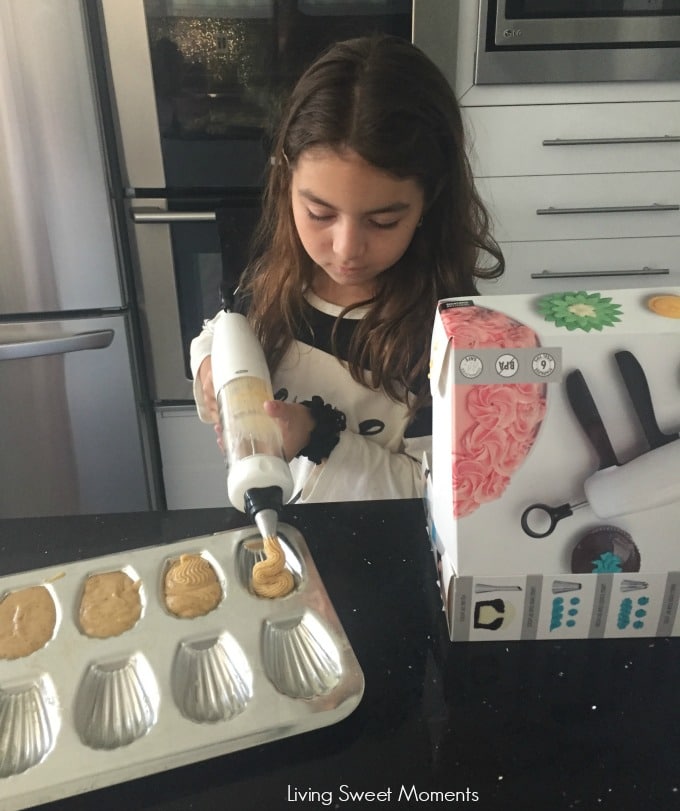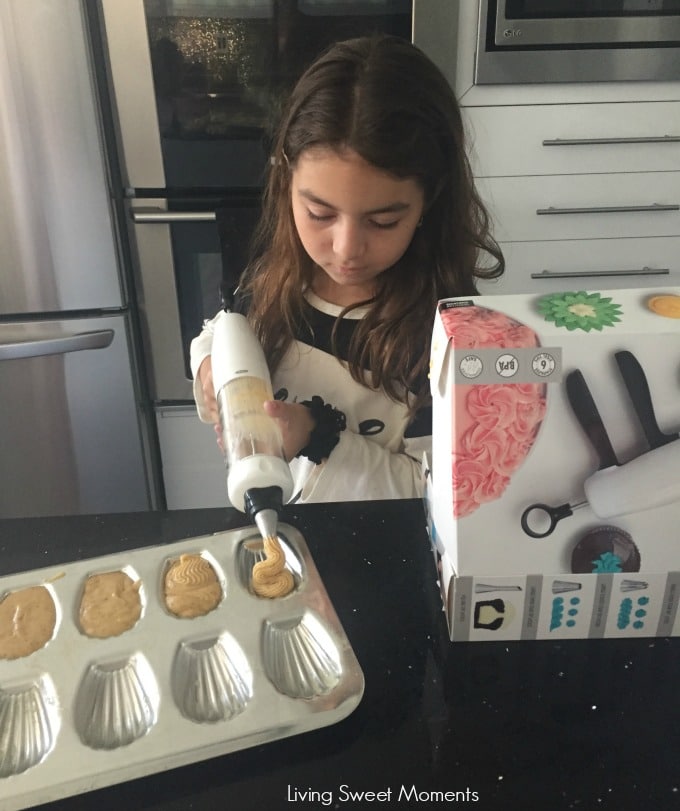 When coming up with a recipe, I wanted to avoid the usual flavors: lemon, almond, chocolate, and vanilla. Since I love anything with hazelnuts, I decided to use that nut. For the outside, we dipped them in chocolate and chopped hazelnuts. This step is entirely optional.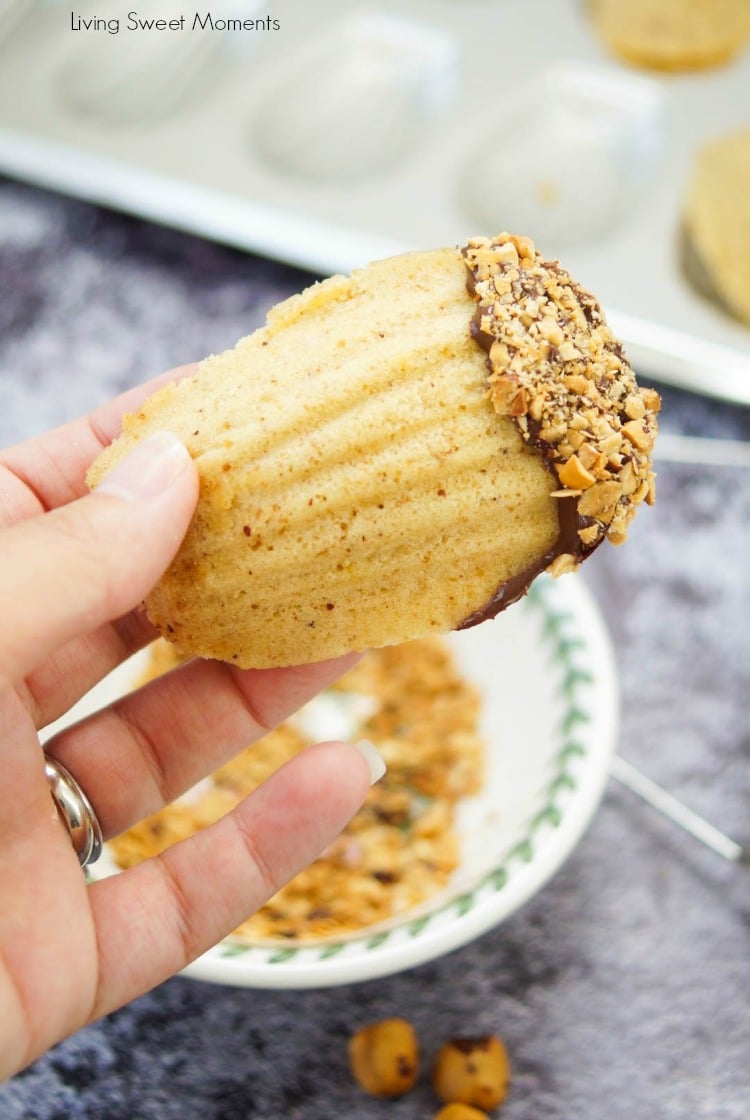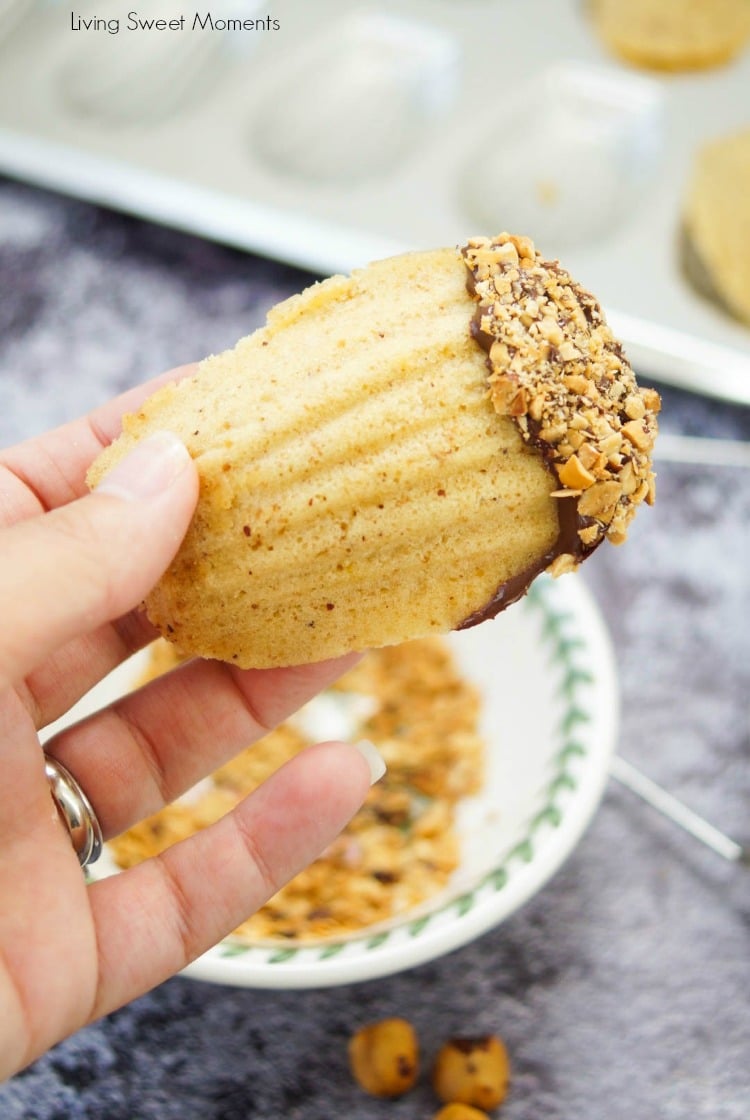 I hope you can try these delicious Hazelnut Madeleines at home. If you do, please upload a pic on Instagram and tag me @Livingsweetmoments or use the hashtag #LivingSweet. I promise to repost it.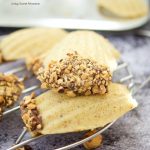 Hazelnut Madeleines
This melt in your mouth hazelnut Madeleines recipe is made with brown butter and ground hazelnuts for an amazing taste. The perfect delicate French cookie
Ingredients
1

Stick

Unsalted Butter (1/2 cup)

1/2

cup

Hazelnuts

toasted and peeled

3/5

cup

All Purpose Flour

2

tablespoons

Coffee Mate Hazelnut Flavor*

1/4

cup

Sugar

3

Eggs

Pinch of Salt
Topping (optional)
1/2

cup

Dark Chocolate Chunks

or chips

1/4

cup

Chopped Hazelnuts
Instructions
Preheat oven to 350 degrees F.

Grind the hazelnuts in a food processor until fine

Place butter in a pan over medium-low heat. Melt butter and whirl the pan occasionally

When butter turns brown and develops a nutty aroma, remove from heat and strain. Cool for 5 minutes


In a bowl mix the all purpose flour, the ground hazelnuts and the salt

In another bowl, whisk the eggs, sugar, and coffee mate. Add the butter, mix, and finally add the flour mixture slowly until combined

Cover the bowl and refrigerate for a minimum of 2 hours. This step is optional but gives the cookie more flavor.

Use a piping bag or a spoon to fill each crevice of the Madeleine pan. Do not overfill

Bake for 12-15 minutes or until firm, but soft to the touch

Remove from the oven and place on a cookie rack to cool

Melt the chocolate and place in a bowl. Place the hazelnut chunks in another bowl. Dip each cookie in the chocolate and then in the hazelnut chunks. Let the chocolate harden on a cookie rack
Recipe Notes
*You can substitute for 1 Tablespoon of Frangelico, or 1 Tablespoon of pure vanilla extract
To toast and peel hazelnuts:  Bake raw hazelnuts on a preheated oven to 375 degrees F for 15-20 minutes or until hazelnuts becomes aromatic and skin begins to break.Remove from oven and place the hazelnuts inside a kitchen towel. Rub the hazelnuts together to remove the skin off them
You may also like: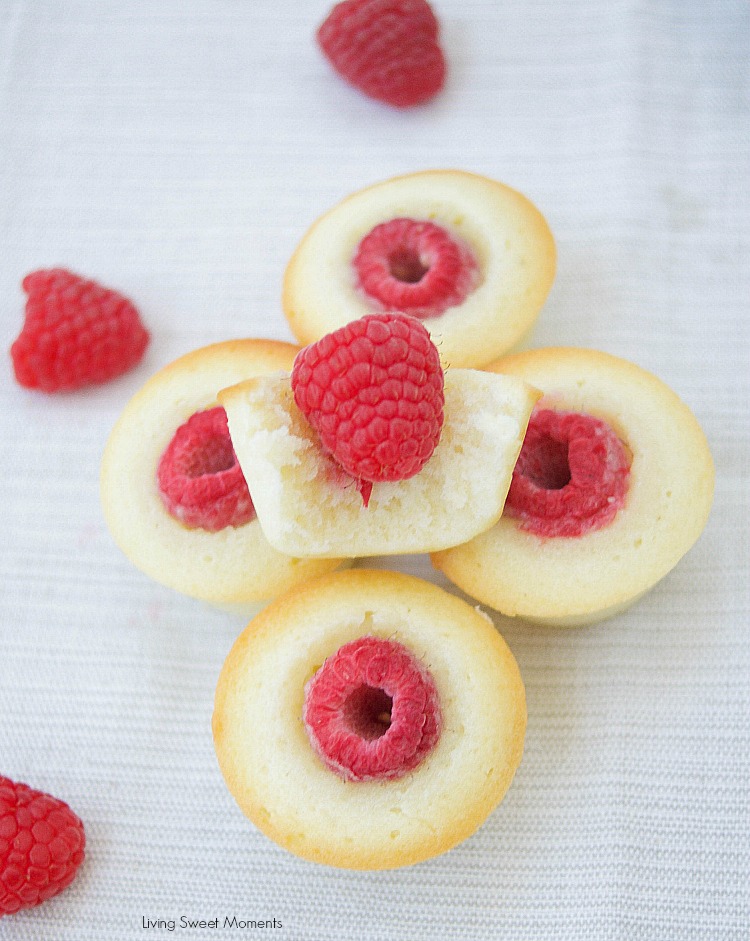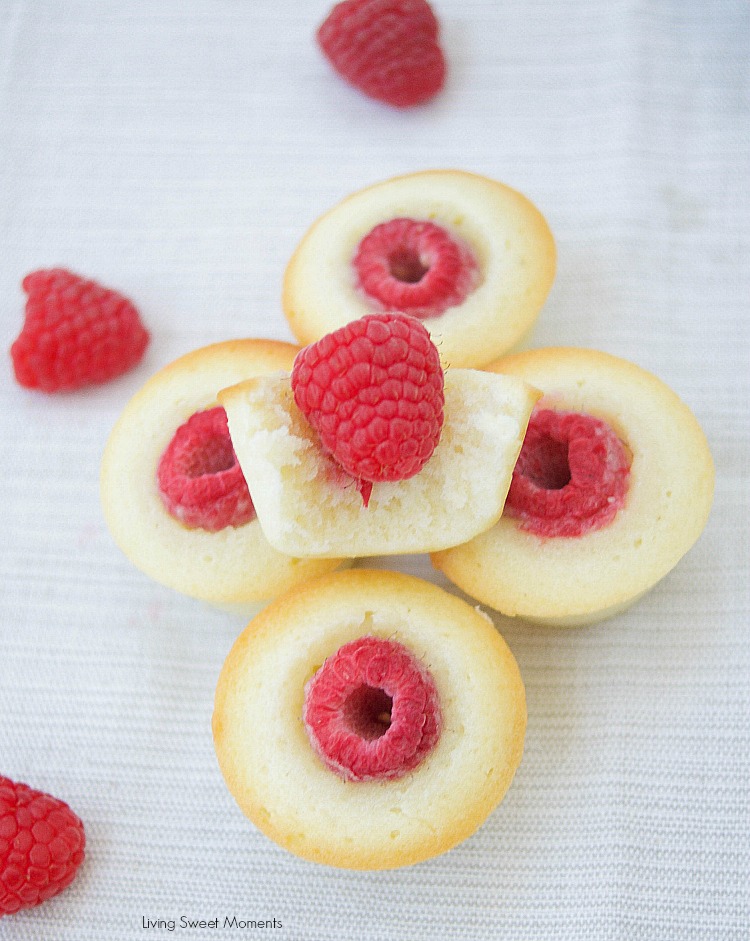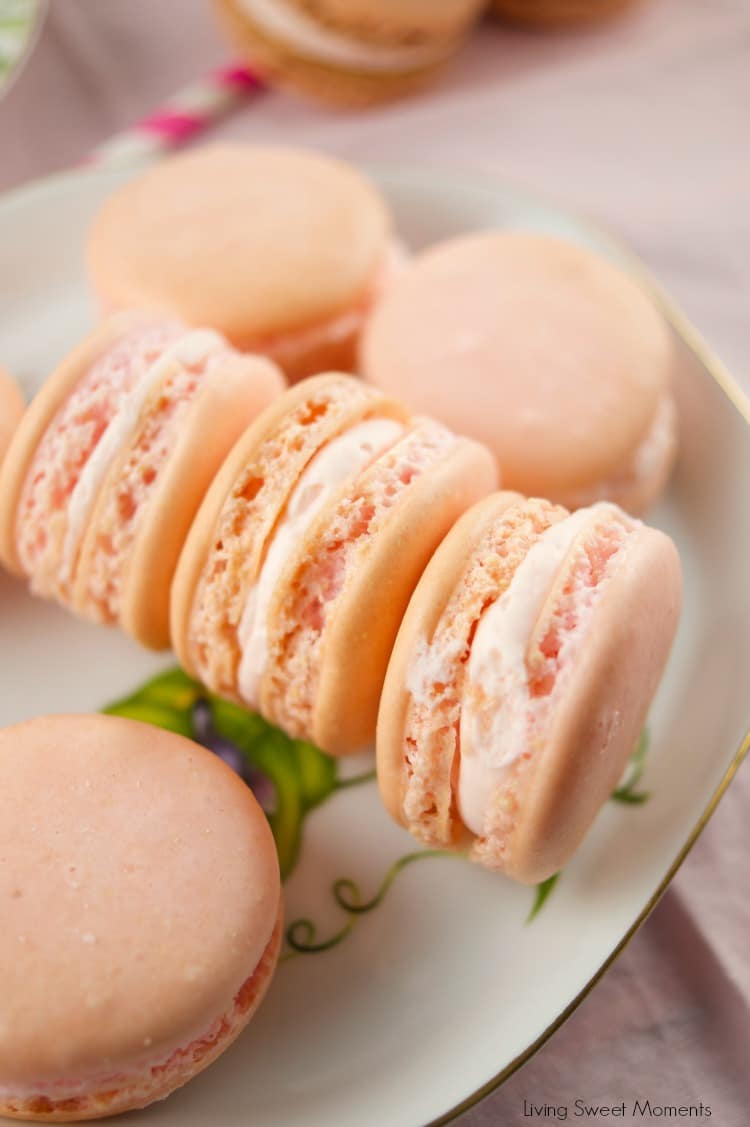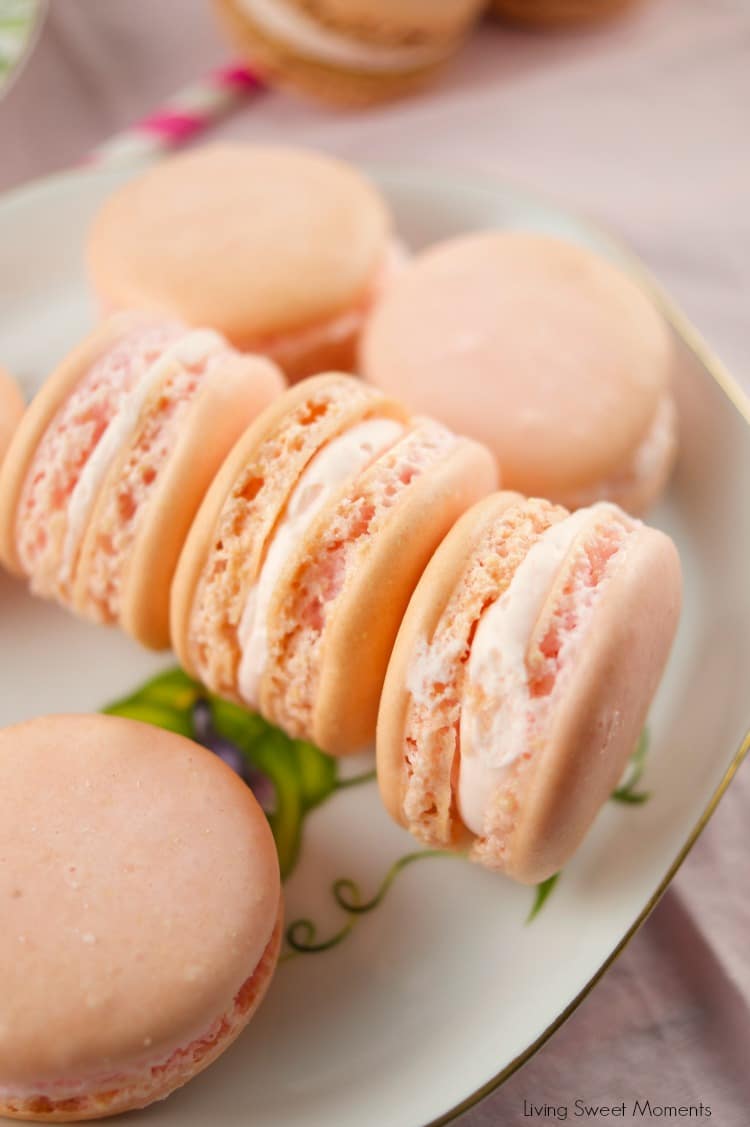 Chewy Brown Butter Chocolate Chip Cookies