These amazing chewy Brown Butter Chocolate Chip Cookies have tons of butterscotch flavor, chocolate chunks and sea salt on top. The best cookie recipe ever!Â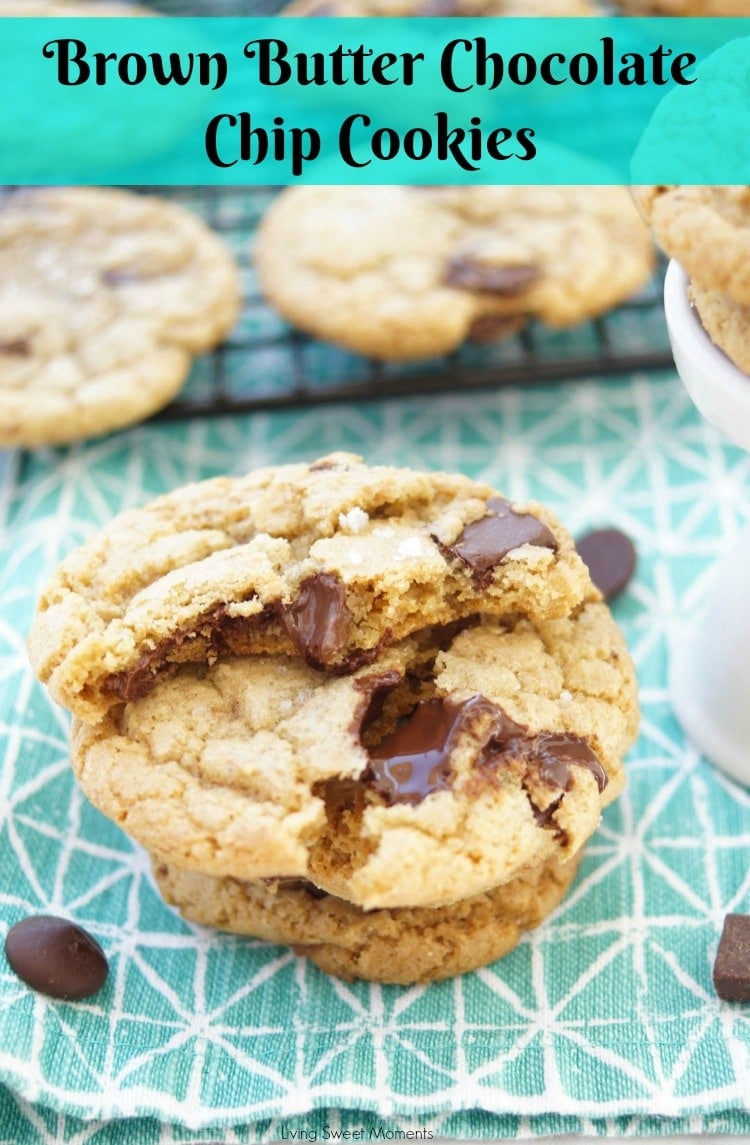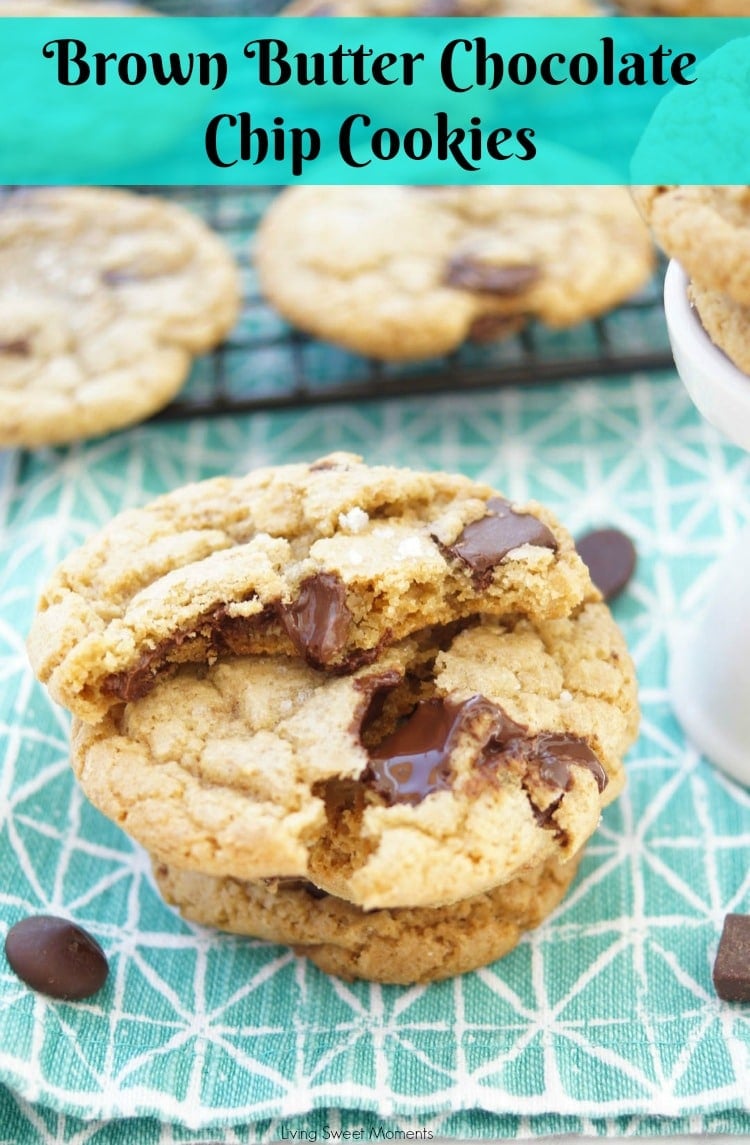 Chewy Brown Butter Chocolate Chip Cookies
Just when you thought a cookie recipe couldn't get better, this one comes along. The brown butter gives it a butterscotch deep flavor in every bite.
The chocolate chips are combined with bittersweet chocolate chunks and before baking, a light hand of sea salt is added, balancing all the flavors.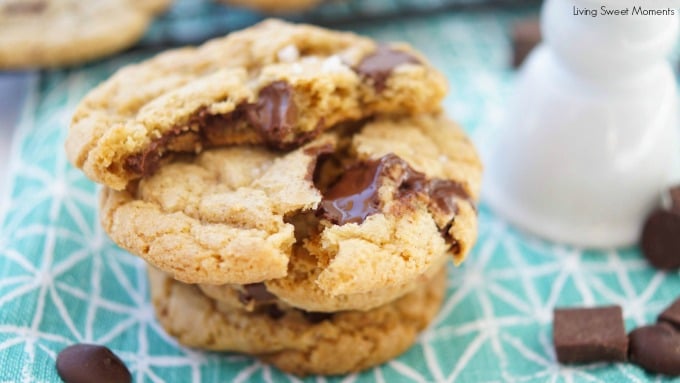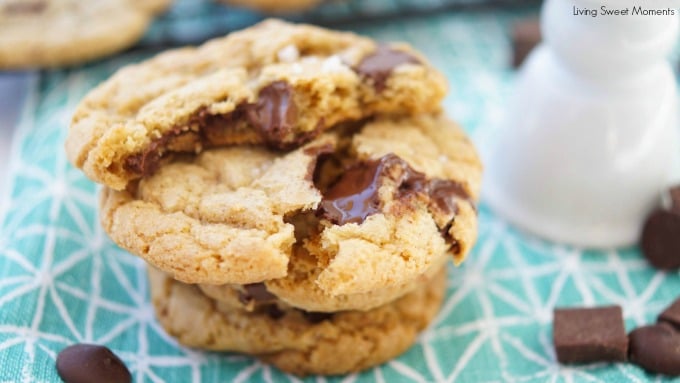 If you've never tried brown butter before, you will definitely love it. When you cook the butter in the burner, it starts to turn brown and becomes super aromatic. The French call it "Beurre noisette" or hazelnut butter because it has a very distinctive nutty smell when cooking.
The butter is then mixed with granulated and brown sugar creating a wonderful chewy texture that compliments the chocolate perfectly.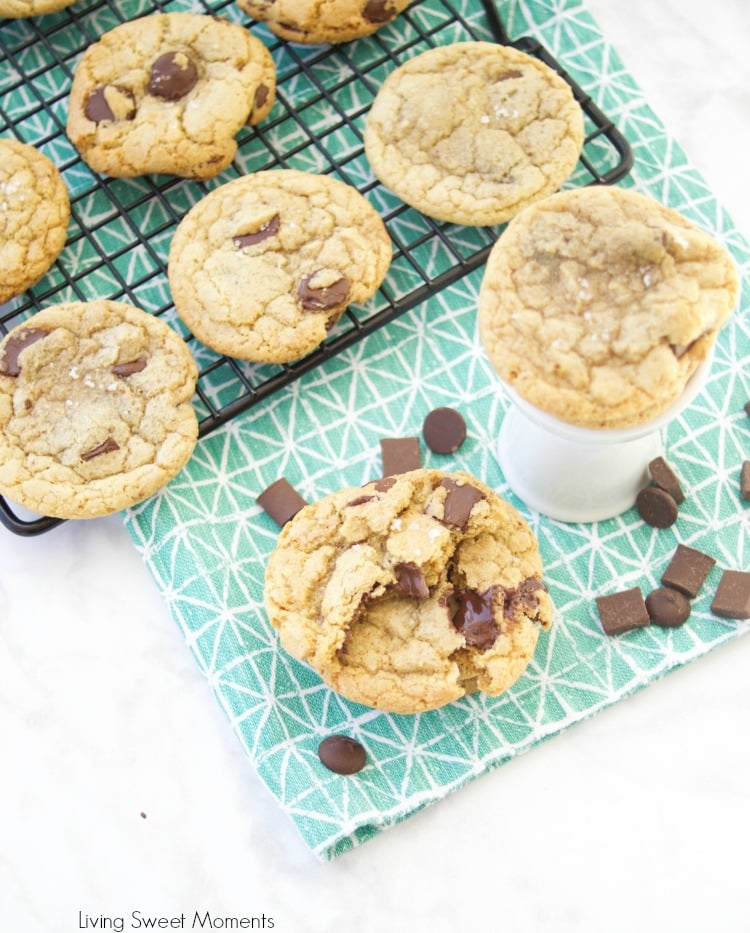 I got to confess: it took me 2 tries to achieve the perfect chocolate chip cookie recipe. Usually, when crafting recipes on the blog, I bake 1/2 a batch to test it out. During the testing process, I halved everything but forgot to reduce the amount of chocolate.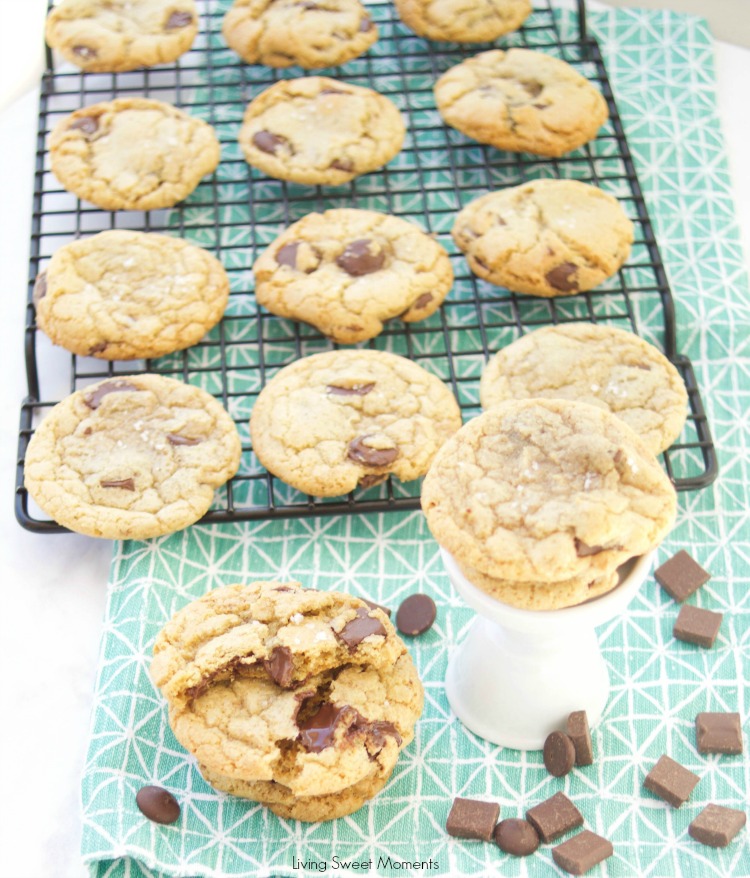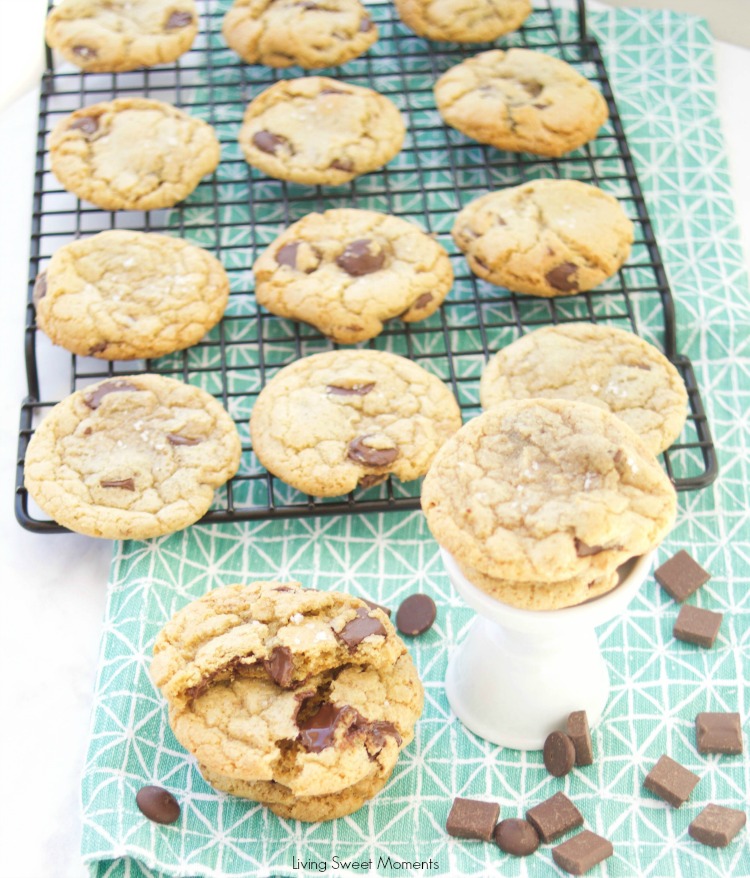 I baked that batch and even though the flavor was amazing, the Brown Butter Chocolate Chip Cookies didn't spread evenly and they turned out small and shriveled.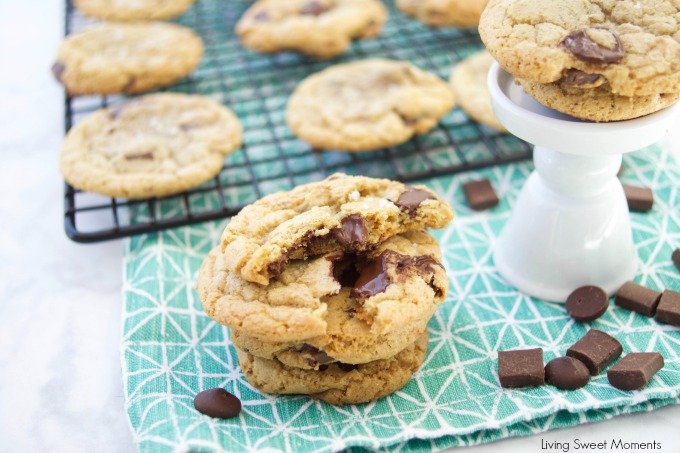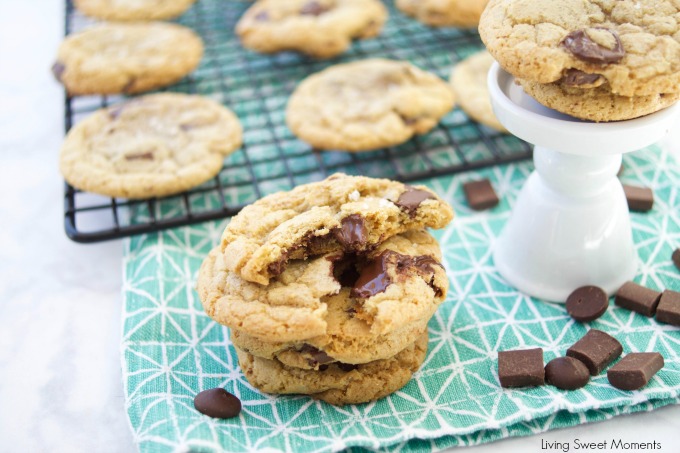 My mother in law loved them immediately ask if she could take them back home to Venezuela. Not all cookie mistakes are bad. 🙂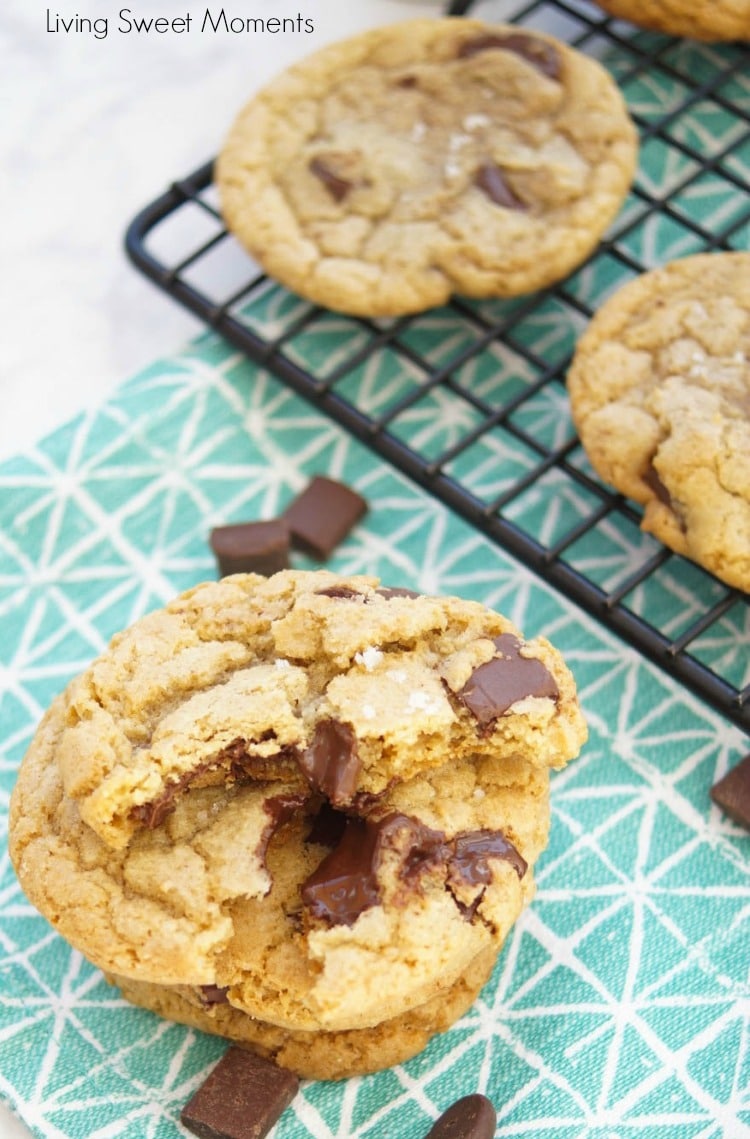 My second try turned out perfect! The ones you see in these pictures. The cookies spread beautifully, the chocolate cookie ratio worked and the flavor as it cooled got better and better.
One of the secrets to achieving the perfect cookie is to take them out of the oven when the tops brown a bit. 9 minutes is my personal perfect timing. But it all depends on your oven.
If they feel underbaked don't worry. As soon as you take them out of the oven, transfer them to a cooling rack. As they cool, they will "finish" cooking and develop that chewy texture.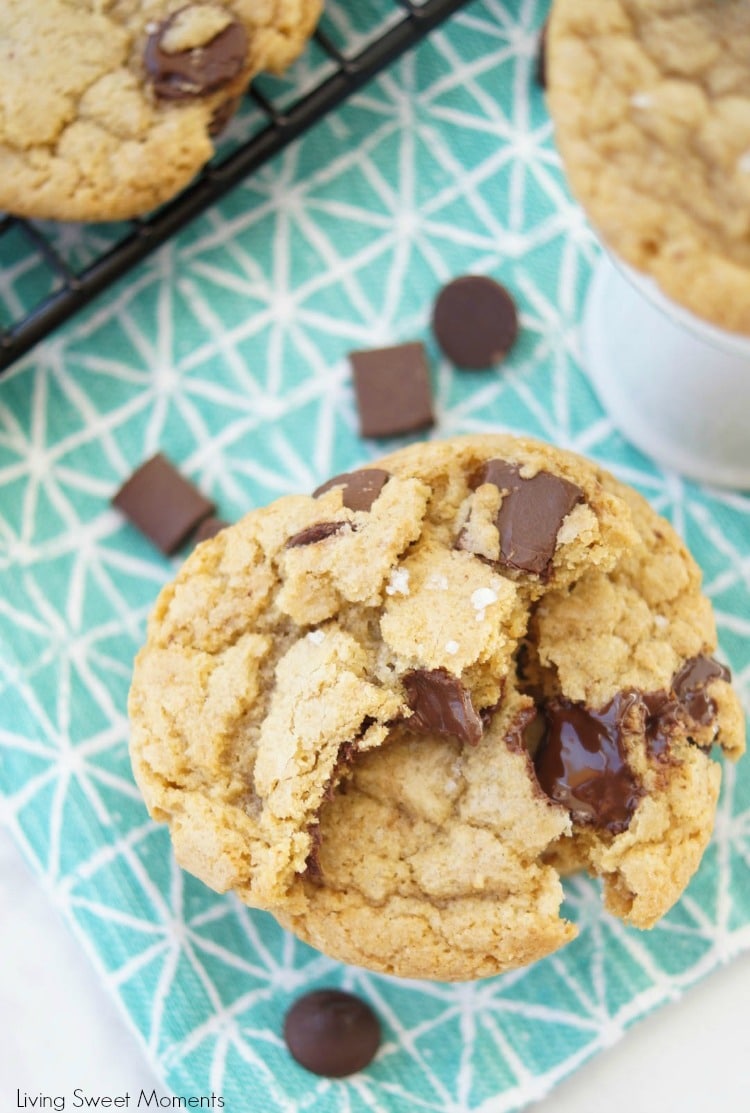 I hope you can try these delicious Brown Butter Chocolate Chip Cookies at home. If you do, please upload a pic on Instagram and tag me @Livingsweetmoments or use the hashtag #LivingSweet. I promise to repost it.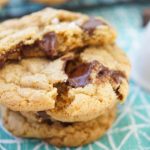 Brown Butter Chocolate Chip Cookies
These amazing chewy Brown Butter Chocolate Chip Cookies have tons of butterscotch flavor, chocolate chunks and sea salt on top. The best cookie recipe ever!
Ingredients
2

sticks

Unsalted Butter (1 cup)

2

Eggs

2

teaspoon

Pure Vanilla Extract

2 1/2

cups

All purpose flour

1

teaspoon

Baking Soda

1

teaspoon

Salt

1 1/4

cup

Brown Sugar

1/2

cup

Sugar

1 1/2

cups

Semi-Sweet Chocolate Chips

1 1/2

cups

Bitter Sweet Chocolate Chunks

Sea Salt

for tops
Instructions
Preheat oven to 350 degrees Fahrenheit

In a small bowl mix the flour, salt, and baking soda

Place butter in a pan over medium-low heat. Melt butter and whirl the pan occasionally


When butter turns brown and develops a nutty aroma, remove from heat and strain. Cool for 5 minutes


Add the brown butter into a bowl with the brown sugar and granulated sugar. Using a mixer, mix until combined

Add the eggs and vanilla and mix until the mixture turns creamy and silky. Scrape the sides and bottom of the bowl with a spatula to ensure everything is completely mixed

Slowly add the flour mixture and mix until combined

Finally, add the chocolate chips and chocolate chunks. Mix

Spoon or scoop cookie dough on a baking sheet lined with parchment paper. Cookies spread in the oven so keep them separated. Sprinkle the tops with sea salt

Bake for 9-11 minutes or until the tops are brown. DO NOT OVERBAKE


Cookies will feel undercooked when taken out of the oven. Immediately place them on a cookie rack to cool. They will continue cooking as they cool.

Nutrition Facts
Brown Butter Chocolate Chip Cookies
Amount Per Serving (1 cookie)
Calories 153
Calories from Fat 72
% Daily Value*
Total Fat 8g 12%
Cholesterol 17mg 6%
Sodium 77mg 3%
Potassium 80mg 2%
Total Carbohydrates 18g 6%
Protein 1g 2%
* Percent Daily Values are based on a 2000 calorie diet.
You may also like these chocolate chip cookie recipesÂ
World's Best Chocolate Chip Cookies