Roasted Caramel Apple Crisp  – these roasted apples have a caramel filling and a buttery crumb topping. The perfect fall dessert that is ready is no time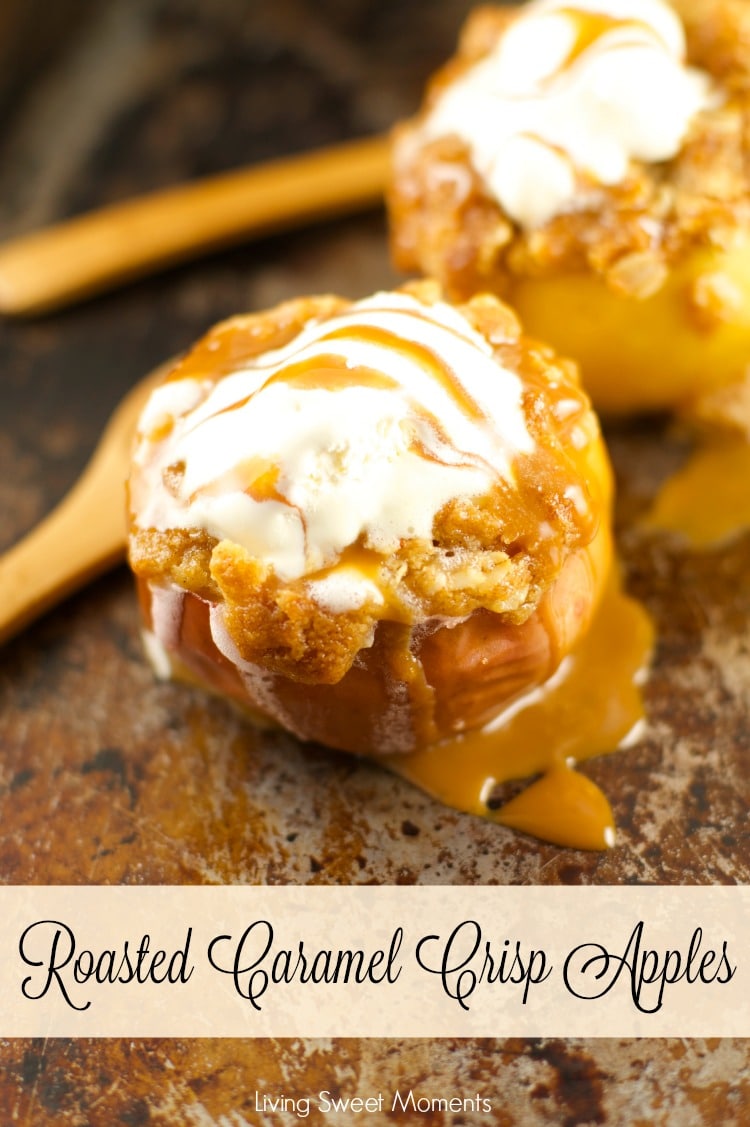 Roasted Caramel Apple Crisp
Get ready to dig in because these caramel apples do not need any plates at all. The apple is the plate! If you're looking for a great fall recipe, these will blow your socks off!  Plus,  it does not get any easier, delicious and creamy than this.
This Caramel Apple Crisp are the type of desserts you can make on a limb. Unexpected friends showing up? Apples about to go bad? Hubby's crabby? Jackpot! Instant dessert. You can also prepare them in advance and bake off at the last minute.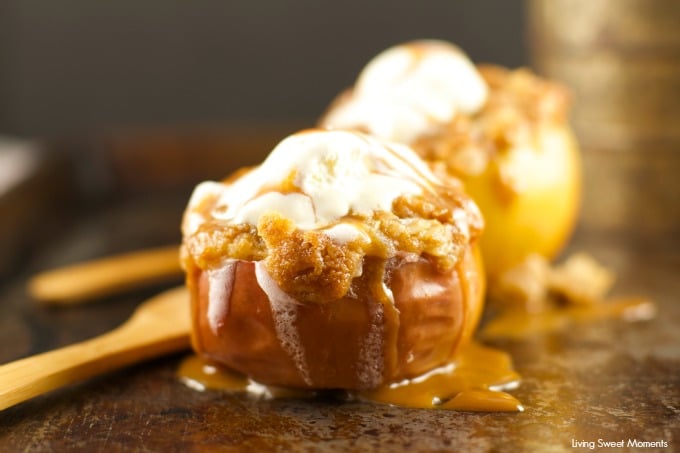 The tops of these apples are buttery crisp while the inside is filled with caramel. I, of course, made them more decadent by topping them with some whipped cream and caramel sauce.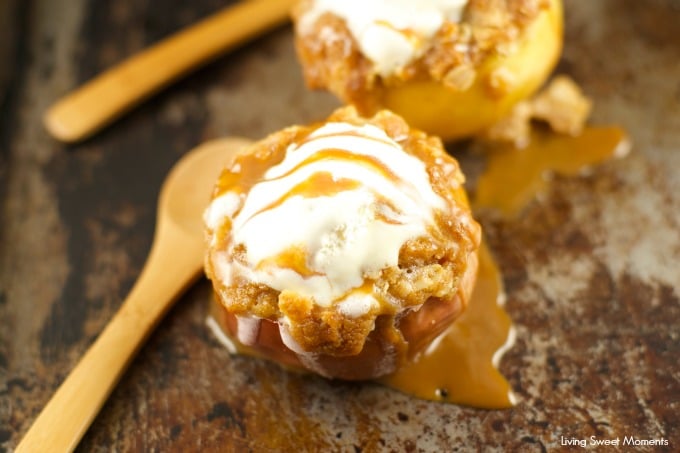 You can use any kind of apple you have lying around the house. I used 2 different types and they turned out delicious.
After Halloween was over, I raided my daughters candy bag.. I stole the Twix bars (yumm) and the caramels.. Before my husband came and ate them, I was quick and stuck them inside the apples. Check it out: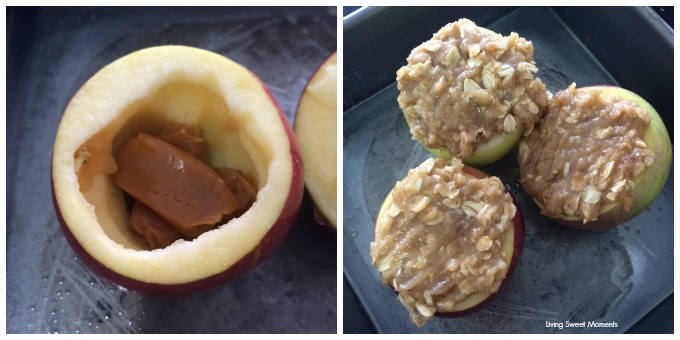 See? I cut off the top of the apples and then used a melon baller to hollow a bit the inside. Then I stuck 3 caramels, because one caramel is not enough. Then I topped it with my delicious crisp mix and in the oven it went… The smells coming from my kitchen were intoxicating.
So this is kind of an apple crisp recipe with a caramel element added to it. I really don't know how to describe it, just grab a spoon and taste the different layers of flavors and texture. I added some spice to my crumb so it feels like the Holiday season is coming.
I hope you can try these delicious Roasted Caramel Apple Crisp at home. If you do, please upload a pic on Instagram and tag me @Livingsweetmoments or use the hashtag #LivingSweet. I promise to repost it.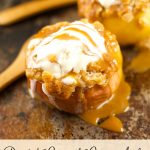 Roasted Caramel Apple Crisp
Roasted Caramel Apple Crisp - these roasted apples have a caramel filling and a buttery crumb topping. The perfect fall dessert that is ready is no time.
Ingredients
3-4

Medium Apples

12

Caramel Candies

1/2

stick of butter

melted

1/4

cup

brown sugar

1/4

cup

old fashioned oats

1/4

cup

all purpose flour

1/4

teaspoon

cinnamon

1/4

teaspoon

of salt

cloves

Pinch of

optional

Topping

Whipped cream

optional

Caramel sauce

optional
Instructions
Preheat Oven to 375 Degrees Fahrenheit

Cut the top of the apples and using a small spoon or a mellon baller, hollow out the inside being careful not to cut all the way into the bottom

Remove the wrappers from the caramel and place 3 inside each apple

Place apples <g class="gr_ gr_90 gr-alert gr_gramm gr_run_anim Grammar multiReplace" id="90" data-gr-id="90">on</g> a rimmed baking dish

In a bowl mix the flour, oats, cinnamon, sugar, salt and cloves. Add the melted butter and mix until combined

Place the crumb topping on top of each apple

Bake for 20-25 minutes or until crumb topping is golden brown

Remove from oven and top with caramel sauce and whipped cream if desired

Enjoy!
You may also like:
Chocolate Covered Apple Cider Caramels