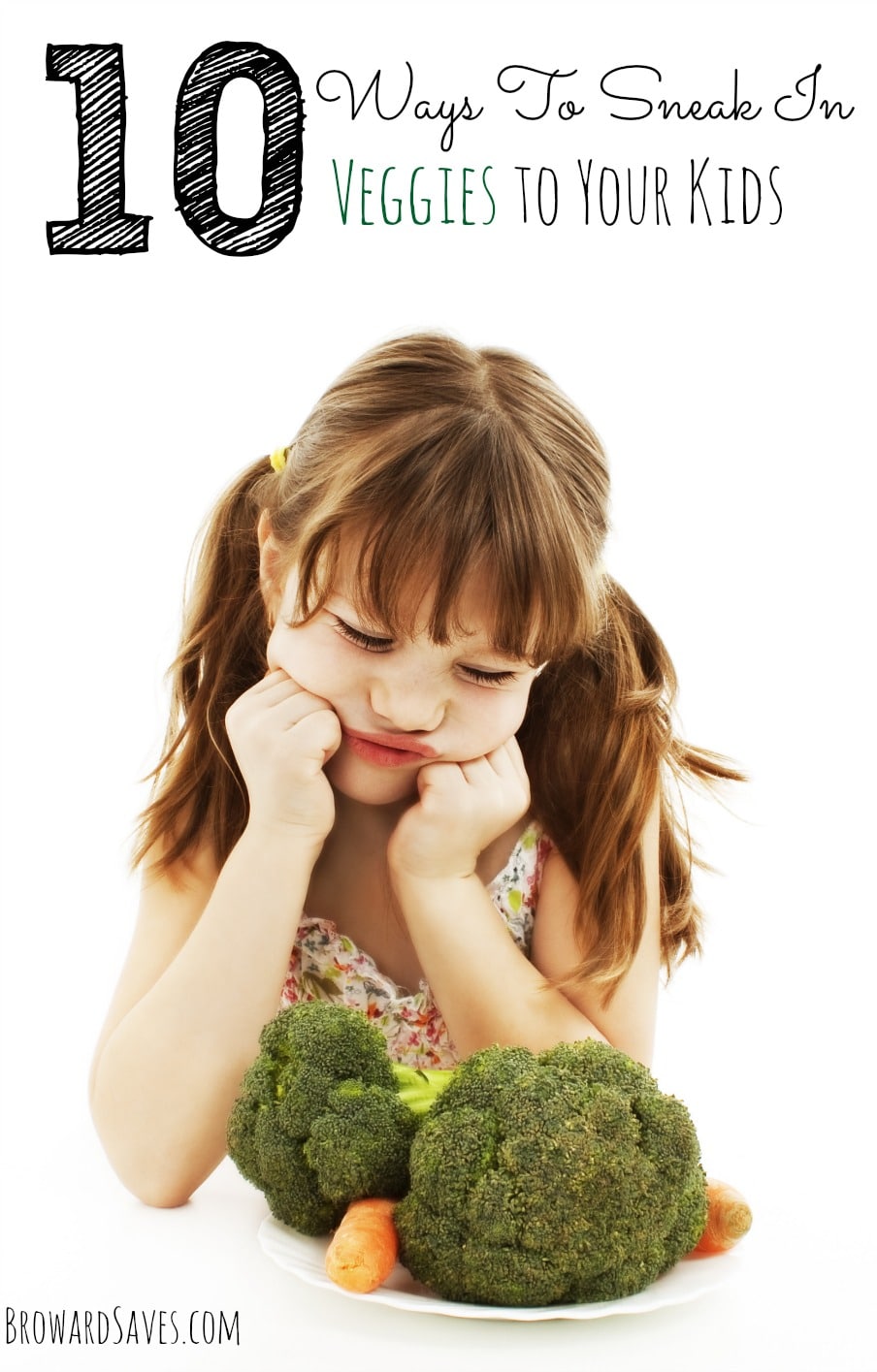 Most kids don't like vegetables.  My older daughter runs away from them even when she has never tried that particular vegetable. But don't worry! Not all is lost. There are a few things you can do to sneak them into their diets, though, so that you can be sure your family is getting good nutrition without the fight. Here's 10 Ways To Sneak In Veggies To Your Kids. 
If you have a food processor, you can mask just about any vegetable.  If not, you can even buy jarred baby food and sneak it into recipes as you see fit.  The hard work is already done for you that way.
You can sneak almost anything into spaghetti sauce.

 

Think carrots, beets, peppers, onions, and even a few green beans if they're strained and pureed really well.

 

Add a few spices and a little extra cheese to mask the flavor.
Cauliflower and butternut squash are great vegetables to mix in with mashed potatoes or pasta dishes.

 

Pureed cauliflower is also a much healthier option for thickening gravies and sauces than flour or cornstarch. 
Let Dr. Seuss and the Teenage Mutant Ninja Turtles help you.

 

Make scrambled green eggs and ham with by using a pureed green vegetable for coloring.

 

How about some green turtle pancakes?

 

A little goes a long way when it comes to green vegetables, though, so use this trick sparingly.
If you have a child that loves ketchup, puree some vegetables and add them to ketchup.

 

The flavor of ketchup is strong enough that it will overpower just about anything you put in there.

 

Relish hides green veggies, and mustard can hide yellow ones. 

Swap out the chicken or beef stock in soup and stew recipes for vegetable broth.

Make smoothies.

 

Blend ice, yogurt, fruit, and vegetables.

 

This won't work too well with green vegetables because of the color, but you can try beets and berries, squash and bananas, or sweet potatoes and apples as well as many other combinations to get those veggies in.

 

It doesn't matter if they have them for breakfast as dinner, as long as they eat them.
Check out some of the vegan options in your local grocery store.

 

Besides veggie burgers, you'll also find lots of other "meats", including veggie "chicken" nuggets, veggie hot dogs, and veggie sausage.

 

How about a veggie sausage, egg, and cheese on a bagel for a great school day breakfast?
Spaghetti squash and Zucchini can be used in place of spaghetti in many cases.

 

Cut the spaghetti squash in half, bake it for an hour at 350, and then scrape out the strands.

 

It does have a bit of a different texture than spaghetti, but you can always tell your kids you're trying out a new brand of spaghetti if they notice the difference. 
If you make homemade pizza, bake diced veggies into the crust, avoiding the edges.

 

They won't even see them.
Don't forget the power of dessert.

 

Zucchini and Carrot cake are great desserts, as is sweet potato pie.

 

Rename the dishes so you aren't bombarded with "I don't like zucchini" before they even try it.
Remember that dislike of vegetables is common, and that sometimes there is just no way to get them to eat them.  Make sure your kids are getting a good multivitamin anyway, and as long as you practice good eating habits yourself, theirs will fall into place as they get older. In the meantime, I will keep finding ways to sneak in veggies to your kids.